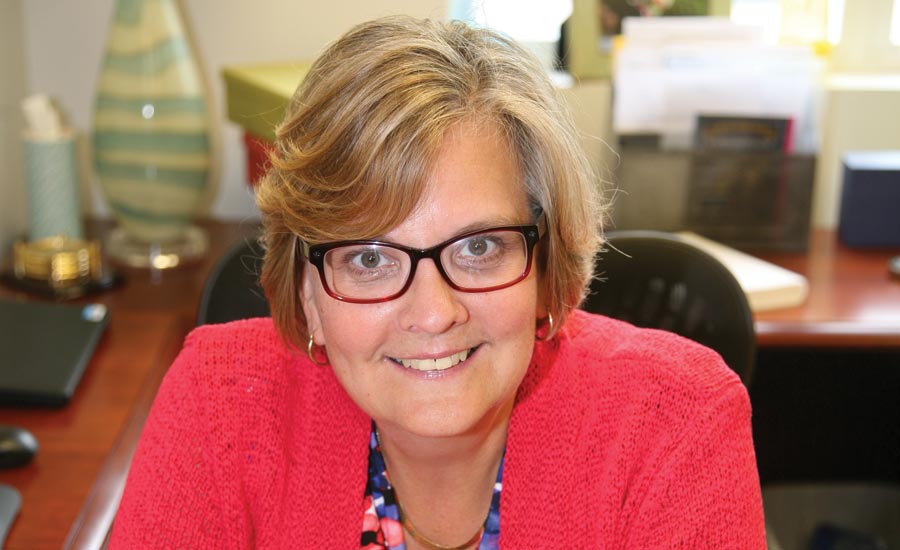 Glee McAnanly didn't plan on a career in franchising. But when she started in her first franchise sales role a little more than 30 years ago, she didn't know how drawn to it she would be. At the time, McAnanly was a Navy wife looking for her next career. It appeared she had found the ideal fit. She became so good in her new sales role that she ended up selling a disaster recovery and cleaning franchise to her husband.
"I didn't know that I was attracted to franchising, nearly as much as it grabbed me," said McAnanly, a multi-unit co-owner for a few years before ascending the corporate ladder and taking on several leadership roles in franchising.
Today, as FirstLight Home Care's new president, McAnanly is just as passionate about franchising as she is to grow and scale the 12-year-old home care brand. McAnanly brings with her years of corporate franchise management experience, having most recently served as chief development officer and chief franchisee relations officer for ServiceMaster's five franchise brands. She also brings with her more than 25 years of franchisee experience, allowing her to lead with "the head of a franchisor, but the heart of a franchisee."
Cincinnati-based FirstLight Home Care is a national provider of in-home care services, and its mission is to help elderly individuals, veterans, those with disabilities and any adult over the age of 18 get the care they need to thrive in the place they call home. In her role, McAnanly will continue to build the FirstLight brand, which includes nearly 200 locations in 36 states. She's looking to strategically add territories and refine the company's long-term vision.
On a personal level, the brand resonates with McAnanly, who understands what it's like to balance caring for aging relatives with work and family.
"I personally find home care to intersect with my personal mission in life —along with it being an exciting vocation of serving others and helping them to develop in their own work and life," she said.
Poised for Growth
The in-home care space continues to show strong demand, due to both changing demographics and older adults' preference for aging in their own homes. For example, the population of Americans aged 65 and older has grown 36% since 2009 and is projected to reach 94.7 million in 2060. And a recent AARP survey shows that 3 out of 4 adults aged 50 and older want to stay in their homes and communities as they age. At the same time, family members struggle to care for their loved ones, with 1 in 5 Americans currently assisting a sick or aging family member. And according to a report from AARP, 61 percent of those family caregivers are also working.
The pandemic has also changed the conversation around eldercare, resulting in more families choosing in-home care services for their loved ones in lieu of assisted living facilities. Each of these scenarios signals opportunity and growth for in-home care franchises and for the business owners interested in investing in them.
"The in-home care space is an interesting place to be right now. In this industry, no one national brand even has a 2% market share, and there is relatively low awareness among seniors and their families that non-medical home care exists and that these services are an available option," McAnanly said.
Expanding the Leadership Team
With growth on the horizon, one of McAnanly's first key initiatives has been redesigning the leadership team to become even more "franchisee-centric," which includes building out a franchise field support team focused on helping business owners grow their territories. She's also invested in a strategy team to focus on the in-home care industry as a whole and keep abreast of the ever-changing regulations that affect it.
Under her leadership, FirstLight recently added four executives to its business development and health care strategy team—including a couple of former colleagues from ServiceMaster. These include:
Mark Vanase, executive vice president, business development and field support, who previously worked with McAnanly at ServiceMaster Brands and spent 25 years there managing large field operations teams. At FirstLight, he will work alongside the operations team to help franchisees grow their businesses.
Kevin Samov, business development director for the central region, also comes from ServiceMaster Brands, who worked as senior manager of franchise training for each of the company's brands.
Joni Hemmis, FirstLight's new business development director for the east region, who has 20 years of experience working in the home health care field and owned an independent, full-service health care company for 14 years.
Kelley Hill, MSN, RN, who was appointed executive director of compliance and clinical services and will help guide franchisees through the licensing and accreditation process. A former director of nursing, she's held managerial positions with several hospital systems and most recently served as a national director for a leading in-home health care, hospice, and home care company.
"What's important to me is to hire people with the right mindset of 'franchisees first,'" McAnanly said.
Making New Investments
In addition to beefing up its leadership team, FirstLight has invested in its Cincinnati headquarters to better serve its franchisees," McAnanly said. Renovations include adding more open educational spaces that can accommodate visitors, including both current and prospective business owners. In fact, FirstLight recently resumed in-person Discovery Days (called Meet the Team Days by the company) and is excited to offer on-site training for its new franchisees beginning this fall.
"We are in the business of taking care of people and you can't do that remotely. Our people are the tip of our spear and directly serve our clients," she said.
FirstLight also plans to strategically add new locations in the field. The franchise company began expanding internationally in Canada before the pandemic and is focused on expanding territories in the United States. States such as Texas, California, and Florida are key growth areas as the company focuses on providing a continuum of care for clients who travel between states.
"For those clients who live in Florida in the winter and the northeast in the summer, they can get services from one FirstLight caregiver to another, and stay within our system," McAnanly said. "We can easily transfer care plans without our system, which is a whole lot easier for families to maneuver."
The company is also ready to guide its franchisees and clients as new challenges posed by the pandemic – such as the Delta variant – may require more frequent communication and comprehensive infection control mitigation.
"Our team has done a great job keeping in touch with the field through daily phone calls and providing personal protective gear when our franchisees needed it," McAnanly said. "If you were an independent (in-home care business) without a community to rely on, it would have been very difficult. That's the true value of being part of a franchise."
Right now, the corporate office is finishing up focus groups with both caregivers and clients to get a better sense of what is working well and where the brand can improve as it looks toward the future.
"We are really listening to our people and looking at fact-based research to better understand how we should reposition ourselves," McAnanly said.
What it Takes to Become a FirstLight Owner
If you enjoy following proven processes and engaging with your community, investing in a franchise might be the right choice for you. In the past year, FirstLight Home Care franchisees in a Franchise Business Review survey rated the organization 15% higher than average for marketing and promotions support, and 93% said they would recommend FirstLight to others. It has also been named a Franchise Business Review Top 200 Franchise for the past three years in a row.
However, you will need to meet certain financial qualifications to own and operate a FirstLight location.
Cash required: Minimum $150,000
Net worth required: Minimum $250,000
Total startup investment: $113,300 – $197,900, including $49,500 franchise fee
In addition, you can expect to pay a 5% royalty on your gross monthly earnings and pay an additional 1% into the national marketing and advertising fund.
To learn more, visit: https://www.firstlightfranchise.com/home-care-franchise-opportunity/