Food trucks are on the move.
Cupcake trucks. Pizza trucks. Waffle trucks. Mac 'n' cheese trucks. Shrimp trucks, bacon trucks and so many more — rolling across the nation en route to becoming a $2.7 billion industry with a wealth of opportunity for culinary entrepreneurs.
Food trucks are fun.
They have clever names like Wok n Roll (Cleveland), Oink & Moo (New Jersey), Basic Kneads Pizza (Denver) and Ms. Cheezious (Miami). And they serve everything from traditional fare with a twist to ethnic delicacies — yes, there are even jianbing trucks (Chinese savory crepes) and om gai trucks (spicy herbed chicken thinly sliced in a chile-paste broth).
One of the most appealing aspects of this fast-growing field is that — whether you're considering starting a food truck business from scratch or investing in a successful food truck franchise — you're in the driver's seat.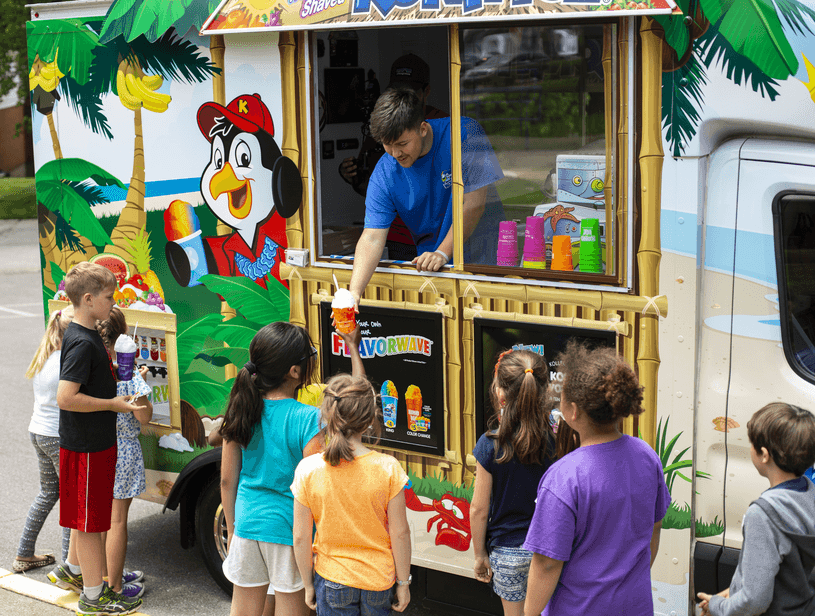 "Every year, more and more food truck owners start the engine, driven by a passion for cooking and the desire to share their innovative culinary concepts with the world (or at least their neighborhood)," according to the Daily Meal's annual report on the "101 Best Food Trucks in America." (Spoiler alert: The House of Mac in Miami topped this year's list.)
The benefits of starting a food truck business or operating a food truck franchise are significant, starting with the relatively low startup costs compared to opening a restaurant or other type of brick and mortar business. Additional food truck "pros" include:
• They're a great way to get a taste of business ownership without taking on the same level of risk that comes with starting a food business from scratch.
• Operating costs are comparatively low (no astronomical "per square foot" leases).
• Mobility provides the opportunity to experiment with different locations.
• The ability to do business at events (concerts, festivals, etc.) and contract private catering jobs can be very profitable.
• The truck itself functions as a mobile "billboard" for your business.
• You'll generate countless smiles and compliments from satisfied customers.
"Food trucks are one of the hottest trends in the food and beverage industry," according to a report in The Balance: Small Business, which notes that food trucks have actually "moved beyond trendy, and are now just as much a restaurant concept as family style dining or quick or fast food."
Food truck franchise opportunities come with additional benefits. For example:
• You'll start with some built-in brand recognition and customer base.
• The collective purchasing power of the franchise system can save you money.
• You'll benefit from lessons learned from your fellow franchise owners, rather than having to rely entirely on trial and error.
Here, we'll offer some eye-opening food truck statistics, share some helpful tips for potential food truck entrepreneurs and franchisees, and take a quick peek back in time to what is believed to be the first food truck in 1866.
Food Truck Facts & Figures
• Food truck industry entrepreneurs now earn $2 billion-plus in estimated revenue across the U.S., up 300% since 2014. (Foodee)
• Food truck growth is even outpacing overall commercial food service, such as restaurants (growth of 5.4% versus 4.3%). (Food truck operator)
• Over 80 percent of food truck diners used words like fun, exciting, new, different and unique when asked why they dined there. (Mobile Cuisine)
• Estimates vary, but according to National Geographic, the median price for a food truck is $43,000 (or $75,000 to get one on the road, compared to $250,000 for a brick and mortar restaurant).
Tips for Food Truck Entrepreneurs
Food truck blog Roaming Hunger offers helpful advice in "Food Truck 101: Tips and Tricks to Make It In The Industry." Their suggestions include:
• Have a simple, but intriguing menu.
• Focus on cleanliness.
• Do your homework on permits and licenses.
• Get the proper equipment and maintain it.
• Communicate (with customers, fellow trucksters, industry vendors).
Additional advice from RoamingHunger's survey of 61 successful food truck owners comes under the headings "Expect the Unexpected" and "Believe in Your Dream."
The book "Running a Food Truck for Dummies" includes the following suggestions:
• Develop an identity and stick to it.
• Analyze your market.
• Hire and train wisely.
• Ensure consistency in food quality and service.
• Solicit feedback.
• Have a grand opening. (The old saying "You never get a second chance to make a good first impression" definitely applies to the mobile food industry business.)
Food Truck Fun Facts (The First Food Truck, c. 1866)
Cattleman and inventor Charles Goodnight is credited with rolling out the first food truck — the chuck wagon — in 1866. Goodnight refashioned an army surplus Studebaker wagon to create a portable cowboy kitchen wagon used on cattle trails, a contraption that is considered by many to be America's first food truck.
In the 20th century, the Good Humor ice cream truck became "one of the best known symbols of food vending on wheels," according to The Smithsonian National Museum of American History, whose archives include a vintage 1938 Good Humor vehicle.
Food trucks featured in popular culture include the 2014 movie "Chef," starring Jon Favreau as a down-and-out celebrity chef who buys a food truck and rediscovers his passion for cooking; and co-starring Sofía Vergara, Scarlett Johansson, Dustin Hoffman and Robert Downey Jr. In addition, the Food Network has broadcast such reality shows as "The Great Food Truck Race" and "Food Truck Face Off."
Food Truck Opportunities
If you're considering food truck franchise opportunities, we can definitely offer some guidance. We compile comprehensive, timely insights into the nation's best franchise opportunities based 100% on franchisee satisfaction— not only in the food truck space, but also in the restaurant industry as a whole and in countless other categories from retail and real estate to fitness, home services and hospitality.
For example, our research results in our annual listing of the year's "Top Franchise Opportunities" includes Kona Ice, a Kentucky-based, Hawaiian-style shaved ice franchise that makes delicious, nutritious treats and consistently ranks as a top food franchise on FBR's top 200 list year after year.
Is Buying a Franchise Right for You? Here are the Pros and Cons
Other best-in-class food truck franchises include Captain D's and Toppers Pizza, both of which were ranked highly by the franchisees that own them, landing them on Franchise Business Review's Top Franchises List.
Whatever industry you may be interested in, the opportunities are plentiful. So please don't hesitate to reach out at [email protected]. We'd love to chat with you about your food truck aspirations or other entrepreneurial dreams.