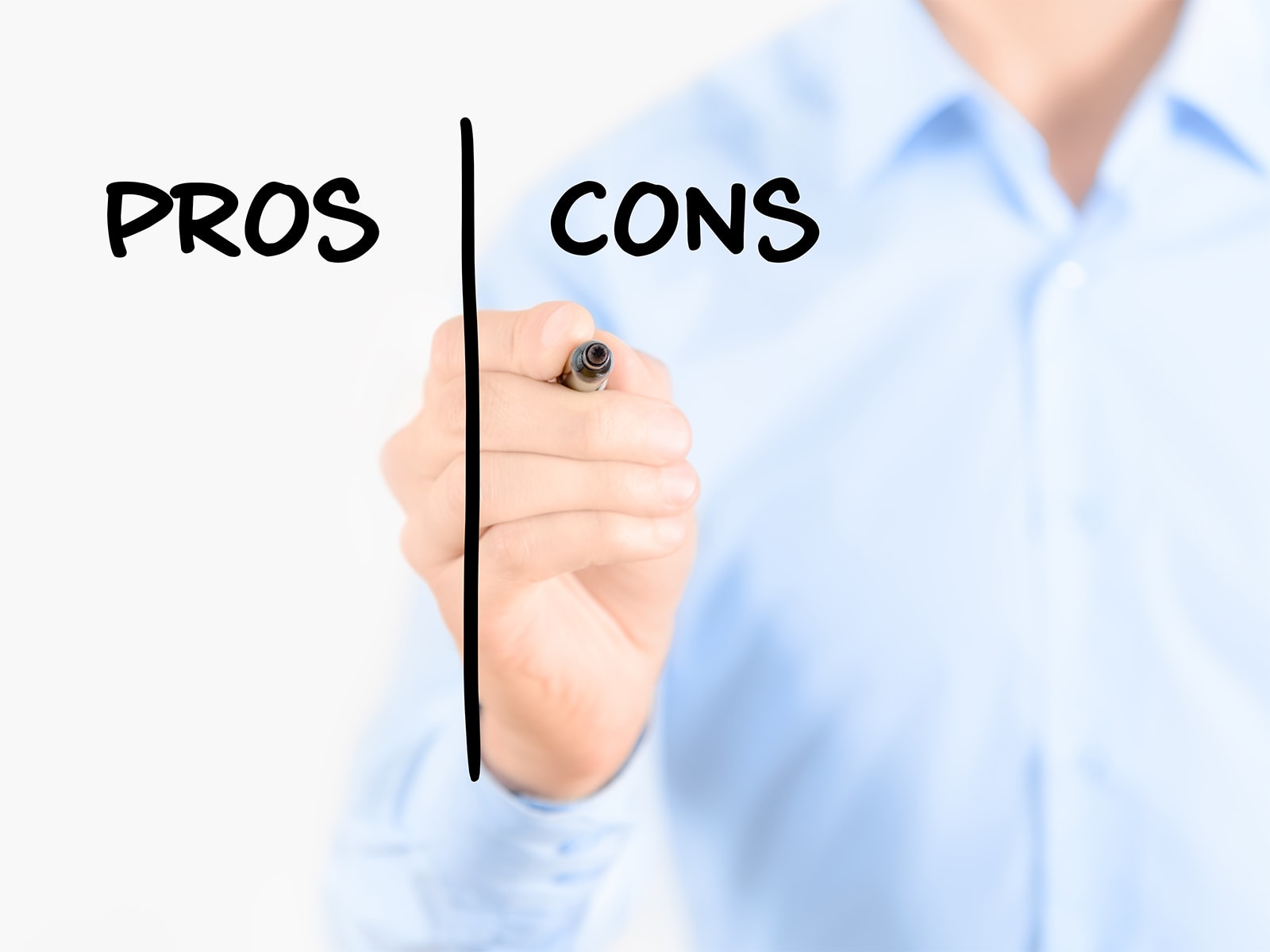 Starting a new business is not a decision you make overnight. Weighing the pros and cons of entrepreneurship is an endeavor that you will research exhaustively and have countless conversations and questions about. One appealing option that you may consider during your research is franchise ownership.
For many would-be entrepreneurs, franchising is an interesting opportunity as it offers the chance to be your own boss without taking on the significant risk that comes with starting a business from scratch. Franchising offers several advantages for would-be business owners, but like anything, there are also some disadvantages that you should be aware of before embarking on a franchise purchase.
Although purchasing a franchise can at times be cheaper than starting a business from scratch, it still requires a significant monetary investment, which is why it is vital that you enter into your franchise purchase well-informed. Read up, talk to friends and family, make lists, speak with business owners and franchise owners, but — most importantly — know that this is not a decision to make impulsively; be true to your instinct and what will be right for you, your goals and your mindset.
To assist you in your research process, Franchise Business Review has compiled a list that outlines the pros and cons of franchising. But, to start with, let's clarify what exactly a franchise is.
A franchise (n) is a legal and commercial relationship between the owner of a company (the franchisor) and an individual (the franchisee) who is starting a branch of that business using the business' trademark logos and business model. The franchisee sells the product or service that the franchisor supplies. As of 2018, the franchise industry employs 21 million people and generates $2.3 trillion of economic activity, according to a U.S. government report.
Advantages of Franchising
Advantage 1: Explore a New Career, Work in a New Industry! No Experience Necessary
Buying a franchise allows you to work in a field that you don't necessarily have any previous work experience in, but that is intriguing to you. Franchise brands (also known as franchisors) offer extensive and thorough support and training to franchisees in order to educate them and help them understand their company's business model. By entering into an already established brand that has been operating (assumedly) for years, you will be privy to knowledge, experience, and industry secrets that you would otherwise have had to learn over the course of your career through a trial and error process. Owning a franchise allows you to tap into previous owners' and leaders' collective years-worth of first-hand experience, increasing your chances of success.
After spending 25 years in the hospitality industry, working as an executive for a global hotel brand, Kristi Janman decided it was time to pivot her career. She knew she wanted to build a business that enriched the lives of others, but she also knew that she did want to start from scratch. "I wanted to invest in a smaller franchise with growth potential where I didn't need a ten-year runway to build a business. The franchise model was perfect for me," she explained. In 2015, Janman bought her first Nothing Bundt Cakes franchise in Kennesaw, GA.
Advantage 2: Lower Risk
Franchises are a more secure investment than new businesses because they have the support and backing of a larger, established corporation. These corporations have business models that have been tested, often in different markets across the country, and have already proven themselves to be effective. Because of their history of proven success, getting a franchise business loan is easier than getting a loan to start an independent business. The banks know that investing in a franchise is a safer bet than investing in a new business that has not yet had the opportunity to build up a history of success.

Advantage 3: Loyal Customer Base and Brand Recognition
One of the hardest parts of starting any new business is finding your first customers, which is one of the reasons so many people turn to franchising; when you buy a franchise you get to bypass a lot of the work that goes into marketing and branding a new, unknown business. Investing in a franchise grants you access to an established, loyal customer base and potential employee pool. Buying an established and recognized brand can give you an accelerated path to profitability by bringing in customers and prospective employees from day one.
Advantage 4: Collective Buying Power
When you purchase a franchise and become part of the franchise system, you'll benefit from your franchisor's established deep-rooted relationships with suppliers. This means that materials will be less expensive because of the franchisor's collective buying power.
Advantage 5: Hit the Ground Running with Extensive Franchisor Support
Most franchisors prioritize supporting their franchisees — especially when they are just starting out — by offering them pre-opening assistance with operations like site selection, design, construction, financing, training, and grand-opening programs. The help doesn't stop there: Some franchises even give loans and other forms of financial assistance to their franchisees.
Advantage 6: Be Your Own Boss
Owning a franchise allows you the chance to be your own boss. You'll be able to craft a more flexible schedule for yourself; revel in having more autonomy over your career; you can even choose to work from home, if that's what you want. You'll own a business while having a support system to turn to when you're in need of advice or assistance. In franchising, there's a saying that you're in business for yourself, but not by yourself.
Renee Friedman, who bought her first FASTSIGNS franchise in 1993, was the preferred signage vendor for the 1996 Olympic Village and currently owns and operates a FASTSIGNS franchise in Central Orlando, explained, "Being part of a strong franchise, provides opportunities and resources that would not be available as an independent owner. If I need help, have a question about a product or budget or hiring or anything, there's someone standing by to assist me. We have so much training at our fingertips!"
Disadvantages of Franchising
Disadvantage 1: Initial Investment Can be High
Depending on which franchise you choose to invest in, the initial investment can be hefty, especially for big-name franchises. There are, however, an assortment of franchises that are affordable for any budget. As you research, watch out for the monthly royalty fees that some franchisors charge their franchisees. The royalty fee is typically 4 – 6 percent of your gross sales revenue and marks a reduction to your profit potential. However, not all franchises charge royalty fees. The cleaning service franchise MaidPro has no required marketing spend or weekly royalty fees. The leather, plastic and vinyl restoration franchise Fibrenew, on the other hand, offers a flat-rate royalty system that doesn't require franchisees to report on finances.
Disadvantage 2: Creativity Can be Limited
Because franchises already have a predetermined brand, there are creative limitations for franchisees who are looking to explore, alter or make additions to their company's business model or brand. There are also restrictions placed on where you can operate, what products you can sell, and the suppliers you can use because of the predetermined business model.
Disadvantage 3: Financial Information is Shared with Corporate
Franchisors are continuously collecting financial information from their franchisees in order to improve their business model and audit royalty payments. As a result, franchisees have little privacy in their business' finances.
On the other hand, the best franchise companies share a great deal of financial information back with their franchisees. This allows them to benchmark their performance with the rest of the franchise system. This can be a huge advantage for franchisees to help improve their financial performance and business profitability.
3 Franchising Realities & Best Practices to Know Before Buying
Weighing the advantages and disadvantages of franchising, as outlined above, will hopefully help you determine if franchising is the right path for you.
If you do choose to embark on the franchising route, the following are important things to keep in mind. Neither pros nor cons, they are part of the obvious and often overlooked realities of franchising.
Marketing and Advertising Expenses
Many franchisors stipulate in their franchise contracts that franchisees must pay for marketing and advertising expenses. Make sure to read through your contract thoroughly so you are aware of all the conditions.
Franchising Contracts Aren't Permanent
Another thing to keep in mind is that your contract with your franchisor is not a permanent one. Once the contract has reached its end date, the franchisors have the power not to renew it. On the other hand, you also have the ability not to renew the contract if you aren't happy with your franchise.
Group Endeavor
Remember that buying a franchise is a group endeavor. There's yourself, your franchisor, and every other franchisee who works under the company brand name. This community can be supportive, empowering, collaborative, but it can also be challenging. You need to be able to depend on all parts of your franchising system; the blunders and failures of another franchisee can damage the reputation of the entire franchise system, including your own. Make sure to talk with other franchisees before purchasing a franchise so that you get a sense for the franchise community you are buying into.
Pros and Cons of Buying a Franchise
Franchising Pros

Franchising Cons

Franchises offer a business "playbook" and the support of a corporate team to help you operate their established business model.
Franchises require you to follow their systems and procedures, and can limit the "creative freedoms" of the business owner.
It is generally easier to get a loan for a franchise business compared to getting a loan for a new startup, independent business. Many established franchises are pre-registered with the Small Business Administration (SBA) and qualified candidates can receive fast-track financing through local banks that provide SBA-backed business loans.
Big name franchises can have high initial investment costs that limit access to only well-financed candidates.
Franchises offer pre-opening assistance like market analysis, site selection, design & construction, training, and grand-opening marketing programs.
Most franchises charge recurring royalty fees, and other fees including marketing fees, training fees, technology fees that can reduce your overall profit potential.
Franchise companies have mass buying power, so product and supply costs are generally lower.
Franchise companies can restrict where you can operate your business, the products you can sell, and the suppliers you can use for purchasing products and supplies.
Franchises often have a recognizable brand and a loyal customer base, which can allow for faster startup and growth of the business.
Mistakes or poor management by other franchisees can damage your franchise's reputation and ultimately impact your business.
Franchise companies will often share financial metrics, best practices, and other proprietary information to help you operate a more successful business.
Franchisees are often required to share their detailed financial information and other business operating data with the corporate office.
You are your own boss, but you have the support of corporate and a large network of fellow franchise owners behind you. Franchise owners are in business for themselves, but not by themselves.
While you own your business assets, you license the brand name and operating procedures from the franchise company. Once your contract ends, franchisors have the power not to renew your franchise agreement.
To Reap
All the Advantages of Owning a Franchise,
Research
Is Key
To find out if franchising is right for you (or which franchise is for you!), make sure you do your research. Franchise Business Review has compiled a list of franchises that offer the best franchisee satisfaction for your perusal. You can also talk to other franchisees in the industry you're looking at to hear their experiences and investigate the level of support their franchisor offers. Or, if the number of franchise opportunities is overwhelming you may want to consider hiring a franchise consultant, who can help guide you and offer insight and advice you may have been unaware of.
Once you've chosen a franchise that is a perfect fit for you, hire a franchise attorney to assist you in understanding your franchise contract. Make sure, too, that you've done adequate research on how you'll finance your franchise.
As you explore your options, Franchise Business Review is here to assist with educational content and unbiased market research that can save you time and effort as you research franchise brand options and venture into the exciting world of entrepreneurship!