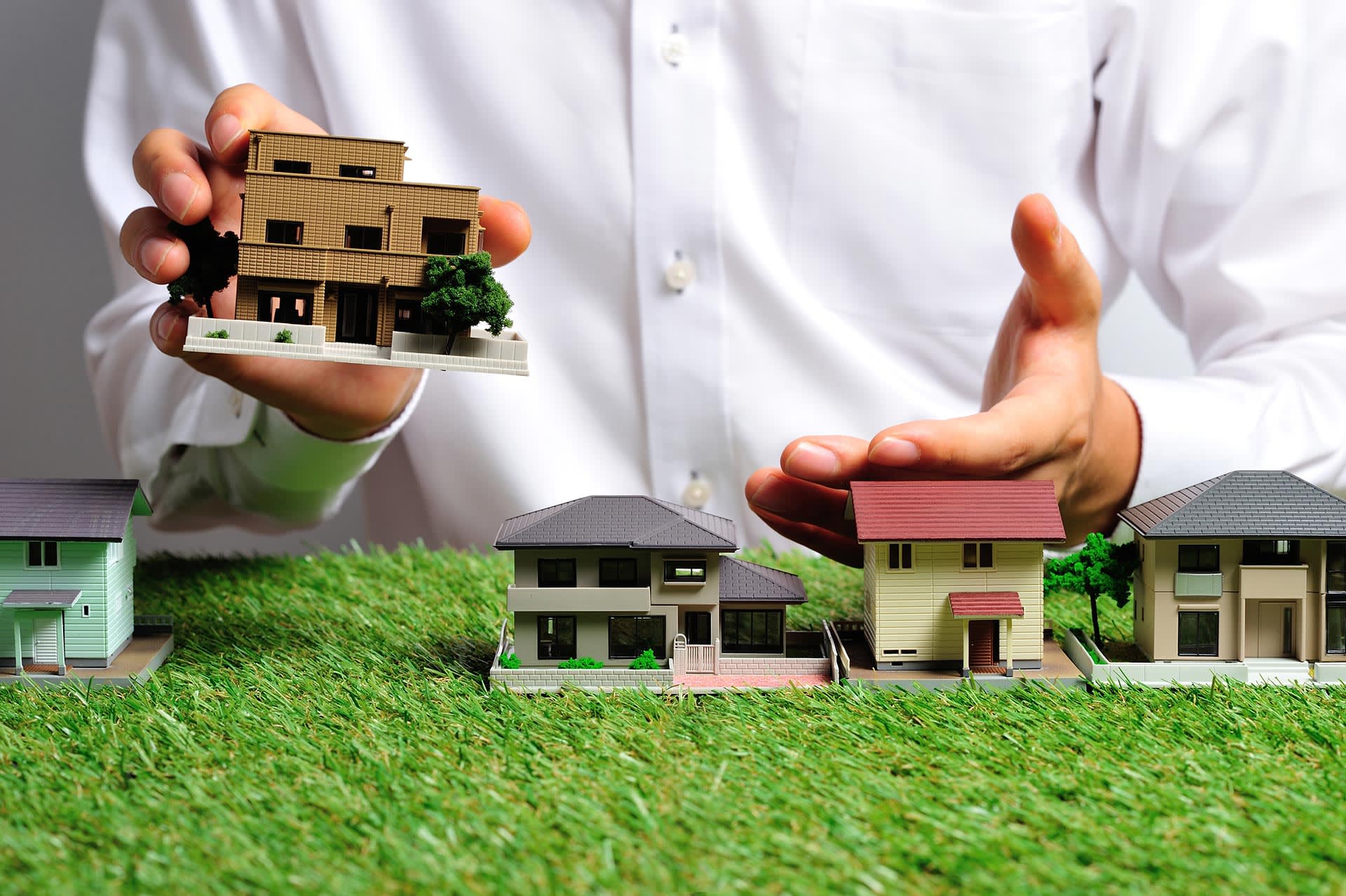 Flipping Houses in a Down Economy
While the pandemic has cooled many parts of the economy, flipping houses and investing in real estate continue to be hot opportunities in many markets. Real estate investing franchise HomeVestors has shown that investing in the right real estate can be a great recession-proof business to start even in a down economy.
Ian Scanlon of First Action Properties became an independently owned and operated HomeVestors® franchisee for the first time in January 2020, just weeks before the coronavirus pandemic gripped the nation. A former hospitality and management professional, Scanlon always desired to own his own business, and found the right fit when he signed on with HomeVestors. It was the company's "We Buy Ugly Houses®" tagline that initially captured Scanlon's attention.
"I was surprised to find out that it was a franchised business," he said. "I believe real estate is a good investment vehicle and thought it might be a side hustle where I could grow my money while I worked. In the midst of searching for a franchise, I realized here's an opportunity where I can not only invest in real estate but make it a profession."
The Dallas-based HomeVestors franchise national brand connects its real estate investors to "hidden inventory" in their regions, and provides access to financing to qualifying purchases that can help them rehab homes before they sell them or rent them to others. Since 1996, HomeVestors has been the number one cash buyer of houses in the United States. Its franchisees specialize in purchasing homes below market value due to a range of issues—from needed repairs to financial troubles to unaffordable or unwanted inheritances. Investors repair and resell the property for a return on investment and to improve their local communities one house at a time. To date, the company has purchased more than 110,000 houses through its nationwide network of over 1,100 franchises.
The HomeVestors business model proves that those new to real estate and seasoned investors alike can benefit from its proprietary processes, lead generation programs, and network of experienced investors.
Breaking into the Business
Scanlon worked with a business mentor to help him identify the right business model to invest in. He learned that franchising appealed to him more than starting a business from scratch, and then discovered HomeVestors was ranked among the top franchises by Franchise Business Review in a Google search. The support Scanlon has received from HomeVestors has allowed him to execute three deals during one of the toughest economic times the country has experienced in more than a decade.
"They offer so many forms of support that are remarkable in both quality and quantity. I don't come from a professional real estate background—I come from hospitality and people management," he said. "At HomeVestors, the answer is always 'yes'. Even folks who have a multi-million dollar net worth have carved out time to share their experiences with me."
There is plenty of opportunity for flipping real estate in his San Francisco Bay territory, Scanlon said. The network of franchisees in the area and the corporate office have provided him with insider advice on how to be successful in one of the country's most competitive real estate markets. Today, it's challenging to buy real estate at discounted prices, but HomeVestors has helped Scanlon identify the types of properties that might be profitable, as well as the price points he should consider buying at—tools he wouldn't get if he were investing alone.
In fact, HomeVestors provides each of its franchisees with an easy-to-use iPad app, called ValueCheck®, which allows them to input answers to questions about a property while they are onsite. The proprietary software shows investors right away whether or not a property will be qualified for funding, reducing financial risk. The app allows franchisees to point and click at all aspects of a house—from foundation to flooring, and roofs to rooms.
Each area that needs to be renovated gets entered into the program, which finally calculates the total cost of renovations. Comparisons are also uploaded, helping to give franchisees a sense of the value of similar homes in the area. The final report not only gives investors the value of the house, it also estimates the cost of repairs that need to be done and gives investors the price they should offer the seller in order to obtain financing for the purchase of the house and the repairs it needs. Investors learn how to use ValueCheck at their week-long initial training at HomeVestors® corporate office in Dallas.
Although the pandemic has kept some sellers from following through with appointments, many need to sell their houses for a variety of reasons and continue to call HomeVestors.
Scanlon credits the reputation of HomeVestors for all three deals he's been able to secure since he signed on. The company helps franchisees generate leads through its national brand, aggressive advertising and lead generation program. HomeVestors franchisees spend $75 million nationally to get interested homeowners to pick up the phone and call. When interested sellers call the HomeVestors 1-800 number they see on commercials, billboards, and direct mail pieces, their information is automatically shared in real time with franchisees located in the geographical area from which the call originated. Franchisees in a given market purchase advertising shares with their local advertising council, and then the leads generated are rotated to the franchisees based on the amounts they invest.
Leads have been so lucrative for Scanlon that he's already hired someone to take his calls and set up appointments. Another staffer manages his inbound leads and places outbound calls. Although the pandemic has offered its share of challenges, Scanlon is confident he made the right decision in choosing HomeVestors.
"Doing anything new is scary as hell. Before I signed on with HomeVestors, a frozen yogurt store was on my finalist checklist," he said. "After COVID happened, it really solidified that real estate was the right business decision. No matter what happens, people need a place to live."
Unlocking New Opportunities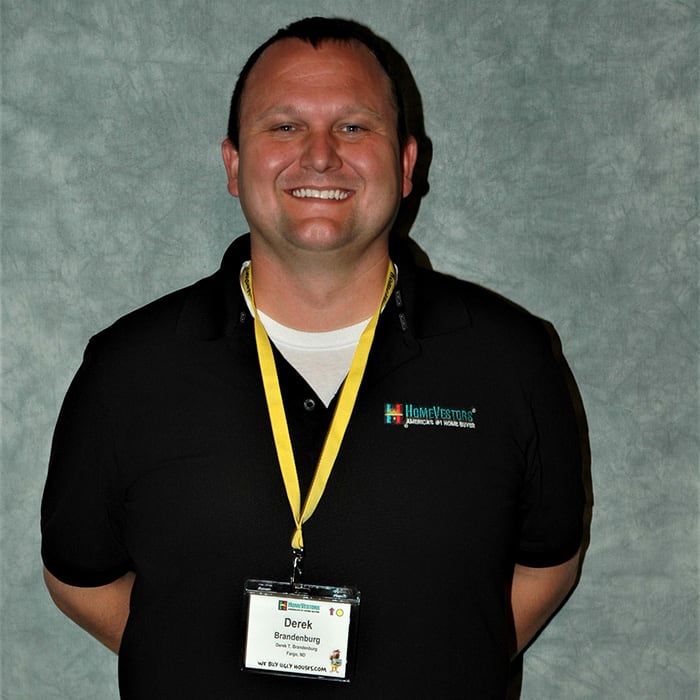 For those who already have strong real estate backgrounds, HomeVestors can offer the additional value in terms of leads, new revenue streams, and access to capital.
Derek Brandenburg, who owns a HomeVestors® franchise in the North Dakota market, joined the company just over a year ago. He was attracted to HomeVestors because of its strong advertising and branding campaigns—which gives investors access to large numbers of highly qualified leads.
Before investing in HomeVestors, Brandenburg owned a real estate company that was selling more than 450 homes a year. He founded his real estate team, the Brandenburg Crew of eXp Realty, just five years ago in Fargo, and is on pace to become the largest real estate teams in North Dakota.
"We had so many clients who just wanted a cash offer. We used to call other real estate investors, and it was painful to just give them the deal," he said. "So we fixed the problem and started doing it ourselves. We found that they were extremely happy with the convenience our service offered. It made me wonder—how many people can we help that we are not talking to?"
Brandenburg realized that HomeVestors' sellers were looking for cash offers and wanted nothing to do with the hassles of selling a property. Being part of the franchise, Brandenburg has access to motivated sellers and the capital to help him buy such properties. HomeVestors is not only a lender, but also works with other lenders to connect franchisees with favorable financing for qualifying purchases.
Like Scanlon, Brandenburg credits HomeVestors for its advertising strategy, which brings in the bulk of his leads. He also credits the company's corporate operations team for their support and describes the weeklong training HomeVestors offers new franchisees as "top notch." Most of all, he gives kudos to the value and support of HomeVestors Development Agents, who have years of experience in real estate investing, and can help even the most experienced real estate professionals identify properties, suggest buying and selling strategies, and provide advice related to financing.
"It's awesome to have a DA that will call you back, usually within an hour, and make sure that you are making the right decisions and not jumping off of a cliff," Brandenburg said. "The mentorship I got—everything from locking down the deal, to contractors, to financing issues, to networking—was unbelievable."
Why Should You Sign on with HomeVestors?
Those new to franchising can find success in real estate investing by signing on with HomeVestors. Due to a fluctuating economy and low interest rates, there are solid real estate deals to be found, thanks to:
Low purchase prices – distressed properties can offer great bargains.
The chance to experience potentially high profit margins – Depending on how well you manage rehabilitation costs, you could realize a good return on investment. However, you need to be able to recognize a good ROI, which is where HomeVestors'® ValueCheck tool can help.
Favorable interest rates – Interest rates remain historically low .
Broader financing options – May be available for distressed properties and are more favorable for rental properties than they were in the past.
Whether you are still working full-time, or you want to begin working for yourself, you can be a part of HomeVestors. HomeVestors has options for full-time or part-time real estate investors to fit your lifestyle.
Both the Full Franchise and the Associate Franchise opportunities allow franchisees to utilize the We Buy Ugly Houses® brand, and allow the Franchisee to work from home, part-time. All HomeVestors® franchise owners have access to many products and services.
The total estimated initial investment ranges between $108,000 – $426,250 for a full franchise and between $70,000 – $363,250 for an associate franchise. Military veterans receive a 10% discount off the initial franchise fees under both options.
Aside from the franchise fee, you are required to have cash available to support purchasing and rehabilitation costs, although HomeVestors does offer financing for qualifying purchases.
You should have funds to cover a 10% down payment on a property.
You should also have reserves available to cover the costs of rehabilitation, taxes, closing costs and insurance while you hold a property.
Furthermore, HomeVestors provides new franchisees the training, tools, and support to help you generate qualified leads, secure financing, and finalize contracts. Some of the key areas in which HomeVestors supports franchisees include:
Professional real estate investor education including a week-long initial training course
Buying houses – from understanding the process to buying the right house and closing
Valuing properties – including using their proprietary ValueCheck® software to help ensure a solid return on investment
Generating leads – through national marketing vehicles that include the internet, radio, TV, billboard, and direct mail advertising
Financing – including exclusive programs only available to franchisees
Selling – from taking offers to deciding when to hire a real estate agent
Ongoing support – including a dedicated mentor, or "Development Agent," with real estate investing experience
Interested to learn more about real estate investing franchise opportunities with HomeVestors? You can check out their Guide to Professional Home Buying – Business Plan and ROI Advice. You can also read about other real estate investors who have found success with the HomeVestors® franchise model.
To learn if HomeVestors is the right fit for you, request your free franchise information or call 800-230-0385.