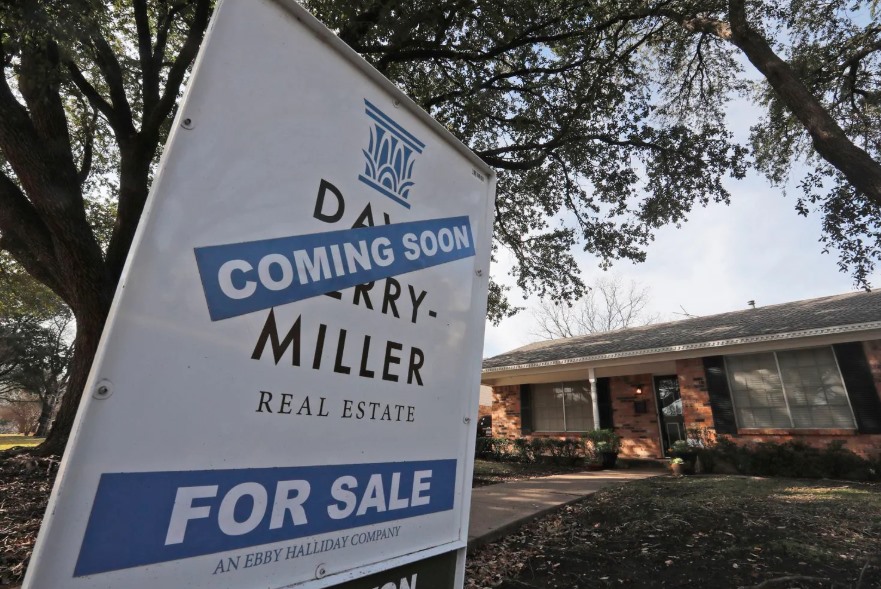 You might expect that the most successful HomeVestors® franchisees have years of experience and a knack for "flipping houses." After all, the HomeVestors of America brand specializes in buying and rehabbing distressed properties and selling them as quickly as possible. However, some of its top franchisees have diverse backgrounds in management, sales, investing, or even coaching. At the end of the day, HomeVestors franchisees must share a passion for helping homeowners sell their properties. They also must be willing to listen and follow a proven system, according to Alan Washer, a HomeVestors development agent based out of greater Chicago, who helps mentor 26 franchisees in his territory to value, buy, sell, and rehabilitate homes.
Leaving Corporate Life to Build His Dream
Opened his first independently owned and operated franchise in Dallas in 1999, named "Rookie of the Year."
Transferred his franchise territory to Chicago in 2003
Development agent in Chicago since 2010

Chicago native Alan Washer first joined HomeVestors in 1999 to open his first franchise in Dallas, Texas after relocating for a job. He had never bought or sold homes before when he decided to partner with his cousin and take the plunge. Up until this point, Washer had been traveling and putting down new roots for 14 years on behalf of a company and wanted to spend more time with his young family.
The person who helped Washer with his final relocation from Los Angeles to Dallas was a realtor who also bought and sold homes. After Washer became friendly with him and saw how successful he was, he scoured the newspaper classifieds in search of investment homes via auctions, sheriff's sales, and real estate groups.
"When I was going through the classifieds, I started calling numbers, and I called an 800-number and talked to a guy who said, 'we have a franchise open if you are interested'," Washer said.
That telephone call led Washer to Ken DeAngelo, who founded HomeVestors of America, Inc. in Dallas and began franchising in 1996.  DeAngelo perfected a creative advertising campaign model, "We buy ugly houses®" in 1999, that helped him generate qualified leads for distressed properties initially in a few select markets located in Texas, Kansas, Florida and Georgia. Today, HomeVestors has more than 1,100 franchises in 47 states and 170 major markets. It's nationally recognized brand, "WE BUY UGLY HOUSES®," can be seen on billboards throughout the United States, cementing both its brand and commitment to helping homeowners get out of "ugly" situations. Named as a Top 50 Franchise by Franchise Business Review in 2019, its franchisees ranked it as "Very Good" in both the Financial Opportunity and Owner Enjoyment Categories.
Due to their early success, Washer and his cousin were named "Rookies of the Year," back in 2000. A few years later, desiring to be closer to family, he moved back "home" to Chicago, and transferred his HomeVestors® franchise territory to Chicago to continue with his HomeVestors business.  The learning curve in this new market proved to be much easier the second time around, thanks to the step-by-step process HomeVestors provides franchisees. Because HomeVestors had a process in place, Washer said he was instead able to focus on learning Chicago neighborhoods, spend time meeting contractors, and find other investors to buy and sell houses to.
Success Comes from Following the Steps
General contractors do have an advantage in some respects—they can go out and identify what needs to be done to a house and probably don't need help figuring out the cost of rehabilitating something, Washer said. But they might need help determining home values and presenting offers. Likewise, investors are probably good at determining home values, but they might not know where to get leads and how they can best compete with other investors and buyers. Still, others might need assistance meeting face to face with homeowners. The key is to recognize what skills you bring to the table and delegate tasks that aren't your strengths to others, Washer said.
"Just because you buy a franchise, it doesn't mean you are taking all of the calls, doing all the follow-up work, getting information on comparable properties, presenting offers and taking care of the construction and sale," he said.
Qualities Successful HomeVestors Franchisees Share
While not every HomeVestors® franchisee has experience buying, selling, or rehabilitating houses, there are several qualities that form the core of a successful HomeVestors franchisee:
Interest or experience in real estate, and a passion to pursue it
Willingness to see a diamond in the rough
An appetite for risk/ reward
Ability to follow a proven model
Desire to access financing resources to invest
Understanding of how to take advantage of brand and marketing tools to get qualified leads
Enjoys people and a willingness to work hard with homeowners who want to sell distressed properties
From Professional Soccer Player to HomeVestors Franchisee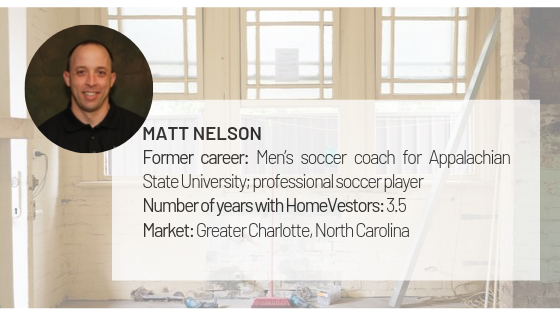 For Matt Nelson, making the transition from a career in playing and coaching soccer to an independently owned and operated HomeVestors® franchisee involved tapping into his recruiting and coaching skills to reinvent himself at a critical time. The former professional soccer player had only made money playing or coaching soccer when his wife suddenly became bedridden early in her pregnancy. Not only did college sports recruiting require significant travel, but Nelson found himself driving back and forth to the hospital up to four hours each day to care for his wife when he asked himself, "what will I do in my next stage of life?"
He knew that he didn't want to work for someone else, which prompted him to research franchise opportunities. While reading a franchise magazine at his wife's bedside, Nelson discovered HomeVestors.
"I then talked to several people from HomeVestors and other franchisees. The barrier of entry was low, and the reward was high – so I decided to try it out for six to 12 months to see what happened," he said.
Within six weeks of signing onto HomeVestors, the phone started ringing.  Nelson credits the help of the development agents and HomeVestors' tools and training program for preparing him to manage his qualified leads.
"Their national advertising campaign, "We buy ugly houses®" is massive. They put so much in the market that a mom and pop agency can't compete," he said. "The tools they have that help us estimate repairs allow us to plug our numbers in. They give us a model for how to handle the way we talk to clients during a phone call and make decisions about what we want to sell and what we should rent. The most successful franchises stay close to the model they give us."
Since 2016, Nelson said he has learned a lot. He recently finished a large rehabilitation project in Florida and said his previous experience, knowledge gained from development agents, and greater understanding of the market helped him avoid making any rehabilitation mistakes.
One of the main reasons Nelson said he decided to sign on with HomeVestors was because they can finance deals for qualifying purchases and repairs on behalf of their franchisees. For example, they helped him finance his very first house at a cost of $150,000.
"The fact that they can do that and provide that is huge," he said. "The last 18-24 months I've been able to find my own private financing–but I know it's there if I need it."
Nelson also feels a personal connection with HomeVestors, having witnessed his mother struggle to sell a house she inherited. She ended up renting it for year before having to sell it for $75,000 due to a bad real estate market. It was very important for Nelson to feel like he was truly helping his sellers and putting them in a better financial and/or emotional position.
"I had dinner with my mom who told me it was a burden – she would have taken $5 to get rid of that house. She told me, 'You don't understand that feeling until you are in that position.' That conversation was my final straw to join the HomeVestors® franchise – 99.9 percent of the people we end up working with are so grateful to have someone help them with the challenging situation they are in," Nelson said. "People are hugging me and crying at the closing, surprised that it was as easy as it was. If you do it morally and ethically and treat people the right way, they are extremely grateful."
Related Reading: From Ugly to Lovely: HomeVestor's Franchise Owners Transform Homes and Lives
Making the Leap from Real Estate Broker to HomeVestors Franchisee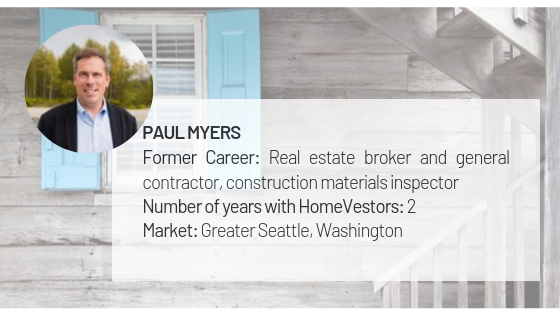 Since 2002, Paul Myers and his wife, Tanice, have been involved in real estate in the greater Seattle area. Prior to that, Myers spent more than 20 years in the construction materials testing and engineering industry and had owned a successful general construction company.
Now, he's focused on buying properties, fixing them up, and reselling them. Myers first learned about HomeVestors when he listed a property for another franchisee as a real estate broker and quickly saw the value of being associated with a national brand.
"I saw the property purchase price, what he sold it for, and realized he made quite a bit of money on it," Myers said. "I was still doing real estate investing but used to rely on bank-owned properties and foreclosures. I knew I needed different leads because bank-owned properties and foreclosures did not exist. HomeVestors had more leads."
After signing on as an independently owned and operated  HomeVestors® franchisee, Myers found his qualified lead pool increasing, thanks to the strong marketing support generated by HomeVestors' national brand, "We buy ugly houses®". He focuses on investing in properties outside of Seattle proper that appeal to first-time homebuyers that can be rehabbed and sold in four to six months. Myers expects he will close on 50 homes this year, and typically works on 8 to 10 projects at any given time.
"The biggest thing that HomeVestors provides is its name brand and corporate backing. All areas of Seattle are in close competition with other investors. There is a lot HomeVestors can do that those other guys cannot. I used to be a small guy, too and I couldn't compete with the strong, national (HomeVestors) name brand and marketing."
Aside from capitalizing on the proprietary tools and qualified leads HomeVestors offers franchisees, good franchisees should be comfortable relating to people who want to sell their homes, Myers said. There are many reasons why a seller might need to quickly sell their house. Some are shy and don't want to deal with listing it; others are elderly; and still others might be embarrassed by the condition of their house, he said.
"The best compliment you can get is when you help someone out and they call you and thank you because you got rid of their problem," Myers said. "Homes are often their biggest expense in life and can be the biggest headache people have to deal with."
Myers said he can attribute his success to hard work and diligence in following up on leads, getting to know people by name and understanding people's unique situations. He's also hired someone to go on buy calls so that he and Tanice (who this year retired from her career at Microsoft to join him full time) are freed up to run the franchise like a true business. In the future, Myers continues to watch different markets and keep an eye on the economy. He's positive that the national franchise will continue to do well.
"People in America are always moving, and we will always be there to help them," he said. "In 2010, it seemed like no one was buying houses and we still bought and sold them. HomeVestors has a good long-term plan that will keep that going. Some of the best deals I've ever done have been closed in a down market."
Are You the Right Match for HomeVestors?
To become a HomeVestors® franchisee, you don't have to be a professional real estate investor – you just need the desire to be one. With a low barrier to entry, a HomeVestors franchise might be the right match for you. Because HomeVestors does not require a storefront, it gives investors the greatest amount of flexibility and the opportunity to ramp up quickly.
Related Reading: What Potential Franchisees Should Know About HomeVestors, the "We Buy Ugly Houses" Company
Initial Investment
Full Franchise — With a $70,000 investment, you receive marketing rights in your territory, access to tools and mentorship, and can jump right into operating your business full-time.
Associate Franchise — With a $30,000 investment, you typically work part-time out of your home while you grow your business. Under this agreement, you still get marketing rights in your territory and the same access to tools and mentorship as full franchisees.Veterans purchasing a full or associate franchise receive a 10% discount.
Total Startup Investment
Full Franchise — $96,000 to $426,250. This includes the initial $70,000 investment
Associate Franchise — $56,000 to $361,250. This includes $30,000 initial investment.Other expenses covered in the initial investment include advertising, training, signage, opening costs, and the 10% down payment on the purchase, repair, and insurance of one to five properties.
Cash Required — $70,000
Net Worth Required — $70,000 – $200,000
If you want to learn more about HomeVestors' home-buying method, you can read the Guide to Professional Home Buying – Business Plan and ROI Advice.  And to learn more about other investors who have found success with the HomeVestors® franchise model, you can check out their stories here. 
To learn if HomeVestors is the right fit for you, fill out a form to request information or call 800-230-0385.
Sponsored Content Provided by HomeVestors® of America