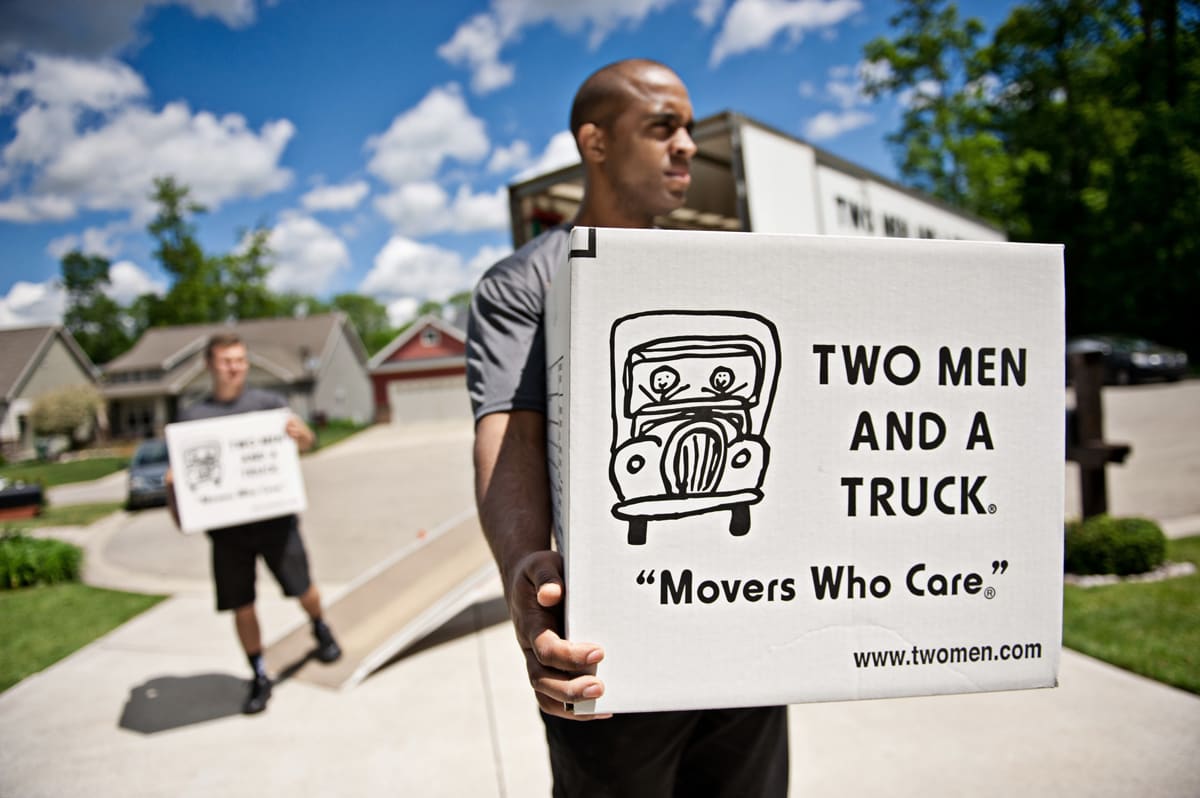 Getting Started with a Moving Company Franchise
If you've been thinking about how to start a moving business of your own, you may believe that owning or leasing a truck, finding customers, and moving furniture from one place to another is a pretty straightforward business model. What more is there to know? While that covers the most basic approach, it doesn't consider the hard work it takes to build a company that attracts employees, keeps customers happy, and ensures growth. Starting a moving company, like any other business, requires more than demand and a spare vehicle.
If you're interested in growing and maintaining a viable moving business, you'll need a solid business plan, consistent leads, reliable vehicles, and strong systems in place that support sales and operations. If you want to run a successful business while helping people navigate one of life's most stressful events, joining a moving franchise may be the ideal solution.
There are multiple benefits to joining a national, well-established moving company franchise. From the start, you can benefit from brand recognition, corporate training and support, and established processes. A prime example of this formula for success is Michigan-based TWO MEN AND A TRUCK®, the largest franchised moving company in North America. The company has more than 390 locations and 3,000 trucks operating in the United States, Canada, Ireland, and the UK. Since its inception in 1985, the company has performed more than 9 million moves and has experienced consistent growth dating back to 2009. More recently, the company grew 19% in 2021 compared to 2020, and its 2022 year-to-date numbers show an additional 7.6% growth over 2021.
"Being a part of a national moving franchise that's more than 35 years old is beneficial because we already have a blueprint for success," said Pamela Batten, director of compliance for TWO MEN AND A TRUCK. "Our main goal is to provide all the knowledge and resources a company would need to start up."
Understanding the Challenges of Starting a Moving Company
"The challenges around starting a moving business can vary," Batten said. "Some of the biggest hurdles include truck shortages and identifying the right location for your business. Other aspects of starting a moving business that require time and attention include lead generation, staffing, vehicle purchase, scheduling, and payroll. If you're an independent business owner, ensuring that you have all of your bases covered in these areas can be difficult. When you become part of an established and thriving franchise, like TWO MEN AND A TRUCK, you've got most of your bases covered from the very beginning."
There are some best practices to follow when starting a moving company–whether you're going it alone or buying a franchise. Some of these include:
Acquiring moving permits from your state
Finding an ideal location to store trucks, equipment
Hiring and building your team
Setting up vendor accounts for recruiting, payroll, and accounting
Placing orders for trucks and other equipment
Creating a business plan for your first year of operation
Creating operational processes and procedures
Developing a marketing and sales process to find and convert leads
Establishing customer services processes
TWO MEN AND A TRUCK has well-established processes that can walk new franchise owners through each of these steps. The company provides support months before you move your first customer. Each new franchisee gets matched with a dedicated start-up specialist who helps them build a strong business foundation, allowing them to hit the road more quickly. New owners also have access to team members who work in TWO MEN AND A TRUCK'S marketing, sales, operations, and accounting departments.
Is Buying a Moving Company Franchise a Good Career Move?
Bobby Simpson, of Frederick, Maryland, spent his career on the road driving trucks. Tired of long, overnight trips and truck stop food, he started exploring new career options. When he was driving, he noticed TWO MEN AND A TRUCK vehicles running up and down the interstate and became intrigued.
"I looked into them and they also got good reviews from customers, for their training, and for the revenue they brought in," Simpson said.
When he initially reached out to TWO MEN AND A TRUCK more than 10 years ago, there weren't any territories available in his area. Because Simpson had launched a ground shipping business for a local carrier with his own trucks, he didn't want to leave Maryland. However, when he saw an advertisement for TWO MEN AND A TRUCK years later, he found out that a territory in Maryland had become available.
Simpson inquired immediately and, after spending about a year in conversations with the corporate office, he opened his business in 2019. He was able to finance his location with a Small Business Association (SBA) loan, with the help of TWO MEN AND A TRUCK assisting him through the process. "Initially, moving company owners spend a significant amount of money on investments such as trucks, equipment, payroll, and training," Simpson said, "I was able to fund the whole start-up with an SBA loan. Although I still had my personal savings as a backup, I've never had to dip into it!"
In his first year at TWO MEN AND A TRUCK, it wasn't unusual for Simpson to log 16-hour days. Soon, he was able to hire a customer service manager to take calls and book jobs, and then eventually hired a general manager and moving crew. Now in his third year, he isn't the one driving the moving truck anymore, but he enjoys continually driving his business.
"What helps most is surrounding yourself with good people," he said. "It took a lot of work and help from the home office to get digital advertising up and running because people had not yet heard of TWO MEN AND A TRUCK in my area."
In the beginning, to help with brand recognition and sales generation, Simpson and his movers would drive his two trucks around as moving billboards, stopping at apartment complexes and nursing homes. Initially, they only made two or three moves per week. Today, they are booked more than a month out and their fleet of six trucks is constantly moving. "TWO MEN AND A TRUCK helped bring in leads and get the phones ringing," Simpson said, "and the rise in demand quickly grew the business from two employees to 20. I could actually use 10 more people right now! We really don't stop hiring."
How to Start a Moving Business as a Franchisee
According to its 2022 Financial Disclosure Document, TWO MEN AND A TRUCK owners can expect to haul in significant revenue. In 2021, 154 single unit franchises operating at least 12 months reported median annual gross sales of $2.48 million.
Because TWO MEN AND A TRUCK already has a built-in system for collecting payments, owners don't have to wait to get paid.
"This really helps with finances and budgeting," Simpson said. "We have tablets with all of the company programs and card readers that are synchronized to our banks. All you have to do is follow their process."
Aside from the corporate staff, TWO MEN AND A TRUCK owners automatically benefit from another important group–one another. When Simpson first became interested in pursuing a location, he talked to current franchisees and got a complete outlook on the moving business. He was able to travel to a number of locations and watch everything from dispatch to how customer service managers handled bookings. He's also able to pick up the phone at any time and get advice from his fellow TWO MEN AND A TRUCK family.
The company also offers adjacent services such as junk removal, storage, and packing to help owners utilize their trucks at all times and build new revenue streams. For customers interested in making cross-country moves, the TWO MEN AND A TRUCK network of locations can seamlessly move client belongings across state lines—something a local company can't do.
Most of all, Simpson finds the moving business rewarding. He's able to help retired couples move to Florida. His employees can earn good tips. And he is able to invest in his future. After a 20-year trucking career, Simpson looks forward to making a living in a way that provides a better lifestyle and equity.
"This was definitely the right move for greater work-life balance and establishing a plan for retirement," Simpson said.
Are You Ready to Move Forward with TWO MEN AND A TRUCK?
If you've been researching how to start a moving business, but prefer not to go it alone, having the support of a strong franchise as a TWO MEN AND A TRUCK owner may be the right solution. Along with a 96% customer referral rate, the franchise has also earned high marks from its owners. Ninety-four percent of franchise owners reported they would invest in the company again, based on Franchise Business Review survey results. The franchise also made FBR's list of Top 200 Franchises of 2022.
Before you jump in with both feet to join the fleet, however, you'll need to understand the financial requirements and be willing to invest in your business. Your initial investment will vary according to your market size.
Mini markets (100,000 to 225,000 people):
$100,000 to $242,100 initial investment – include at least two brand new trucks, a physical location, and moving equipment.
$80,000 in liquid assets
$160,000 minimal net worth
Standard markets (420,000 to 600,000 people) – includes at least two brand new trucks, a physical location, and moving equipment.
$164,000 to $435,600 initial investment
$150,000 in liquid assets
$400,000 minimal net worth
Regardless of the size of the market you plan to operate in, TWO MEN AND A TRUCK also charges the following fees:
$30,000 to $85,000 franchise rights fee, depending on market size (included in initial investment)
6% royalty fee
1% advertising fee
$5,000 annual franchise renewal fee
While existing TWO MEN AND A TRUCK franchises in the Northeast, Midwest, and Southwest have experienced the most growth, the company is looking for new owners to expand its moving services in the following locations: California, New Jersey, New York, Virginia, and West Virginia.