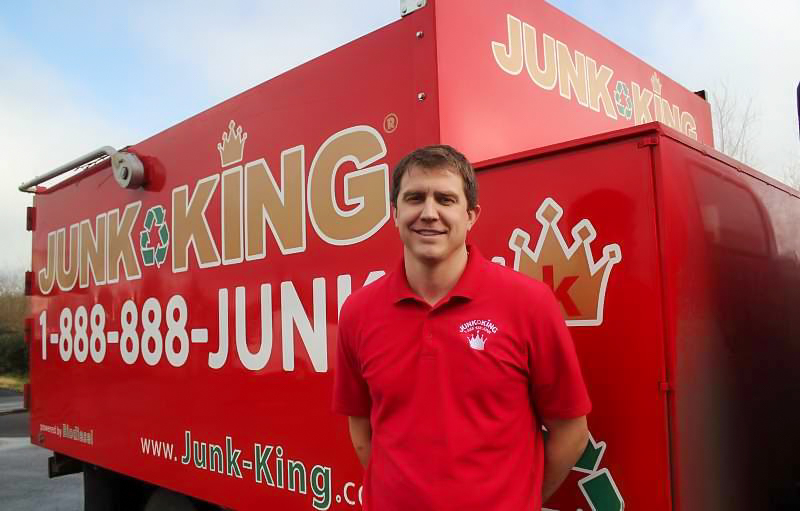 Name: Jason Edge
Location: Portland and Vancouver
Franchise Owner Since: 2016
---
FBR: What was it about the franchise that led you to purchase it?
JE: The focus on sustainability was key for me. By being able to recycle, repurpose, and reuse the items we pick up from junk removal jobs, it makes me feel like I'm doing something good. Most importantly, it's something I believe in. I also appreciate that Junk King is a service model that allows me to set my hours. I'm able to have dinner at home and spend quality time with my family.
FBR: What do you like most about your job/owning a franchise?
JE: Ultimately, it was the ability to impact individual lives and give back to the community while still having the freedom and flexibility to control my schedule. The members of my crew are very important to me as well. I like being able to show them the value in the skills they are learning at Junk King such as negotiations and sales, and how they are transferrable to a multitude of other professional work.
FBR: What type of business experience, education, and/or skills did you have prior to becoming a franchisee that you have found particularly helpful?
JE: In my past life, I worked at several early-stage and mid-stage startups. As you know, in the first few years, most startups aren't very profitable. This gave me a front-row seat to understanding customer and revenue acquisition from a small business perspective, as well as the value of customers.
FBR: How did you fund your franchise business investment with Junk King?
JE: I was fortunate to have enough cash to purchase the franchise, but the great thing about Junk King is that cash flows quickly. It allows you to break even.
FBR: What advice do you have for prospective franchise buyers?
JE: My biggest piece of advice is to make sure you take the time to discuss the opportunity with a lot of successful franchisees within the system so that you can learn from them. Climbing on the shoulders of those who came before you will start you off on the right path. Also, be prepared to work hard. There are many benefits to joining a franchise system, but you will only get out of it what you put in. Like with any business, there will be challenges that will help you grow as a person and business owner.
To learn more about franchise opportunities with Junk King, call 888-887-JUNK or visit Franchising.junk-king.com.