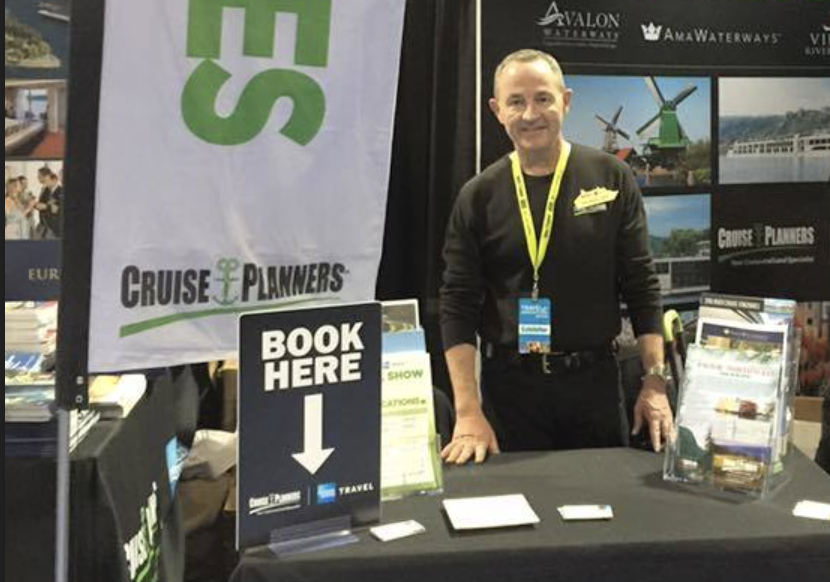 Joel Wilder, of DeBary, Florida opened his Cruise Planners franchise in 2005. "Business is Great!" says Wilder having no regrets opening up his franchise business and leaving a long term career as an RN. In this article, Joel shares his perspective on what it is like owning a Cruise Planners franchise and some valuable advice for those interested starting a travel agency franchise location of your own. Excerpts from the following interview with Wilder are featured in FBR's latest Digital Guide issue.
Name: Joel Wilder
Location: DeBary, Florida
Franchise owner since: 2005
---
Is Cruise Planners a full-time or part-time business for you? Can you walk us through what a typical day might be like?
Cruise Planners is my full time job. I'm normally at my desk by 8 AM, catching up on email, making payments, etc. My poodles and I go on a walk each morning before the phone starts to ring. Then I seize the day as it comes! I'm generally done by 5:30 PM.
What made you decide to transition to a travel agency franchise with Cruise Planners?
We wanted to own a small business that would generate some extra income after retirement. Little did we know that I would need to work full time with it so quickly!
How long did your franchise search take from start to signing? Can you walk us through your process?
The search took about 4 months. I knew we wanted to own a travel agency type of franchise. It was just a process of narrowing down the choices. Phone interviews, company reviews and franchise documents were a big part of how we narrowed the choices.
Was Cruise Planners the brand you started exploring initially or were there other brands you were interested in? Were they all in the same industry?
Cruise Planners wasn't the first opportunity we looked at. I honestly didn't know the name when we first started looking. They quickly rose to the top of all the travel franchises we researched.
What is your background? Did you have prior experience running a business? Did you leave a career to own your business?
I was an operating room RN for over 25 years and spent the last several years in administration. I left that career after 4 years of owning my Cruise Planners franchise.
What convinced you that this was the right brand for you?
Cruise Planners has this uncanny knack for branding and advertising for their franchisees. I think the final decision was influenced by the fact that the corporate office does not sell travel and does not compete against their own franchisees.
Did you review the Franchisee Satisfaction Survey Results during the process? Did they have an impact on your decision?
I did. And yes they did have an impact on my decision.
Do you currently participate in the Franchisee Satisfaction Surveys? Do you feel your feedback is heard?
I do participate every year as I think it's important that I share my experiences with other potential franchisees. I'm sure my feedback is heard!
How do Cruise Planners support you and your success?
By leveraging the brand, being an Amex travel representative, outstanding marketing department and constant opportunities to learn!
Looking back now, is there anything you would have done differently? Any lessons learned that you want to share?
I would have set up an LLC or other corporate entity from the beginning instead of sole proprietorship. That would have been so much easier!
What was your biggest challenge when you think back to the first year or 2 in business?
Getting clients! Also working full time as an RN while Cruise Planners grew was a challenge.
How have you connected with your local community? Have you joined any local groups or Chamber of Commerce organizations?
Yes, I'm a member of our local chamber of commerce. We also attend various functions in the community for networking.
If you were presenting to a group of potential franchisee's what would you tell them?
Do your research! Call other franchise owners and ask questions. Cruise Planners is a wonderful opportunity!
For more information on Cruise Planners franchise opportunities,

Call: (888) 582-2150