When Allen Hager started Right at Home 25 years ago, he knew he was onto something big. Today, Right at Home has become one of the largest home care companies in the world, with over 600 locations worldwide, and system wide revenues exceeding $500 million.
But Hager wasn't necessarily planning to build a franchise system when he started in 1995, explained Eric Little, chief development officer for Right at Home. Instead, the former hospital administrator, who had more than a decade of experience under his belt before starting the business, noticed a significant gap in the health care continuum. He knew it needed to be filled and felt he had a good solution.
"Allen noticed that seniors would leave the hospital after receiving their medical care, but some of those patients, especially seniors, weren't yet able to care for themselves safely in their home environment. As a result, many of these patients would come back to the hospital – sometimes through the emergency room," Little said. "He then began to research his idea of in-home care for seniors and others with disabilities."
In-home care is a collection of services delivered by caregivers that include non-medical care provided in the home to seniors and other individuals with disabilities. This sector expects tremendous growth well into the next two decades. With an aging population that is expected to triple by 2050, according to the United Nations, the Bureau of Labor and Statistics reports that in-home care is currently one of the fastest-growing segments within the health care industry.  Although there are other brands in this sector, Right at Home differentiates itself as not only being one of the first franchises to offer these services but also as a franchise founded by a health care visionary who spent time learning the needs of caregivers and their families.
Undercover Caregiving
Before he even considered opening the doors to his first business, Hager tested his in-home health care concept by talking to dozens of families to better understand the different kinds of challenges they faced and what kind of care would be most helpful to them. He also became a certified nursing assistant to experience first-hand the needs of people who needed professional assistance.
"He didn't tell anyone at his new "job" who he was; he was working shoulder-to-shoulder with caregivers who knew him only as a peer. He became one of them. He learned that when a caregiver had an issue in her life, it affected her work on the job.  If her car broke down, she couldn't work. If she had no money to repair her car, she couldn't get to her shift," Little said. "He knew that the success of this business is dependent upon the people on the front lines. And because it's a personal business, it matters even more."
Owning an in-home care business offers franchise owners a financial opportunity as well as an opportunity to build a business that improves their community. To learn more and receive a free Right at Home franchise kit, visit https://rightathomefranchise.com.
Hager launched the first Right at Home location in Fremont, Nebraska in 1995. One of the key ingredients in his secret sauce for success: putting people first. From his very first day in the business, he concentrated on recruiting and recognition. Because of his early "undercover" work, Hager was able to validate his belief that caregivers could work with others in the health care continuum to ensure patients' needs were met.  Five years later, in 2000, he began franchising by carefully selecting franchisees who shared his passion for improving the quality of life for individuals in need throughout the United States.
"Allen always knew this was a big business, but he knew it would be very capital intensive. He knew he wanted to expand once he proved the business model. That's when he found franchising: he knew that franchising would be the mechanism to do that," Little said.
Now in its 20th year of franchising, Right at Home offers one of the most comprehensive suites of in-home care services in the industry, in a sector that includes more than 100 competitors, including:
In-home care for seniors and individuals with disabilities
In-home care for individuals with Alzheimer's, dementia, and cognitive change support
Respite care for caregivers
Some offices offer skilled nursing, to include medication administration
RightTransitions(SM): a special program in which caregivers work seamlessly with hospitals to offer support and care to patients immediately after a hospital discharge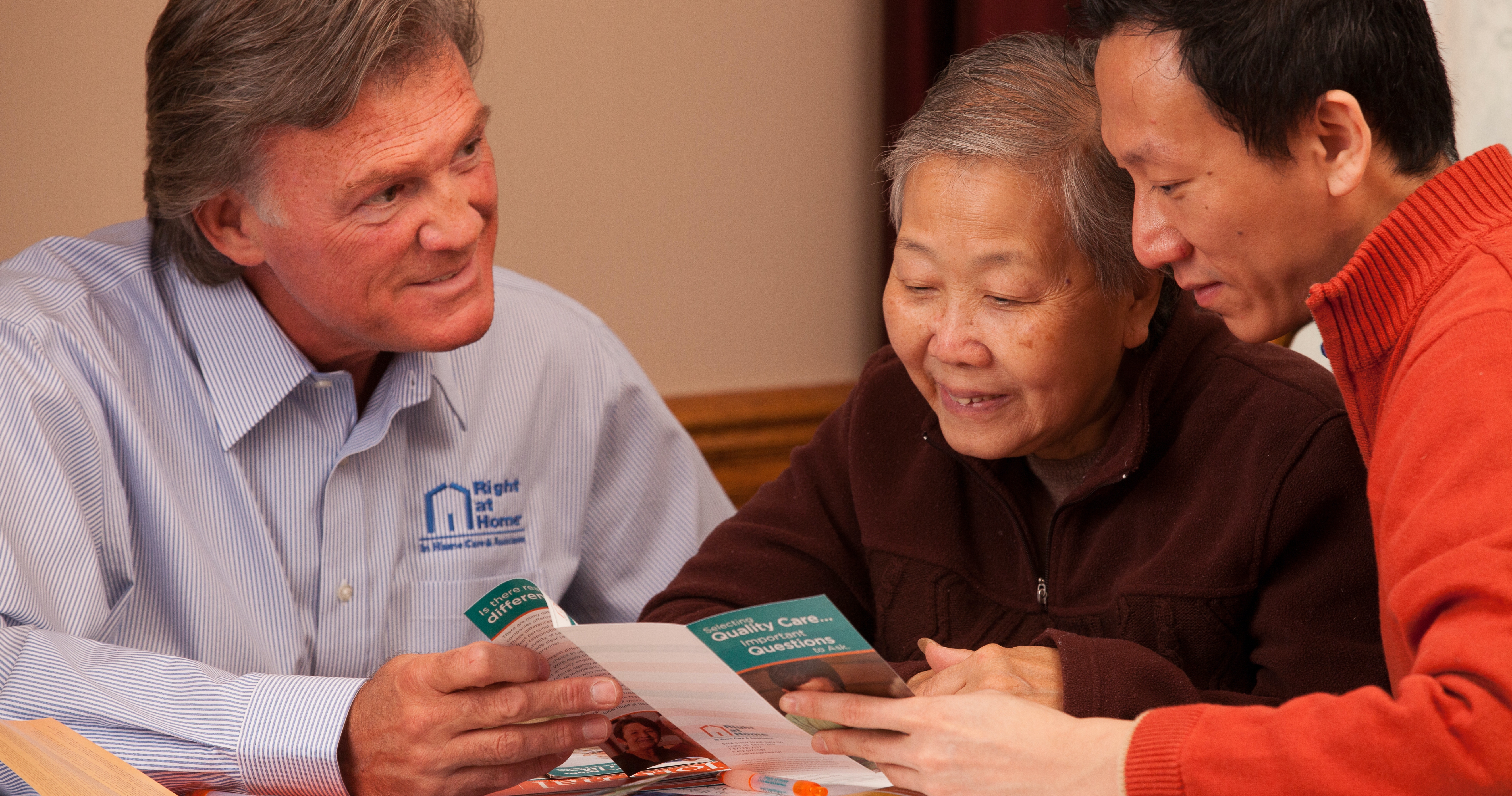 Purposeful Planning
The competitive advantage that Right at Home enjoys today emerged from the feedback and data Hager collected throughout his own experience and from the experiences of other franchisees, Little said. A company's culture typically follows the personality of its founder, which is the case with Right At Home, Little said. "Allen set the tone for all of us. It was very clear to me, based not only on Allen's words but also his actions, that Right at Home is a company that does our very best to do the right thing.
That strong culture provided a great foundation to grow. By 2008, just eight years into franchising, the company was operating 150 locations and employed 28 people at its corporate office. By 2009, Right at Home Franchisees were operating 206 locations in the United States and was on the brink of expanding globally.
"Allen believed in building great relationships with the franchise owners. And he was right. On our annual surveys, we've consistently received the highest scores in areas like honesty, ethics, and leadership."
In 2009, Right at Home looked at what it would require to expand internationally, opening its first international location in the United Kingdom in 2010.  Today, Right at Home Franchisees operate locations in Australia, Canada, China, Ireland, Japan, and The Netherlands. One of the company's keys to success has included being intentional about franchise growth, Little said.
"We spent 18 months planning our international growth. We developed operations manuals, prioritized countries, and hired consultants. On the one hand, we had the confidence to do it. On the other hand, we approached it carefully and methodically," Little said.
Because hospital stays are shorter now than they were in the 1980s, there are more cases where older adults find themselves in a bind when it comes to recuperating at home after a hospital stay. Hiring caregivers who can assist them in their daily activities dramatically reduces accidents and hospital readmissions. In 2010, Right at Home formalized its caregiving program that helped transition clients from the hospital to their homes. Called RightTransitions(SM), this research-backed service has been proven to help reduce the number of preventable hospital readmissions and associated costs. Before it launched, Right at Home conducted a pilot study in conjunction with Forsyth Hospital in Winston-Salem, North Carolina, with funding from the Duke Endowment, and revealed a 65% reduction in preventable readmissions, 99% patient satisfaction rate, and $1 million in hospital savings.
"We were a pioneer in that area, and since then, some of our competitors have created similar programs," Little said.
Between 2010 and 2018, Right at Home nearly doubled its North American locations from 241 to 471 and grew its international locations from 2 to 100. Little said that although the company has been opportunistic about expanding at home and abroad, it is proud to boast a low closure rate.
"We are purposeful about how we select franchise owners, and we've said no when we've felt it wasn't a good fit," he said.
Owning an in-home care business offers franchise owners a financial opportunity as well as an opportunity to build a business that improves their community. To learn more and receive a free Right at Home franchise kit, visit https://rightathomefranchise.com.
Strategic Collaboration
From its inception, Right at Home believed in the power of data and forging partnerships with leaders in the health care community to deliver the best quality of care possible. The brand has collaborated with Harvard Medical School and Kindred Healthcare, for example. Right at Home has worked with Harvard and software provider ClearCare to test an intervention strategy aimed to observe, report, and monitor changes in clients' conditions; prevent avoidable hospitalizations; improve health outcomes; and lower health care costs.  This was the first large-scale study that examined how the private pay home care population utilizes in-home care, Little said.
It has also formed strategic partnerships with companies that manage employee assistance programs (EAPs), long-term care programs, worker's compensation, hospital and home health agencies, and government funding resources like Medicare Advantage and Veterans Care Coordination.
"Dealing with a handful of large brands makes life easier for senior service providers because they can deal with one corporate office instead of making arrangements individually with thousands of individual in-home care practices," Little said. "The benefit to the Right at Home system is that all of our franchisees have access to these strategic partnerships at no additional cost."
Putting People First
Hager recognized early on that providing exceptional care to seniors and their families requires hiring the right people to serve as caregivers and training them well, Little said. Right at Home takes recruitment seriously and designed a 50-page playbook to assist franchisees in recruiting and retaining the best people.
Right at Home caregivers are recognized for their work each year. Caregivers are nominated for the National Caregiver of the Year award by Right at Home franchisees throughout the network. They are selected by an independent group of professionals in the health care industry based on the following criteria: character, client impact, brand ambassadorship, team spirit, and professional development. In addition to honoring a caregiver on a national scale, Right at Home also recognizes four caregivers at the regional level for their outstanding commitment to their clients.
At the same time, the Right at Home corporate team regularly reviews the caregiver recruitment experience, collecting data related to how franchisees can improve the hiring process, from interview to follow up, to create the best hiring experience possible for candidates.
"From there, we look at training and want to show caregivers that there is a career path for them as well," Little said, adding that encouraging caregiver career growth and recognition remain cornerstones of the Right at Home philosophy.
The corporate office has also grown to meet the needs of the franchise owners, as reflected in its corporate staff of nearly 90. Dedicated support teams help Right at Home franchisees continue to build their businesses.
Understanding the need for quality continuing education, Right at Home also hired an adult learning expert to launch and perfect Right at Home University for caregivers to access hundreds of online training courses.
Finally, the Right at Home annual convention not only invites franchisees and recognizes top caregivers, but also welcomes office staff eager to network with their peers and learn how to become even more successful in their roles.
"This shows the collaborative nature of the brand and its franchisees. It also shows our commitment to our franchisees to help the staff in their offices continue learning," Little said.
Right at Home's commitment to putting people first in all areas of the business has not been missed by its franchisees, who say they are happy with company leadership and the franchise system. A recent Franchise Business Review survey showed that owners rated their satisfaction as "Very Good" in these categories, including in financial opportunity and general satisfaction. Forbes has also recognized the in-home care company as the No. 1 franchise to buy in the low-investment category (under $150,000) in Forbes' America's Best Franchises to Buy 2018.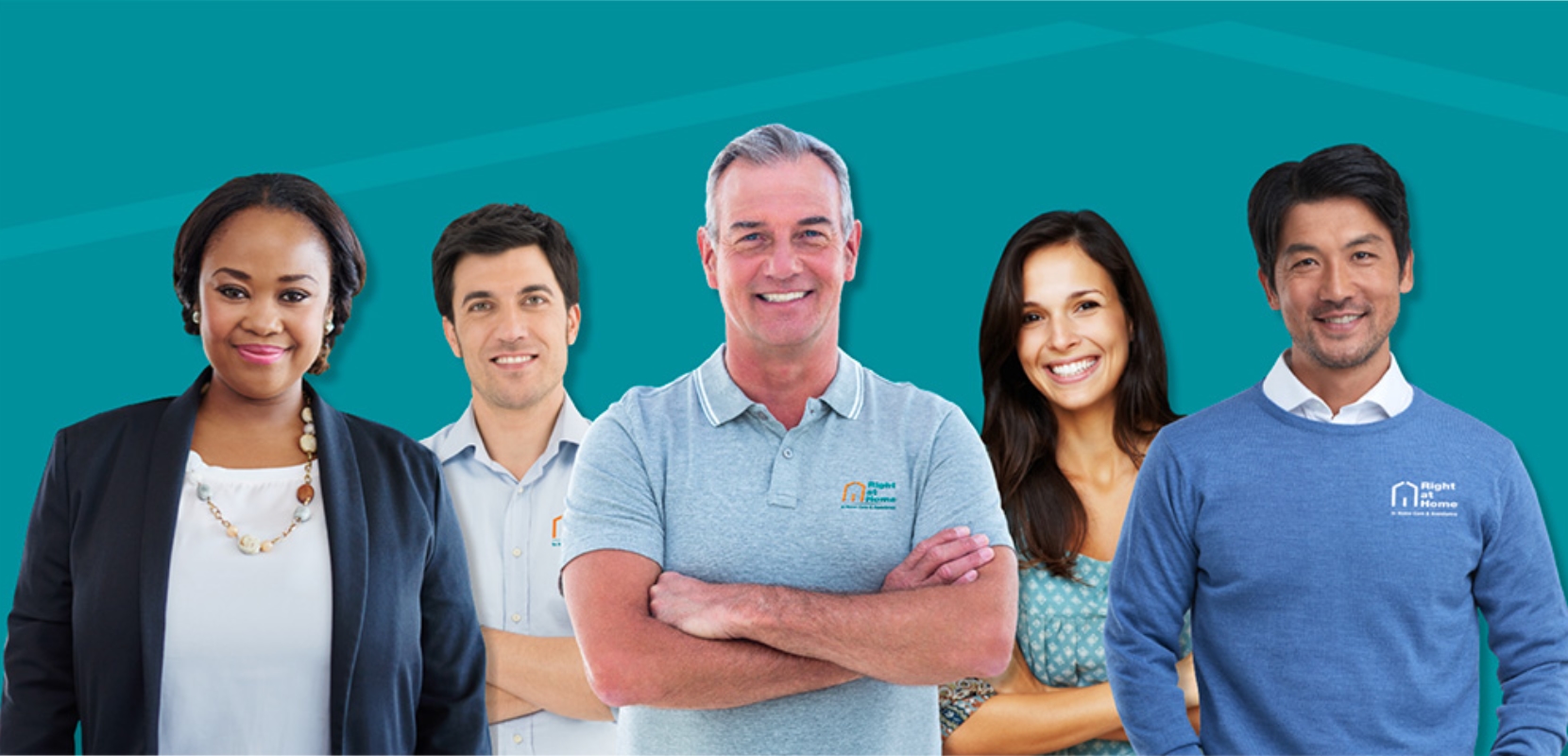 The Right Fit For You?
If you are a mission-driven leader, passionate about making a difference for seniors and their families, Right at Home may be a good fit for you as you make your next career move. There are still 300 open and available territories, including Grand Rapids, Michigan; Bakersfield, California; Daytona, Florida; Akron, Ohio; El Paso, Texas; and Jackson, Mississippi, to name a few. Franchisees are located in specifically designated areas (territories). Each is defined by zip codes that include 15,000 to 30,000 people age 65 and older.
Here are some financial requirements you'll need to fulfill if you decide to join Right at Home, according to the company's Financial Disclosure Document.
Total startup investment: $80,150 to $147,150, including franchise fee
Franchise fee: $49,500 or $44,550 for honorably discharged veterans
Minimum Liquid Assets to be considered for a franchise: $150,000
You can also expect to pay royalties to Right at Home that total 5% of your revenues. Other ongoing costs include contributions to Right at Home's brand marketing and promotional fund, which is 2% of revenue on the first $1 million. The contribution percent is cut in half after the first million in revenues, and caps out after topline revenues in the business reach $2 million. This money is a powerful resource in the marketplace for brand building and client acquisition. Right at Home is one of the largest senior care companies in the world. As such, the contributions to this fund allow the company to offer sophisticated marketing to benefit the brand and, ultimately, the franchise owners.
Franchisees complete an initial training that includes two weeks of on-site training at the corporate headquarters in Omaha, Nebraska. At the training, franchisees learn about the administrative and operational aspects of the business, as well as specific sales and marketing techniques for an in-home care franchise.
Like most franchises, Right at Home doesn't offer any forward-looking projections for how much franchisees can make. Still, they do disclose historical sales and gross margin performance of their current franchisees. As an example, their latest FDD shows that Right at Home franchises open for over a year as of December 31, 2019 (the most recent year that data is available) reported an average net billings of $1,354,565.92* according to Item 19. Remember, the amount billed, or total revenue earned, is not the same as the profit realized.
As you would for any investment opportunity when you look at franchise opportunities, you should carefully conduct your research: weigh your options, examine all franchising costs, and talk to current franchise owners to validate your understanding of the business. You should also be honest about the amount of time and capital you are willing to invest in your business.
Owning an in-home care business offers franchise owners a financial opportunity as well as an opportunity to build a business that improves their community. To learn more and receive a free Right at Home franchise kit, call 866-350-9770 or visit https://rightathomefranchise.com.
*$1,354,565.92 average annual net billings for all franchise offices open for one year or more as of December 31, 2019. Of the 308 total offices open for one or more years ending in 2019, 103 or (38%) attained or surpassed the average annual net billings.