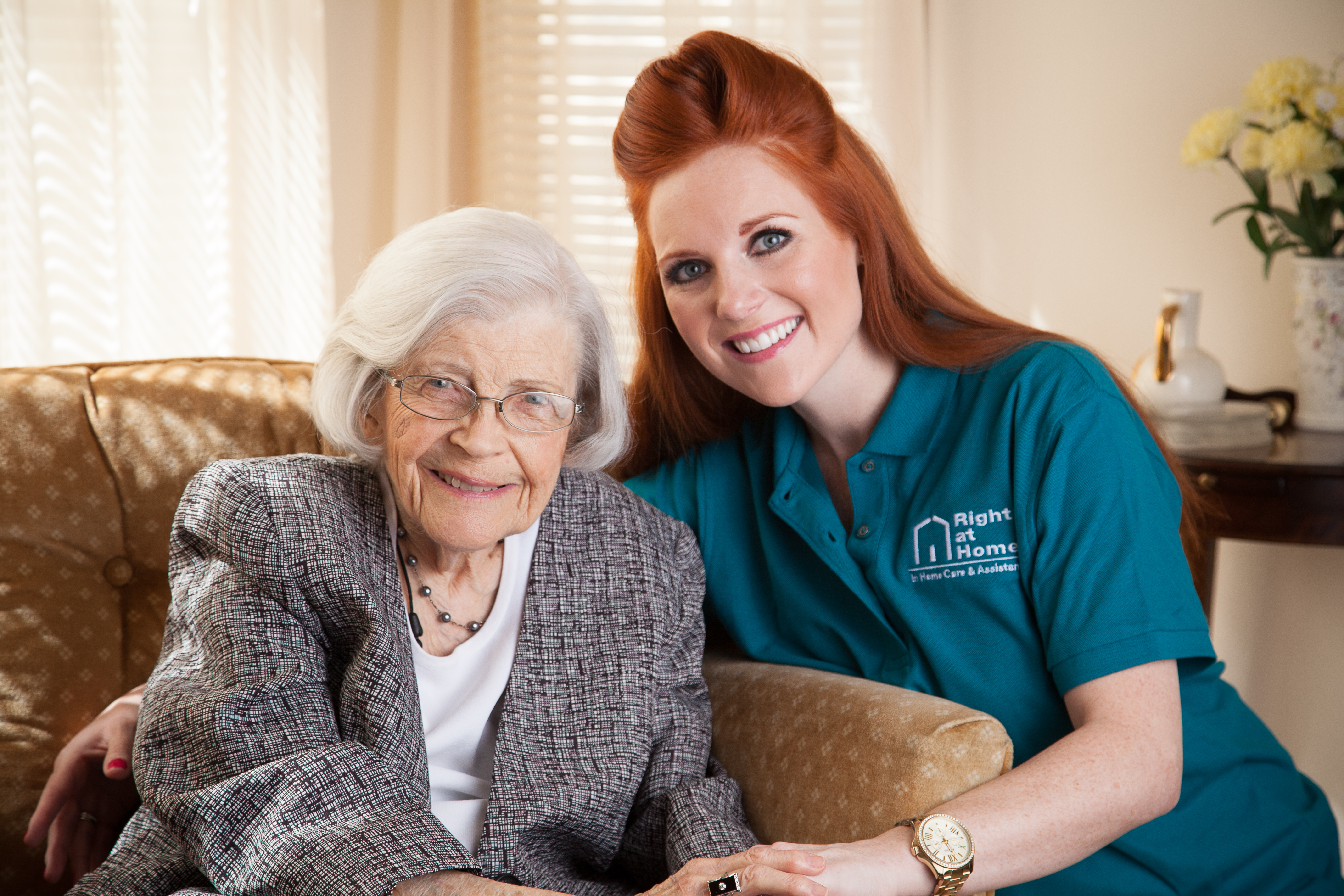 In 2020, franchises across the country were forced to pause or curtail operations in response to the coronavirus. While the economy has improved and some restrictions have been lifted since last spring, the impact of the pandemic slashed revenue expectations across sectors. We spoke with Kerin Zuger, chief of strategic growth about how owners of a Right at Home franchise were able to successfully operate their businesses during such a difficult time.
Right at Home, the second-largest global provider of in-home care, experienced a healthy bottom line last year. The in-home care franchise operates in more than 500 locations in the United States and more than 100 locations internationally. In-home care allows seniors or individuals with disabilities to receive homemaking, hygiene care, and companionship services from trained caregivers – without leaving their homes.
As nursing homes and long-term care facilities reported high rates of virus transmission over the past several months, families now more than ever are choosing in-home care services for their loved ones, according to Kerin Zuger.
"Without question, 2020 was a challenging year. It pushed us into directions we never thought we'd go and forced us to adapt in ways we'd never considered," Zuger said. "We united as a global organization through unwavering support and determination. Not only did we make it, but our fourth quarter results exceeded budget projections, while we continued to expand our global footprint."
In fact, Right at Home ended 2020 with positive year-over-year growth, and finished just shy of its franchise sales expectations, according to Jen Chaney, vice president of franchise development for Right at Home.
"We were on track to have our best numbers ever in the history before COVID hit," she said. "Some businesses were absolutely crippled by COVID-19, but we didn't have a single person not buy (a franchise) because of COVID. We were open and upfront about the challenges we were facing, and prospective buyers felt good about the resources we were providing."
The Right at Home brand attributes its successful year to its ability to shift gears quickly and provide critical support and services to its franchisees. The corporate office made it a priority to equip its owners with the right tools and processes to safeguard clients, caregivers, and staff from the outset of the pandemic.
A Foundation Built on Care and Compassion
Right at Home is one of the largest in-home care franchises in the country and has been franchising for more than 20 years. The company first opened in 1995 under owner and former hospital administrator Allen Hager, who perfected the corporate model for five years before opening it up to franchising in 2000. Right at Home offers a collection of services that include non-medical care provided in the home to seniors and other individuals with disabilities. Some locations also offer skilled nursing and hospice support.
From its inception, the corporate culture has focused on serving seniors and the compassionate caregivers who serve them. When COVID-19 began spreading across the country, the corporate office knew it had to do everything in its power to keep society's most vulnerable safe during a critical time, Zuger said. This meant deferring royalty and brand fund payments temporarily, boosting communications, and sourcing and shipping personal protective equipment to franchisees.
Immediately, the Right at Home corporate office formed a COVID task force composed of the entire executive staff and team leaders from each department to share information, create action plans, and cascade those plans down to franchisees.
Securing Free PPE For Franchisees
While it was difficult for local governments and hospitals to locate and buy personal protective equipment last spring, Right at Home leadership got right to work negotiating with brokers for hard-to-obtain masks, gowns, and other PPE on behalf of their franchisee network. The corporate office had never envisioned it would be in the PPE business; but without it, franchisees would not be able to safely do their jobs, Zuger said.
"We spent over a million dollars securing and shipping PPE to all of our franchise locations. We also worked with a local vendor to develop an e-commerce site, allowing franchise owners to order any additional supplies they needed to stay safe and continue to provide the care our clients needed," she said.
Boosting Communications
At the same time, the company understood that it needed to serve as a clinical and a regulatory information hub on behalf of its network during this time of crisis. Using its proprietary online platform, Right at Home created specific resources focused on employment resources and infection prevention information related to COVID-19. The brand also held systemwide Town Hall meetings weekly to ensure that each owner had the latest information related to COVID regulations, infection control, and safety.
"The Town Hall meetings were incredibly helpful," Zuger said. "They covered topics such as, 'what do I do if I get exposed?' or 'what do I do if one of my caregivers tests positive?' We didn't want them to have to spend the time researching these things themselves."
Regional engagement teams, led by Right at Home coaches, also met weekly to help franchises in different areas of the country better understand the regulatory landscape their particular states faced.
"This has always been the case at Right at Home, but when COVID-19 happened, the coaches really stepped up and met weekly to make sure all owners were informed on the latest developments," Zuger said.
Right at Home also felt it was equally important to connect owners who were providing critical services throughout the pandemic. The corporate office created four private Facebook engagement groups that allowed franchisees to communicate with one another and the corporate office.
Expanding Clinical Knowledge
At the same time, Right at Home expanded its clinical staff at the home office to help the network stay informed about infection mitigation and disease management. As caregivers continue to care for clients with increasingly complex health issues, there are now more resources at headquarters to better support owners.
"The need for in-home care services is at an all-time high. Add in a pandemic in which seniors are forced into isolation; you see more depression, anxiety, and unfortunately, heightened geriatric suicide," she said. "It is now our obligation as an industry to ensure seniors and those living at home with a disability have access to all other resources, products, and services they need to live a safe and happy life."
New national preferred partnerships formed with home health companies– including Amedisys, Kindred Healthcare, and Encompass—have enabled Right at Home to be involved in the senior care continuum. Working in partnership with these providers, Right at Home is now able to seamlessly serve clients when they no longer need acute care, but still need in-home care support.
"We all have a place in delivering care and there is not one provider who can do it all," Zuger said. "Our duty is to leverage every resource possible to allow seniors or individuals to stay in their homes as long as they can."
Expanding the Franchise Network
Even as the pandemic hit, Right at Home still worked with candidates interested in joining the Right at Home family.
Jason DiPietro, of Boulder, Colorado had never worked in the health care sector before he purchased a Right at Home franchise last spring. The former real estate investor had previously experienced success on the East Coast and was looking for his next venture. As he was researching new entrepreneurial opportunities, DiPietro knew he wanted to be a part of a franchise that offered standardized business practices in his next venture—he just wasn't sure what it would be.
"My biggest requirement was that I wanted to do something that helped people," he said. "I spent a tremendous amount of time in the hospital as a child and as a young adult. You appreciate the care you don't necessarily ask for – whether that's just a smile or a nod – you don't know how wildly relieving it is."
After speaking with a franchise broker at a social gathering, DiPietro conducted significant research before whittling down his franchise options down to four companies – and easily decided that Right at Home was the best match. Before he made his final decision, he talked to other Right at Home franchise owners, who all spoke to the brand's commitment to their franchisees—particularly in response to the challenges posed by the pandemic.
DiPietro was about to sign his Franchise Agreement when the coronavirus began impacting businesses. He credits the Right at Home team for allowing him to take as much time as he needed before agreeing to sign on.
"The Right at Home corporate office thoroughly explained the challenges they expected to face and how they planned to navigate franchisees through the health crisis," he said. "They were very candid; and I signed within a month."
The Right at Home–Boulder location officially opened in fall 2020, after DiPietro received state licensure in October 2020. During the time between signing and obtaining licensure, he completed training, learned the in-home care business, hired caregivers, and received support from corporate team members and fellow franchisees.
"The Right at Home franchisee to my north out of Fort Collins has welcomed me with open arms. She and her office have been integral in helping me get my office started and open," he said. "Before I opened, I was able to come to her office and work with her staff to better understand what my day-to-day would look like."
DiPietro is excited about the growth potential and the scalability of the in-home care business. With an aging population that is expected to triple by 2050, the Bureau of Labor and Statistics reports that in-home care is currently one of the fastest-growing segments within the health care industry.  Because you can scale your business to meet the demand of your clients, DiPietro said in-home health care differs from other sectors – such as location-based fitness centers—where you can quickly reach a ceiling if you are unable to build out your facility.
"I can't think of another market that has more growth potential than senior care," he said. "If you open a business, the goal is to look for a market with growth."
For those looking to make the leap, DiPietro recommends Right at Home for many reasons. He credits its thorough two-week training program; its "Right Start team," which regularly checks in with new owners; and its responsive support team. With built-in marketing and operations support, Right at Home provides owners with the branding and infrastructure they need to get started.
The in-home care business requires owners who are tenacious and understand every facet the business touches ,DiPietro says, and he is up to the challenge and excited for what the new year will bring. His goals are to continue to grow, bring in more administrative staff to scale up, and to provide caregivers the highest possible hourly wages possible.
"Right at Home is a people business—you aren't selling widgets, you are selling care for someone's loved ones," he said. "You are also curating and nurturing a pool of caregivers and helping them feel engaged."
Right at Home Receives Rave Reviews From Franchisees
Right at Home franchise owners report that they are happy with both the corporate leadership and the overall franchise system. A recent Franchise Business Review survey reports that owners rated their satisfaction as "Very Good" in these categories, including financial opportunity and general satisfaction. It was also named one of FBR's Top Senior Care franchises.
If you want to join a franchise that taps into your passion for helping others, here are some financial requirements you'll need to fulfill if you decide to join Right at Home, according to the company's most recent Franchise Disclosure Document.
Total startup investment: $74,750 – $144,780, including franchise fee.
Franchise fee: $49,500 or $44,550 for honorably discharged veterans
Minimum liquid assets to be considered for a franchise: $150,000
Continuing royalties: 5% of net billings.
Marketing fees: 1% to 2% of net billings for local marketing (2% of net billings on the first $1 million. This contribution percent declines to 1% after the first million in billings).
Initial training includes 10 days at Right at Home's headquarters in Omaha, Nebraska. At the training, franchisees learn about the administrative and operational aspects of the business, as well as specific sales and marketing techniques for an in-home care and assistance franchise.
Right at Home discloses historical sales and gross margin performance of their current franchisees in Item 19 of their Franchise Disclosure Document (FDD). Average net billings for 2019 were $1,354,566 for all their locations open for at least one year, while locations open for over five years averaged $1,527,141.
There are currently open territories in 45 states.
Owning an in-home care business is not only rewarding but could also be the next step on your career ladder. To learn more and receive a free Right at Home franchise kit, call 866-350-9770 or visit RightAtHomeFranchise.com.