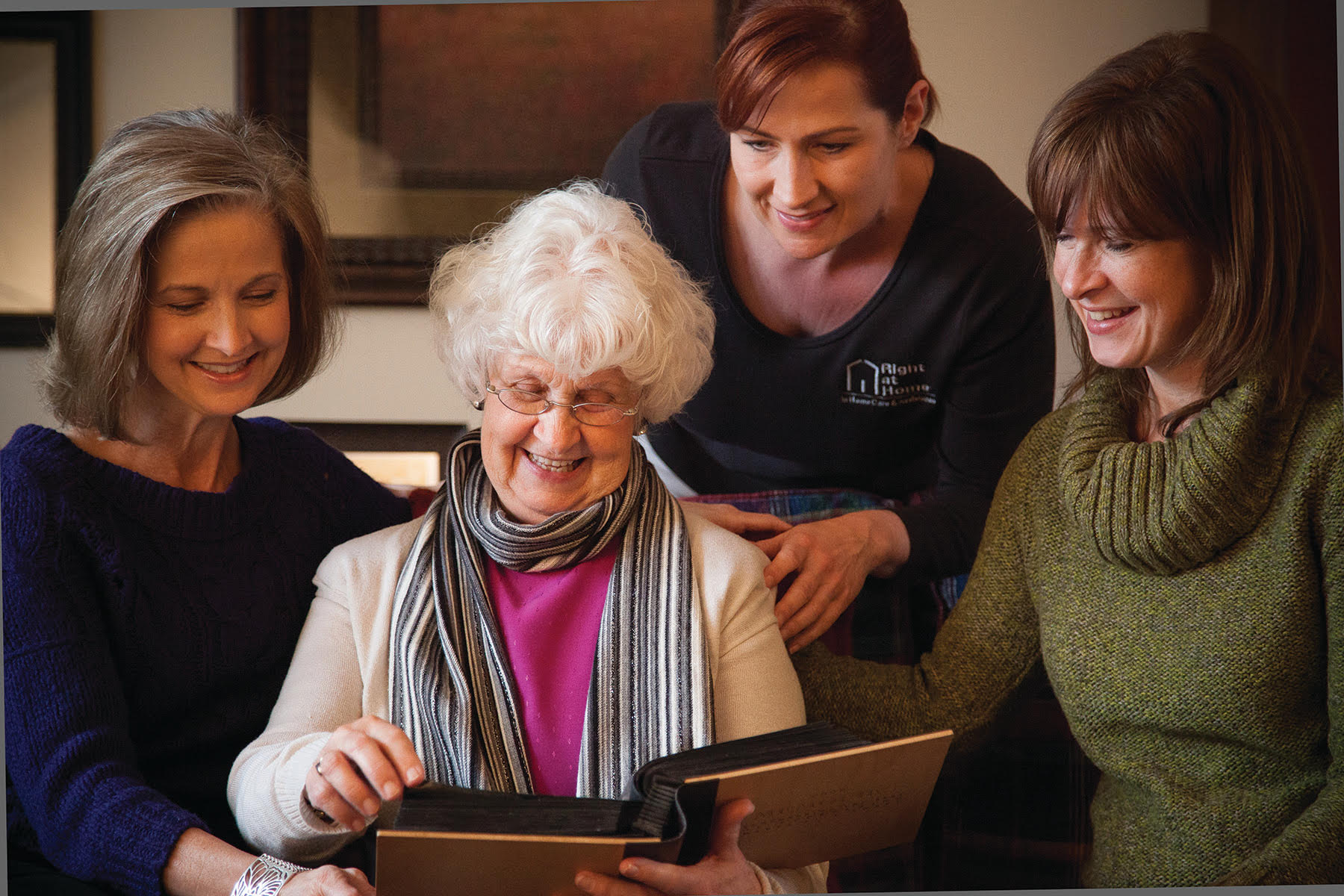 Mindy Wilder spent more than 16 years in hospitality before she became co-owner of her own in-home care business. After serving in various roles — from call center representative to revenue manager — she knew it was time to pivot into a career in which she could make money for herself, while still serving others.
"I was a little burnt out on hotels and tired of making money for everyone else," she said.
Mindy's husband, Tate, felt the same way. He had spent more than 20 years in the healthcare industry, starting as a health care equipment delivery driver, working his way up to managing medical equipment companies. Tired of travel and time away from his family, he was ready to make the next move.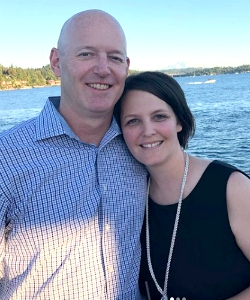 Looking to relocate closer to their aging family members, the Wilders were open to opportunities outside of corporate America. A recruiter introduced the couple to several franchising concepts, and they quickly discovered that their collective experience and desire to work together matched well with the in-home care industry. After learning about three or four different franchises in the in-home care sector, Mindy said Right at Home stood out from the rest.
"During our Discovery Days, we found the Right at Home corporate office to be welcoming and friendly and very organized. It was obvious that people weren't just there for the paycheck, but because they had a passion for it," Mindy said.
Founded in 1995 by former hospital administrator Allen Hager, Right at Home provides in-home care services that allow seniors and people with disabilities to retain as much independence and dignity as possible. Currently operating in eight countries and in more than 600 locations, Right at Home is one of the largest home care franchises in the world.
Today, Mindy and Tate operate Right at Home-Woodlands in the Greater Houston area. In less than three years, the Wilders have grown their business from two clients who needed eight hours of care per week to 26 clients who receive 1,500 hours of care per week. They also employ 50 caregivers and support staff.
"From Year 1 to Year 2, we experienced 30 percent growth, even in Covid," Tate said. "This year, we are projecting to double last year's numbers."
The numbers certainly support their projections. Demographics show that a growing number of Baby Boomers will choose to stay at home rather than enter assisted living facilities. The world's aging population is expected to triple by 2050, according to UN estimates. As a result, the Bureau of Labor and Statistics reports that in-home care is currently one of the fastest-growing segments within the U.S. healthcare industry.
Providing Hospitality in a Different Way
Although Mindy didn't initially plan to make the leap from hospitality executive to in-home health care business owner, she said much of the skills she learned throughout her career apply to her business today and fit her "servant heart."
"The hotel industry is a people industry, where you create an experience for people. There is also a lot of teamwork. This transitions into health care more than you would think," she said. "When you take a few minutes to talk to clients, their families, and referral sources, you are also helping them have a better experience."
"The guidance that Right at Home continues to provide the Wilders has helped them make a seamless transition," Tate said. The corporate office offers in-person training, assists with developing business plans and policies and aids them in obtaining their licensing.
"They send people out to spend time in our office. We have monthly meetings with our performance team. I have the opportunity to call everyone from the CEO and president with questions and concerns," Tate said. "It's really been better than being in corporate America, where I didn't get that response."
That same team atmosphere extends to the Right at Home-Woodlands office. Mindy enjoys taking care of her team members, who in turn enjoy sharing their interactions with clients.
"Team building and community is my focus," she said. "I want to grow their skill sets and give my caregivers room to grow."
Those who have a passion for people can take that passion and be successful in in-home care, Tate said. The Wilders met with owners at other Right at Home locations and discovered each exemplified the corporate office's mission of serving others. During the pandemic, the couple felt that it was especially important to put both families and caregivers at ease and developed deep relationships with clients and their families.
Their approach to caring for their clients has not gone unnoticed. This year, the Wilders and the Right at Home-Woodlands team was recognized by the corporate office with a National Brand Ambassador award, given to the brand and system that best exemplifies what it means to be a Right at Home owner.
Mindy and Tate agree that their business has given them new opportunities to serve and grow. They encourage others with corporate backgrounds to consider Right at Home, particularly if they're mission-driven and want to make a difference in peoples' lives.
"In a hotel, everyone checks out and you don't know what happens," Mindy said. "Here, you see the (client's) progression and the relief you provide (the family) by helping someone."
In-home Health Care: A Booming Sector
Unlike the restaurant and hospitality industries, which suffered sharp downturns due to Covid last year, the in-home care industry has remained stable over the past year and is expected to grow well into the next decade.
In 2020, Right at Home's total revenue remained relatively flat; whereas restaurants lost an average of 5.7 percent of locations and 20 percent average sales per location, according to Jennifer Chaney, vice president of franchise development for Right at Home. In February 2020, Right at Home was on track to achieve its highest sales ever in the history of the organization. The company still grew and opened 17 locations in the United States, and one new corporate location, she said.
"We expect an explosion in 2021. Owners have weathered the Covid storm, did incredibly well, and are looking at the next phase – what they need to do to maintain their business and grow what they currently have," Chaney said.
While it's too early to forecast exactly how many new locations will open, Chaney said the most activity centers around existing owners looking to purchase new territories or expand current ones. The company ultimately hopes to sell 15 new territories in 2021, which are spread throughout the country. Chaney notes that there are no active resales opportunities currently, which demonstrates that current owners want to keep their locations.
"We have a really great program in place for our existing owners where we go through a detailed process and make sure that if they are looking for additional territory, that they have a solid plan," she said. "We look at sales goals, plans for marketing, caregiver recruitment, their office location, and multiple other things."
The key to being a successful owner lies in caring not only for your clients, but for your caregivers who show up for them every day.
"There are a ton of similarities between hospitality and in-home care. If you want to be successful in the hotel business, you must recruit and retain your employees and really care for them," Chaney said. "Likewise, our caregivers are the heartbeat of our business. If you don't have caregivers, you can't provide care to clients."
Invest in A Business That Gives Back
If joining a franchise that provides care and companionship to seniors and adults with disabilities aligns with your mission, here are some financial requirements you'll need to fulfill if you decide to buy a Right at Home franchise, according to the company's 2021 Financial Disclosure Document.
Total startup investment: $82,000 to $150,800, including franchise fee
Franchise fee: $49,500 or $44,550 for honorably discharged veterans
Minimum Liquid Assets to be considered for a franchise: $150,000
You can also expect to pay royalties that total 5 percent of your revenues. Other ongoing costs include contributions to Right at Home's brand marketing and promotional fund, which is 2 percent of revenue on the first $1 million, as well as local advertising fees that equal 1 to 2 percent of net billings.
Initial training includes 10 days of on-site training at Right at Home's headquarters in Omaha, Nebraska. At the training, franchisees learn about the administrative and operational aspects of the business, as well as specific sales and marketing techniques for a home care franchise.
Franchisees serve specific territories and do not compete with one another. Each territory is defined by zip codes that include 15,000 to 30,000 people ages 65 and older.
Like most franchises, Right at Home doesn't offer any forward-looking projections for how much franchisees can expect to make, but they do disclose historical financial performance of their franchise locations. According to the company's latest Franchise Disclosure Document (FDD), net billings for franchised offices open at least 12 months averaged $1,277,355*.
As you would in any business investment, when you research franchise opportunities you should carefully weigh your options, look at all costs, and be sure to talk with current franchise owners to validate your understanding of the business. You also need to be honest about the amount of time and capital you are willing to invest in your business.
To learn more and receive a free Right at Home franchise kit, call 866-350-9770 or visit https://rightathomefranchise.com.
*$1,277,354.93 average annual net billings for all franchise offices open for one year or more as of December 31, 2020. Of the 354 total offices open for one or more years ending in 2020, 127 or 36% attained or surpassed the average annual net billings.