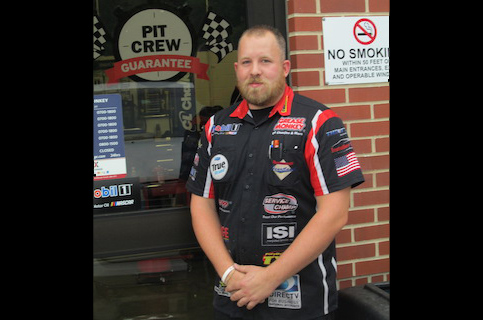 What was it about the franchise model and/or leadership that led you to purchase it?
When I was leaving the Army and researching automotive franchises I wanted something that was different from the others. I never heard of Grease Monkey, but as soon as I saw how they operate I was hooked. What really sold me on the franchise was the leadership. They're everything you dream of when you're looking for a franchise. They helped me in so many ways and still do to this day.
What type of business experience, education, and/or skills did you have prior to becoming a franchisee that you have found particularly helpful?
I spent my entire adult life in the United States Army as a mechanic. I do have a bachelor's degree in another field, but I believe the skills I learned in the Army have helped me the most as a franchisee. Many of our core values are the same as the Army's. I think this helped make a smooth transition into the franchise. Another thing about the franchise is that we're the top veteran franchise in the quick lube industry. Grease Monkey has worked very hard to get us veterans a smooth transition into the civilian work place as well as some very nice incentives.
What do you like most about your job/owning a franchise?
I love everything about owning a franchise, which is why we opened our second store this past week. Grease Monkey is great. A big issue I hear from franchisees at other brands is that once you sign your franchise agreement they feed you to the wolves and it's hard to get support. It's totally opposite with Grease Monkey. They have a great support team. They really want the franchisee to succeed. The thing I love the most about owning a franchise is our customers. We love helping and educating our customers. We're not in the automotive industry we're in the customer service industry and let our automotive work speak for itself. We take great pride in our work but even more pride building a relationship with our customers built upon trust.
How did you fund your franchise? Did you receive any discounts/incentives?
I self-funded my franchise with money I received being medically separated from the Army. I received several discounts and incentives from Grease Monkey. Like I have said before, Grease Monkey has the best veteran incentives program and this is backed by proven data.
What advice do you have for prospective franchise buyers? What do you wish you had known prior to going into franchising?
The best advice I have for prospective franchise buyers is to find a franchise that truly believes in you as much as you believe in them. That's what I found with Grease Monkey. I'll always remember a series of words my franchise told me. I was on the verge of completely backing out and they told me we believe in you and where there's a will there's a way. I blew it off at the time and was like I don't know what he's talking about. A few days later I received a call from them and they had found a perfect location for me and made my situation work. I will tell anyone new to becoming a franchisee to have patience. I expected to start fast and hit a home run out of the gate. It was completely the opposite. We started slow and now we are hitting a home run. Don't be scared to ask for help even if you think you know everything. The only thing I wish I knew before becoming a franchisee is taxes. Sales tax in particular. Make sure you get with your state and get all the information you can on sales tax. It's not something you want to play games with.