Women in Franchising Report 2021
SPECIAL REPORT
The State of Women in Franchising Remains Strong and Growing
2021 Signals a Positive Turn in Women Entrepreneurship in a Post-Covid Economy
While women-owned franchise ownership has been on the rise for the past decade, we saw a setback in 2020 due to women playing a more significant role in family caregiving of both children and elderly parents. However, we are starting to see the numbers turn back around in 2021.
Over the last decade, there has been a 38% increase in women-owned franchise businesses, and of all new franchises opened in the past 24 months, 32% are women-owned businesses. This year, we surveyed 8,453 women franchisees from 289 leading franchise brands to better understand the factors driving women to franchise in such large numbers.
Each survey participant was asked 33 benchmark questions about their satisfaction with their franchise company. The questions focused on areas such as leadership, training, financial opportunity, and core values, as well as 16 more personal questions concerning their business lifestyle and overall enjoyment of running their franchise.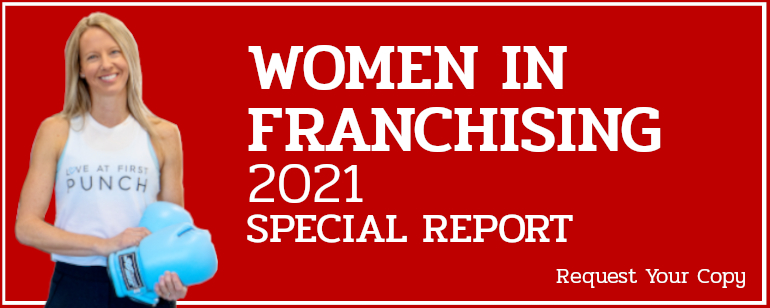 Data Highlights
88% of women franchise owners say they enjoy owning and running their business.
Three out of four women would recommend their franchise to other would-be entrepreneurs.
Women franchise owners earn an average annual income of $95,000 from their franchise business, nearly double the annual income of the average 45-year-old female employee in the U.S (non-business owners).
Child services, travel, fitness, and education are four of the most popular business sectors for women franchise owners.
This year's Top Franchises for Women award-winning brands include...
View our full list of 2021 Top 50 Franchises for Women and learn more about these award-winning franchise opportunities in your area.
As women, we tend to be the nurturing ones, we're bringing a different set of experiences and roles to the franchising industry.
-Becky Moultrie, Assisting Hands Franchise Owner
Explore the full findings of our 2021 Women in Franchising Report. Request your copy today.