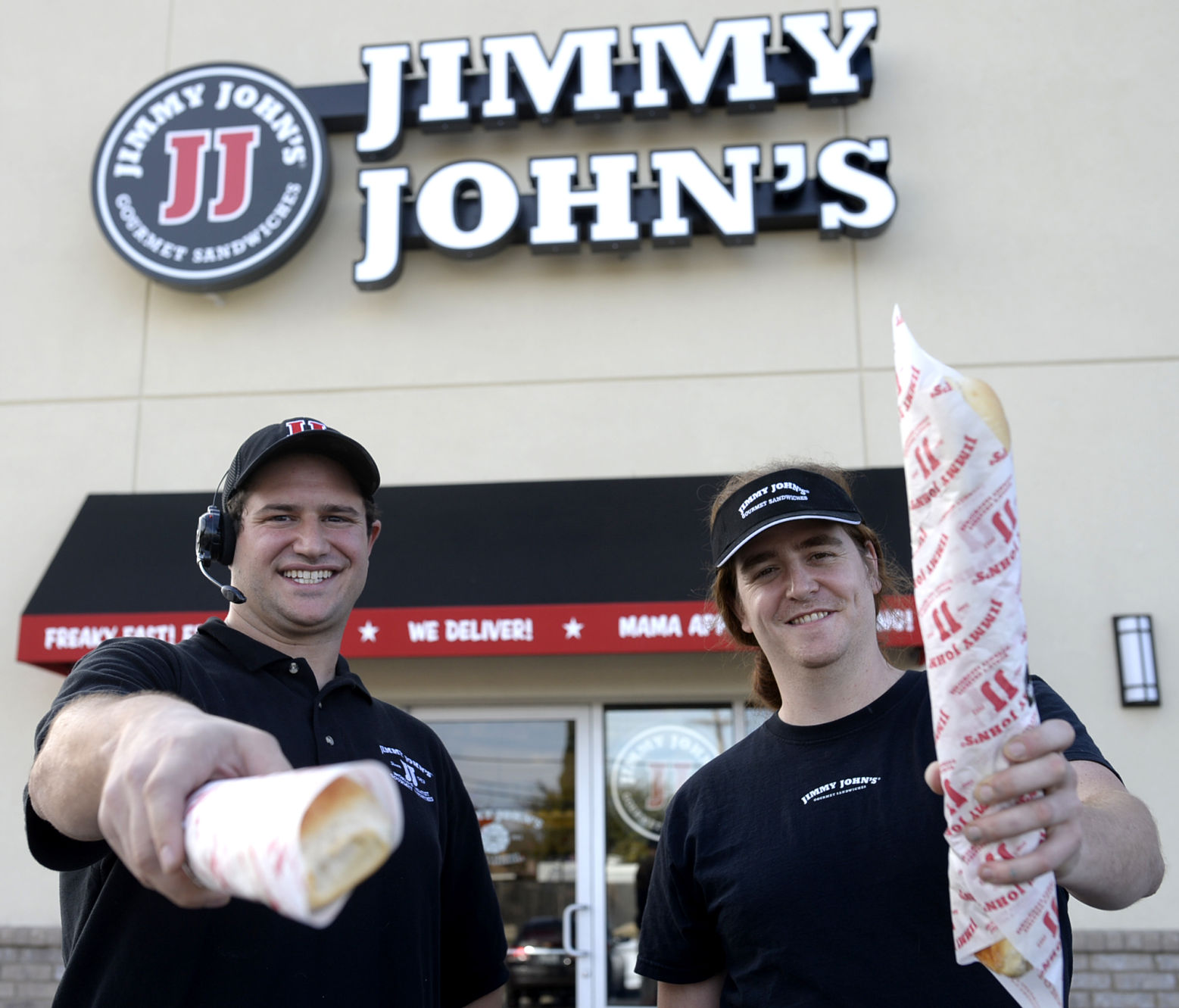 If you've been dreaming about owning and operating your own sandwich franchise, investing in one of these award-winning sandwich franchises could be a great option. Of course, the restaurant industry has faced catastrophic blows since the pandemic began in March of 2020, which may have you questioning if now is the right time to jump in. The answer depends on your outlook. While cautious investors may want to look towards other industries, like cleaning or services, bullish investors with a passion for food may find an appealing opportunity and discounted fees in the sandwich space.
See the full list of Top 200 Franchises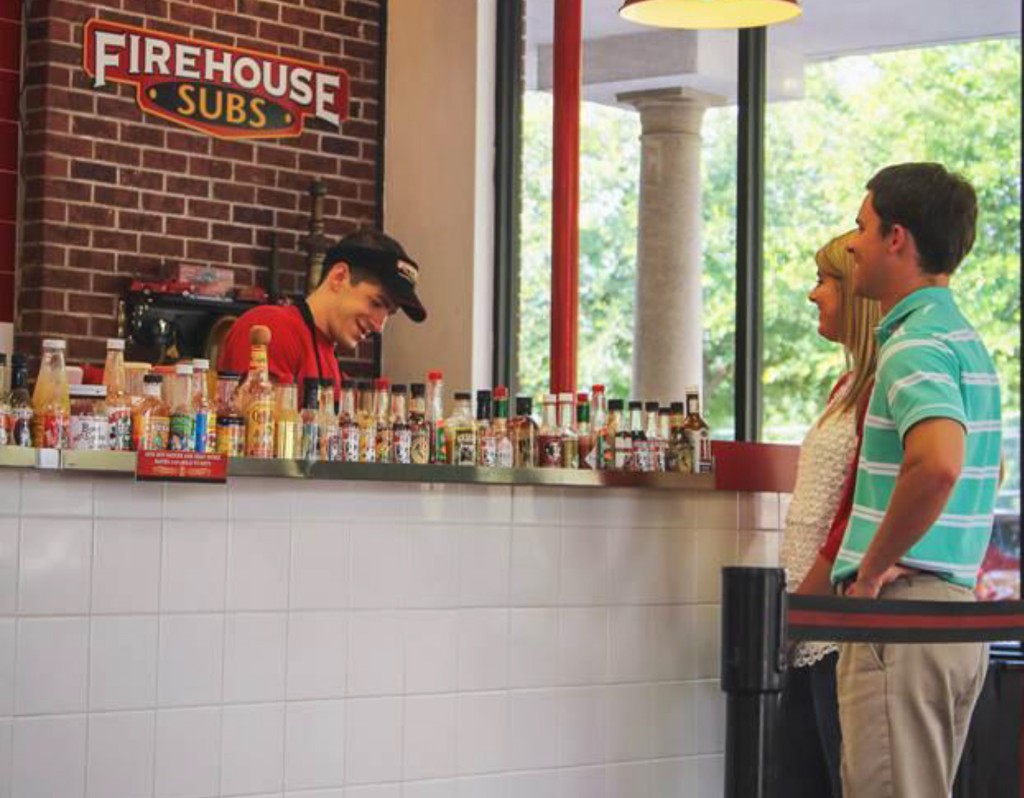 Number of restaurant locations: 1,100 nationwide
Founded: 1994 in Jacksonville, FL by Chris Sorensen & Robin Sorensen
Currently owned by: Firehouse of America LLC
Firehouse Subs serves up subs that save lives. To date, they have donated more than $52 million in life-saving equipment to first responders through their non-profit Firehouse Subs Public Safety Foundation. Their mission is their brand. They were also named as a top franchise on Franchise Business Review's Top 200.
See how they scored and hear what franchisees said about owning a Firehouse Subs franchise here.
How is Firehouse Subs Adjusting to the Pandemic?
At the beginning of the pandemic, the franchise suffered crushing 45% losses. Instead of comparing themselves to past performance, they drew upon their can-do team culture and concentrated on pivoting their strategy to get food to their customers. This is where previous investments in food packaging and advertising paid off, said CEO Don Fox, allowing Firehouse Subs to shift to a delivery model that didn't compromise its food quality.
How Much Does it Cost to Own a Firehouse Subs Franchise?
Minimum investment: $80K
Franchise fee: Single unit is $20,000
Initial investment: The average turnkey investment is approximately $350,000.
Royalty fees: 6% of sales
Marketing fees: 3% – 5% of sales
SUBWAY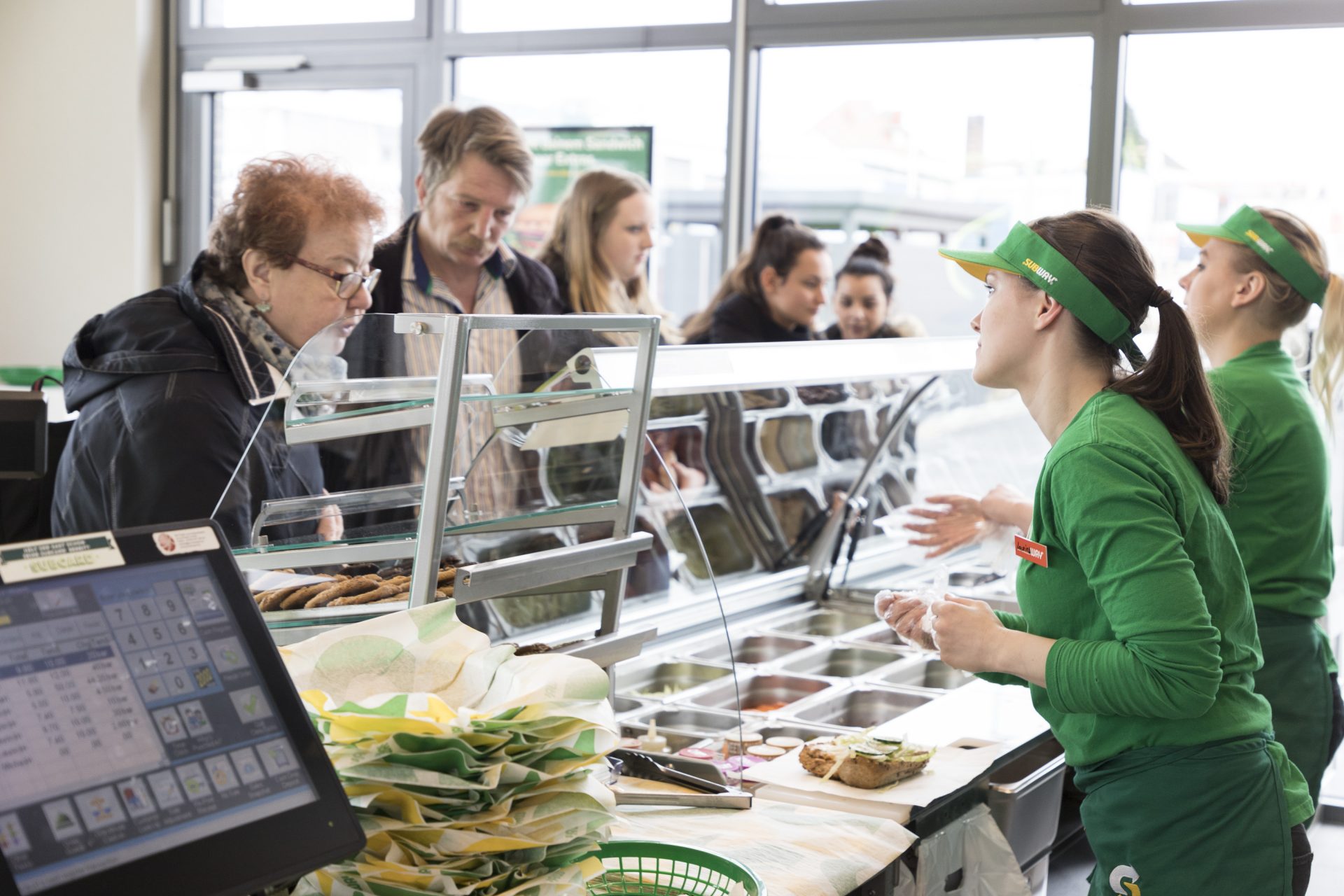 Number of restaurant locations: 44,800 worldwide
Founded: 1965 in Bridgeport, CT by Peter Buck and Fred DeLuca
Currently owned by: Doctor's Associates, Inc
With its green and yellow logo, "five-dollar foot-long" jingle, and "Eat Fresh" tagline, Subway immediately rises to the top as one of the most recognizable franchises in the country. In fact, the iconic sandwich shop is one of the largest in the world, with over 44,000 locations worldwide. It also has one of the lowest franchise fees in the industry at $15,000. The trade-off? The royalty fee is steep at 8% of gross sales, one of the highest in the industry. But for many, this trade-off has been worth it, allowing individuals and families to break into the fast-food business — an industry, where many of the big brands like McDonalds and Burger King are largely owned by investment firms.
How is Subway Adjusting to the Pandemic?
Subway has launched a contactless pickup and delivery grocery service, which allows patrons to purchase loaves of bread, meat, veggies, cheese, and any fixing typically found on the Subway menu. Subway Grocery is already available at 1,200 locations in 35 states, with plans for additional locations. They are also offering contactless pickup and delivery at certain locations. For a period of time In March, when the pandemic began, they cut their royalty payment in half and suspended advertising funds.
How Much Does It Cost to Own a Subway Franchise?
Cash required: $15,000
Franchise fee: $15,000 in the United States and Canada
Initial investment: The total investment is an estimated $116,000 to $263,000 in the United States and $102,000 to $234,000 in Canada.
Royalty fees: 8%
Marketing fees: 4.5%
See this year's Top Food & Beverage Franchises
LENNY'S GRILL AND SUBS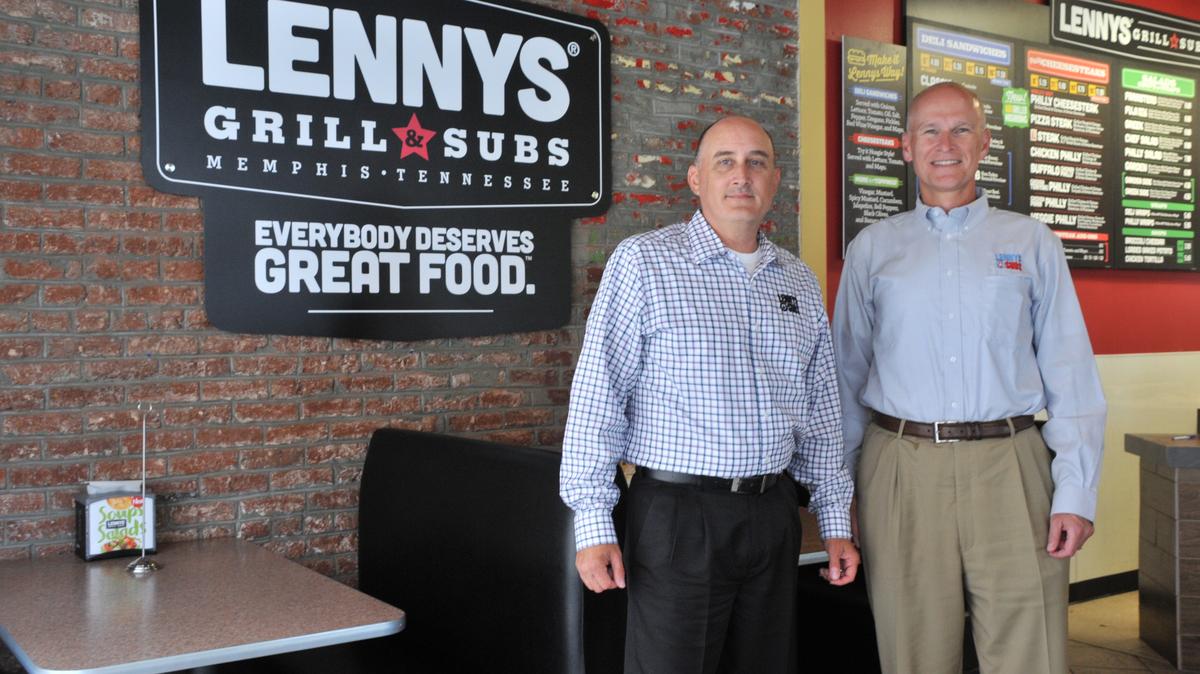 Number of restaurant locations: 106
Founded: 1998 in Memphis by Len and Sheila Moore
Currently owned by: GOSH Enterprises, Inc.
Lenny's Grill and Subs is known for its signature Philly cheesesteaks, grilled sandwiches, deli sandwiches, and salads. In 2019, Lenny's was acquired by GOSH Enterprises, Inc, the parent company of Charley's Philly Steaks and BIBIBOP Asian Grill. Since the acquisition, GOSH has paused major development while they invested time into refining the menu, operating systems, and brand. But they have plans for major growth, with a goal to double the size of their franchise system by 2023. To do this, they are incentivizing multi-unit ownership for new and existing franchisees.
How is Lenny's Grill and Subs Adjusting to the Pandemic?
Lenny's is requiring face coverings in all of their stores. Patrons can order online and, in some locations, curbside pick-up is available. At other locations, drive-thrus offer convenient ordering. GOSH Enterprises is actively recruiting new franchisees as part of its development plan, which shows no signs of slowing down.
How Much Does It Cost to Own a Lenny' Grill and Subs Franchise?
Net worth required: $400,000
Cash required: $75,000
Franchise fee: $25,000
Total investment: $193,344 – $449,399
Royalty fees: 6%
Marketing fees: 2%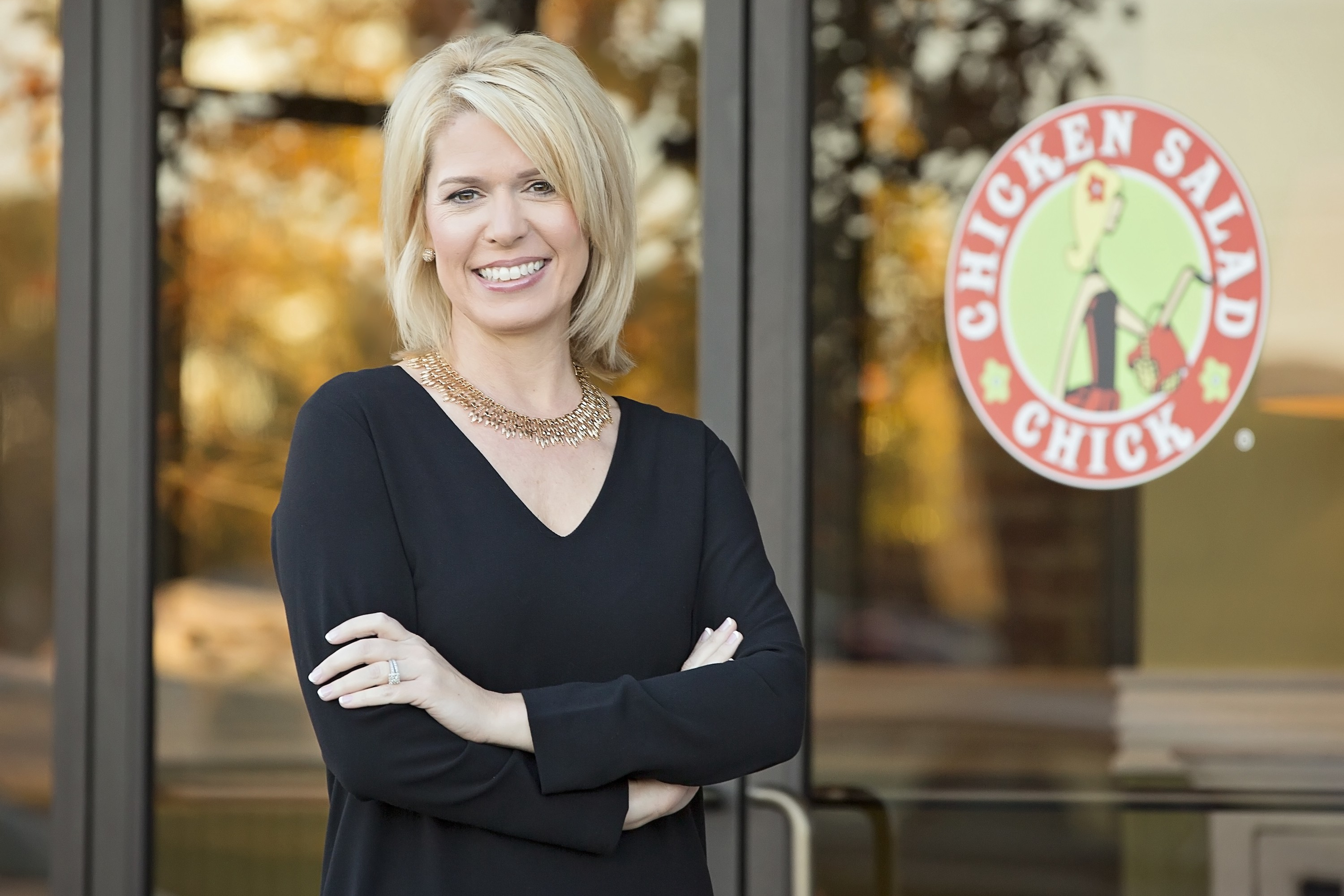 Number of restaurant locations: 155
Founded: 2008 in Alabama by Kevin and Stacy Brown
Currently owned by: Brentwood Associates
Chicken Salad Chick's claim to fame is its chicken salad sandwiches. Stacy Brown, owner and "original chick," came up with the idea in her very own kitchen in 2008 and began franchising in 2012. The restaurant now has 155 locations in 16 states, most of them in the Southeast. Its footprint stretches from Texas to Missouri to Virginia. In 2019, the company grew sales by 44%, according to Technomic data. They were also named as a top franchise on Franchise Business Review's Top 200.
See how they scored and hear what franchisees said about owning a Chicken Salad Chick franchise here. 
How is Chicken Salad Chick Adjusting to the Pandemic?
Chicken Salad Chick quickly recognized the increased importance of regular communication during the pandemic. Scott Deviney, president and CEO of Chicken Salad Chick increased the cadence of his monthly internal podcast to weekly once the pandemic struck — in an effort to share ongoing coronavirus updates. The marketing team also started sending out a nightly email to share learnings from Chicken Salad Chick franchises across the country. They have implemented a preorder system for the Quick Chick Grab and Go platform. These preorders are then delivered in bulk to cities and neighborhoods at a designated location. They have also instituted pop-up drive-thrus at locations without drive-thru windows (about 40%), relying on tents set up in empty parking lots to mimic the drive-thru experience. Finally, the brand launched the "Donate a Meal" program as part of its "Feeding the Front Lines," which allows customers to purchase a meal for healthcare workers.
How Much Does It Cost to Own a Chicken Salad Chick Franchise?
Net worth required: $600,000
Cash required: $200,000
Franchise fee: $50,000 and a $10,000 grand opening marketing fee for the first restaurant
Initial investment: $562,000 – $740,000 (not including tenant improvement funds)
Royalty fees: 5%
Marketing fees: 2%
JASON'S DELI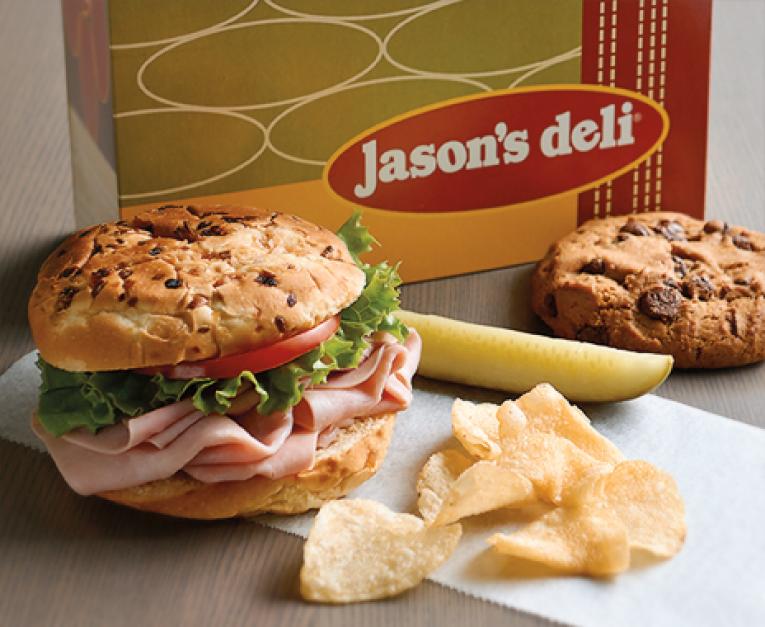 Jason's Deli is a modified form of a New York-style delicatessen that offers a variety of delicatessen products, as well as sandwiches, soups, baked potatoes, pasta dishes, wraps, and a salad bar, as well as catering and delivery services. The majority of Jason's Delis are located in retail or strip centers. There are 40 corporate-owned free-standing locations and 10 franchise-owned free-standing locations.
Number of restaurant locations: 283
Founded: 1976 BY Joe Tortorice Jr. in Beaumont, Texas.
Currently owned by: Deli Management, Inc.
How is Jason's Deli Adjusting to the Pandemic?
During a recent webinar with FBR, Michelle Kemplay, director of human resources at Jason's Deli, explained the main thing they've had to focus on throughout the pandemic more than ever is communication.  They've also recognized the mental toll that the pandemic has inflicted and have been offering a number of resources to help employees who are struggling. Kemplay says, "We partner with an Employee Assistance Program and offer counseling and other types of resources to our folks who maybe just need to talk to somebody."
How Much Does It Cost to Own a Jason's Deli Franchise?
Franchise fee: $35,000
Initial investment: $1,126,105.80 to $1,576,444.80
Royalty fees: 4%
Marketing fees: 2%
PENN STATION EAST COAST SUBS
Penn Station offers an upscale, fast-casual feel and is known for its cold sandwiches, hand-squeezed lemonade, and fresh-cut fries. They care about the communities they serve and have created several programs including the student-athlete program, random acts of kindness, and fundraiser days. They also support the National Down Syndrome Adoption Network.
Number of restaurant locations: 310
Founded: 1983 by Jeff Osterfeld in Dayton, Ohio
Currently owned by: Osterfeld Enterprises
How is Penn Station Adjusting to the Pandemic?
During the pandemic, communication has been critical at Penn Station. The brand has worked hard to ensure its franchisees understand the policies, procedures, and standards put in place to keep customers and employees safe. "For example, our vice president of operations and I send out daily memos to our franchisees," said Craig Dunaway, president of Penn Station East Coast Subs. "In these detailed memorandums, we include real-world examples of what is happening in our industry (restaurants closing, layoffs, expected sales decreases, government initiatives, and mandates and much more) and specifically, what we are doing as a brand to help them survive and ultimately thrive." They also began offering family meal deals at discounted prices and enlisted a third-party delivery service at most restaurants.
How Much Does It Cost to Own a Penn Station Franchise?
Net worth required: $500,000
Cash required: $300,000
Franchise fee: $25,000
Initial investment: $383,844 – $613,764
Royalty fees: 8%
Marketing fees: 2-3%
Should you invest in a Food Franchise? Read on to see if a Food Franchise is a good fit for you. 
JIMMY JOHNS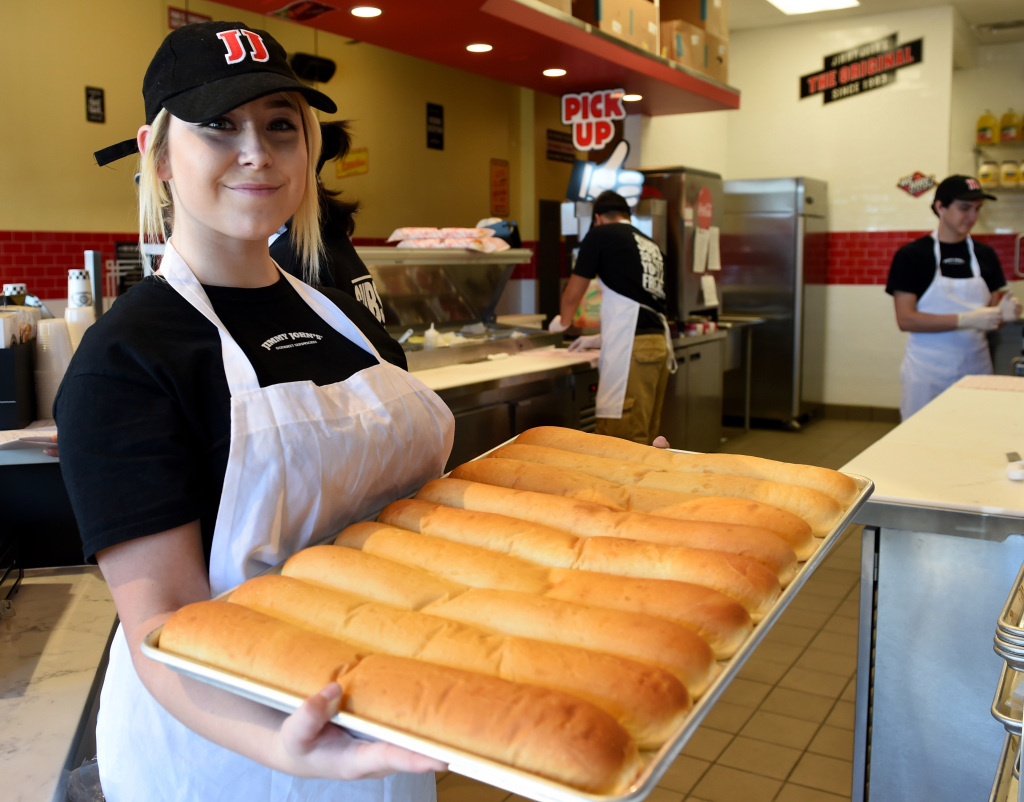 Jimmy Johns claim to fame is its "freaky" fast sandwiches. They have one cheese, seven meats, and a tight delivery radius (5-minute delivery zones) to ensure that sandwiches are always fresh and "freaky" fast. To keep entry and operating costs low and profits high, Jimmy Johns does not use friers or extra equipment. They rely on simple ingredients and everything is standardized. But it's not just the simple ingredients, freaky fast food, and standardized processes that have helped Jimmy John's soar; it's also the people. "'Jimmy John has a special talent for taking ordinary people and pushing them to do extraordinary things,'" James North, president and CEO of Jimmy John's told QSR magazine about his "larger-than-life, long-time boss." "'That's really the secret sauce to Jimmy John's.'"
Number of restaurant locations: 2,800+
Founded: 1983 by Jimmy John Liautaud in Charleston, Illinois
Currently owned by: Rourke capital/Inspire Brand, Inc.
How is Jimmy John's Adjusting to the Pandemic?
Jimmy John's launched Freaky Fresh Bread on Demand to help get fresh bread to customers during the pandemic. "Customers can order online or use the Jimmy John's App to request 16'' loaves of fresh bread delivered straight to their doorstep or add to their drive-thru and curbside pickup orders," according to QSR Magazine. Inspire Brands shut down all dining rooms at their company-owned restaurants, reinforced more robust cleaning standards, and convened a cross-functional Coronavirus Preparedness Task Force to keep franchise owners informed and prepared
How Much Does It Cost to Own a Jimmy John's Franchise?
Net worth required: $1,000,000
Cash required: $200,000
Franchise fee: $30,000-$35,000
Initial investment: $313,600 – $556,100
Royalty fees: 6%
Marketing fees: 4.5%
Before you invest in any franchise, it's important to do thorough research and talk to as many current franchise owners as possible. You can find contact information for franchise owners at the end of each brand's franchise disclosure document (FDD). You can also lean on Franchise Business Review to get aggregated reviews and feedback for certain brands.