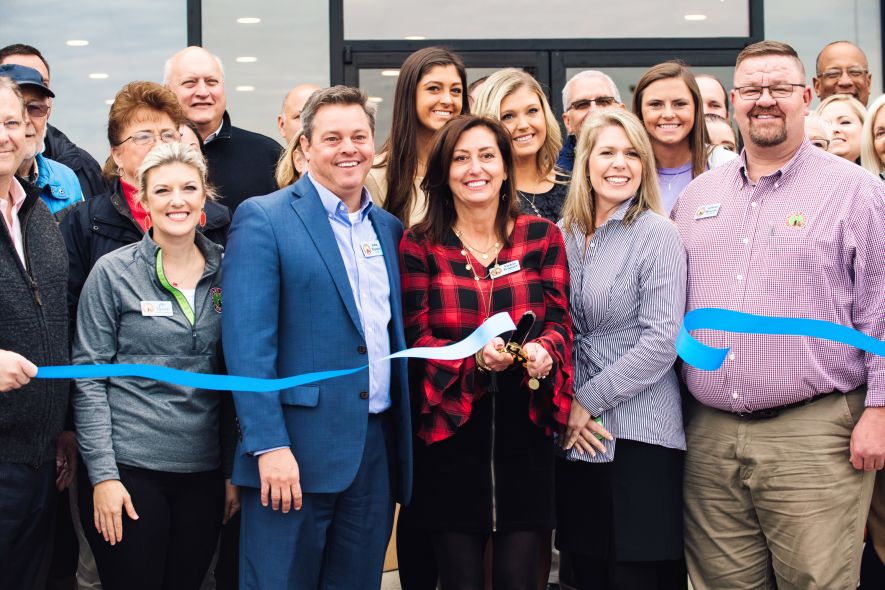 Food franchises are everywhere. With new locations popping up each day, more food is being served to hungry customers, more opportunity is available to ambitious entrepreneurs and more jobs are being added to the economy. Big name brands like McDonald's, Wendy's and Chick-fil-A have helped drive the growth of the food and beverage franchise industry. As the most popular segment in all of franchising, the food industry now represents more than a third of all existing franchises — and it is only expected to grow.
People love food and hold true affinities for their favorite brands. So it's no surprise, as entrepreneurs look to franchising, they flock to their favorite food franchises.
But, be warned. Though the right entrepreneur can join a highly satisfied group of franchise owners in the food and beverage industry, the wrong operator could succumb to the compounding challenges of the famously difficult and fiercely competitive industry: high investment costs, razor-thin margins, long exhausting hours, ever-changing customer tastes, and near-constant employee turnover.
Will you excel in a food and beverage franchise? Hopefully, we can help you figure that out and if you figure yes, our list of Top Food and Beverage Franchises is a great place to start your search. Each brand is one that has received high marks in franchisee satisfaction.
Best Food & Beverage Franchises of 2020
A Super-Sized Investment
Initial investments in the food sector are notoriously high. When looking at the 35 brands on this year's Franchise Business Review Top Food Franchises list, initial investments range from $53,000 for a Happy and Healthy Products franchise, all the way up to $3,000,000 for a Wendy's Company franchise. By the time the location's first customers have eaten, wiped their lips clean and waved goodbye, most franchisees will have stocked their kitchen, settled their franchise fees, paid rent, covered renovations and made initial payments on a smorgasbord of expensive tools and equipment.
Expenses add up fast, and if you are anticipating to recoup your initial investment quickly, prepare to be disappointed—margins in the food sector, especially in the early days of a location, are routinely thin. With high costs and low margins, there is not a lot of room for guesswork. It is important for franchisees who want to succeed to have a firm grasp of the numbers: What are your main costs? Which costs can you control and which costs are relatively fixed? And is there sufficient consumer demand to cover those costs and generate an income? 
Amanda Bennett, owner of PJ's Coffee in New Orleans explains, "From a unit economics standpoint, it's important to understand your primary costs, which include the cost of goods and labor, as these will be your largest operating expenses. Additionally, it's important to understand the industry, ensure the product or service isn't too niche, and collect market intelligence to confirm your location isn't in an over-saturated area."
Is it Worth it? Sure can be.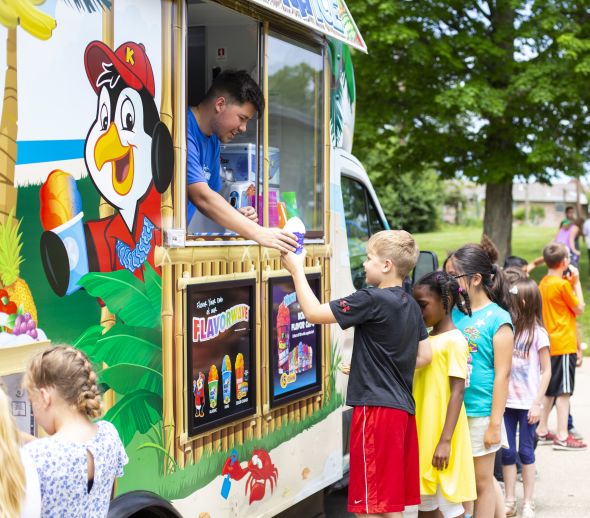 Photo from Kona Ice
Despite the considerable investment, the food and beverage industry continues to grow.
U.S. restaurant industry sales are expected to reach a record high of $899 billion this year, up 4% over last year, according to a report by the National Restaurant Association.
According to FBR survey data, the average median income for food franchise owners is $126, 866.
For restauranteurs who can keep up with changing trends and handle the demands of the hospitality industry, the food and beverage sector has some appealing perks.
For one, there will always be demand. As long as people need to eat, there will be no shortage of hungry customers. Choose the right product, build a good team, manage your costs effectively, pick a strong location and the demand will be yours for the taking.
"Food franchises are great business opportunities to look at because there will always be a demand. With the right people, support and systems in place, the restaurant business can prove to be a very lucrative one," confirms Scott Deviney, the CEO of Chicken Salad Chick.
Recipe for Success
Operating a food and beverage franchise can be an exhilarating and rewarding experience. It can also be incredibly taxing and stressful. It is not for everyone. Those expecting a 'set it and forget it' operation need not apply.
In addition to the high initial investment and thin margins, it's also reasonable for new owners to expect to work long hours, face fierce competition and almost constant employee turnover. In 2018, The New York Times reported 37% of National Restaurant Association members identify labor recruitment as their top challenge, up from 15% just two years prior. With unemployment rates at record lows, the trend is only expected to worsen, and it did when the COVID-19 pandemic hit.
A passion for product is a must.
"It all starts with the food. You have to love the food you're serving, and you have to have a passion for creating great guest experiences at every visit," says Terri Snyde, chief marketing officer, executive vice president and board member at Checkers and Rally's.
Despite all the challenges, franchisees who are passionate about the food they are serving and the experiences they are providing can find operating a food and beverage franchise immensely gratifying. They'll all agree: there's something special about a food and beverages business. People love a great food experience and when they leave, they can't wait to come back.
High Satisfaction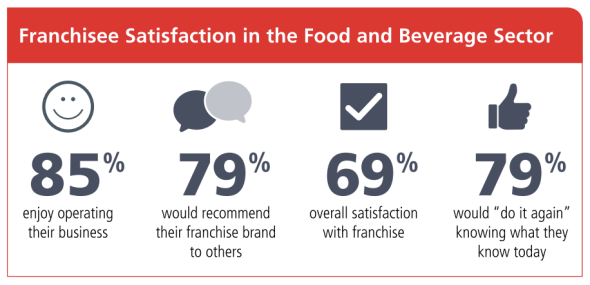 Food franchisees are generally happy business owners; 85% of food franchisees surveyed by FBR say they enjoy operating their franchise and 79% say they would do it all over again if given the opportunity.  It is important to note that overall satisfaction in the food sector tends to run a bit lower when compared to other industries. However, there are several top brands on this year's list that far exceed industry benchmarks. These brands include: Kona Ice, Captain D's, Chicken Salad Chick, Nothing Bundt Cakes, Tropical Smoothie Cafe, Lennys Grill & Subs, Rising Roll Gournmet, Pizza Ranch, The Wendy's Company, Pizza Factory and Wingstop.
It is not by accident that food and beverage franchise owners are regularly a pretty satisfied group. Franchisors put the fate of their brand almost wholly in the hands of their franchisees. One bad apple can truly ruin the bunch. Now more than ever, word of a bad experience at one location can travel quickly and jeopardize the reputation of others. For that reason, franchisors carefully pick their franchisees and generally do a good job providing support.
Tony Lamb of Kona Ice explains simply, "We do a lot to make franchisee satisfaction our #1 metric that we track. After all, how can you add one more franchisee if the existing franchisees aren't happy?"
Successful and satisfied food franchisees:
Manage costs effectively
Provide strong leadership
Maintain a passion for their product
Food Trends
Generally speaking, demand for served food isn't going away anytime soon. But, customer tastes and industry trends shift frequently and can do so swiftly. When considering a food franchise, it is important to understand the long-term viability of potential brands. What concepts are best for today's consumer and what brands will match demand into the future?
In talking with franchisees and franchisors named to Franchise Business Review's top brand lists, convenience and health are the trends most notably gaining momentum. No longer is a visit to a food franchise solely seen as an indulgence to be had on a special occasion or after a long day. Instead, busy customers, disinterested in shopping, cooking and cleaning are looking for easy, healthy meals that save time and simplify their lives. Food franchises are starting to respond. Six in 10 family-dining, casual-dining and fast-casual operators say their takeout sales are higher than they were two years ago, according to the National Restaurant Association.
But, if you're hesitant to look into your crystal ball to try and predict the future, another approach is to explore tried and true models. Through decades of shifting tastes and trends, there have been a select few products that have stuck around: Coffee, for example.
"The most common question we receive from prospective franchisees is around the future of the coffee industry. Since coffee is a $48 billion industry in the United States alone and is the caffeine source for over 75% of Americans, the outlook of coffee is stronger than ever," said Ryan Stansbury, vice president of franchise development at PJ's Coffee.
Pizza, another.
"When it comes to pizza, 37 percent of Americans eat pizza once a week, and 68 percent consume it at least once a month," explained Steve Jackson, president and CEO of Hungry Howie's Pizza. "Even with changing trends, restaurant concepts are able to adapt to consumer preferences, providing the ability for brands to constantly be offering customers options they desire."
Exploring Top Food Franchises
Amanda Bennett, Franchisee of PJ's Coffee in New Orleans, LA
When you're ready to compare your options, there are hundreds of food and beverage franchise brands to choose from, which is why it is so important to do thorough research. Ultimately, you want to find a brand that will meet your expectations and help you achieve your dream of business ownership while giving you the lifestyle you desire.
Examining the reviews and feedback from other franchise owners is one way to get unbiased advice from entrepreneurs who have already made the leap into franchise ownership and have first-hand experience with the brands you are considering.
To assist you in this process, Franchise Business Review surveyed over 3,300 franchisees from many of today's leading food franchise brands. Each survey participant was asked 33 benchmark questions about their franchisor that focused on areas such as leadership, training, and core values as well 16 more personal questions concerning their business lifestyle and overall enjoyment of running their franchise. Food franchises offer an exciting environment for business owners who don't mind making a bigger financial investment, working long hours, and managing a large and diverse workforce. Food operators remain some of the most passionate in all of franchising, and while the investment is typically higher, so is the potential for returns – especially for franchisees that own the real estate that their businesses operate in. If you are interested in pursuing franchise ownership in the food sector, this year's list of the Top food and beverage franchises is a great place to start.