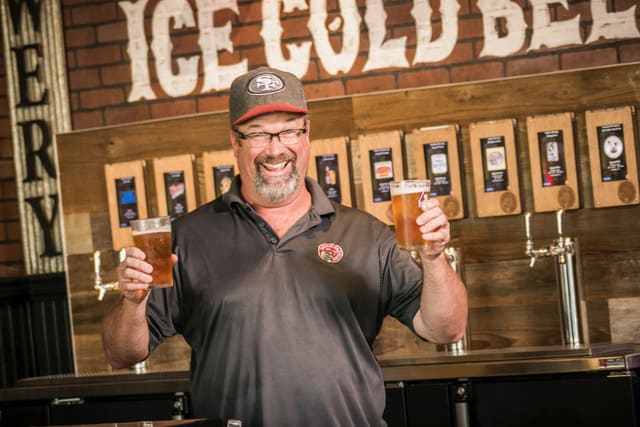 Business Models and Concepts
Although food and beverages are at the heart of every concept within this franchise category, there are countless investment options, business models, and types to choose from. A prospective franchisee can choose to run anything from a van-based, delivery business to a full-service restaurant—with dozens of other business types in between.
A food and/or beverage franchise can be a substantial moneymaker, and multi-unit operators in particular may realize a significant return on their investment once they are established. The wide range of business models within the food and beverage franchise sector makes the business a feasible endeavor at almost any investment level.
Franchise Business Review surveyed over 4,300 franchisees from nearly 100 different food and beverage brands to name this year's Top Food and Beverage Franchises
In terms of food and beverage types, this year's Top Food and Beverage Franchises list offers a little bit of everything—pizza, burgers, wings, sandwiches, tacos, fish, ice cream, coffee, soup, and more. While Subway and McDonald's may be among the biggest brands in the industry, it's often smaller regional players like Checkers & Rally's, East Coast Wings & Grill, and Lenny's Subs that dominate when it comes to franchisee satisfaction and long-term growth opportunities.
"First and foremost, it's our people and the team that we have built – coupled with a rebuilding of our brand," said Kevin Martin, President and CEO of Lenny's Subs. "That combination has really made a difference in how we interact with our franchisees, and the confidence they have in our ability to carry the brand forward."
Martin, who grew up a Bobby Knight fan and dreamed of playing basketball for the Hoosiers, joined Lenny's Subs in 2013 as an owner and CFO. Stepping into the CEO role last year, Martin takes a servant leadership approach, and he is committed to the growth of Lenny's through serving their guests and franchisees.
That laser focus on people, brand, and unit-level economics – helping drive bottom line profits for franchisees, not just top line sales – is a common thread with many of the brands on our 2017 Top 40 Food and Beverage Franchises list.
Franchise Relations Key to Success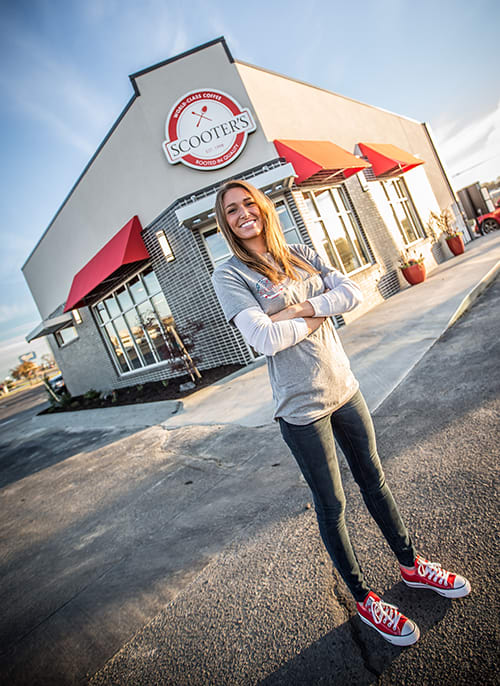 For anyone considering an investment in a franchise business, it's so important to do your homework. Every franchise company has a different culture, and a different approach to training, support, and on-going franchise relations.
"To be ranked as a top food franchise by FBR is a great validation for our continuous efforts to find ways to strengthen and enhance the relationships we have with our franchisees," says Jennifer Durham, Vice President of Franchise Development for Checkers & Rally's Restaurants, Inc. "As we grow to more than 850 locations, we will continue providing franchisees of varying backgrounds with personal support so they can continue building a successful restaurant business."
At the end of the day, successful franchising is all about relationships, and treating franchisees like the business partners they truly are. At many companies, franchisee concerns can take a back seat to the vision and direction senior management and investors have for the brand. Certainly, not all franchises have alignment when it comes to the key stakeholders. On the flip side, the companies on our Top 40 Food and Beverage Franchises list go out of their way to make franchisee performance and success their top priority.
"We're honored to be recognized by Franchise Business Review, and we're proud that our team and family of franchisees have achieved this award by working together," continued Durham. "We look forward to providing one of the best franchising opportunities in the U.S. to the growing number of franchisees joining our brand, and as we open new locations, we are happy to offer the famous Checkers & Rally's experience to more guests."
Strong franchise relationships are just one of the keys fueling Golden Corral's success. The full-service restaurant concept, famous for their comfort food buffets, generates average annual sales of over $3.5 million from many of its larger locations, and nearly $5 million on average from its top performing restaurants.
"What makes Golden Corral unique is that we concentrate on making sure our franchisees are engaged and involved in every decision – even the little ones," said Bob McDevitt, who is SVP of Franchise Development for the company.
While investing in a Golden Corral franchise would set you back something north of $2 million and is only for seasoned restaurant operators, Kona Ice offers franchise opportunities a little better suited for first-time business owners with more limited financial means.
Kona Ice earned the #1 spot on the Franchise Business Review 2017 Top Franchises list this year, beating out more than 350 other franchise brands, and posting the highest franchisee satisfaction score in the history of our 12 years of franchise research.
Kentucky-based Kona Ice quietly appeared on the franchise scene back in 2008 with the goal to disrupt the ice cream truck business. With their flavorful shaved ice products, fun branding, and a core mission of giving back, Kona Ice has skyrocketed to nearly 1,000 franchises in 45 states (including nine in Hawaii) and raised over $40 million dollars for local charities.
Kona Ice founder and CEO Tony Lamb is humbled by their growth and success. "The ONLY metric we go by is franchisee happiness… our FBR franchisee satisfaction score," said Lamb.
Last year, Lamb took his corporate team of 35 people to Orlando, and put them all up for a few nights at a Four Seasons Hotel to help embed the feeling of "above and beyond customer service."
"They all came back so inspired to treat customers at an unbelievable degree," continued Lamb. And his message to the team after the trip? "This is how we want to treat our franchisees each and every day! These are our customers… the people we know, and love. And they're the ones that pay our salaries!"
Lamb's leadership and focus on franchisee satisfaction has created strong demand for their franchise opportunity. If you want to invest in a Kona Ice franchise, you might have to get in line. In fact, Kona is selling their custom shaved ice trucks as fast as they can build them – as existing franchisees continue to expand and dozens of new franchisees join their system.
Kona's total franchise investment ranges between $120,000 – $140,000, much of which is the cost of the truck itself – which can be financed. Actual startup capital required to get into the franchise starts at around $25,000. And Kona Ice has a unique fee structure compared to many other franchises – charging a flat royalty fee starting at just $3,000 per year, and a $500 per year marketing fee.
Investment Ranges and Capital Requirements
The food and beverage services sector offers a wide range of investment options for prospective franchisees. Some concepts require less than $100,000 to get started, while others can cost millions. The investment range of our 2017 Top 40 Food and Beverage Franchises starts at $45,000 for a Happy and Healthy Products franchise (distributors of Fruitful ice pops) to upwards of several million dollars required to open a Golden Corral. The median initial investment of our Top 40 averages out at $450,000.
It's critical that you go into a new business being properly capitalized. That being said, it's important to emphasize that the figures listed above are the total initial investment, but with financing and lease options, the typical upfront cash requirements tend to be much lower.
Using the example of buying a home, the total value of a house might be $300,000, but you're only required to put down $30,000 cash, or even less. Investing in a franchise business is similar. For example, a Marco's Pizza franchise might cost $400,000 "all in," but the liquid capital requirements (the cash you need to have initially) starts at $100,000 with the balance being financed through business loans.
The size of the initial investment typically depends on the real estate and equipment needed to run the business. Businesses that are delivery-based and do not require a large physical footprint are obviously far less expensive. A business based in a retail strip center can cost less than $250,000, depending on square footage, build-out, and equipment needs. On the other hand, a full-service restaurant, which requires a large, stand-alone site (and more employees and overhead for day-to-day operation), typically starts at over a million dollars.
The time investment for a food service franchisee varies as much as the monetary investment, depending on the size and capacity of the franchise concept, the number of locations, and how long the franchisee has been in business. Obviously, the more employees a business has, the more management is required on the part of the franchisee. Distributor-type concepts can sometimes be run on a part-time basis, and some of the snack/pizza/ice cream concepts offer more flexibility. Full-service and breakfast-to-dinner QSR concepts, on the other hand, require considerable night and weekend involvement. Even franchisees with onsite managers to handle day-to-day operations must invest a lot of time promoting and marketing their businesses.
Profitability and Income
The number one question any potential franchisee wants to know is "How much money can I make?" The quick answer is if you're lucky, you might get rich. Alternatively, you might lose your entire investment. The reality for most franchisees is somewhere in between.
Exactly how much money YOU will make as a food franchise owner is a difficult question to answer. There are many factors that will influence your potential earnings, the biggest of which include the brand you invest in, and your own personal performance as a business owner.
It's true that some people in franchising – we'll call them the top performers – have done very well for themselves. These are most often the people that end up owning multiple franchise locations, and have built a successful team of people around them. This group represents only about 20% of the franchisee universe, yet it is their success stories that attract thousands of people to invest in a franchise every year.
So what about the other 80% you ask? From our survey research for this report, the average annual income (defined as any income, salary, or profit the owner takes out of the business) for the "average food franchisee" that had been in business at least two years, is $117,000. Additionally, franchisees from our Top 40 brands report even higher annual incomes – roughly 15% to 20% higher.
While aggregate income data like this can be an interesting starting point, it is important to note that average numbers can be misleading. Average income data includes all franchisees together – both single and multi-unit owners – as well as franchisees that have been operating for many years. Those "top performers" in every brand can dramatically inflate the averages.
In most cases, median income data can be much more useful, and more accurately predict what you or the typical franchisee might earn. In the case of our food and beverage franchisee data, the median annual income is around $70,000, and if we include startup franchisees (those in business for less than two years) the median falls to around $50,000. Only 34% of all food franchise owners earned more than $100,000 last year – and many earned much less.
When doing your research and business planning, it is also important to distinguish between "business profit" and "owner income." Prospective franchisees often confuse a business's profits with their potential annual income/salary, which is a big mistake. As a business owner, before you can "pay yourself," you often have to pay business taxes, debt repayments on loans, and reinvest in your business (that new piece of equipment you need, or the new signage you're required to buy, for example). While your business may grow to be quite profitable, your actual take home income could be substantially lower.
Talk with as many franchisees as you can, and confirm that your business projections and income expectations are realistic. Understand that most business owners can't take any money out of the business for the first few years during the startup phase, and it may take you even longer to start paying yourself a salary from your new business. Plan accordingly and try to have alternative sources of income (i.e. a spouse's salary) to live off of while your new business is getting off the ground.
Finally, on the topic of income and profitability, while many food franchises report relatively high unit-level sales, and/or profitability, it is important to look at the whole picture when considering a franchise investment. For example, a food franchise may offer slightly higher profitability compared to other businesses, but if the initial investment is three times higher, your overall return on investment is potentially going to be significantly lower. Work through your long-term financial projections with a good accountant, and compare your potential franchise investment to other businesses, as well as other investment opportunities (i.e. real estate, stocks, etc.) to see how they compare.
The importance of a new franchisee being well-capitalized cannot be overstated. Prospective franchisees should carefully review a brand's Franchise Disclosure Document (F.D.D.) and ask current franchisees how much they recommend a new franchisee have in the bank before opening.
Food and beverage franchise operators often tell us that one of the biggest issues new franchisees run into is managing the wild cash flow swings associated with operating a new business. Many franchisors have started including an Item 19—the "financial performance representation"—as part of their F.D.D. The latest trend in Item 19s is providing both gross and net numbers in order to really give candidates and franchisees a better idea of potential profitability, not just top-line revenue. Franchisors told us they have become much more frank in their discussions with franchisees about what exactly they'll need for capital in order to be successful.
"We've had an Item 19 for over 20 years," said Ken Switzer, Treasurer of Marco's Pizza. "We try to go overboard in providing useful information for people to make an informed decision. We encourage prospective franchisees to check with other franchisees about any problems they have —we don't want any surprises."
Pros and Cons of Owning a Food and Beverage Franchise
Ask a franchisor or a franchisee to talk about the benefits of the food industry, and you'll undoubtedly hear "exciting, people-filled, and food-loving." It's an industry that offers franchisees and their customers immediate gratification. At the same time, it's ever-changing, never boring, and impossible to outsource (everyone needs to eat!).
"Our franchisees have this huge passion for what they're selling," said Adam Hanson, President of The Häagen-Dazs Shoppe Company. Hanson started with Häagen-Dazs in 1996, scooping ice cream as an assistant shop manager in Minneapolis and working his way up through the ranks over the last 20 years to now lead the franchise division.
Passion for a premium ice cream brand by both customers and franchisees, along with national marketing support from Swiss-based parent company Nestlé, help drive average Shoppe revenues of $519,427 according to the Häagen-Dazs F.D.D.
Perhaps more than in any other franchise sector, operators of food and beverage franchises may reap significant benefits from being part of a large franchise system rather than operating alone. The food and beverage industry is highly competitive and trend-driven, and operators in this space must constantly be marketing themselves and developing new products. Franchisees benefit from having a recognized brand and the support and resources of a corporate office to help with these tasks.
The food and beverage sector is not for the faint of heart in terms of what it takes to run and operate a successful business. Rising food costs, soaring competition, high employee turnover, and long hours are just a handful of the sector's drawbacks.
The expenses—both initial and ongoing—are much higher than in other sectors and can fluctuate greatly based on what's going on in the world. A nationwide drought in 2012 forced restaurants of all kinds to deal with considerable cost increases in chicken, beef, and corn. Although franchisors obviously hope this was a rare event, climate-related price increases have become more common in the past few years, and fuel prices can also have a significant impact on commodities. Prospective franchisees should ask franchisors what safeguards (supply contracts, cost-cutting efforts, increased menu prices) they've put in place on an ongoing basis to help offset high supply costs.
Getting started in the food sector often requires a large investment, and early profit margins can be much lower than some other service industries—especially for operators of high-cost, single-unit operations. Therefore, it can take a long time for a new operator to recoup start-up costs. Many franchisees choose to operate several locations because this typically helps them turn a higher profit and lowers their overall costs.
The food sector is probably the most competitive space in franchising (and in business in general). There are millions of options for consumers, both franchised and not, and the market is strongly driven by what's hot now, which can change overnight. Franchise companies must constantly be researching and developing new products to keep up with the latest food trends. At the same time, they must be careful not to act too quickly. Every menu addition or concept change requires an additional investment from franchisees to re-vamp equipment and train staff, so if a seemingly hot trend is actually a short-lived fad, franchisees lose out. Good franchisors watch trends carefully and know when to act and when not to.
There is also significant pressure in the food space in terms of pricing. Franchisors must constantly keep an eye on their prices, adjusting them to compete with other concepts. In recent years, a number of QSR concepts have introduced value-menu pricing as a means to out-price competition and keep customers coming in the door. Franchisees ended up losing money as they were forced to offer more food for less money (while at the same time paying more for basic food supplies like corn and flour). In many concepts, even when sales were up, unit-level profitability suffered considerably.
To offset this, some brands have created new value product lines that cost less to produce. Marco's, for example, created a new pizza that takes less time to make (because it isn't hand-tossed), requires fewer ingredients, and is slightly smaller than their traditional pie. With this product, franchisees can offer customers a cheaper alternative without losing money themselves. And because the pizzas are smaller and cost less, customers often buy two, so franchisees end up actually making money on the deal.
Hiring and retaining quality staff is probably the biggest challenge facing most food operators. Many concepts require a large numbers of employees to operate and deliver the high-level guest experience that customers have come to expect.
"Staffing is definitely the number one challenge facing the food industry today," said Michelle Rowan, President of Franchise Business Review. Business owners can't find enough quality help, and many in the industry have resorted to using temporary workers from overseas. Couple this with minimum wage increases, health care requirements, and other employee regulation issues, and you can quickly understand why business owners everywhere are looking for ways to make their businesses more efficient through technology, and less people-dependent.
Market Analysis
The business outlook for the food sector continues to look strong. Despite some in the industry pointing to signs of a potential downturn due to commodity price increases from rising fuel costs, most business owners remain cautiously optimistic.
The National Restaurant Association's 2017 Restaurant Industry Forecast predicts that total restaurant industry sales will reach a record high of $799 billion this year — up 26% in the past five years. All franchisors we spoke with for this report were equally bullish on continued steady sales growth for the next few years.
Franchisee Satisfaction
In the last few years, we've seen a marked improvement in franchisee satisfaction within the food and beverage sector. Over 70% of food and beverage franchisees surveyed said they would recommend their brand to other franchisee candidates—a strong indicator of business owner satisfaction.
Forty brands make up our list of the top food and beverage franchises for 2017. These are the companies that received the highest ratings from their franchisees in our independent satisfaction survey, which covers financial opportunity, training and support, leadership, operations and product development, core values, general satisfaction, and the franchisee community.
Most food and beverage franchisors understand that satisfied franchisees are more successful, more engaged, and only improve their corporate bottom line. All of the franchisors we spoke with (all from companies with high franchisee satisfaction) said they spend a considerable amount of time focusing on unit-level economics and working with their franchisees.
Summary
Food and beverage franchises offer an exciting environment to business owners who don't mind making a bigger financial investment, working long hours, and managing a large and diverse workforce. Food operators remain some of the most passionate in all of franchising, and while the investment is higher, so is the potential for return.
Potential business owners may be initially attracted to the hype around a particular brand or the overall idea of running a restaurant; but this should come second behind thorough due diligence. Prospective franchisees must do their homework and compare opportunities side-by-side—looking at both well-known brands, as well as smaller, lesser-known companies. Every food franchise has its own culture, and franchisees should carefully consider how that culture fits with their own business goals before committing to a brand.