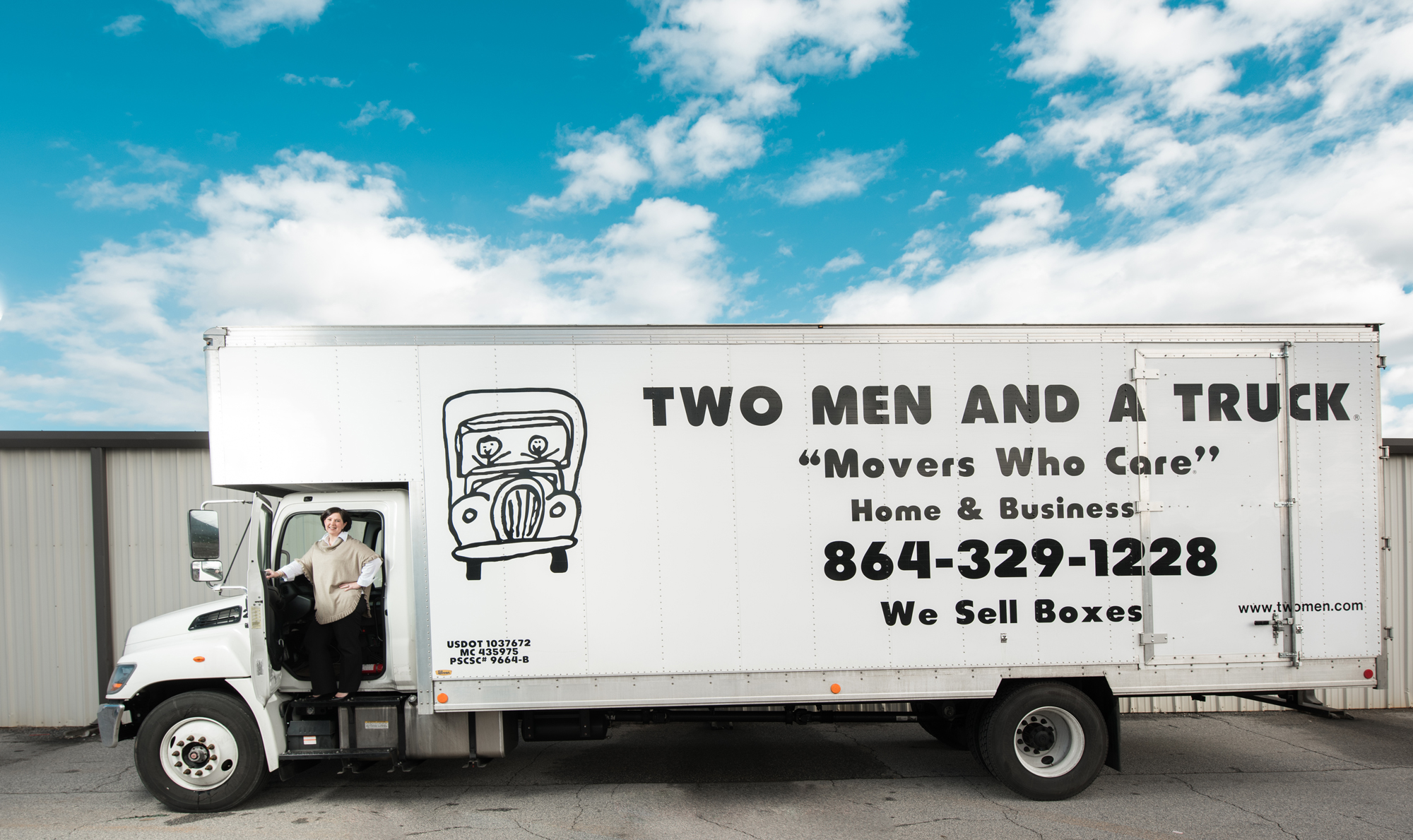 If one of your your New Year's resolutions involves making a career move, you might consider investing in the moving business. We spoke with owners of a TWO MEN AND A TRUCK franchise to find out how they're making all the right moves this year.
In 2020, the country saw a huge demand for packing, storage, and moving services. Nearly 16 million people have moved since the outbreak of the coronavirus pandemic, according to USPS data, which shows change of address requests rose by a whopping 27% in the last year.
Recognizing the growth in the moving market, business partners Chad Covell and Kiernan Flynn recently found their new home with Michigan-based TWO MEN AND A TRUCK®, the nation's first and largest moving franchise. Their experience demonstrates that it is possible to make the leap into entrepreneurship with the right company supporting you along the way.
TWO MEN AND A TRUCK provides local and long-distance moving services—as well as packing, storage, and junk-removal. The company, which started in 1984 and has been franchising since 1989, now operates in 381 locations across the country and has international locations in Canada, Ireland, and the United Kingdom.
Taking a Detour with Franchise Ownership
Chad Covell, of Grand Junction, Colorado, saw great potential in the moving business after spending a decade in the residential building, real estate, modular manufacturing, and multi-unit storage industries. As he considered various business investments, he remembered the positive experiences he had hiring TWO MEN AND A TRUCK previously. In 2020, after a year of research and confirmation that franchises operating in smaller markets had experienced financial success, Covell scooped up the Grand Junction location. He said he was ultimately drawn to Two Men and a Truck's professionalism and dedication to customer service when he decided to shift gears.
"It was a lengthy research process for me by choice, but once I decided to move forward, it moved quickly – and I was up and running within a few months," Covell said.
His location officially launched on April 1, 2020, at the height of coronavirus shutdowns. Covell obviously hadn't planned for this temporary setback when he had signed his franchise agreement three months prior—but he prevailed.
"We had a slower start than what we had projected, but we made it up in September, October, and November—when we saw business above expectations," he said. "We recovered quickly."
Now, less than a year after opening, Covell has a second truck on order and his staff of 10 stands ready to assist customers with the heavy lifting. Not only does he expect explosive growth this year, but he's also partnered up to launch a second location – across the country in Burlington, Vermont. Thanks to TWO MEN AND A TRUCK's built-in infrastructure and support, Covell was able to formally partner with another owner and move one step closer to his goal of becoming a multi-unit owner.
"My plan on day one has been to grow rapidly and add additional units," he said.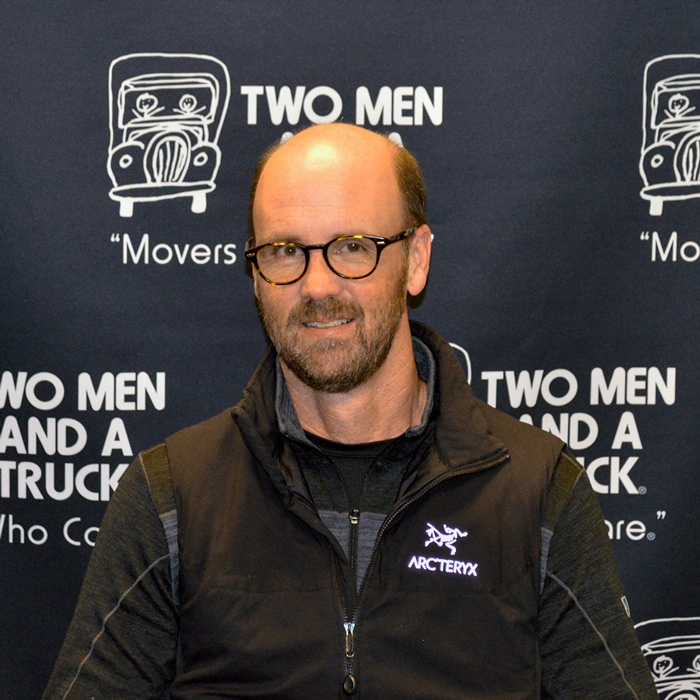 Teaming Up with A Cross-Country Partner
Kiernan Flynn, of Burlington, Vermont had worked in the financial services industry and in customer relationship positions for 10 years before he considered investing in a TWO MEN AND A TRUCK franchise.
"Living in the small state of Vermont, opportunities are not always present, so you have to make your own," he said.
His career took a major turn, when in August 2020, Flynn spoke to his brother about Covell's involvement in TWO MEN AND A TRUCK—which prompted Flynn to look further into the brand and reach out to Covell.
Together, the two men researched the Burlington market, which showed plenty of opportunity for growth. In December 2020, Flynn signed a franchise agreement with TWO MEN AND A TRUCK and a formal partnership agreement with Covell, who owns 50% of the business. Flynn plans on using the methodology Covell already has in place as a template and is excited to have someone with experience to bounce ideas off of. Their Burlington location officially opens in March 2021.
"Having a partner that was engaged and who had strengths to bring to the table was key," Flynn said. "We both are focused on customer service, making sure everything is done neatly and right, and making sure clients are happy and delighted with our work."
Furthermore, the TWO MEN AND A TRUCK corporate office and franchisee network has offered critical pieces that made the decision to leap into entrepreneurship easier, Flynn said.
Before franchisees open for business, they are required to meet with the TWO MEN AND A TRUCK corporate team and are encouraged to reach out to other franchisees to learn about the day-to-day operations of the company. The corporate office provides a checklist that owners must complete in order to ensure they are ready to receive customers and get their trucks out on the road. Initial planning steps include obtaining necessary state permits, finding an office location, and setting up vendor accounts. Each new owner is also required to attend a week of training before opening. Once locations are up and running, franchisees receive marketing, HR, and systems support from the home office.
"You can choose to have the home office take care of everything for you with the exception of being on the ground and having the interaction with your customers, which was appealing to me," Flynn said. "We received initial training, and the ongoing training and support TWO MEN offers is huge. It's something not available to people working in mom-and-pop businesses."
Most of all, Flynn is happy to put his focus on delighting clients. The logistical part of the business isn't the challenging part, he said, it's making sure that customers are taken care of along the way. In fact, TWO MEN AND A TRUCK's corporate tagline is "Movers Who Care."
"People move for all sorts of reasons, voluntary or not," he said. "I want to make that as stress-free as possible for a family."
Covell is equally excited to open the Burlington location and advises those interested in exploring an opportunity with TWO MEN AND A TRUCK to do their homework before they take the wheel, and then trust the systems the brand already has in place to help you navigate your way to success.
"Research the prospective market to make sure the area you are looking to enter is viable. Then, it's about executing the TWO MEN formula to get up and running. If you follow the formula, you will be open in three to four months," he said.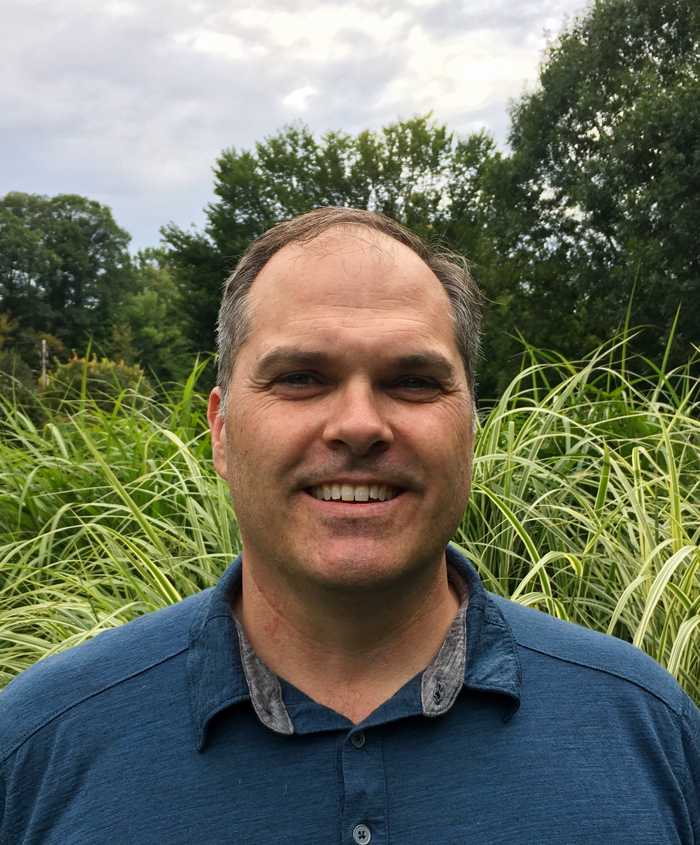 What You Can Expect to Make
If you're an entrepreneur dedicated to providing the very best in customer service, TWO MEN AND A TRUCK may be the right venture for you. And, your return on your investment could bring in a good haul, too. According to the company's most recent Franchise Disclosure Document, franchisees earned average annual gross sales of $2.3 million, with the highest-grossing franchise reporting sales of nearly $10 million dollars.
Franchisees offer their customers a diverse menu of moving and ancillary services, which provides them opportunity to earn money in between moves. In addition to local and long-distance moves, some locations also provide storage solutions through portable containers and others offer junk removal services. Best of all, you don't need moving, junk removal, or logistics experience to be successful. The corporate office provides ongoing support and continuing education long after you complete your initial training.
Are You Ready to Take the Road to Business Ownership?
Business owners who have launched their careers with TWO MEN AND A TRUCK report being very happy with the franchise system. The company has been consistently recognized for its dedication to its franchisees. Most recently, TWO MEN AND A TRUCK made Franchise Business Review's Top 200 Franchise awards list for 2021, earning a franchisee satisfaction score of 89. Their outstanding franchisee reviews have earned them a Franchisee Satisfaction Award for 16 years in a row, along with recognition as a top franchise for veterans, for their culture, for profitability, and as a Franchise Business Review Hall of Fame award-winner.
While no business is completely recession-proof, moving, storage, and junk removal are all recession-resistant services that are needed no matter how well the economy is performing. Before you decide to take your entrepreneurial goals to the next level, there are some financial requirements you'll need to meet before joining TWO MEN AND A TRUCK.
Financial Requirements:
Cash required: $80,000
Franchise fee: $30,000 – $30,500 (mini-market*) or $50,000 – $85,500 (standard market) with a 10% discount for military veterans
Net worth required: $80,000 – $160,000 (mini-market*) or $160,000 – $400,000 (standard market)
Total start-up investment: $100,000 – $222,000 for a mini-market* or $179,400 – $595,000 for a standard market
Royalties: 6% of all gross sales, paid monthly
Advertising fund: 1% of gross sales, paid monthly
Monthly technology support fee: 1-2% of gross sales with a minimum payment of $1,200 per month
On-site training: 18-24 hours in Lansing, Michigan at "Stick Men University"
*The mini-market opportunity allows franchisees to provide moving services in cities with populations of 100,000 to 225,000 people. There are 85 mini market territories in the United States.
This could be the year to make your move with TWO MEN AND A TRUCK. As you would in any potential business venture, you should conduct your own research: compare different franchising options, weigh franchising costs relative to profits, ask for feedback from current franchise owners, and be honest with yourself about how much you're able and willing to take on.
Learn more about TWO MEN AND A TRUCK franchise opportunities in your area. Call the TWO MEN AND A TRUCK franchise development team at 888.884.1114 or visit their website at https://franchise.twomenandatruck.com/