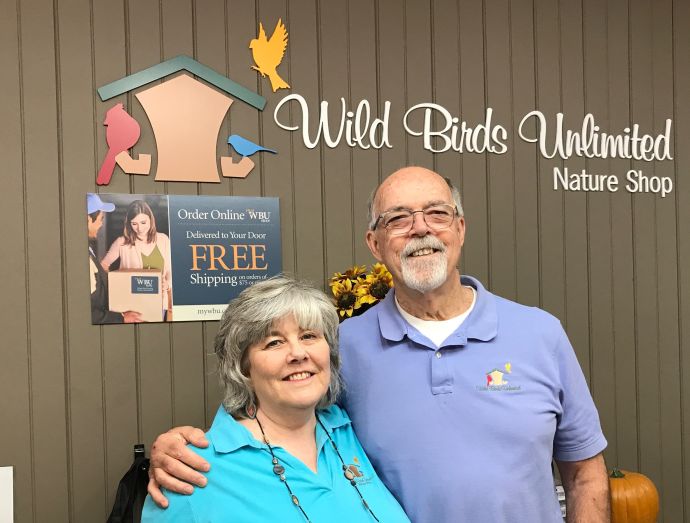 What was it about the franchise model and/or leadership that led you to purchase it?
When we were exploring the possibility of opening a Wild Birds Unlimited (WBU) franchise, we visited both the headquarters office and several existing stores. We were impressed by the competence of the staff and the level of service provided by the Franchise Support Center at WBU in answering our questions and guiding us throughout the process. We also received positive feedback from all the franchisees that we visited. Most of all, everyone at WBU was passionate about the bird feeding hobby.
What type of business experience, education, and/or skills did you have prior to becoming a franchisee that you have found particularly helpful?
Gary was a CPA and CFO, with experience in both the public accounting sector and within private industry. Kathleen was a paralegal with both law firm and corporate experience. Although we did not have retail experience, our backgrounds in finance and law were particularly helpful in beginning a new business.
What do you like most about owning a franchise?
Our greatest joy is introducing the hobby to new customers and having them return to tell us how they love the birds in their backyards! We've also been fortunate to be able to provide employment to family and friends, who have helped us to grow our business. The franchise model has worked for us because we appreciate not having to be the experts on every aspect of retail – we have marvelous resources within WBU to fall back on when we need them.
How did you fund your franchise? Did you receive any discounts/incentives?
We funded our franchise with savings and a home equity loan. We did not receive any discounts or incentives.
What advice do you have for prospective franchise buyers? What do you wish you had known prior to going into franchising?
Our advice to prospective franchise buyers is to look for a franchise that supports your passion, then do your due diligence. Talk to other franchisees and ask advice from trusted sources, such as your accountant and lawyer. There is not one thing we wish we'd known before going into franchising. One thing that we thought we knew, but didn't fully understand until we were owners, was the impact of having a 7 days a week business. Especially in the beginning, when you really need to have your eyes on the business, it's a lot of work!
What did we miss?
We've been fortunate to have a family business, providing employment to siblings, children, and now grandchildren! And along the way, sharing with them, and encouraging in them, the same passion that we have for the hobby.
Learn more about Wild Birds Unlimited franchise opportunities