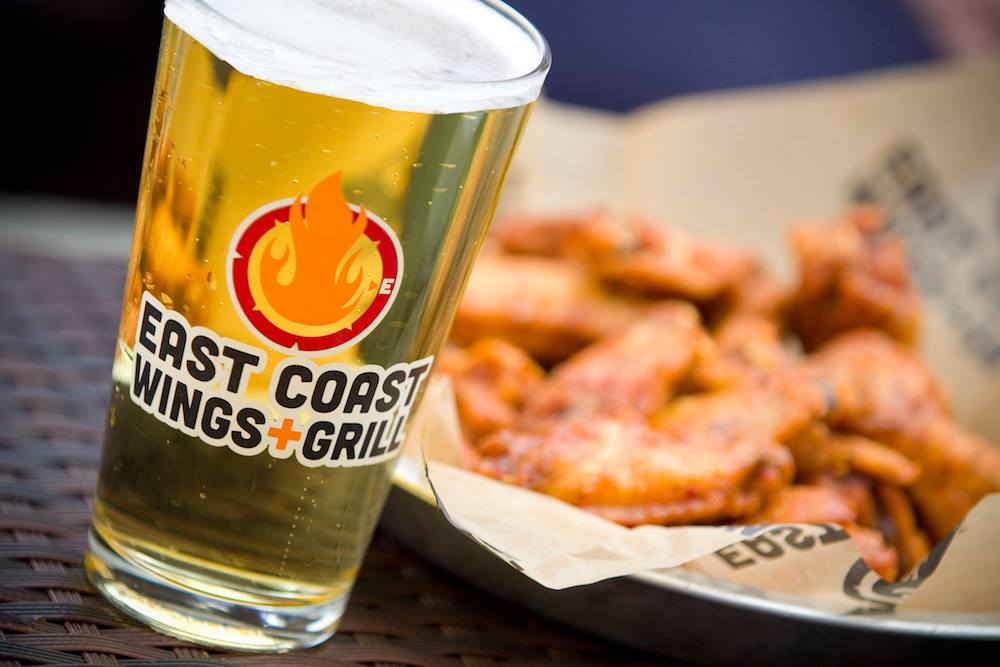 Full-Service & Fast-Food Franchises
Opening a restaurant, a café, or even a fast-food stand is an exciting venture and a lifelong dream of many.
While cost is one consideration, branding, menu, suppliers and other operational aspects come into play when starting such a business venture on your own.
The average cost of opening a restaurant in the United States floats between $3,000 and $4,000 per seat, depending on the location, furnishings and other factors.
If you're set on fulfilling your dream of opening a restaurant, but you're concerned about fronting startup costs, finding suppliers and more, the best solution is to open a food franchise.
Buying a food franchise allows you to bypass many of the operational concerns and skip right to the rewarding part — running your own business.
We've compiled the best and most profitable food franchises you should consider in 2022. We'll cover everything you need to know about the different types of food franchises and share our top picks.
Types of Food and Beverage Franchise Opportunities
What kind of a restaurant do you imagine when you hear the term "food franchise?"
Whether it's a burger joint or a takeaway coffee shop that comes to mind, you might be surprised to learn there are a multitude of different franchise opportunities in the food and beverage sector.
Here are some of the most popular types of food franchises:
Full-service restaurants: Full-service restaurants are your classic dining establishments with proper seating, a host, waitstaff, a bar, and so on. While some full-service restaurant franchises may require higher initial start-up costs, full-service restaurant franchises remain popular due to the variety of brands, cuisines and styles that they offer.
Fast food restaurants: By comparison to full-service restaurants, fast food franchises are often cheaper to open and operate, but they are typically not as profitable as full-service restaurants.
Cafés and bakeries: Cafés, bakeries and combinations of the two are popular food franchise opportunities for urban areas with large foot traffic. They are relatively inexpensive to operate and generate a stable cash flow.
Pizzerias: Takeout-first pizzerias are consistently in-demand in urban areas, while pizza delivery is an essential service in suburban neighborhoods. Because of their relatively straightforward operation, pizzeria franchises are typically easy to scale.
Ice cream and frozen yogurt parlors: With an ice cream franchise, you can expect a loyal clientele of adults and children alike, especially in the hot summer months. On the other hand, frozen yogurt might appeal to customers who are more health-conscious or looking to try something new.
Juice and smoothie bars: Despite being labeled as "luxurious" by some, fresh-squeezed juice and smoothie bars only seem to be growing in popularity, as more people adopt a health-conscious lifestyle. Opening a smoothie/juice bar franchise could be a relatively inexpensive opportunity to capitalize on that trend.
The Most Profitable Food Franchise Opportunities – Full-Service Restaurants
While all of the different types of food franchises we've described above can prove to be great opportunities, full-service restaurants and fast-food restaurants remain the most popular.
We've curated a list of the top food franchises to consider in 2022. Here are our picks for the top three full-service restaurant franchises.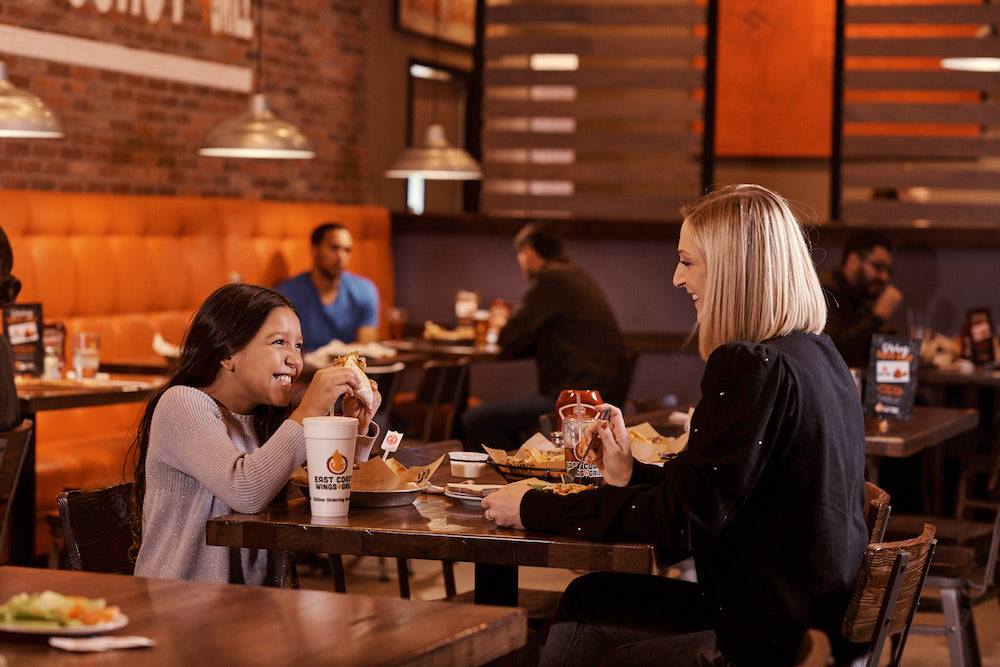 Type: Full-service wing restaurant
Investment: $434,268 – $982,275
Cash Required: $200,000
Prior industry experience required: No
How long it takes to open a franchise: 9-12 months
A typical day for an East Coast Wings + Grill franchisee:
Opening the restaurant and participating in the prep work
Taking care of guests and directing staff
Ensuring that all sanitation requirements are met
Managing the daily expenses and costs
Participating in community sponsorships with schools, athletic teams, food pantries and more
Founded in 1995 in Winston-Salem, North Carolina, East Coast Wings + Grill is a full-service, family dining wings franchise.
Franchising since 2003, East Coast Wings + Grill now operates 34 locations in the United States and Canada, expanding rapidly throughout Southeastern U.S. The franchise is notable for its unique business model, driven by unit level economics.
The model prioritizes the profitability of each location though supply chain optimization, monthly profit/loss reviews and the overall culture of financial transparency. This helps maximize customer satisfaction while maintaining affordable prices.
With their award-winning, nationally recognized wing sauces and a portfolio of more than 60 chicken wing recipes, East Coast Wings + Grill offers a personalized, casual family dining experience to wing lovers across America.
The brand owes much of its success to its flexible franchising model that aims to provide as much support to the franchisees as possible, including assistance in:
Marketing
Real estate selection
Construction and development
Training and operations
The brand's executive team has over 75 years of franchising experience combined and remains closely involved with the franchisees, to help maximize franchisee profit.
Thanks to this model, East Coast Wings + Grill boasts a very high franchisee satisfaction rate. According to the franchisee feedback that FBR collected from 11 active East Coast Wings + Grill franchises:
All franchises see the profit opportunity of the brand as moderate to very strong, with the average gross annual sales of $1.8+ million, EBIT of 17.03%, and sales-to-investment ratio of Sales to investment ratio 2.70
85% of franchisees enjoy being a part of the East Coast Wings + Grill brand
91% of franchisees rate the technology that the brand uses, such a custom enterprise reporting system, to be above average
Following the impact of the COVID-19 pandemic, East Coast Wings + Grill developed a new fast casual service model that helped reduce the footprint of an individual restaurant by 29% and lower developing costs by another 30%.
This model allows franchisees to give their customers the same full-service restaurant experience while maintaining high profitability potential and lowering upfront investment costs.
All of these factors make East Coast Wings + Grill one of the best and most profitable food franchises in the United States.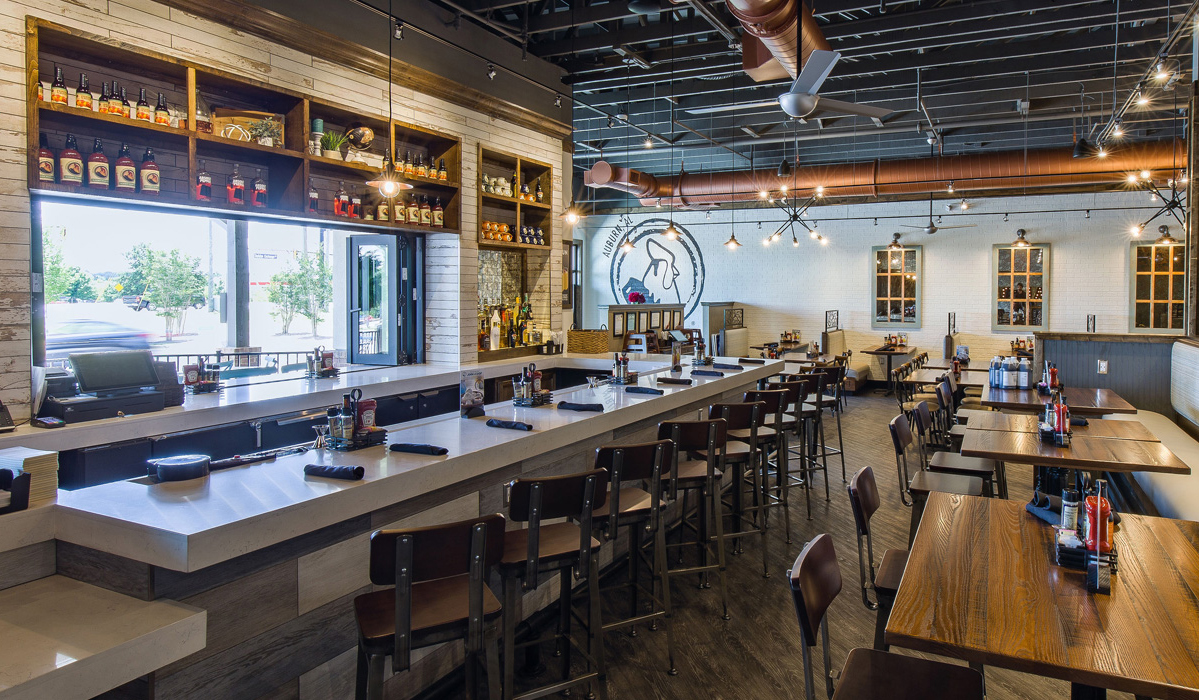 2. Another Broken Egg Cafe
Type: Upscale brunch café
Investment: $811,000 – $1,203,000
Cash Required: $250,000
Prior industry experience required: Yes, multi-unit restaurant management experience preferred
How long it takes to open a franchise: 9-15 months
Another Broken Egg Cafe is a chain of Southern-inspired breakfast, brunch, and lunch cafes that was founded in 1996 in Old Mandeville, Louisiana.
The brand's key unique selling point is its chef-inspired menu that reimagines the classic breakfast, brunch, and lunch dishes with a creative twist, aimed at casual diners and foodies alike.
The brand has been franchising since 2004 and now operates over 70 locations in 14 U.S. states, with average annual sales of $1.4 million per location.
One of the brand's priorities is maintaining a stable, high standard of dining experiences throughout its locations. This commands a relatively high initial investment of at least $800,000, the financial capacity to open and manage at least three locations, and a preferred net worth of at least $1.5 million from the prospective franchisees.
Nevertheless, despite these high barriers to entry, Another Broken Egg Cafe remains a rapidly growing brand in a rapidly growing industry and one of the most profitable food franchises.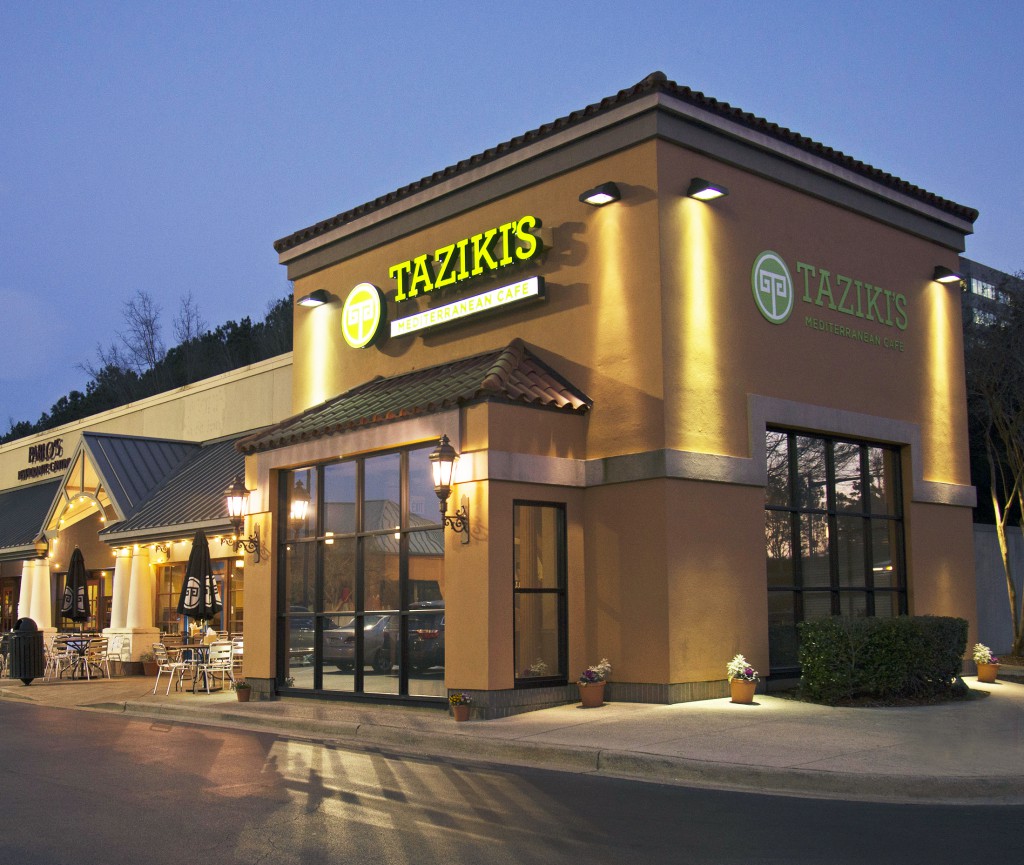 3. Taziki's Mediterranean Cafe
Type: Mediterranean cuisine café
Investment: $468,000 – $831,000
Cash Required: N/A
Prior industry experience required: Yes, restaurant management experience required (multi-unit restaurant/franchise management experience preferred)
How long it takes to open a franchise: 9-12 months
Taziki's Mediterranean Café was founded in 1998 with the mission "to bring Mediterranean dining to every neighborhood across the country."
The brand's menu consists primarily of Greek and Mediterranean cuisine dishes, made with fresh and healthy ingredients, presented in a casual, family-friendly and community-driven dining atmosphere.
The brand has been actively franchising since 2013 and has since grown to include 91 locations throughout the United States. While most of Taziki's operations are concentrated in the Southeastern U.S., the company is actively looking to expand in the Midwest, followed by other parts of the country.
Apart from the rapid growth, another important priority for the brand is community involvement — one of the brand's key values.
The brand's rapid growth and people-driven culture make it an exciting and profitable food franchise opportunity for entrepreneurs who wish to give back to their communities through their business.
Ready to open your own restaurant franchise? Here's How To Start
The Most Profitable Fast-Food Franchise Opportunities
While full-service restaurant franchises are the most profitable type of food franchises, fast-food restaurants can be a great opportunity if you're willing to sacrifice some of the profitability for cash flow.
Below are the three most profitable fast-food franchise opportunities to consider in 2022.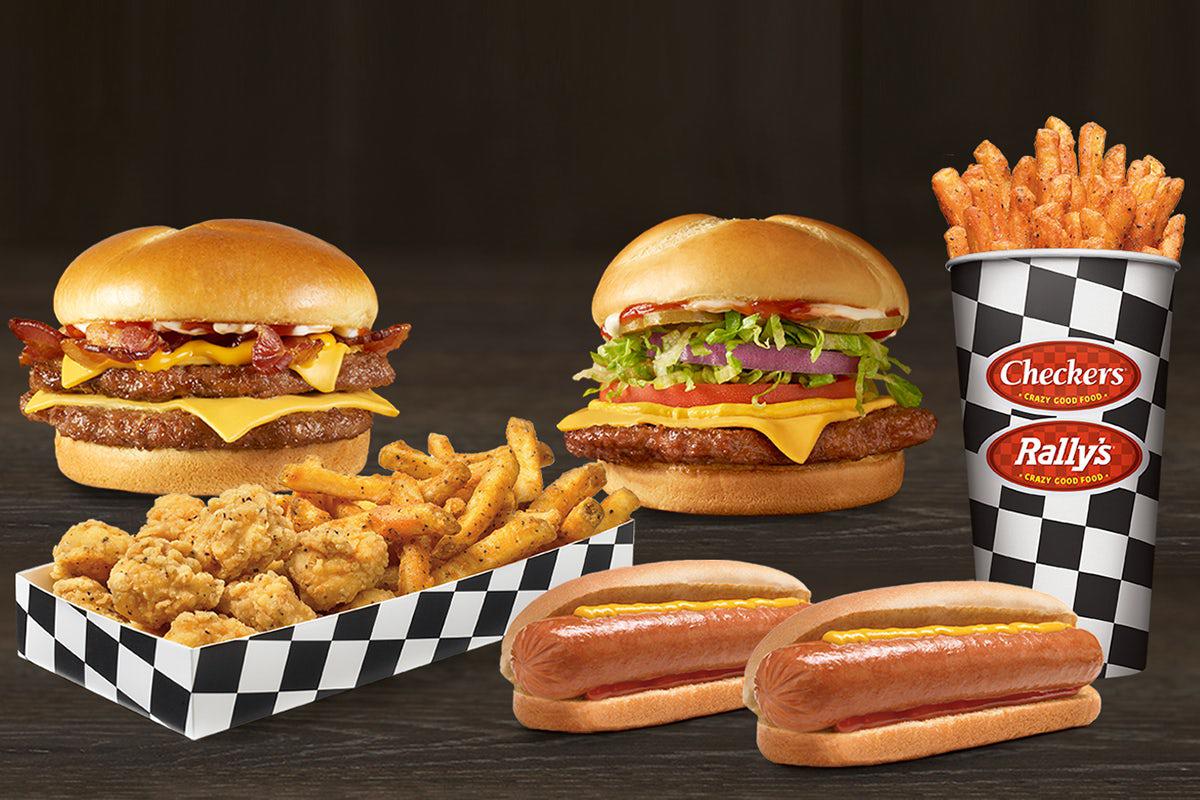 Type: Drive-in fast-food restaurant
Investment: $724,523 – $2,009,400
Cash Required: $250,000
Prior industry experience required: Yes, multi-unit restaurant management experience preferred
How long it takes to open a franchise: 6-12 months
Founded in 1986 and franchising since 1989, Checkers & Rally's is the largest double drive-in restaurant chain in the U.S.
While the brand's menu offering might not be all that different from many other fast-food franchises, what sets Checkers & Rally's apart is their low-footprint, high-efficiency, high-cashflow business model.
The brand's restaurants operate primarily as drive-in, walk-in, and takeaway locations, which helps minimize the development investments for franchisees.
The chain is also known for the unique modular design of its restaurants. This design allows franchisees to partially prefabricate their restaurants off-site and install them in a relatively short amount of time under the guidance of the brand's development specialists.
With its quick turnaround and potential for stable cash flow, Checkers & Rally's is among the most profitable fast-food franchises in the United States.
Type: Takeaway pretzel shop
Investment: $153,100 – $471,350
Cash Required: $50,000
Prior industry experience required: No
How long it takes to open a franchise: Around 6 months
As the brand's name suggests, pretzels are the key menu offering of Wetzel's Pretzels fast-food restaurant. The company was founded in 1994 and began franchising in 1996. Since then, it has grown to 315 units across the U.S. and Canada.
One of the greatest advantages of the brand's business model is its flexibility. Wetzel's Pretzels locations span from walk-through mall kiosks and food trucks to brick-and-mortar storefronts, hence the wide initial investment range.
This flexibility makes Wetzel's Pretzels a great franchising opportunity if you don't have quite as much capital on your hands. Combined with low operating costs, Wetzel's Pretzels a cost-effective fast-food franchise.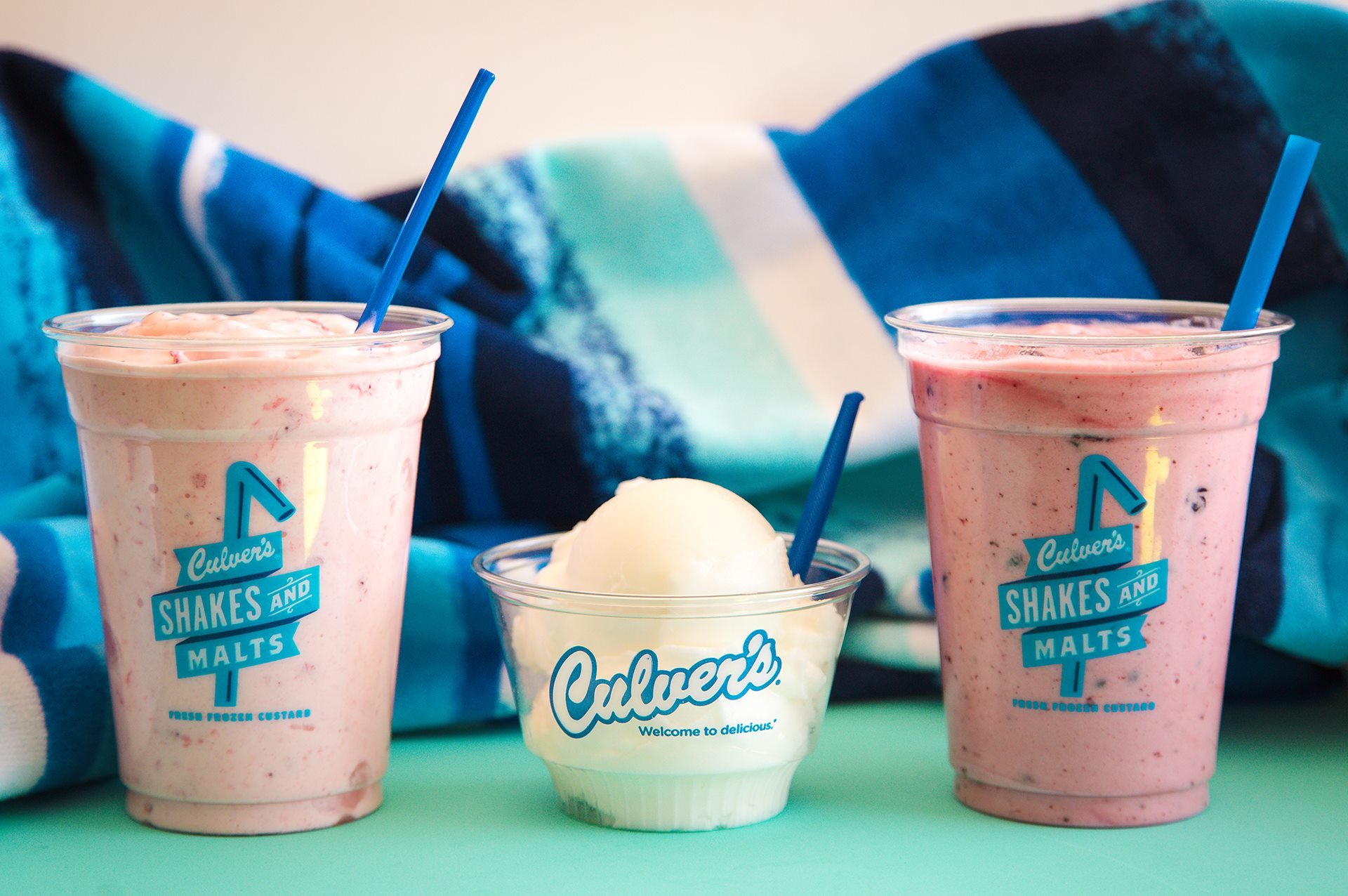 3. Culver's
Type: Specialty fast-food restaurant
Investment: $2,398,000 – $5,432,000
Cash Required: $500,000 – $750,000
Prior industry experience required: N/A
How long it takes to open a franchise: Up to five months after initial training completion
With specialty burgers and signature frozen custard desserts, Culver's is one of the fast-food staples of the U.S. Midwest and Wisconsin in particular.
Founded in 1984 and franchising since 1988, Culver's now operates over 800 locations across the Southeastern U.S., the Midwest and the Mountain states. The company was one of the first fast-food chains to embrace the franchising model.
Over the years, it has developed a unique franchise system that prioritizes comprehensive franchisee training and features an equally comprehensive list of requirements and guidelines. This approach is reflected in the steep initial investment figure that a Culver's franchise commands, which is much higher than comparable fast-food brands.
Despite the high barriers to entry, Culver's is also one of the most profitable fast-food franchises, with an average gross annual revenue of around $3.3 million per location, thanks to the brand's high profit margins.
How FBR Ranks Food Franchise Opportunities
The driving force behind FBR's franchise rankings is the independent franchisee satisfaction survey.
Typically, our process of reviewing a franchise goes as follows:
We request permission from a franchise system to interview the franchisees.
We verify the list of franchisees and invite them to complete our custom 33-question survey.
We collect the data, analyze it, and assign a weighted score to all of the franchise system factors that the questionnaire covers. This allows us to determine the Franchisee Satisfaction Index (FSI) on a scale of 0 to 100.
Finally, we benchmark the FSI score against other brands to determine the franchise's ranking within its industry.
Our methodology is driven by transparency and an objective assessment to help prospective franchisees find the best opportunities for their next business venture.
Key Takeaways on the Most Profitable Food Franchises
Food franchises come in many different flavors, if you will — classic full-service restaurants, drive-through burger joints and even takeaway pretzel stands.
Nevertheless, it's hard to challenge full-service restaurants when it comes to the sheer return-on-investment potential. Full-service restaurants feature some of the highest profit margins in the industry, cater to a wide audience and present an exciting management experience to the franchisees.
On the FBR list of the most profitable food franchises to look for in 2022, the brand that stands out the most is East Coast Wings + Grill. The company not only has a broad appeal with customizable offerings, but also has relatively low barriers to entry and offers comprehensive support to its franchisees to maximize profit.
If you're leaning towards opening a fast-food franchise, Checkers & Rally's should be at the top of your list, with its brand recognition and straightforward operations — as long as you have the necessary restaurant management experience.
Looking for the best franchise opportunities? Subscribe to our Newsletter