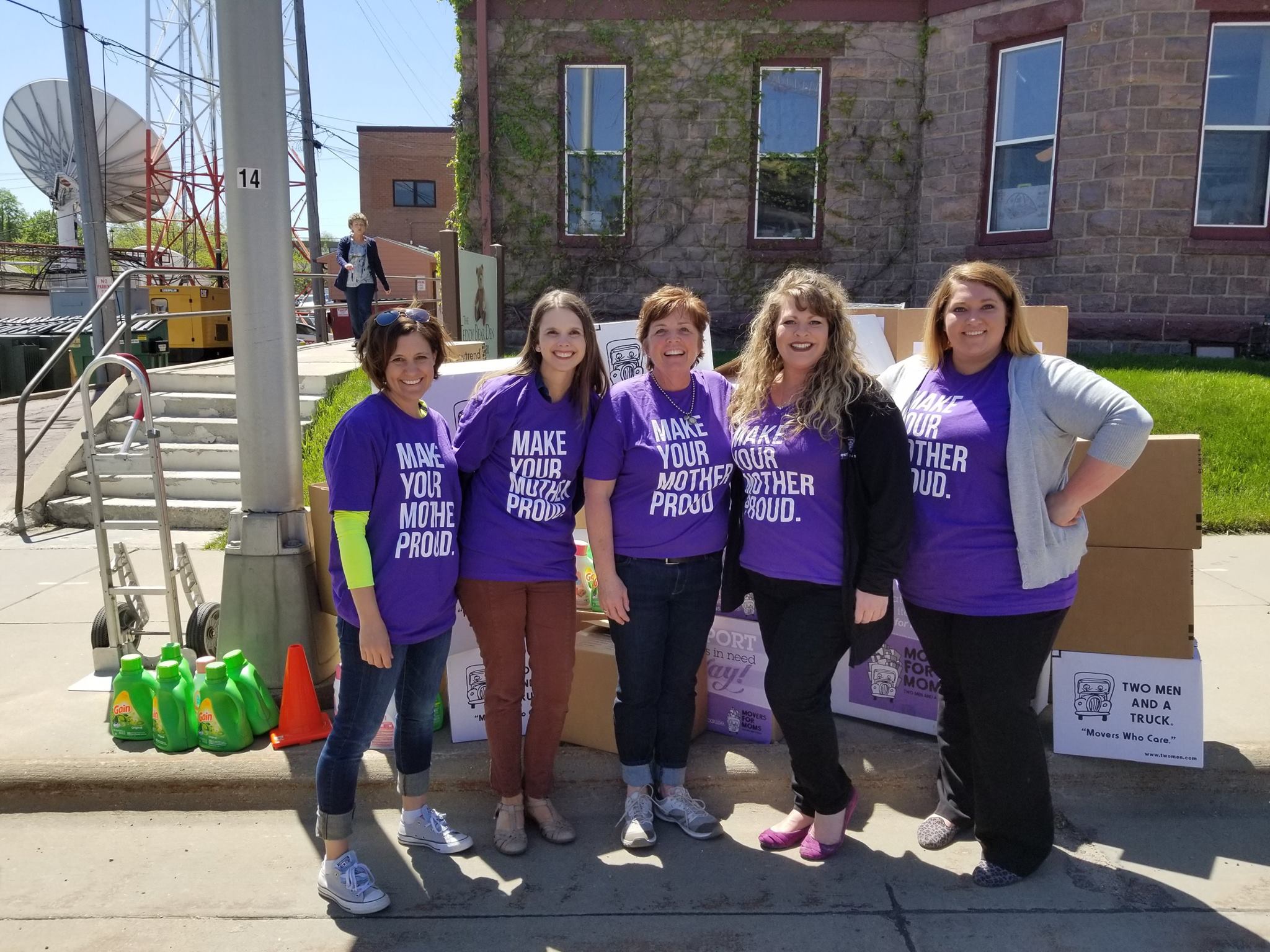 Sponsored content provided by TWO MEN AND A TRUCK®
Kara Berhow was working in a corporate marketing role when she met employees working for TWO MEN AND A TRUCK® at a local charity event; this meeting would end up changing the trajectory of her career. The movers were collecting supplies for their local franchise's Movers for Moms® drive. Between March and May each year, TWO MEN AND A TRUCK® franchises collect items to support women moving out of shelters. TWO MEN AND A TRUCK® franchises all pitch in to pick up items from local collection sites and deliver them to recipients in their area around Mother's Day.
"I wanted to get into something more local and use the skills I gained from past experiences, and TWO MEN AND A TRUCK was the perfect fit for me," Berhow said.
Now a customer service manager and a marketing and recruiting director for the TWO MEN AND A TRUCK Des Moines franchise, Berhow said the location's efforts have helped facilitate 7,591 moves in 2019, thanks to 70 movers and drivers. Last year, that franchise, owned by John Tometich and his wife Cindy since 1996, also collected more than 9,000 personal care items during its Movers for Moms® drive.
The Origin Of Giving Back
TWO MEN AND A TRUCK was founded in 1985 and has been franchising since 1989. It is the nation's largest local moving company with more than 370 locations worldwide and 3,000 trucks on the road. The company's tagline, "Movers Who Care®," encompasses more than just the precautions movers and drivers take to ensure furniture and other fragile items are transported carefully.
Company founder, Mary Ellen Sheets, officially started the company when her sons, Brig Sorber and Jon Sorber, left home to go to college. The boys had begun TWO MEN AND A TRUCK as an after-school side gig, with Sheets stepping in to take calls. She kept the moving business on the road by investing $350 in a moving truck and hiring two movers. She donated her first profits to 10 local charities in the Lansing, Michigan Area, according to Lindsay Dow, content marketing manager at the TWO MEN AND A TRUCK corporate office.
Today, the franchise community collectively donates $3 million worth of moving services to people and organizations in need. In addition, 10 cents of every move is donated to charity partner, Convoy of Hope. The total collected in 2019 was $55,000, which will be presented to the organization in March, Dow said. Convoy of Hope provides disaster response along with children's feeding initiatives and community outreach events to support disaster-stricken communities.
Moving Moms Ahead
In 2019, TWO MEN AND A TRUCK executed the Movers for Moms® program in 44 states, with all franchises participating in the initiative. This effort delivered 383,000 items to local shelters executed in part by the 1,000 partnerships franchises forged with businesses, schools, and community locations, Dow said.
Movers for Moms® first began in 2007 to recognize mothers. Sheets herself was a single mom, and her daughter Melanie Bergeron opened the company's very first franchise in Atlanta, Dow said. When the company reached 39 franchises, Sheets asked Bergeron to assume the role of company president while she pursued a seat in the Michigan State Senate. Bergeron is now chair of the board.
"The goal is to celebrate all moms and give back to a group we felt didn't have as much support as they could have, and at a time where there aren't many charity efforts taking place. We want all moms to be recognized and celebrated on Mother's Day, regardless of their circumstances," she said.
Each franchise is able to establish its own partnerships—at this time TWO MEN AND A TRUCK does not have a national partner, Dow said. Major businesses such as Planet Fitness, Walgreens, and Kendra Scott jewelry have partnered with local franchises to serve as collection sites.
The Des Moines franchise has established strong partnerships with a local television station and Hy-Vee, a midwestern grocery chain. Interested customers are able to purchase personal care bags at the grocery store at checkout and then drop them off at a collection site right in the store, Berhow said. Customers who hire TWO MEN AND A TRUCK to help them move can also donate any of their own items to local shelters, courtesy of movers who donate their time to bring these items to shelters. Franchisees also help move women and their families when they are ready to leave shelters and enter their own homes.
"It really does come full circle and has brought a ton of awareness; many people were unaware that so many women needed that help," she said.
Serving the Community, One Move At A Time
Movers for Moms® is just one of the charity initiatives spearheaded by TWO MEN AND A TRUCK. In the fall each year, its franchisees participate in four other major charity drives: Movers for Military®, Movers for Meals®, Movers for Mutts® and Truckload of Warmth®.
Similar to Movers for Moms®, these drives link community members, movers, and customers together for the purposes of donating goods to veterans, food pantries, animal shelters, and homeless shelters. Through each of these initiatives, which began in 2010, franchisees work with their own local partners to raise awareness and collect supplies.
The 2019 fall donation totals collectively made a major difference in the lives of people throughout the country.
Movers for Military® collected 40,271 items
Movers for Mutts®; 20,243 items
Truckload of Warmth®, 10,943 items
Movers for Meals®, 8,537 pounds of food
The Des Moines franchise refers to Truckload of Warmth as its "Winter Warmth Drive." A major partner, Chick-fil-A, allows TWO MEN AND A TRUCK vehicles to park in their restaurant parking lot. In exchange for gently used or new winter wear, donors receive gift cards to Chick-fil-A that entitle them to a free sandwich or breakfast item, Berhow said.
Partnerships with local schools also contribute thousands of items of clothing to the campaign. Berhow said more than 30 area schools empowered students to spearhead collection drives. In turn, agencies are able to submit wish lists that help students collect the items requested.
"We do our best to fulfill the 10,000 to 11,000 items they need, and if we don't get everything, we reach out on a website that a local web developer donated to us, which allows us to post what people need and take donations online," she said.
Leadership Driven to Give
Sheets' own dedication to supporting charities trickles down to the leadership teams at each franchise, Berhow said. The Tometich family also believes in the founder's commitment to giving back to the community and has a passion for helping people in the Greater Des Moines area.
"Locally, our owner has always said yes. Any time he can help, it's a top priority for him," Berhow said. "People know us because we are helping others—but we are not on a podium – people look at what we are doing. Actions truly speak for themselves—the honest, pure, and huge hearts that started the company on a national level and in Des Moines have grown that effort and will fuel it to grow even further."
Are You Ready to Take the Wheel?
TWO MEN AND A TRUCK provides local and long-distance moving services—as well as packing, storage, and in-home moving services. Whether movers seek to move to homes, apartments, or businesses, TWO MEN AND A TRUCK can help facilitate the move. The company also offers storage solutions through portable containers, which allows customers to relocate to other parts of the country more easily.
Franchisees have consistently rated TWO MEN AND A TRUCK as "Excellent" in its Core Values and Owner Enjoyment in recent Franchise Business Review surveys. They've also received recognition as a Top 200 Franchise, Top Low Cost Franchise, Top Franchise for Women, Top Franchise for Veterans, Top Services Franchise, and Top Multi-Unit Franchise. Owning a franchise can be lucrative, too. TWO MEN AND A TRUCK franchises average gross sales of $2.3 million, its highest-grossing franchise now at $10.10 million dollars.
Industry experience is not required, and the corporate office stands ready to provide support and classes after the initial training.
What's Required:
Cash required: $80,000
Franchise fee: $50,000- $85,000;mini-market*: $30,000 (10% discount for veterans)
Net worth required: $160,000 – $400,000; mini-market*: $80,000 – $160,000
Total start-up investment: $179,000 – $585,000; mini-market*: $100,000 – $192,000; costs include:

Two to three trucks
Insurance
Office and technology costs

Royalties: 6% of all gross sales, paid monthly
Advertising fund: 1% of gross sales, paid monthly
Monthly technology support fee: 1-2% of gross sales, with a minimum payment of $1,200 per month
On-site training – 18-24 hours in Lansing, Michigan at "Stick Men University"
*The mini market opportunity allows franchisees to provide moving services in cities with populations of 100,000 to 225,000 people. There are 85 mini market territories in the United States.
In your first four years of operation, you are required to gross at least $400,000 in the first, year; $550,000 in the second year; $650,000 in the third year; and $750,000 in the fourth year. After four years, you are expected to maintain at least $750,000 in gross sales annually and perform in the top 85% of all franchises operating in the United States in the annual growth percentage, as determined by the corporate office.
Mini-market franchises are expected to earn $175,000, $250,000, $375,000, and $500,000, respectively, in their first four years of operation. After four years, they are expected to maintain at least $500,000 in gross sales annually and perform in the top 85% of all franchises operating in the United States in the annual growth percentage, as determined by the corporate office.
Making the move to invest in TWO MEN AND A TRUCK could help you realize your dream of owning your own business and working in a culture that values giving back to those who need it most. As you would in any potential business venture, you should conduct your own research: compare different franchising options, weigh franchising costs relative to profits, ask for feedback from current franchise owners, and be honest with yourself about how much you're able and willing to take on.
Visit their franchising website to learn more about franchise opportunities with TWO MEN AND A TRUCK.