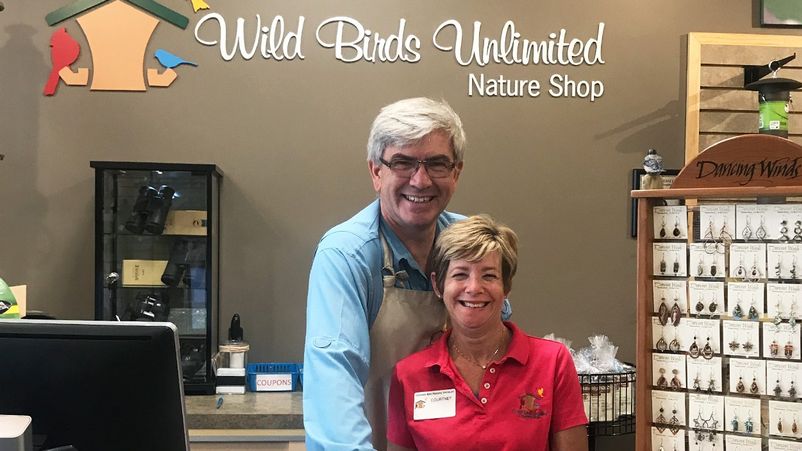 Warren and Courtney French own a Wild Birds Unlimited franchise that they purchased in 2016. Warren sat down with Franchise Business Review to tell us more about their experience with the Wild Birds Unlimited brand.
What was it about the franchise model and or leadership that led you to purchase it?
I really liked the structure of the franchise. There was a real feeling of support and team as we moved through the process.
What type of business experience, education, and/or skills did you have prior to becoming a franchisee that you have found particularly helpful?
After leaving the Navy in 1986, I went to work in my family business where we did commercial and military packaging and crating. My brother and I bought the company from my father in 1994 and I sold my half of the business and retired in 2015. Going into a new line of business worked very well in a franchise setting and Wild Birds Unlimited was very supportive.
What things do you like most about your job?
I love talking and helping people with our hobby.
How did you fund your franchise? Did you receive any discounts/incentives?
I paid for the franchise with personal funds and did get a veteran's discount.
What advice do you have for prospective franchise buyers? What do you wish you had known prior to going into franchising?
My advice to any prospective franchisee is to do your homework, work with the franchise team, talk with owners of stores and visit as many stores as possible. Take a good hard look at where you want to set up the store. The closest location may not be the best, we moved from Massachusetts to Fredericksburg, VA to open our new store.Do you want to start a new store or buy an existing? Both have pros and cons. Trust yourself, there will be ups and downs as in any business but overall this is a great living and you develop a lot of new friends in the new family.
Interested in owning your own Wild Birds Unlimited franchise? You can learn more about the opportunity here.