Entering its 41st year of operation, Wild Birds Unlimited continues its upward trajectory, with more growth on the horizon. Despite the challenges of the coronavirus pandemic, Wild Birds Unlimited same-store sales rose more than 20% last year. For the seventh year in a row, Franchise Business Review ranked the brand in the Top 1 or 2 for franchisee satisfaction in the Retail Category. For the 15th year in a row, the company has graced Franchise Business Review's Top Franchises list, placing them in our Hall of Fame. So, what makes a brand focused on backyard bird feeding and nature products an expert in nurturing such a positive company culture over four decades?
Wild Birds Unlimited founder and CEO Jim Carpenter said it all starts with giving back. Since the beginning, the company has been laser-focused on measuring the steps it's taken to foster continuous improvement. Not only does Wild Birds Unlimited aspire to better serve its franchise owners across their 348 locations in the United States and Canada, but they set annual improvement targets and carefully measure how well they ultimately reach those targets.
"When I look back, I'd say we started with the word "give". We give of ourselves as a franchisor and we give of ourselves as retailers to our customers," Carpenter said. "In 1992, when we were big enough to actually have a headquarters, I named it the Franchise Support Center—and that name entirely defines the function of what we do. We're here to support and grow our franchisees."
How Wild Birds Unlimited Took Flight
Wild Birds Unlimited first opened in 1981, when Carpenter decided to combine his passion for birds and nature with his knowledge of retailing. Tired of working in a small garden center for someone else, he took what little savings he had out of the bank and started selling birdseed. The first franchise was awarded when a nephew of one of his first employees visited him in his store one day and asked if he could buy a franchise.
"I bought a $3 book on how to franchise your business. And then, I went to a lawyer friend of mine who had some franchise experience, and said, 'I've got $3,000. Is that enough to pay you to prepare my franchise documents?' The lawyer friend said. "Nope!" So he walked into a franchise that sold unfinished furniture, asked the owners if he could borrow their franchise agreement, made a copy, marked out their name, and put in Wild Birds Unlimited. Most importantly, Jim made changes to that Franchise Agreement to turn it into an agreement that he would sign if he were a franchisee. "When I took this copy back to my lawyer friend and asked him the same question, he said 'Yep!'"
His approach worked and the employee's nephew eventually opened his store in Grand Rapids, MI. In 1983, Jim took on a partner in Wild Birds Unlimited, Inc. who was a naturalist and also owned a small bird feeding product distribution company. Six years later in 1989, Carpenter bought the partner out and hired Paul Pickett, who is currently the Chief Development Officer for Wild Birds Unlimited, Inc. In 1983 Jim married Nancy, who joined the company full time in 1987. Nancy, a teacher and artist, created the artwork the company used in its marketing materials and also oversaw just about every department the company had for 20 years. Jim and Nancy built Wild Birds Unlimited with the mission of "We Bring People and Nature Together, and We Do It with Excellence." The vision back then, which endures today, focuses on "sharing our passion for birds and on bringing joy into peoples' lives", he said.
Today, the company continues to enjoy a loyal following built on the philosophy of spreading joy. Its stores feature backyard bird feeding specialists who make strong connections within their local communities and provide expertise on products, as well as local nature information. When customers were unable to visit stores last year due to restrictions borne by the coronavirus pandemic, Wild Birds Unlimited brought its products directly to its customers through online sales, "bird-side" pickup, and free delivery.
Read: Kristen Martyn and Cameron Hogarth, Franchisee Rock Stars, Wild Birds Unlimited
A Franchise Framework Informed by Feedback
If you want to reinforce behaviors that result in actions that support great company culture, you need to reward those behaviors, Carpenter said. To help achieve that goal, Wild Birds Unlimited attracts owners who take a win-win approach to business.
"There are things you can do to incentivize your staff behaviors in certain directions and in the way we reward them for achieving their goals," Carpenter said. "I am here to help franchisees start and grow a business that makes money while they are operating it and is a good business to sell when they want to retire. Our incentives to the Franchise Support Center staff focus on the franchisee results, not the financial results of the franchisor."
It's the franchisees who provide insights to the corporate office about any gaps in support or culture that might exist. Each fall, Wild Birds Unlimited asks store owners to participate in Franchise Business Review's annual Franchisee Satisfaction Survey. Last year, 84% of store owners provided their feedback on the performance of the corporate office. They evaluated the home office in several different categories, including: Training & Support, Franchise System Leadership, Core Values, Franchisee Community, Self-Evaluation, Financial Opportunity, and General Satisfaction. Each category earned at least a 4 out of 5 stars, with Core Values ranking the highest-earning Wild Birds Unlimited the Best in Category ranking in Franchise Business Review's 16th Annual Franchisee Satisfaction Awards this year.
In addition, the Wild Birds Unlimited Franchise Advisory Council was formed 25 years ago to provide suggestions regularly. Comprised of store owners across the country, the council represents store owners' points of view and informs key priorities.
"We really listen to what they say, and then we share what they said—even if it went against what we were doing—and everybody can see it," Carpenter said.
By embracing the mission and the values of Wild Birds Unlimited and following the processes already put in place by the franchise support center, owners have a solid template to follow to succeed. But owners still have to put the work in to make success happen. Creating an engaging customer experience is paramount to any store's success, Carpenter said.
"This is a business and retail is difficult. There are 50 things you have to be good at. Our job as a franchisor is to make 40 of them easy, but the other 10 are all you," he said. "Number one is to get customers and number two is to keep customers."
Applying the Corporate Mission on Location
The company helps its franchisees maximize operations through an enterprise leadership approach to management, which calls upon owners to better focus their time and resources. In the early years, the Wild Birds Unlimited model prompted owners to oversee almost every function in their store. Today, the enterprise leadership model puts owners in the executive seat. Rather than focus on performing day-to-day operations, owners hire for tasks like accounting or purchasing, Carpenter explained.
"Otherwise, franchise owners would just work harder and longer hours, and there is no escaping that if you are the one who is doing everything except for the few jobs you hired for," he said. "That worked for many years, but then it no longer worked."
Just as the franchise support center gives itself an annual review, Carpenter recommends that store owners do the same. It can help them focus in on what facets of their leadership they need to work on and make necessary changes to stay true to the culture and maximize revenue. Owners who are reflective about how they are doing will do betters than owners who are not, he said.
"If you are doing a bad job, and you've been given a warning and you continue to do a bad job, you should fire yourself," he said. "So, if you've hired yourself to be the advertising manager of your store and your new customer acquisition is poor, you had better have a talk with yourself!"
Most of all, owning a Wild Birds Unlimited store is a lifestyle owners choose to embrace. Those who embrace it and find alignment with the company's values find that it pays dividends in many ways. It's a unique business in that it can bring more than just the bottom line into someone's life, Carpenter said.
"You are actually bringing joy into people's lives and you will have customers tell you that they love you… they love your store," he said. "They love the birds that come to our feeders and they love that you've given them advice."
Franchise owners are so passionate about living the mission of Wild Birds Unlimited that they've welcomed the next generation into their flocks. The brand is seeing more and more multi-generational owners, thanks to children who've shared the joys of nature through working alongside their parents.
"We've got kids taking over their parents' businesses. After 40 years, it's pretty cool that we have that," Carpenter said.
Are you Ready to Migrate?
If you are looking to go into business for yourself—but not by yourself, Wild Birds Unlimited might be the right company for you. It's the largest and most recognized source for backyard bird feeding and nature-related products in North America. The brand offers large, protective territories, in-store and online sales, and comprehensive training and support throughout the life of the franchise.
If you choose to invest in Wild Birds Unlimited, you might be entering a niche sector with serious growth potential. During the coronavirus pandemic, many found solace in identifying and feeding birds. Downloads of the National Audubon Society's bird-identification app in March and April 2020 doubled over that same period from 2019, and unique visits to its website were up by a half-million, according to the Los Angeles Times.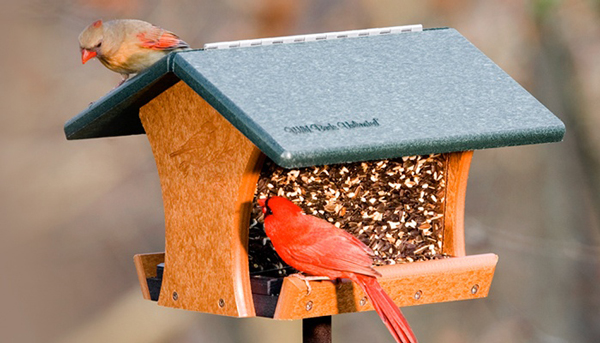 People are spending money to keep their wildlife coming back, too. According to the last survey administered by the U.S. Fish and Wildlife Service National Survey of Fishing, Hunting and Wildlife Associated Recreation in 2016, hobbyists spend an estimated $5 billion annually on birdseed and wildlife food—and that number could continue to grow.
Wild Birds Unlimited stores have benefited financially from the renewed popularity in ornithology. For the over 300 stores operating for all of 2019 and 2020, average same-store sales were up over 20%—signaling a recession-resistant sector. To give that number context, in 2019, average gross sales were $588,274 for stores open over one full year and by 2020, it jumped to $687,516. The top half of stores opened for 2020, raked in a whopping $942,543, according to Item 19 of the Wild Birds Unlimited Franchise Disclosure Document.
Here's What You'll Need to Join the Flock
While you don't need to be a bird expert to become a Wild Birds Unlimited franchisee, you do need to enjoy birds and nature. You also must meet some financial requirements. These include:
$40,000-$50,000 liquid capital
$300,000 net worth
You will also be responsible for the following start-up costs.
$40,000 franchise fee
$5,000 training fee
$39,500 – $50,500 working capital
A total of $170,382 – $281,606 initial investment (including the above).
All franchisees pay continuing support fees to over royalties (4% of gross sales) and advertising (1% of gross sales).
While most store owners are avid bird and nature enthusiasts, their mission in life is to share their passion with like-minded customers. If you share this mission, Wild Birds Unlimited might be the right landing place for you.