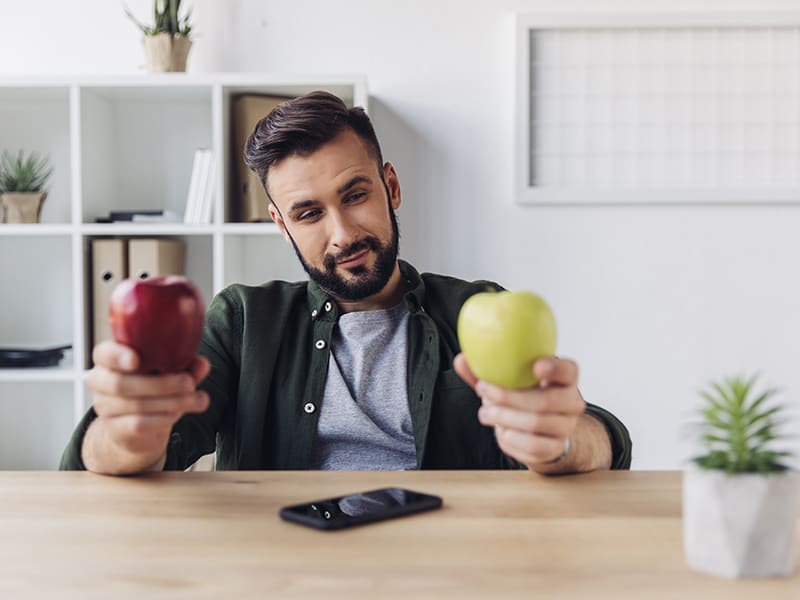 Perhaps you're tired of working for someone else, or maybe you want more work flexibility. Whatever the case, you've finally done it. You've made the decision to take back control of your career and strike out on your own! In a country seeping in opportunity for entrepreneurial spirits, it may be initially overwhelming to assess the many options available to you. A great place to begin is deciding whether you want to start your own small business from scratch or purchase a franchise. Choosing between a franchise vs startup business can be a complex decision. Both options offer exciting benefits as well as their own unique challenges. By asking the right questions and performing thorough research, you'll be able to decide which option makes the most sense for you.
How to Decide Between a Franchise vs Startup
Here are a few questions to help you decide between a franchise or a startup. As you contemplate the questions below, be honest with yourself and give yourself space for ongoing reflection.
1. How do you handle risk?
If you're thinking about starting a new business, you're likely comfortable with some degree of risk. However, you should consider the amount of risk you are willing to take on. For entrepreneurs who are more risk-averse, or who are simply looking to lessen their exposure to uncertainty, franchises are an appealing option thanks to their established support system and proven business model.
2. Are you a creative, 'big-picture' person or do you prefer to follow a prescribed system that's already outlined for success?
The beauty of the franchising model is that all the initial, up-front work has been done for you — this includes creating a marketing plan, picking out uniforms, designing logos, deciding on store layout, vetting vendors and ordering merchandise. With a proven business model in place and all details established in advance, you'll be able to hit the ground running from day one.
However, if it is important for you to have input on these aspects of a business — if you get excited about creating a marketing plan, picking your own vendors, designing the layout of your store, and deciding on the details of your business — then starting your own company from scratch may be more appealing to you.
3. How do you handle taking direction from other people or organizations?
Owning a franchise gives you freedom and independence — you are your own boss, after all. However, you will have to run your franchise in compliance with predetermined stipulations, which may include sharing your franchise's financial information or spending a certain amount of money on advertising and marketing each month.
On the other hand, the best franchise companies share a great deal of financial information with their franchisees in return. This allows them to benchmark their performance with the rest of the franchise system. This can be a huge advantage for franchisees to help improve their financial performance and business profitability. Keep this in mind as you reflect on which business venture is right for you.
Money and Risk: Franchise vs. Starting a Business From Scratch
Starting a new company, no matter if it's a franchise or your own startup, is going to require investment, both in time and money. Depending on the type of business you're looking to start, costs can vary wildly from a few thousand to a few million. Every business startup will have different expenses and capital expenditures. However, there are several expenses that can be expected for any new business including:
Advertising and promotion
Borrowing costs
Employee expenses
Equipment and supplies
Insurance, license and permit fees
Research expenses
Technological expenses
These costs exist for both franchisees and small business owners. However, for franchisees these costs often come in the form of fees.
For instance, the majority of franchisors charge their franchisees a monthly or quarterly royalty fee in exchange for permission to use their brand. This fee is typically a percentage of gross sales. There are also marketing and advertising fees that are mandated by many franchisors. In exchange for a marketing fee, franchisees benefit from in-depth market research and proven marketing plans. These established assets set franchisees up for success from the start, helping them avoid the sometimes grueling and expensive trial-and-error process that independent business owners must contend with as they figure out the market and get to know their customer base.
Similarly, costs for materials and supplies are both affordable and typically of the highest quality because franchisors have pre-established, deep-rooted relationships with suppliers and are able to leverage collective buying power.
Unlike franchises, startup businesses don't have any royalty fees or preordained marketing and advertising costs. However, just because you are running your own business doesn't mean that you won't face recurrent costs. The difference between franchises and independent businesses is that, for franchises, these monthly fees are set at the same amount each month. When you own your own independent company, recurrent costs can — and likely will — fluctuate. Not to mention, you'll be investing a lot of time into researching the best ways to market, establishing the best technology for your needs, and determining your company's persona.
When you opt to buy a franchise, all of those decisions have already been researched — and determined — to ensure your company's success. When you buy a franchise, you are buying into a tested and proven system.
Another major consideration that will affect the initial investment for an independent business or franchise is where you'll be working — is it out of your house, your car, or do you need to rent or buy a space? Infrastructure requirements are a major factor in the cost of a new business or franchise, which is why the more affordable franchise options are concepts that allow you to work out of your home or car.
As such, industries that are typically less expensive to buy into include travel (brand examples include Dream Vacations and Cruise Planners), kids' coaching (brand examples include Soccer Shots), residential and corporate cleaning services (brand examples include MaidPro and Office Pride Commercial Cleaning Services) and even wildlife trapping (brand examples include Critter Control) — all of which are astronomically less expensive than big-brand food and retail companies like McDonald's, 7-Eleven Inc., and Dunkin' Donuts and have an initial investment of $1 million.
Like starting a business from scratch, franchises can cost anywhere from a few thousand to upwards of $5 million. It is important to note that, while the initial investment for some franchises can be expensive, there are affordable options to fit any budget. In franchising, each brand is different and will have different initial investment costs that are outlined in the Franchise Disclosure Document (FDD) for your perusal.
Recurrent Costs for Franchises vs Independent Businesses
Franchise:
Marketing/Advertising Costs: This fee is mandated by the franchisor to pay for national and local advertising efforts. Sometimes it is a percentage of sales while, other times, it is a set fee.
Royalties: A monthly fee collected by your franchisor in exchange for permission to use their brand. Typically, this is a percentage of gross sales that ranges from 4% – 12%. In other cases, the royalty is a set fee.
Materials/Supplies: Costs for materials and supplies will be both affordable and high quality given that franchisors will have established deep-rooted relationships with their suppliers. Materials will be less expensive because of the franchise's collective buying power.
Independent Business:
Marketing/Advertising Costs: Advertising efforts of independent businesses will have to be more valiant than franchises because you alone are responsible for creating your brand's identity.
Materials/Supplies: It takes time to develop a trusting relationship with suppliers and to feel confident that you are getting the best quality product for a reasonable rate. Keep shipping and delivery rates in mind; these expenditures can add up — and realize that you won't benefit from collective buying power like franchisees do.
Overhead/Operating Expenses: These costs include rent, utility, vehicle leases, office machine and equipment leasings. Consider costs for upkeep, maintenance and repairs.
Business Association Fees and Continuing Education: Monthly fees for membership in a professional association and any expenses related to continuing education, such as conferences.
Success Rates for Franchises vs. Startups
In a study conducted by FranNet, it was concluded that 92 percent of franchises were still in business after two years and 85 percent after the first five years. Compare that to independent businesses: Investopedia reports that 25 percent fail within their first year. 50 percent of the remaining fail within five years while 30 percent of the remaining stay in business for 10 years.
Bottom line, franchises have a higher overall success rate than startups. Franchises operate under a predetermined business model that has already brought success while independent businesses make adjustments and decisions to their business model as they go.
However, not every franchise is a safe bet and not every independent business is destined to flop, which is why it is so important to do your research.
Individual franchise success rates vary from as low as 40 percent to as high as 100 percent. For example, Pinch a Penny., Mathnasium Learning Centers, and HomeVestors of America are among some of the highest-rated franchise brands (according to franchisee satisfaction data collected by FBR). Be sure to investigate the success rate of any franchise that you are looking into and talk to franchisee owners.
As for independent businesses, remember that there are countless success stories: Facebook, Apple and Starbucks are companies with major international clout that once started out as small businesses. Who's to say that your independent company won't follow suit?
Opportunities and Challenges
No matter if you decide to start a business from scratch or open a franchise, there will be certain things that empower and inspire you, and other things that hold you back. Take time to consider and weigh the different opportunities and challenges that both ventures offer. Consider factors such as:
Location
Buying a franchise allows you the opportunity to decide whether you want to purchase a fully operational location or start your own business from scratch at a new location. There are different opportunities available in each state — Texas, California, New York and Illinois, for example, have ample franchising opportunities spanning nearly every industry. Keep in mind, however, that franchises may have availability restrictions based on how many stores already exist in a geographical area. These restrictions don't pertain to independent businesses, of course.
Time to Profitability
Because of the predetermined business plan offered by franchise brands, it is typically faster for franchisees to begin turning a profit. On top of this, franchises offer a clear exit plan when you're ready to retire or move on to your next endeavor.
For small businesses, it is a little more challenging. Making it through your first few years is a major milestone. During these years especially, you will have to work long, hard hours to help your business take off, relying on a process of trial-and-error to figure out what is effective for your business and what isn't. That's not to say you won't work hard when you buy a franchise, but the effort to ramp up and gain brand awareness will be significantly less with a franchise versus a startup.
Creativity and Community
Owning a small business offers owners the freedom to innovate and tap into their creative side, a vital part of the success of any small business. Starting a business from scratch works best for people looking for financial and personal freedom who have a solid understanding of how to run a business and are honing a grandiose idea.
Franchising offers greater job security and faster returns while allowing you to embark on an exciting new career venture. When choosing a franchise, don't overlook the company's values and goals; make sure they align with your own.
As you continue to weigh which option is best for you, analyze what it is you are hoping to accomplish and reflect on how your lifestyle, goals and beliefs align with each business model. Read up, talk to your friends and family, make lists, speak with business owners and franchise owners alike, but — most importantly — know that this is not a decision to make impulsively; be true to your instinct and what will be right for you, your goals and your mindset.
If you ultimately decide that franchising is the right path for you, there are thousands of options across nearly every industry. Just remember that not all franchises are created equal. To help prospective franchisees, like you, find the best brand, Franchise Business Review performs independent market research on franchisee satisfaction, helping to expose the best brands on the market today. You can view this year's list of the top-rated franchises (as rated by franchisee satisfaction) here.
Franchise Business Review offers an array of resources including content to help you Explore, Plan, Launch and other educational content to help you research your options and foray into entrepreneurship with confidence.