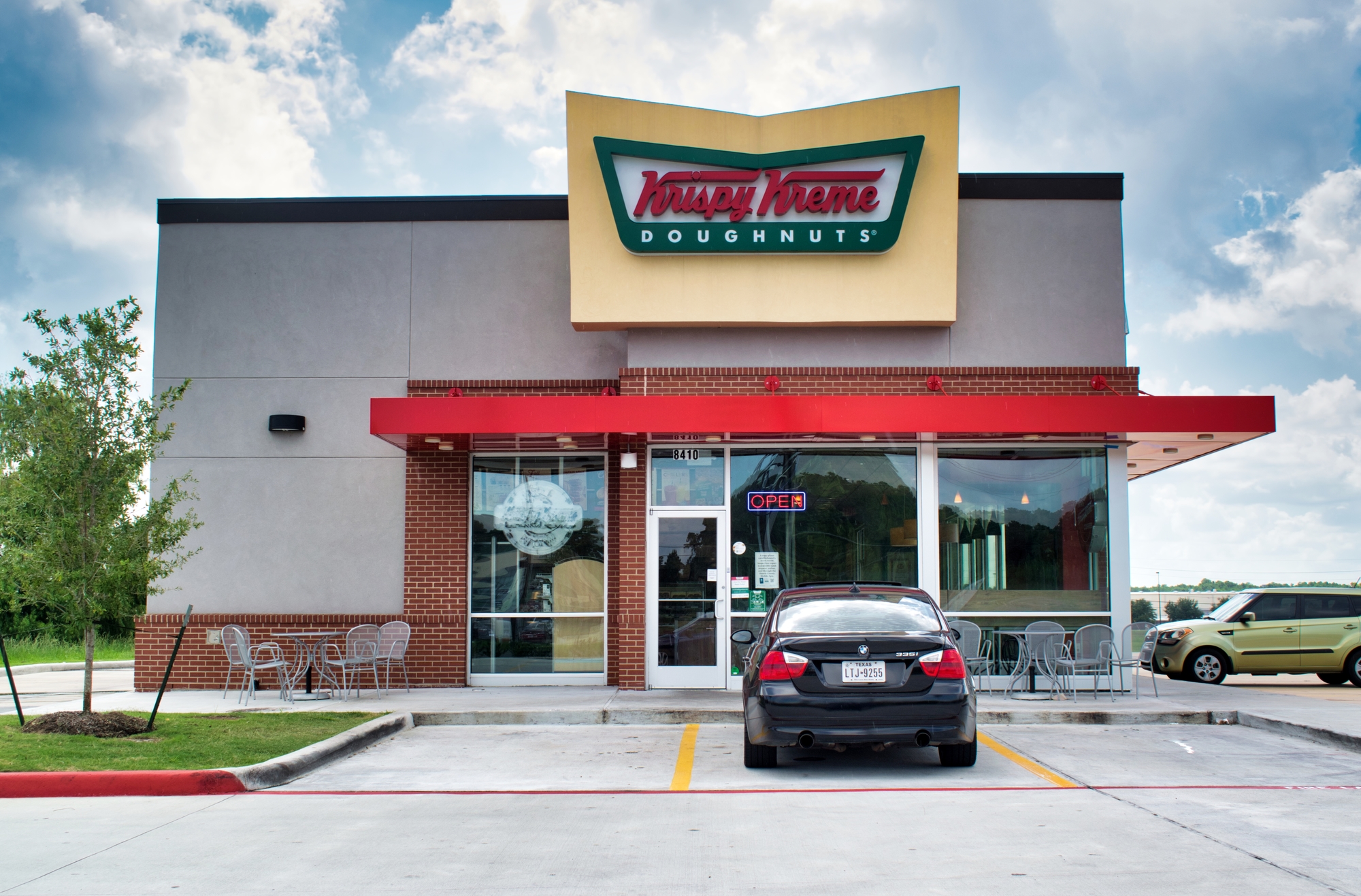 Key Points
Krispy Kreme plans to open 45 new doughnut shops, redesign its existing shops to offer customer-centric experiences, and add new menu items in the coming year.
To become a franchisee, Krispy Kreme investors should expect to spend anywhere from $440,000 to $4.1 million in initial fees.
While Krispy Kreme enjoys strong brand recognition and a loyal following, it does not offer exclusive territories or a quick ramp up. There are many other franchises to consider that do not require the same level of investment.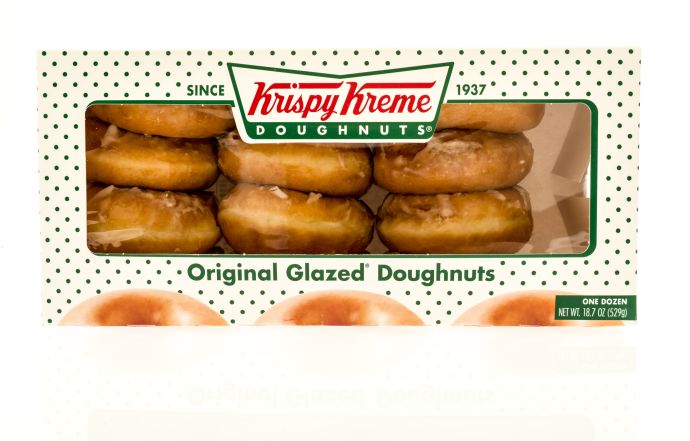 Krispy Kreme doughnuts are hot—and not just because they come out of the oven that way. Best known for their Original Glazed® doughnut, the Krispy Kreme franchise offers a variety of decadent flavors that include Chocolate Ice Glazed, Cake Batter, and New York Cheesecake, to name a few.
Despite living in a diet-crazed culture, Americans are clamoring for these dessert-like doughnuts and other crullers. The total doughnut revenue in 2019 is expected to be $8 billion, up 3% since 2014, according to IBISWorld.
Krispy Kreme enjoys one of the highest market share in the doughnut sector among competitors like Dunkin', Duck Donuts, and Honey Dew Donuts—with big plans to both grow and innovate. To keep its brand from going stale, Krispy Kreme plans to open 45 new doughnut shops in new and existing markets through 2020, redesign its shops, and offer new menu items, according to a recent press release.
It's also creating experiential elements to further engage customers with its brand. In 2020, Krispy Kreme will open a 24-hour flagship store in the middle of Times Square, featuring a 15-foot "Hot Light," which will "always be on, indicating that hot, fresh doughnuts are being made and served in-store," according to Forbes. Visitors will not only be able to watch doughnuts being made but can shop in a 4,500-square foot retail space. Mobile ordering and pickup, which debuted across the United States last year, will also be available at the store, the article said.
How did this "hot doughnut" command such a cult following, and is now the time to invest in a Krispy Kreme franchise? Here is what you need to know.
The History of the Krispy Kreme Franchise
A secret recipe led to the development of the Krispy Kreme Doughnut Corporation, which was founded in l937 by Vernon Rudolph. Rudolph bought this secret yeast-raised doughnut recipe from a New Orleans French chef, rented a building in what is now historic Old Salem in Winston-Salem, North Carolina, and began selling doughnuts to local grocery stores, according to the company's website. In the 1940s and 1950s, the Krispy Kreme recipe improved, ensuring consistency, thanks to its own mix plant and equipment. By the 1960s and early 1970s. Krispy Kreme franchises emerged in the southeastern part of the country until Rudolph's death in 1973.
In the 1970s, it was sold to a parent company that took its focus away from doughnuts and sold them alongside soup and ice cream. In 1982, franchisees bought back the company, before it went public in 2000 as Krispy Kreme Doughnuts Inc., according to Entrepreneur. From 2004 to late 2007, Krispy Kreme did not offer franchises in the United States, according to its franchise disclosure document (FDD).
The doughnut company opened the first international store in Canada in December 2001. The first stores outside North America opened in Sydney, Australia and in London, England in 2003. Since then, Krispy Kreme has opened more than 700 stores in Asia, Mexico, the Middle East, Puerto Rico, and Turkey.
In 2016, JAB Holding acquired Krispy Kreme for $1.5 billion, bringing it under private ownership once again. Since then, JAB has acquired other popular brands such as Panera and Au Bon Pain, according to Business Insider.
How Much Does a Krispy Kreme Franchise Cost?
Getting into a Krispy Kreme franchise is not inexpensive. Franchisees can expect to spend anywhere from $440,000 to $4.1 million in initial investment fees, depending on the type of store format they choose. In addition, franchisees can expect to pay 4.5% in net royalties, payable each week, according to its FDD.
Krispy Kreme offers three types of franchise formats:
Factory Store: a retail sales facility that manufactures and produces fresh doughnuts on-site.
Tunnel Oven Shop – a retail sales facility that includes an impinger oven and limited manufacturing capabilities. Tunnel Oven Shops receive doughnuts from a Factory Store or a Commissary Facility and "finish" them before selling.
Fresh Shop – a retail sales facility with limited manufacturing capabilities or no manufacturing capabilities that receives doughnuts from a Factory Store or Commissary Facility that "finishes" them for sale.
Commissary Facilities are not Krispy Kreme Stores, but are manufacturing facilities that supply doughnuts and other products to either the Tunnel Oven Shops or Fresh Shops. They do not sell doughnuts for retail sale.
The total initial investment necessary to open a Krispy Kreme franchise is:
Factory Store: $1,287,500 to $2,750,000
Tunnel Oven Shop: $558,500 to $1,500,000
Fresh Shop: $440,500 to $1,200,000
Commissary Facility: $1,617,500 to $4,115,000
All retail stores pay a royalty fee and contribute to advertising on the local and national levels.
Krispy Kreme Franchise Cost Breakdown
| | | | | |
| --- | --- | --- | --- | --- |
| | FACTORY STORE | TUNNEL OVEN SHOP | FRESH SHOP | COMMISSARY FACILITY |
| Development Fee | $25K | $12.5K | $12.5K | $25K |
| Initial Franchise Fee | $25K | $12.5K | $12.5K | $25K |
| Construction Fee | $600K to $1.6 million | $330K to $991K | $250K to $837K | $1M to $2.5M |
| Total Estimated Initial Investments | $1.28M to $2.75M | $558.5K to $1.5M | $440.5K to $1.2M | $1.6M to $4.1M |
| Royalties | 4.5% net sales | 4.5% net sales | 4.5% net sales | |
| Advertising Placement Fund | Up to 1% of net sales | Up to 1% of net sales | Up to 1% of net sales | |
| Local advertising | At least 2.5% of net sales | At least 2.5% of net sales | At least 2.5% of net sales | |
| Brand Fund | Up to 2% of net sales | Up to 2% of net sales | Up to 2% of net sales | |
| | | | | |
Source Krispy Kreme FDD
In comparison to its fellow doughnut franchisees, Krispy Kreme leads the doughnut pack in terms of franchise cost to entry.
However, an investment in Krispy Kreme might be worth it, thanks to its loyal following, strong brand recognition, commitment to innovation, and open territories.
Although the company does not disclose in Item 19 of its FDD, the typical earnings of what its franchises made, it will allow franchisees buying existing stores access to financial performance records for that location.
Krispy Kreme  Franchise Alternatives — Investment Requirements
| | | | |
| --- | --- | --- | --- |
| FRANCHISE | FRANCHISE FEE | INVESTMENT | ROYALTY |
| Krispy Kreme | $12.5K-25K | $440K-$4.1M | 4.5% of sales |
| Dunkin' | $40K-$90K | $97.5K-$1.7M | 5.9% of sales |
| Honey Dew Donuts | $35K | $93k- $702K | 7% of sales |
| Duck Donuts | $30K | $348.35K – $568K | 5% of sales |
| PJ's Coffee | $20K-$30K | $168K-$324K | 5% of sales |
| Biggby Coffee | $26K-$35K | $166K-$324K | 6% of sales |
| Scooter's | $40k | $423K-$428K | 4% of sales |
Why a Krispy Kreme Franchise is Worth Your Investment
Loyal following
There's a good chance that Krispy Kreme customers will stay true to their favorite doughnut shop—including yours. Thanks to its trademark flavors and fresh taste, Krispy Kreme keeps doughnut lovers coming back for more. For franchisees, this means lovers of warm, sweet confections will likely appreciate the consistency of their favorite treat.
To reward repeat customers, Krispy Kreme designed an app that allows customers to earn free treats with every purchase. You can sign up for this benefit online through Krispy Kreme Rewards or download an app. After buying 12 doughnuts, customers get #13 for free. They also have the opportunity to earn coffee and doughnuts by the dozen, according to the Krispy Kreme website.
Brand recognition
Krispy Kreme is a recognizable brand, catapulted into popularity by word-of-mouth rather than by traditional media campaigns. The doughnut giant has big plans to further increase its customer engagement through unique in-store experiences like the ones it plans to showcase at its New York City flagship store. And, it will continue to keep in touch with customers through mobile apps that will allow them to order, pick up, and earn rewards. More than a doughnut retailer, Krispy Kreme aims to stir up passion and evoke nostalgia.
"If you do a survey and ask consumers about their ideal Krispy Kreme experience, they will talk about attributes such as price, cleanliness, etc. However, if you delve deeper as to what benefit do you get from this, you might hear that this is a place I can bring my family," said Dwayne Chambers, former chief marketing officer at Krispy Kreme, in a recent Balance Small Business article.
Explosion of new territories
There are plenty of opportunities to get in on the Krispy Kreme craze, according to recent reports. The doughnut franchise plans to remodel 350 of its U.S. stores and open 450 shops globally by 2022. Of those, 45 new shops will be in the U.S, according to CNN.  Now might be just the right time to jump in!
New food concepts
Built on tradition, the Krispy Kreme brand is tightly focused on doughnuts and has created more than 300 varieties over the years to keep customers from getting bored. In July, the doughnut giant opened its first shop in Concord, North Carolina that allows customers to choose different flavors, toppings, and drizzles to make their doughnuts their own, QSR Magazine reports.
Not content to stop with one dessert item, Krispy Kreme is also introducing new menu items, including "scoop sandwiches," a new take on the ice cream sandwich that includes ice cream flanked by doughnuts and hand-spun milkshakes infused with doughnuts.
No requirement to manage operations 
If you are looking to make a purely financial investment in one of its stores, Krispy Kreme allows for that. You or your managing partner are not obligated to personally participate in the direct operation of your store. Instead, you will need to appoint a general manager who can provide the direct, on-premises management needed to make it run smoothly.
Why Krispy Might Not Be the Right Brand for You
Krispy Kreme offers a lot of pluses for franchisees, but you should be aware of some requirements that may factor into your decision.
Don't expect an exclusive 
You might be the first to open a Krispy Kreme store in your area, but you could find yourself competing with another franchisee down the line. Franchisees are not granted any exclusive territory, protection, or right to a Krispy Kreme in a contiguous market, according to the company's FDD. "We reserve the right to operate and to grant others the right to operate stores and commissary facilities at any location on such terms and conditions as we deem appropriate…" it states.
Account for a long ramp up
Depending on the store format you plan to open, you could wait up to 65 weeks between signing a franchise agreement and opening a store. The FDD states it could take as long as 18 months to open a Factory Store and as little as two months to open a Fresh Shop. The time may be extended or reduced depending on the location and condition of the site, the construction schedule, the extent to which an existing location will need to be renovated, the delivery schedule for equipment and supplies, and getting the necessary permits. Your managers must also complete initial training no later than 30 days before opening.
You should also be prepared to take part in 16 weeks of off-site training before you open your store. According to the FDD, franchisees should expect 40-50 hours a week of training in weeks one through eight at a store location to go over topics such as production, retail, processing, and shift management.  Other training areas covered in the second half of the program include assistant general management development, shop development, general manager development and equipment usage—which all take place in Winston-Salem, North Carolina. Although training for up to four team members does not incur a cost, you are required to pay employees for any of their wages and travel expenses, according to the FDD.
Find your own financing 
If you are hoping to get loan assistance from the Krispy Kreme corporate office, you'll be disappointed. The company does not offer any direct or indirect financing to franchisees.
If Krispy Kreme doesn't quite strike the right flavor for you, there are plenty of other food franchise alternatives that offer a lower barrier to entry and deliver tasty investment options.
Check Out Some Delicious Contenders
Founded in Louisiana in 1978, franchising since 2008. The company values sustainability, and sources all their coffee beans from farms in Nicaragua; producing jobs and great coffee at the same time.
They have 96 franchised locations across eight states
The booming chain experienced a 47% growth over five years
Franchise fee: ranges from $20,000 to $30,000 depending on the store
Initial investment starts at $168,000, with the maximum initial investment being $566,000.
Started by two guys who took a long walk together, Biggby Coffee opened its first location in Michigan in 1995 and began franchising in 1999.
Includes more than 77 retail locations across the Midwestern and Southeastern United States.
Franchise fee: ranges from $26,000 to $35,000
Initial investment starts at $166,350, with the maximum estimated to be $324,100.
Bring the cool taste of the tropics wherever you go! More than an ice cream truck, a Kona Ice truck delivers a fun experience for customers in 48 states.
Founded in 2007 in Florence, Kentucky and began franchising in 2008
Includes more than 1,100 locations throughout the United States
Franchise fee: $15,000
Initial investment ranges from $124,750 – $147,550
Rated number one for several years in a row on FBR's Top Franchises List 
A&W
Can you say nostalgia? America's first and oldest restaurant chain founded in 1919, A&W still makes Root Beer fresh in each restaurant and served in a frosty mug
The popular restaurant began franchising in 1925, and in 2011 it was acquired by YUM Brands, headquartered in Louisville, Kentucky
Includes 587 locations
Franchise fee: $20,000 to $30,000
Total start-up investment: $269,000 – $1,213,000
Recently recognized as a Top Food Franchise by Franchise Business Review
Since 1986, Checkers & Rally's has been serving American classics such as hot dogs, hamburgers, and milkshakes to millions of happy customers.
Headquartered in Tampa, the restaurant has been franchising since 1989.
Includes more than 630 locations.
Franchise fee: $20,000 to $30,000
Initial investment: $203,000–$945,000
Recognized as a Top Food Franchise by Franchise Business Review
Work for a Certified Women's Business Enterprise that distributes delicious frozen fruit bars, breads and snacks to health-conscious families through freezers in third-party locations.
Founded in 1991 and headquartered in Boca Raton, the company has been franchising since 1993
Includes 65 franchise locations in 26 states and the United Kingdom
Franchise fee: $25,000
Total start up investment: $45,000 to $90,000
Top 50 in franchise satisfaction by Franchise Business Review
Learn more about Happy & Healthy Products here. 
Ready, Set, Dough!
A Krispy Kreme franchise could prove to be a delicious opportunity, but with so many franchise opportunities to choose from, you should look at all of the information and perform due diligence. Even the sweetest opportunities demand careful research. Remember to:
Compare different franchising options
Weigh franchising costs relative to profits
Ask for feedback from current franchise owners
Be honest with yourself about how much time and effort you can put into it