Well-known franchise brands like McDonalds, Wendy's and Chick-Fil-A have helped propel the food and beverage industry to the most popular franchise segment on the market today, representing 37 percent of all franchise establishments.
The food and beverage industry, overall, plays a critical role in the U.S. economy, accounting for roughly five percent of GDP. In 2017, the industry brought in total sales of $1.4 trillion and employed roughly 1.46 million workers.
Not only is the food industry growing, so too is the franchising sector. In a January 2018 report, published by the International Franchise Association and IHS Markit Economics, it was projected that the franchise sector grew faster than the overall economy in 2017 and would do so again in 2018.
Healthy market growth in both food and franchising makes a franchise restaurant or franchise food concept an appealing option for aspiring entrepreneurs looking to grab their slice of this popular sector. But with competition fierce in food and beverage, it is not the right move for everyone. Is it right for you?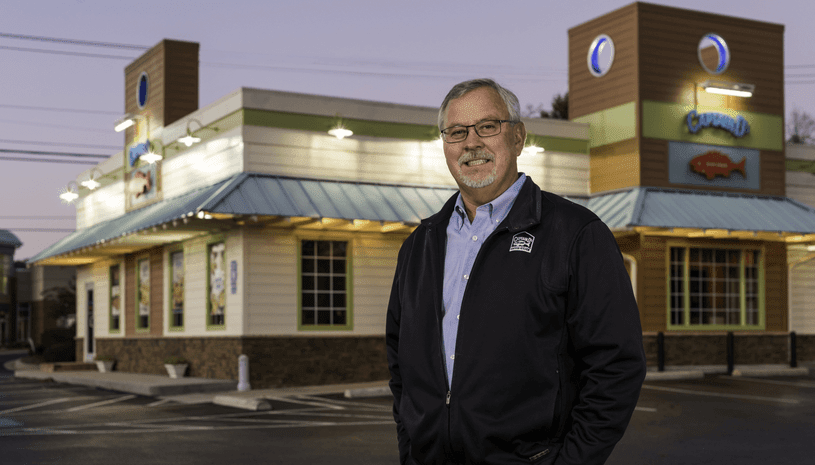 Opening a Franchise Restaurant: Pros and Cons
Owning and operating a food franchise is not for the faint of heart. The food and beverage industry is very competitive, trend-driven and affected by global market factors such as climate change and politics. There is also high employee turnover in the industry and fluctuating food costs to contend with. Not to mention, if you want to be successful, you're going to have to put in long hours, day in and day out. Did we mention that the cost of entry and ongoing expenses are high when compared to other sectors?
Well, that's the "sour" of the food industry. Ready for the sweet?
There's a reason so many people open franchise restaurants and food businesses every year. The industry is ever changing, fast paced and exciting. There is something special about food and beverage establishments; about a business that can make you feel so good, a place that people can't wait to return to, where they can relax after a long day or celebrate with their closest family and friends. Remember Cheers — the hit sitcom and famous Boston restaurant with the catchy jingle? "Sometimes you want to go; Where everybody knows your name; And they're always glad you came; You want to be where you can see; The troubles are all the same."
Plus, it's an industry that will be forever in demand and is not easily outsourced like so many other sectors. While you will put in long hours as a food franchise owner, the potential for a rewarding and satisfying career is high.
Here's how it breaks down.
The Sweet
Demand – Until Elon Musk develops the ability for humans to survive off of a mere inhalation of air, food will always be in demand. "It takes a lot of hard work and tenacity to make it in the sector but one thing that never changes is people keep eating!" joked Tony Lamb, CEO and founder of Kona Ice.
Relationships – It's hard to think of a business that is more relationship driven — or dependent —than the food and beverage industry. As Mary Rolf, franchise owner of Scooters Coffee in Springfield, MO said, "The best thing about owning a coffee franchise is making a difference in customers' and employees' days. The relationships built with both are touching. I love watching my employees grow with my franchise and in their lives."
Laurentiu and Casie Cernat, franchise owners of Fuzzy's Taco Shop, agreed, "The best thing about owning a food franchise is interacting with guests and seeing them leave your business satisfied by the quality of food and service offered."
High Satisfaction – Food franchise owners are generally very happy business owners, reporting high levels of satisfaction. When surveyed, 88 percent of food franchisees agreed that they enjoy operating their business.
The Sour
High initial investment – Getting started in the food sector typically requires a large investment, and early profit margins can be much lower than some other service industries—especially for operators of a high cost, single-unit business. It can take a long time for a new operator to recoup start-up costs. Many franchisees choose to open multiple locations, so they can gain operational efficiencies and turn a higher profit (i.e., sharing employees across locations reduces training costs, buying products in larger quantities reduces per unit costs, etc.). Still, operating multiple business locations significantly increases your investment and the overall complexity of the business, and is only recommended for experienced, well-financed candidates.
Labor challenges – Finding and retaining quality staff is one of the greatest challenges for restaurateurs. As reported by the New York Times, 37 percent of National Restaurant Association members said labor recruitment was their top challenge, up from 15 percent two years prior. Low unemployment rates and increasing wage pressures have left restaurant owners scrambling to find the help they need.
Low margins – While many food franchises report relatively high unit-level sales, it is important to look at the whole picture when considering a franchise investment. Food businesses are well known for their low margins, and many struggle to make a profit. Successful franchise operators must manage their expenses very carefully – especially labor and food costs.
Long hours – If you're looking for a business that does not require too much attention – that you can "set and forget" – the food industry is definitely not for you. Hours are long, and the work is often exhausting, but it can also be exhilarating and as an owner you have more flexibility as to how you schedule your day.
"The best thing about owning a food franchise is you can set your own hours; the worst thing would be sometimes the business sets your hours for you," said Brian Allen, a Lenny's Grill and Subs Franchise owner in Cape Coral, FL.
Trends and competition – Let's face it, the food industry is a trendy one. You can probably think of at least five different diet fads that have swept the country in just the past few years. As a restaurant owner, these fads can, at times, help your business — but they can also hurt it. Not only that but competition in this industry is fierce.
"There is so much competition out there that it is mind boggling!" said Lamb. "Everyone is competing for your mouth and stomach! There better be something that sets you apart. Fads come and go, and trends change continually. Even changing traffic patterns can ruin a thriving restaurant."
Is a Food Franchise Right for You? Advice from the Front Lines
"Win on Hospitality"
"The restaurant business is a demanding one and real success hinges on a restaurant team's ability to consistently deliver polite and welcoming hospitality. We have tools that help franchisees deliver genuine hospitality, but it also takes commitment by our franchisees to deliver genuine hospitality to every customer. Winning on hospitality will help franchisees grow their guest count." – Kevin Martin, CEO, Lenny's Franchise System
"Select a Franchise that Aligns with Your Morals and Values"
"I would highly suggest anyone considering a food franchisee to make sure the company they select aligns with their morals, standards, and values. Make sure you feel a connection with the franchise, so relationships can be built because those are what help make you successful." – Mary Rolf, Franchise Owner, Scooter's Coffee, Springfield, MO
"Gain Experience First"
"Make sure you know what you are getting yourself into. Running a food business is not the same as running a retail store. I would suggest spending at least a year working in a restaurant to make sure this career is the right move for you." – Brian Allen, Franchise Owner, Lenny's Grill and Subs, Cape Coral, FL
"Every successful owner needs to have worked or labored in a restaurant position at some point in their life. The industry is a rare breed of people that come together for the same reason: good food, offered at a reasonable price with excellent service. Laur and I firmly believe in never asking staff members to complete tasks in which we aren't willing or able to complete ourselves." – Laurentiu & Casie Cernat, Franchise Owners, Fuzzy's Taco Shop, Waco TX & Hewitt TX
"Look at the longevity of the Brand"
"There are always new brands and concepts popping up every day, but I believe one of the most important aspects to look at the history and longevity of the brand. Buying into a franchise is a commitment so it's important to make sure that what is being sold to you today will still hold true for years to come." – Mike O'Toole, Chief Growth & Support Officer at Goodcents
The Future of Food
If you're considering a franchise restaurant, it is important to understand the long-term viability of the brands you're interested in. What concepts are best for today's consumer and what brands will be able to match consumer demands into the future?
According to the franchisees and franchisors named to FBR's top brands list, convenience and health are two trends that are taking shape with growing momentum.
"Consumers continue to spend more on food away from home or prepared food they carry into their home," remarked Kevin Martin, CEO of Lenny's Franchise System. "For Lenny's, this trend has fueled the growth of our family meal offers. This trend is also an example of the growing interest in convenience. Consumers are looking for ways to simplify their lives. That movement is propelling the demand for delivery and online or mobile ordering, which I foresee only increasing in demand."
While the 1950s witnessed the rise of the convenient TV dinner and frozen food, today's consumers are seeking convenience but with a twist – they don't want sodium laden freezer food; they want healthy options. And they're willing to pay. A 2015 study, conducted by Nielsen, found that 88 percent of respondents were willing to pay more for healthier foods.
"We see consumers demanding healthy, functional menu options delivered in a convenient manner," said Mike Rogers, chief operations officer at Scooters Coffee. "Our drive-thru kiosk is focused on meeting the need for amazing drinks amazingly fast, and we only expect that trend to continue growing."
As Lamb joked, "You don't have to be clairvoyant to see the healthy trend keeps gaining ground and probably will for a long time."
Mel Knight, president of Fuzzy's Taco Shop, echoed those sentiments, stating,
"We are optimistic about the future of the food and beverage industry. Take out and convenience are hot topics right now; we believe that value, quality and incredible guest experience will continue to be the staple that drives Fuzzy's success."
Ready to Open a Franchise Restaurant? Exploring the Top-Rated Food Brands
When you're ready to compare your options, there are hundreds of food franchise brands to choose from, which is why it is so important to do thorough research. Ultimately, you want to find a brand that will meet your expectations and help you achieve your dream of business ownership while giving you the lifestyle you desire.
Examining the reviews and feedback from other franchise owners is one way to get unbiased advice from other entrepreneurs who have already made the leap into franchise ownership and have first-hand experience with the brands you are considering.
To assist you in this process, Franchise Business Review surveyed over 4,200 franchisees from many of today's leading franchise brands. Each survey participant was asked 33 benchmark questions about their franchisor that focused on areas such as leadership, training, and core values as well 16 more personal questions concerning their business lifestyle and overall enjoyment of running their franchise.
"We do a lot to make franchisee satisfaction our #1 metric that we track. After all, how can you add one more franchisee if the existing franchisees aren't happy?" asked Lamb.
Franchise restaurants offer an exciting environment to business owners who don't mind making a bigger financial investment, working long hours, and managing a large and diverse workforce. Food operators remain some of the most passionate in all of franchising, and while the investment is higher, so is the potential for returns. If you are interested in pursuing franchise ownership in the food sector, this year's list of the top 30 food franchises is a great place to start.