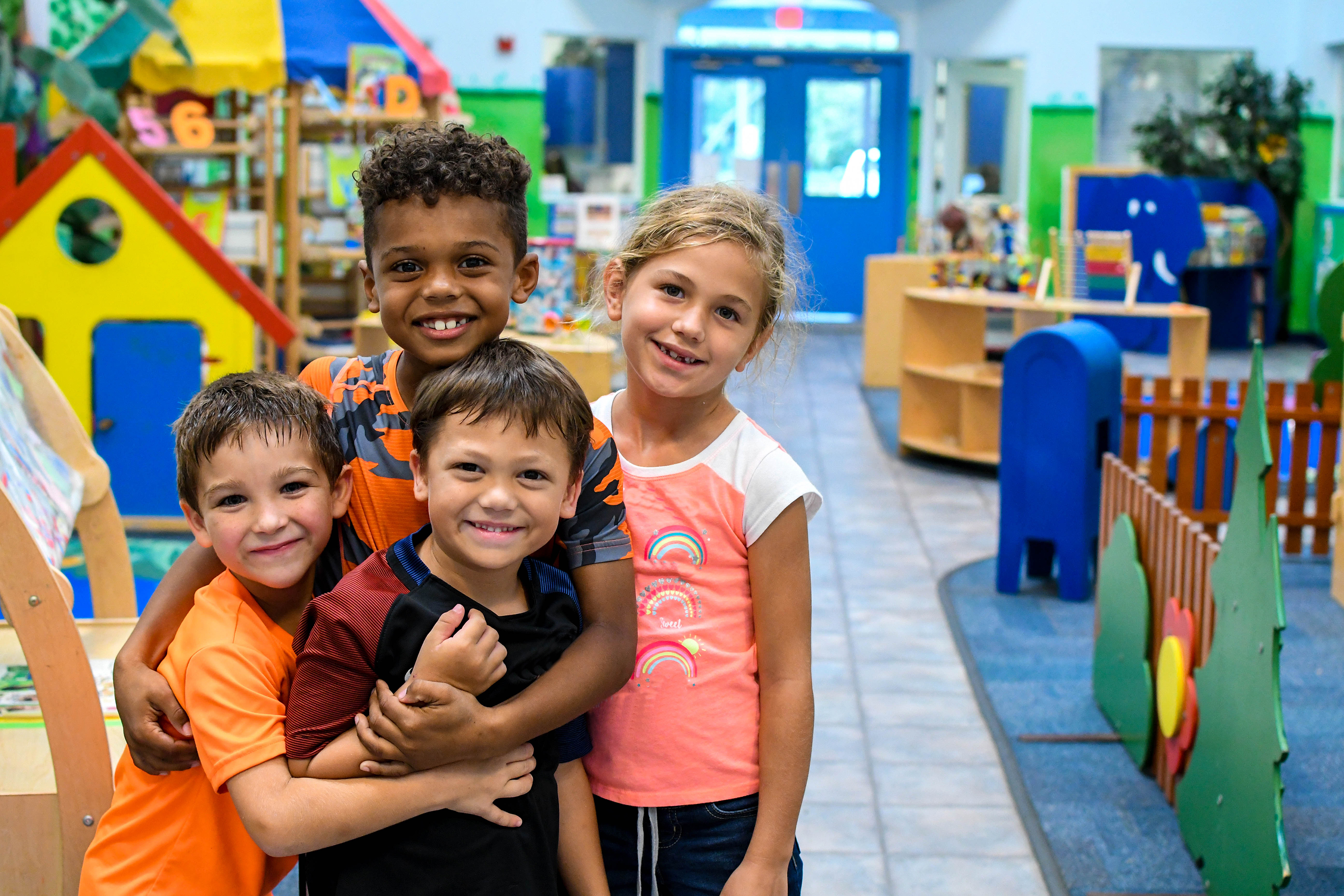 If you enjoy working with children and have an interest in their personal growth and development, an education franchise might be the right investment for you. The child education industry continues to grow, bolstered by multiple bodies of research that support the benefits of early childhood education. In response to parent demand, several franchises now provide center-based child care primarily for children under the age of six, focused on teaching mathematics, literacy, and language-based skills.
The early childhood education franchise segment includes:
Child day care services in a center-based location
Pre-primary grade instructional services
Children and youth recreational programs
Over the past five years, the child education and developmental center franchises Industry has grown by 3.7% to reach revenue of $3 billion in 2018, according to market research published by IBISWorld.
While there are hundreds of franchise opportunities to consider in the space, not all opportunities are created equal. To help you narrow down your options and identify the right franchise for you, we've compiled a list of this year's top-rated education franchises. These franchises were all rated highly by current franchise owners in our independent franchisee surveys. You can view the entire list of the Top-Rated Franchises here. 
Top 7 Education Franchises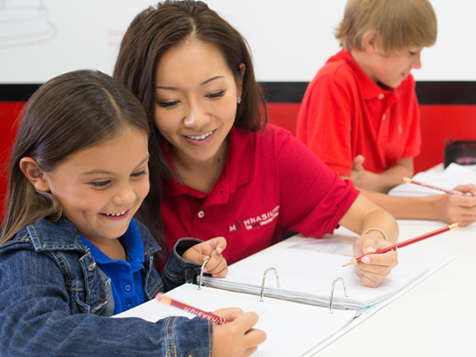 Photo sourced from Mathnasium Learning Center
Last year, two-thirds of the 50 million U.S. elementary and secondary school students scored below "proficient" in math, according to National Assessment of Educational Progress (NAEP). This has helped drive demand for supplemental math tutoring to help prepare students for college and career.
About the Franchise
If you are interested in helping children reach their full potential, Mathnasium might be the right franchise opportunity for you. A math tutoring and supplemental learning program franchise, Mathnasium helps students understand and learn to love math outside of the classroom. It offers specialized programs tailored to the needs of elementary, middle and high school students to help make math accessible to kids of all ages.
History
Launched in 2002 in Los Angeles, the franchise has expanded to more than 1,000 locations in communities around the world. Ranked as one of The Top 200 Best Franchises of 2019 by Franchise Business Review, owners gave Mathnasium a "very good" rating for enjoyment, franchisee community, and general satisfaction.
Training/Support
Mathnasium Learning Centers provides online training as well as in-person training at its corporate headquarters in Los Angeles, where you participate in an apprenticeship program with kids. Annual training, supplemented by regional training twice a year, as well as an annual franchise conference, all give you the tools to learn marketing, lead generation, customer relationship management, and the Mathnasium Method™ of teaching math.
Financials
Mathnasium Franchise Fee: $49,000
Cash Required: $112,750
Initial Investment: $112,750 – $149,110
2. LearningRX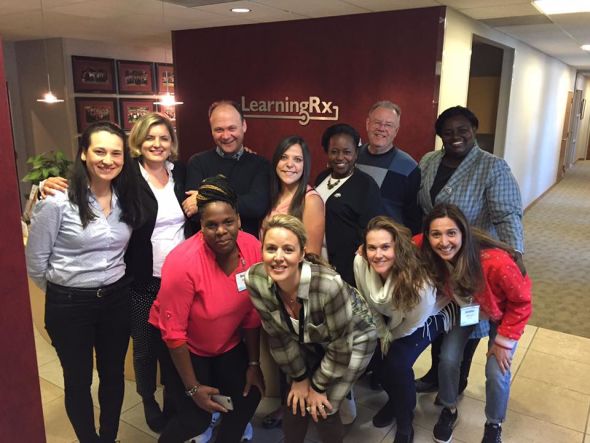 Photo from LearningRX Facebook page
LearningRx doesn't focus on tutoring students in specific subjects, but instead offers what it refers to as one-on-one "brain training."  Tutors work with students one at a time to develop the underlying skills that are critical for learning and performance— to make thinking, reading, learning, comprehending, and remembering easier.
About the Franchise
Although more than 75% of LearningRx's clientele are school-aged students with diagnoses such as ADHD, dyslexia, or other learning disabilities, the other 25% are adults who may be living with a traumatic brain injury or other learning challenges.
History
Launched in 2003 by Dr. Ken Gibson and his daughter, Tanya Mitchell, chief research and development officer, the franchise has grown to more than 80 centers across the country and has served more than 100,000 students and their families across the world. Ranked as one of The Top 200 Best Franchises of 2019 by Franchise Business Review, owners gave LearningRX a "very good" rating for enjoyment, franchisee community, and franchise system.
Training/Support
To become a franchise owner, you don't need to be an expert in brain science. The only requirement is that you hold at least a bachelor's degree. When you sign on as a franchisee, you'll learn all about LearningRx's approach in a 10-day franchise training in Colorado Springs designed for new owners. Then, after your center opens, you will receive up to three onsite visits from a member of the LearningRx support team, as well as a visit from a successful franchisee. You will also receive ongoing online training and the opportunity to attend annual conventions.
Financials
LearningRX Franchise Fee: $17,000- $25,000
Cash Required: $44,000 – $60,000
Initial Investment: $90,000 – $149,000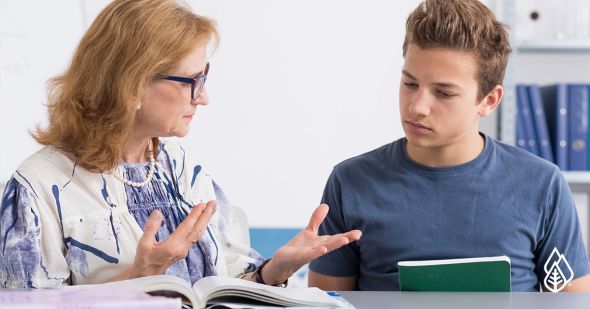 Photo from Huntington Learning Center Facebook page
A low investment tutoring franchise, Huntington Learning Center enjoys a strong reputation. For more than 40 years, its certified teachers have provided individualized programs for students in phonics, reading, writing, study skills, elementary and middle school math, algebra through calculus, chemistry and other sciences. It also prepares students for the SAT and ACT, as well as state and standardized exams.
About the Franchise
According to the Huntington Learning Center website, its average center revenue is 53% higher than its closest competitor Sylvan Learning, at $501,000. It also boasted a 32% average franchise center revenue growth between 2009 and 2016.
History
Launched by teacher Eileen Huntington and her husband Dr. Ray Huntington, Eileen saw first-hand how many children entering her classroom lacked the basic skills they needed to succeed. Ray, a senior business analyst for a Fortune 100 company, shared his wife's vision and believed that helping children attain these skills might be a viable opportunity for a profitable business.  Ranked as one of The Top 200 Best Franchises of 2019 by Franchise Business Review,  Huntington Learning Center operates out of 300 locations in 41 states and offers several open locations throughout the country.
Training/Support
To become a Huntington Learning Center business owner, you don't need to be a certified teacher—but you must have a passion for education, hold a bachelor's degree, and operate out of a brick and mortar location. Owners attend a four-week training in one of its 35 corporate centers.
Financials
Huntington Learning Center Franchise Fee: $28,000*
Cash Required: $60,000
Initial Investment: $127,060 to $268,940
Huntington also offers in-house financing to potential franchisees, up to $100,000 with 8% interest over a term of 60 months—if you can invest $60,000 and meet other credit requirements, according to its franchising website.
*To honor the service and courage of our military, Huntington offers a 25% reduction in the initial franchise fee for active duty and US military veterans. This is a reduction from $28,000 to $21,000.
Learn more about owning a Huntington Learning Center Franchise.
4. The Goddard School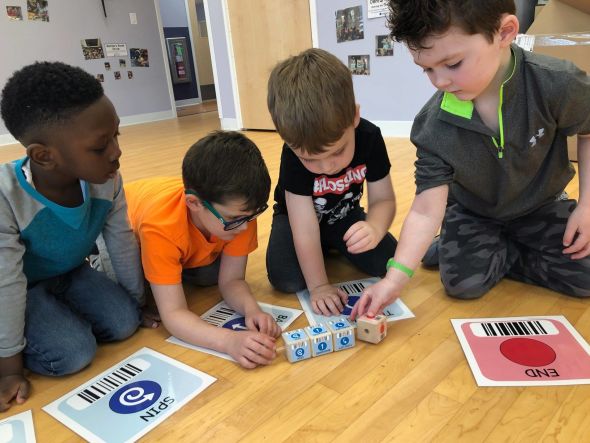 Photo from The Goddard School Facebook page
The Goddard School serves children ages 6-weeks-old to 10-years-old. Offering a play-based curriculum, The Goddard School is a child care center that includes unique enrichment activities. Each school is a licensed child care facility with an on-site owner, an education director and a faculty member trained in early childhood education or childhood development.
About the Franchise
Under The Goddard School model, you run the business and develop relationships — while your education director, who has a background in early childhood education — is responsible for the curriculum, programming and teacher development under your supervision and direction. A Goddard School typically employs between 20 to 25 teachers.
Goddard Schools earn an average Earnings Before Interest, Tax, Depreciation and Amortization (EBITDA) of $373,321, based on 2018 results of schools open more than 18 months, as stated in Item 19 of the school's Franchise Disclosure Document. More than 40% of franchises in this group did as well or better than the average, although individual results vary.
History
In 1988, entrepreneur Anthony A. Martino established The Goddard School preschool franchise to deliver a high-quality, play-based learning programs to families throughout the United States. Since then, the school has grown to reach more than 65,000 students in more than 500 schools in 37 states, according to The Goddard School.
Training/Support
To become a Goddard School franchisee, you are not required to have teaching credentials or child care experience, but you do need the desire and commitment to manage a school. Before you go into business, you will need to complete a series of training courses, either at the franchise's corporate headquarters and/or online, that will teach you how to operate a successful franchise.
Financials
The Goddard School License Fee: $135,000
Cash Required: $150,000
Initial Investment: $712,800- $786,100
Learn more about owning a Goddard School Franchise.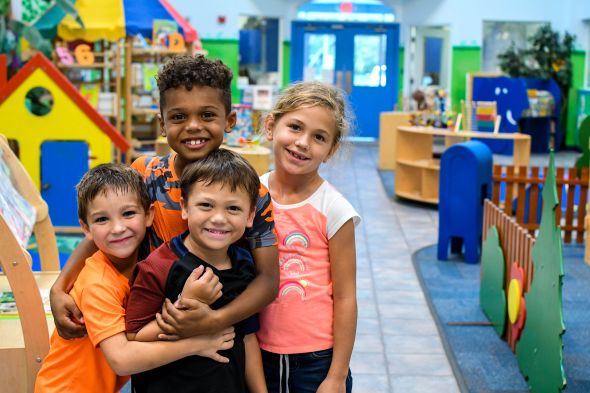 Photo sourced from Creative World School
Creative World Schools emphasize the three E's: education, exploration and enrichment. Using the "Exploratorium™" concept, these child care centers serve infants through school-aged children in colorful, bright, open, conceptual spaces where children practice inquiry-based (ISTEAM) learning every day.
About the Franchise
If you are interested in opening a Creative World School, you will need to purchase real estate that conforms to their specifications. The prototype for a smaller school is a 10,000-square-foot building and licenses for 180 children. The total cost of the project with typical construction costs and land prices for the smaller school is currently about $3.5 million, according to Creative World's franchise website. A larger school is a 13,000-square-foot building and licenses for 250 children. The total cost of the project with typical construction costs and land prices is currently about $4.5 million.
Although the real estate investment is significant, you can expect to make a net income–Earnings Before Interest, Taxes, Depreciation, Amortization, and Rent–(EBITDAR) of up to $452,333, or 28.0% profit before rent or mortgage payments. (See full disclosure of Creative World School's Financial Performance.)
History
Creative World School's founders, Billie and Duane McCabe opened their first school in Independence, Missouri in 1970. They expanded to offer 45 child care centers in seven states. During the last 10 years, most of the smaller schools located in converted houses were sold so the company could concentrate on opening larger, innovative, custom-designed buildings. These buildings are designed to support licensed capacities of 150 to 250 children and also feature the school's signature Exploratorium stations, according to the Creative World.
Training/Support
While you don't need to be a child care expert to open a Creative World School, you do need to hire a qualified director and it is recommended that you become certified by your state to be a director in case of an emergency. Franchisees receive initial operations management training that includes one or two management personnel, at a Creative World training facility or at a designated school, for approximately three weeks. In addition, you receive three weeks of employee/staff training at your school prior to the grand opening.
Financials
Franchise Fee: $60,000, first year's royalty is 5% of gross revenue, the second year's royalty is 6%, and the third year and beyond is 7%.
Cash Required: $60,000
Initial Investment: $600,000 – $4,100,000. Creative World School franchisees do get significant assistance in selecting a contractor, applying for financing, and following specifications to build out the Creative World building prototype.
6. The Tutoring Center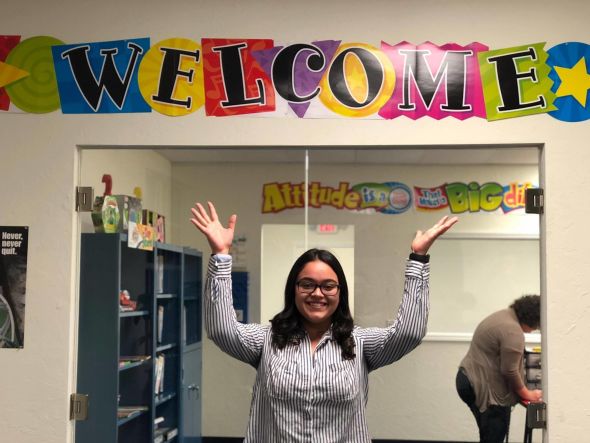 Photo from The Tutoring Center Facebook page
If you are interested in offering students' one-on-one instruction tailored to their needs after the school day ends, The Tutoring Center® might be the right education franchise for you. Unlike other learning centers and school-based programs, The Tutoring Center offers one-on-one tutoring rather than small-group tutoring.
About the Franchise
The Tutoring Center's unique system of one-to-one tutoring helps students make gains more quickly, thanks to personalized instruction. It offers math, reading, and writing instruction, as well as a special program for kindergarten students that combines math and reading with phonics.
History
Founded by Dr. Edward Thalheimer in Long Beach, California in 1994, The Tutoring Center began franchising in 2005 and now has more than 120 locations in the United States. Dr. Thalheimer, a former Navy nuclear weapons officer who served on board a Nuclear Trident Submarine, began the first tutoring clinic for children with genetic disabilities at the City of Hope Medical Center in Duarte, California, according to BetheBoss.com.
Training/Support
You might be the ideal franchise owner if you are passionate about working with children and have the drive to succeed. As a new business owner, you'll be required to attend a training program 30 to 60 days before your grand opening that covers center operations, enrolling students, marketing, hiring staff, and front office procedures such as accounting and scheduling. Regional centers throughout the country also offer support.
And, with most centers open Monday through Thursday afternoons from 3:30 p.m. to 7:30 p.m., you'll enjoy a good work-life balance.
The Tutoring Center has been a Franchise Business Review award winner since 2010 and is a member of the Franchise Business Review Hall of Fame.
Financials
Franchise Fee: $32,000
Cash Required: $39,000
Initial Investment: $99,500 – $148,200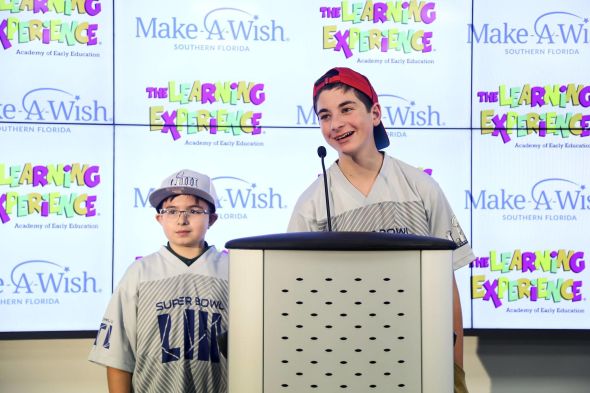 Photo from The Learning Experience Facebook page
The foundation of The Learning Experience® (TLE) was built on three key educational and care principles: cognitive, physical, and social; or as referred to at TLE®, "learn, play, and grow!"
About the Franchise
TLEs feature safe and secure early childhood learning spaces, designed to meet the needs of children in what it calls the "Six Stages of Early Development." With enclosed, fenced in playgrounds, cameras in the classroom, security fobs, and rooms designed to ensure teachers don't have their backs to children, The Learning Experience emphasizes safety.
On the curriculum side, TLE's proprietary L.E.A.P. curriculum features an academic program with extras such as sign language for infants and toddlers, foreign language programs, manners and etiquette, physical fitness, and a philanthropy program. TLE also offers before- and after-school programs and summer camps for elementary school-aged students.
History
TLE began in 1980 with a single child care location in Boca Raton, Florida, headed by the Weissman family. The family's concept has now expanded to more than 3,000 centers (open or under development) since it began franchising in 2002.
The median gross annual sales of 90 matured franchised centers is $1.356 million, according to the TLE Franchise Disclosure Document.
Training/Support
You don't need to be a teacher or child care director to own a TLE; but, you do need a bachelor's degree and will need to hire a facility director. The company does require 10 days of on-site training as well as 10 days of training at their corporate headquarters, according to their Franchise Disclosure Document.
Financials
Franchise Fee: $60,000
Cash Required: $150,000
Initial Investment: $495,299 and $3,585,549, depending on whether you purchase an existing center, develop your own center or retain TLE to develop your center.
$529,000 to $2,630,350 (if you purchase an existing center)
$166,399 to $217,749 (if you develop your own center)
$269,399 to $390,249 (if TLE develops the center for you)
Ready to Learn More About Buying an Education Franchise?
Whether you prefer to own a school or are looking for tutoring opportunities to supplement your income, there are a number of top education franchises that will allow you to enrich the lives of children and meet your business goals.
As an aspiring educational services provider, there are many business options to consider. One education franchise might operate like a school and be subject to state child care licensing requirements, whereas another might run like a tutoring service and be subject to fewer regulations and be open fewer hours.
You also might consider other related franchise opportunities, such as Apex Fun Run, which helps schools and recreational organizations raise money. Or, you might decide that you enjoy operating an educational-related franchise geared towards adults such as Online Trading Academy, which teaches novices and investors alike how to profitably invest their money.
No matter what franchise you decide matches with your interests and financial goals, you'll work with your franchisor to understand what you need to do and how you need to staff your business to be in full compliance with the law. Beyond the legalities, you'll also receive support and training in all aspects of launching and operating your business to ensure success. If you're not convinced that an education franchise is for you, there are plenty of other options on this year's Top Franchises List.