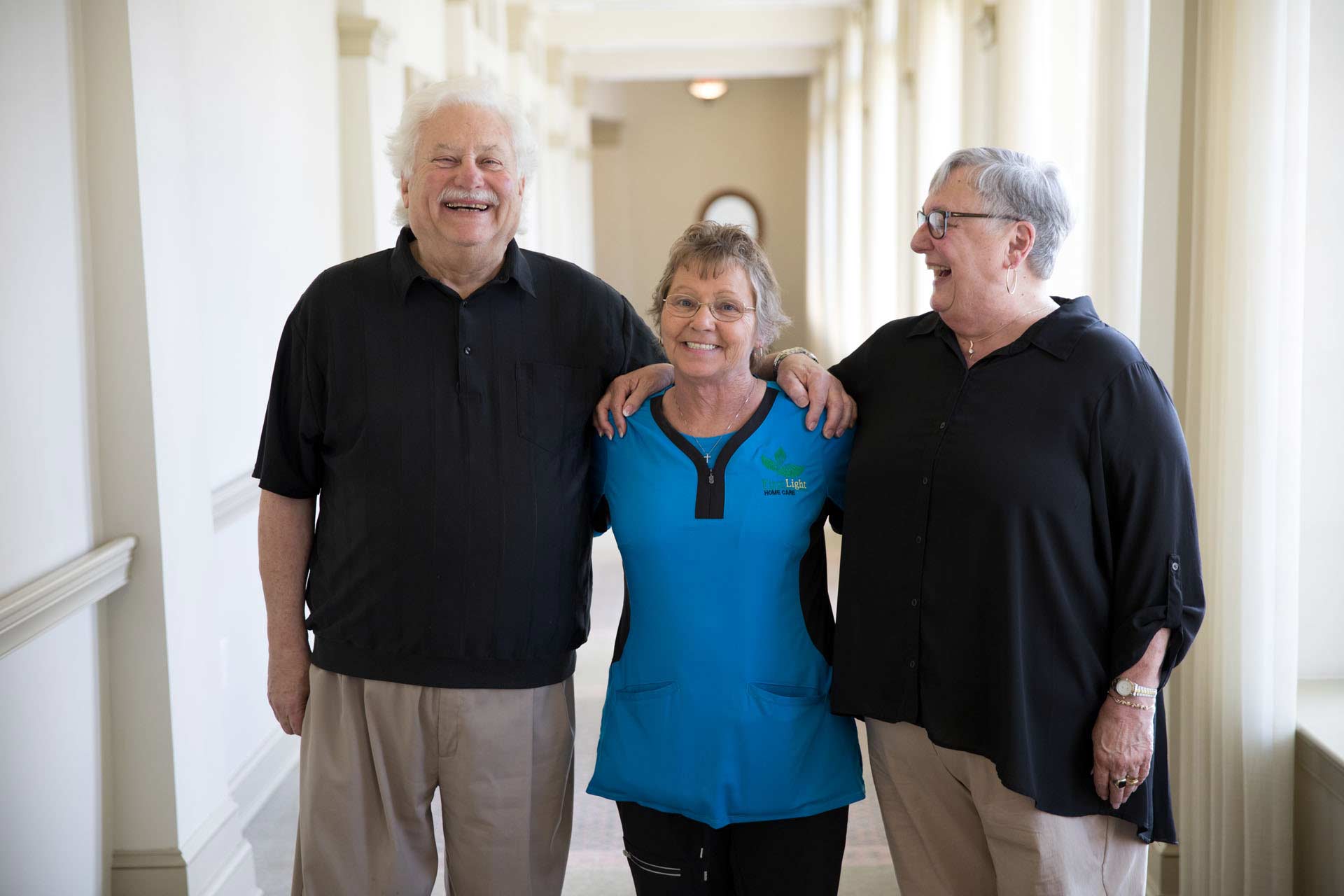 If you've been exploring senior care franchise opportunities, now is a great time to do so. The senior care franchise market is booming. According to a recent report, in-home senior care franchises in the United States will reach a market size of $16.1 billion in 2022.
There's no doubt that the market is expanding, but is this opportunity right for you?
In this article, we'll share expert insights about the top five senior care franchise opportunities, including investment costs, what to expect as a franchise owner, what to look for when evaluating a senior care franchise and more.
Types of Senior Care Franchise Opportunities
From in-home care service to assisted living, there are several different types of senior care franchise opportunities:
In-home care franchise: In-home care franchises provide companion care and personal care services for seniors who need assistance with everyday activities in the comfort of their home. This can include help with meals, transportation, mobility and personal hygiene.
Senior housing placement franchise: This type of franchise offers housing placement services for seniors.
Assisted living facility franchise: Assisted living facilities offer prepared meals, housekeeping and nursing services in addition to housing for the elderly.
Senior mobility product franchise: This type of senior care franchise provides mobility aid products, including canes, crutches, walkers and more.
Investing in a senior care franchise gives you the opportunity to manage a profitable business while helping seniors improve their lives.
Top 5 Senior Care Franchises
We've gathered information on the top five senior care franchise opportunities, based on owner satisfaction, to help you with due diligence. Find details about the liquid capital you need, the services you are expected to provide and what a typical day in the life of a franchisee includes.
1. FirstLight Home Care
Type: In-home Care Franchise
Investment: $113,300 – $197,900
Cash Required: $100,000
Prior industry experience required: No
How long it takes to open a franchise: It depends on licensure. If there is no licensure, it can take as little as 75 days to open a franchise.
A typical day for a FirstLight Home Care franchisee: 
Experiencing purposeful interactions with caregivers
Ensuring exceptional service is provided to each client
Discussing home care needs and services with potential senior clients and their families
Connecting with local business organizations, community leaders and referral sources
Recruiting, training and retaining caregivers
Making a positive impact in the community
FirstLight Home Care is a leading provider of in-home care services. The company helps seniors, veterans, persons with disabilities, dementia, and anyone over 18 who is recovering from injuries, illness or surgery.
The franchise system is designed for those who are passionate about helping the elderly, their family and the community and establishing relationships built on trust and respect.
FirstLight Home Care has nearly 200 independently operated home care locations in the U.S. and in Canada. The company has been recognized with a Franchisee Satisfaction Award for 10 years in a row, in addition to receiving Top Franchise for Veterans, Top Franchise for Women and Top Franchise for Culture awards.
FirstLight Home Care is on the FBR Top 200 Franchise list.
Check out the video below to see why this senior care franchise opportunity tops our list:
Explore FirstLight Home Care franchise
2. Visiting Angels
Type: In-home Care Franchise
Investment: $84,085 – $125,885
Cash Required: $59,950
Prior industry experience required: No
How long it takes to open a franchise: It depends on state license requirements, but typically 120-150 days.
A typical day for a Visiting Angels franchisee: 
Building meaningful relationships with clients, their families, caregivers and referral resources
Visiting Angels offers superior non-medical home care services to seniors.
As a part of the Franchise Business Review family for the past two decades, Visiting Angels operates more than 600 private, non-medical duty home care agencies across the country.
While profit is essential for any business, Visiting Angels considers the improvement of their clients' quality of life their true purpose.
Explore Visiting Angels Franchise
3. Senior Care Authority
Type: Senior Placement Franchise
Investment: $71,095 – $90,395
Cash Required: $50,000
Prior industry experience required: No
How long it takes to open a franchise: You can open a franchise immediately after signing the franchise agreement.
A typical day for a Senior Care Authority franchisee: 
Guiding the senior's family in making decisions and building meaningful relationships with nursing facilities, hospitals, home care companies, financial advisors and more
Inspecting assisted living locations that include small, residential care homes and middle to large-size communities
Senior Care Authority is a home-based and low-cost senior care franchise that offers senior placement and eldercare consulting services.
Franchisees are directly reimbursed for placement services by assisted living facilities, instead of the clients or families who acquire the service.
Explore Senior Care Authority Franchise
4. Caring Senior Service
Type: In-home Care Franchise
Investment: $100,000 – $160,000
Cash Required: $150,000
Prior industry experience required: No
How long it takes to open a franchise: A franchise can be opened in 60 days or less.
A typical day for a Caring Senior Service franchisee: 
As the franchise owner, you can either act as the Agency Director or manage an employee who can fill in the role
You will focus on client admissions and ensure client satisfaction
A provider of non-medical home care services, Caring Senior Service provides day-to-day living assistance while seniors remain in the comfort of their own home.
With over 500 locations, the company's proprietary GreatCare® method offers exceptional services.
Explore Caring Senior Service Franchise >
5. Right at Home
Type: In-home Care Franchise
Investment: $82,000 – $150,800
Cash Required: $150,000
Prior industry experience required: No
How long it takes to open a franchise: It can take 90-120 days, depending on home care licensing in the operating state.
A typical day for a Right at Home franchisee: 
Managing every aspect of your franchise, including sales and marketing, client visits and back-end office tasks such as payroll
Interacting with referral sources, community leaders and industry associations such as the Parkinson's Foundation
With over 600 locations across eight countries, Right at Home offers in-home care services that help seniors and persons with disabilities retain independence with daily activities or other tasks.
Explore Right At Home Franchise
How to Evaluate Senior Home Care Franchise Opportunities
At Franchise Business Review, we rank senior care franchise opportunities based on owner satisfaction. But there are other important factors to keep in mind when evaluating opportunities to find one that's right for you. Here are 11 factors to consider:
1. The Market
First and foremost, it's important to evaluate the market. The 2020 U.S. census showed that the baby boomer generation will turn 65 or older by 2030.
The senior care franchise market has been steadily increasing, and with baby boomers about to reach retirement, the trajectory has nowhere to go but up.
2. Company History
All franchisors must provide a Franchise Disclosure Document (FDD) to franchisees in the discovery stage.
Use this document to research company management and history to get a clear understanding of the culture, stability and market positioning of the company.
3. Financial Statements
Opening a franchise is a big investment, and you want to make sure it's worth it. Review the franchise's financial statements in Article 21 of the FFD. Consider taking an extra step and asking a professional to review them for you.
4. Level of Investment
Opening a franchise can be costly, from the initial investment to registration fees and more. Do your research to make sure you get a clear picture of the total cost, so you're not surprised by any hidden fees down the road.
5. Get Reviews and Feedback From Current Franchise Owners
For unfiltered reviews and extensive experience, who better to ask than current franchise owners?
Existing franchisees can be a valuable resource to get to know the franchisor from another perspective. When evaluating an opportunity, take the time to read reviews and get feedback on what owning the franchise is like, and whether the company delivers on their promises.
6. Territory
Location is key. Examine the market for senior care franchises in your area to make sure owning a franchise in your location makes sense.
If you're not sure whether the territory is experiencing growth, speak to an expert in zoning or planning.
7. Royalties
Some franchisors reward their owners with a sliding royalty scale based on revenue.
In this model, the more your franchise earns, the less royalty you pay. Check Article 6 of the FDD to read about the company's policy on royalties, including whether or not minimum royalty payments are implemented.
8. Restrictions
All franchisors have restrictions that are designed to protect the company. Read through Article 8 of the FDD to get a clear picture of your limitations as a franchisee.
9. Commitment and Exit Plan
Franchise agreements can last anywhere from five to 15 years. Make sure your agreement matches your commitment to the investment.
While an exit plan might seem odd or unnecessary when you're considering an investment, it's something you want to think about upfront. If you need to transfer or sell the franchise down the road, find out the cost and other details for each, so you can prepare for the unexpected.
10. Franchising Arrangements
As The Great Resignation trend continues, more and more employees are resigning from their corporate jobs to enter the franchise business in hopes of finding a better work-life balance. Some franchise opportunities will require you to report on-site each day, while other opportunities can be managed remotely.
The schedule you would follow as a franchisee should be a key factor when evaluating opportunities.
While the demand for senior care continues to increase, consider other factors such as commitment and level of investment when looking for franchise opportunities
How Franchise Business Review Ranks Senior Living Franchise Opportunities
At Franchise Business Review, we help potential franchise owners make a sound decision when choosing their senior care franchise.
Since 2005, we've worked with franchise owners to inquire about company culture, training and support, and financial opportunity, as well as lifestyle and overall owner satisfaction. We use this transparent feedback to rank opportunities and give you an idea of what to expect with each one.
Key Takeaways On Senior Care Franchise Opportunities
The senior care industry is on an upward trajectory, but its market isn't the only factor to consider when evaluating franchise opportunities.
Other considerations include company history, level of investment and commitment.
Owning a senior care franchise can be both profitable and rewarding. At FBR, we gather information on the top franchise opportunities to help you make an informed decision about your new business venture.