What are the Best Coffee Franchises?
Published: November 2, 2021

Coffee is one of the most traded commodities in the world — and Americans just can't get enough of it. From Starbucks to Dunkin' to your local hipster cold brew coffee cafe, there are coffee shops at nearly every corner, in nearly every town across America. As Dunkin' (formerly known as Dunkin Donuts) famously proclaims, "America runs on Dunkin'." They aren't that far off — although it may be more accurate to say America runs on caffeine.
U.S. Coffee Consumption
American coffee consumption has slightly fluctuated in recent years yet has remained around two cups per day per capita with a whopping 64% of all U.S. consumers drinking coffee daily. The top location for coffee consumption among Americans is at home, followed by the office.
So, if you're ready to get in on this hot market but are hesitant about starting your own business from scratch, you may want to consider opening a coffee franchise. To help you identify the best coffee franchises, we interviewed thousands of franchisees across brands to determine the best opportunities based 100% on franchisee satisfaction. Below are the coffee franchises from this year's Top Rated Food List, based on the overall satisfaction of franchise owners with their brand.
Top Coffee Franchises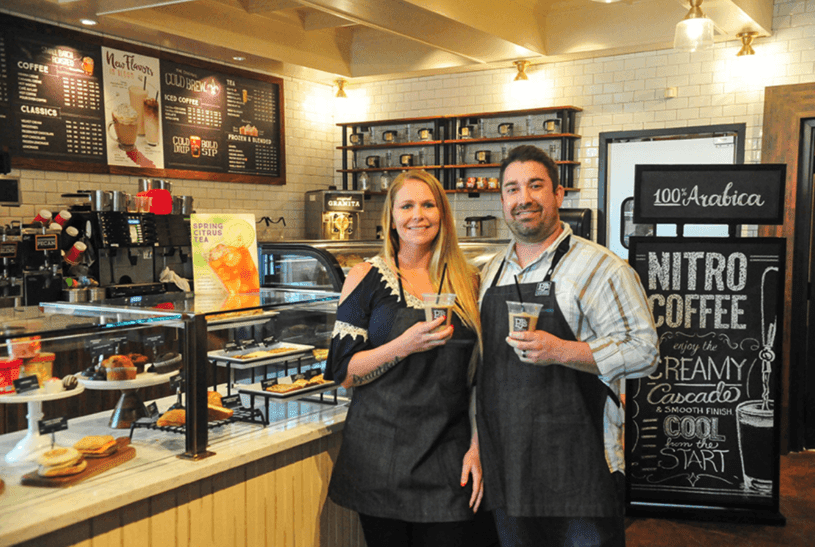 PJ's Coffee prides itself on being a coffee shop franchise that sells specialized brews, organic tea, and fresh breakfast pastries. Their innovative cold-drip process, created by their founder Phyllis Jordan, prepares iced coffee to perfection. Franchising since 1985, PJ's now has over 130 locations in the U.S. With such tremendous growth, PJ's Coffee is now expanding internationally, setting up shop in places such as Kuwait, Vietnam, and Malaysia! You can learn more here.
The cash required to purchase a PJ's Coffee franchise is $100,00 with the total Initial Investment being $200,775 to $584,000.
Initial Investment: $168,900 - $566,000.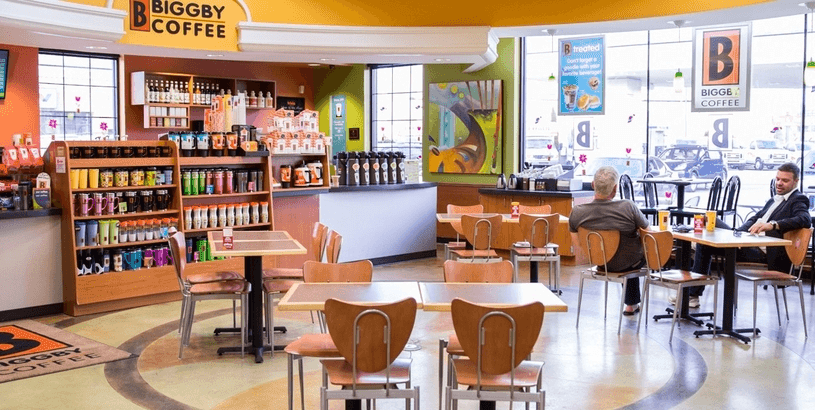 Named the fastest growing coffee chain in America by CNBC, BIGGBY COFFEE credits their success to their founders' decades of experience in the restaurant business. Franchised since 1999, BIGGBY COFFEE now has over 250 locations across the U.S. With a "come as you are" atmosphere, customers can expect for the baristas to learn their name and their order.
BIGGBY COFFEE is on the lookout for prospective owners who are looking to open a coffee franchise in Alabama, Florida, Georgia, Illinois, Michigan, North Carolina, South Carolina, Ohio, Texas, and Wisconsin. Will you be the one to bring BIGGBY COFFEE to your neighborhood?
The cash required to buy a BIGGBY COFFEE franchise is $15,000 with the initial investment range being $161,350 to $319,110. Learn more here.
Ellianos Coffee Company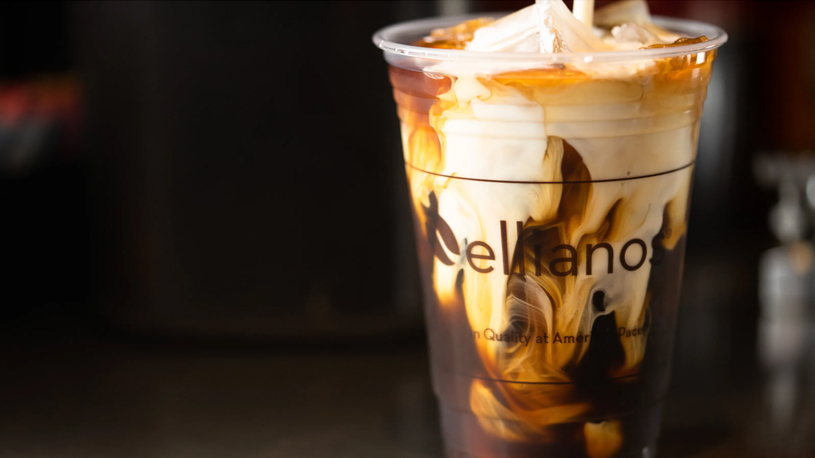 With about 20 locations now in the U.S. and another 30 or so projects in the works now at various stages of construction and development mainly in the Southeast, Ellianos is another fast-growing coffee franchise. The drive-thru coffee concept advertises $846,331 system wide average unit net sales, according to reports.
The initial investment to buy a Ellianos Coffee Co. franchise is $340,000 to $575,000, including a $25,000 franchise fee.
A few of the other food brands that serve quality coffee and were recognized on FBR's Top Food List of 2021 include: Another Broken Egg, Wendy's, Wings Etc., and Pizza Factory.
Ready to Brew Up Your Own Coffee Business?
Owning a coffee franchise can mean long hours and early mornings — and require a substantial financial investment. But owning your own coffee shop can also offer you the chance to serve your community and be your own boss in an exciting and in-demand industry. Before you dive in, make sure you do your research. Every franchise has its own startup costs, company culture, levels of support, and franchisee satisfaction levels, which is why it is so important to thoroughly vet any coffee franchise you are interested in.
As you research various brands, Franchise Business Review can help you understand which brands have the best reviews and ratings from current franchisees — the people who know best! While the above mentioned coffee franchises are all great options, as they have each been rated highly by the franchisees that own them, there are many more options in the food and beverage space. You can learn more about FBRs Top-Rated Food Franchises here.