What are the Best Coffee Franchises? 4 Top Brands Revealed
Coffee is one of the most traded commodities in the world — and Americans just can't get enough of it. From Starbucks to Dunks to your local hipster cold brew coffee cafe, there are coffee shops at nearly every corner, in nearly every town across America. As Dunkin (formerly known as Dunkin Donuts) famously proclaims, "America runs on Dunkin." They aren't that far off — although it may be more accurate to say America runs on caffeine. Americans are now drinking more coffee than ever before with 64 percent of Americans drinking at least one cup of coffee per day. Overall, Americans consume the most coffee in the world (although Finland consumes the most coffee per capita, or per person), according to Food & Wine.
If you're ready to get in on this hot market, but are hesitant about starting your own business from scratch, you may want to consider a coffee franchise. While some of the most well-known brands, like Starbucks, don't franchise (they do license though — learn more about the differences between franchising and licensing here) many others, including Dunkin, offer franchise opportunities.
To help you identify the best coffee franchises, we interviewed thousands of franchisees across brands to determine the best opportunities based 100 percent on franchisee satisfaction. Below are the four highest-rated coffee franchises from this year's Top Rated Food List.
The Four Best Coffee Franchises of the Year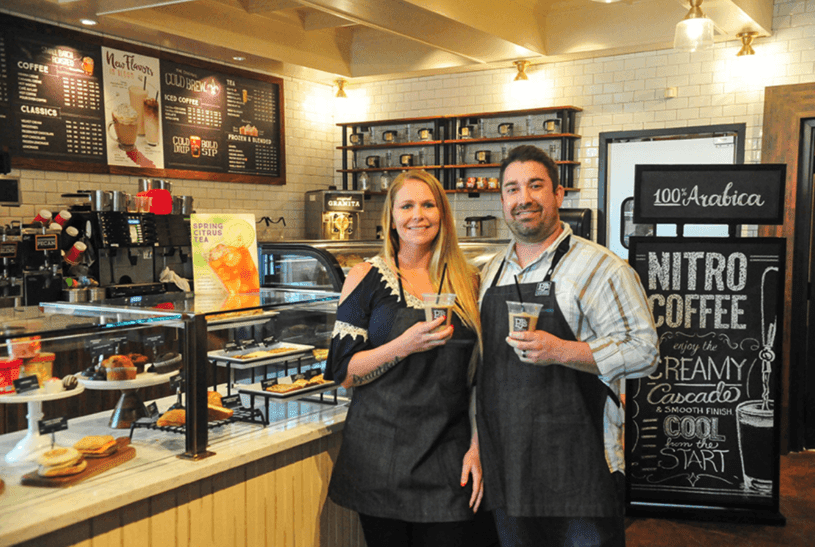 PJ's Coffee prides itself on being a coffee shop franchise that sells specialized brews, organic tea, and fresh breakfast pastries. Their innovative cold-drip process, created by their founder Phyllis Jordan, prepares iced coffee to perfection.This year, they celebrated 40 years of being in business and the opening of their 100th franchise location in the U.S. With such tremendous growth, PJ's Coffee is now expanding internationally, setting up shop in places such as Kuwait, Vietnam, and Malaysia!
Mateusz Dabrowski worked at a PJ's Coffee franchise before deciding to open up his own. "I was a barista, manager, and shift lead at other locations while I was in school pursuing a degree in public relations after finishing my BA in marketing," he told Franchise Business Review. "I began falling more and more in love with the idea of opening my own location because of how much I enjoyed the customers, the employee ecosystem, the leadership role, and most of all the product I was making daily."
Want to learn more about opening your own PJ's Coffee franchise? You can learn more about the opportunity here (enter your email to request additional information directly from PJ's Coffee).
Cash Required: $75,000
Initial Investment: $168,900 - $566,000
2. Scooter's Coffee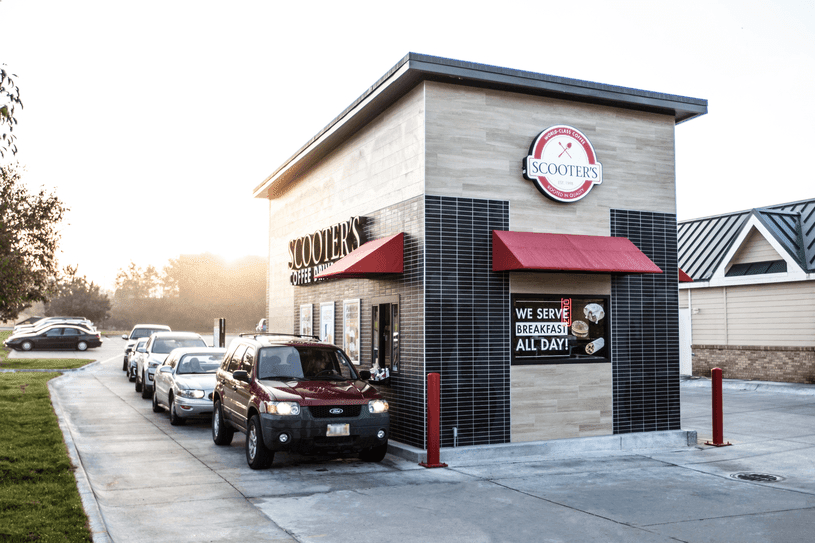 Scooter's Coffee has been brewing their business for 20 plus years. Customers can order their drinks served hot, iced, or blended — but the crowd favorite is Scooter's Coffee Caramelicious! They have nearly 200 open locations and are still growing as they look to expand across the Midwest, California, Florida, Georgia, Texas, New Mexico, Oklahoma, and Arkansas. Scooter's Coffee is specifically looking for potential business owners who are interested in becoming multi-unit owners.
Scooter's Coffee offers two different models to choose from:
Drive-Thru Kiosk
Drive-Thru Coffeehouse
Cash Required: $100,000
Initial Investment: $366,000 - $559,000
3. Brioche Doree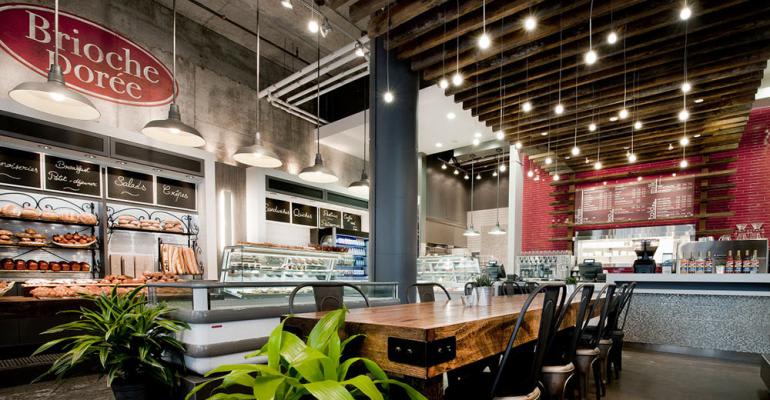 If you are looking for a cafe inspired by the parisian style, Brioche Doree may be the franchise for you! The French influenced cafe serves up croissants, breads, and coffee in a fast casual atmosphere. Brioche Doree has over 500 locations in countries across the world and serves over 300,000 customers daily.
The Brioche Doree brand prides itself on innovation, their European roots and their commitment to eco-friendly practices. They offer environmentally friendly packaging made from recyclable material and encourage their local bakery cafés to think green by implementing recyclable sorting and using coffee grounds as plant fertilizer. Brioche Doree is looking to open franchises in Washington, Chicago, and other large markets across the United States.
Cash Required: $30,000
Initial Investment: $120,000 - $230,000
4. Biggby Coffee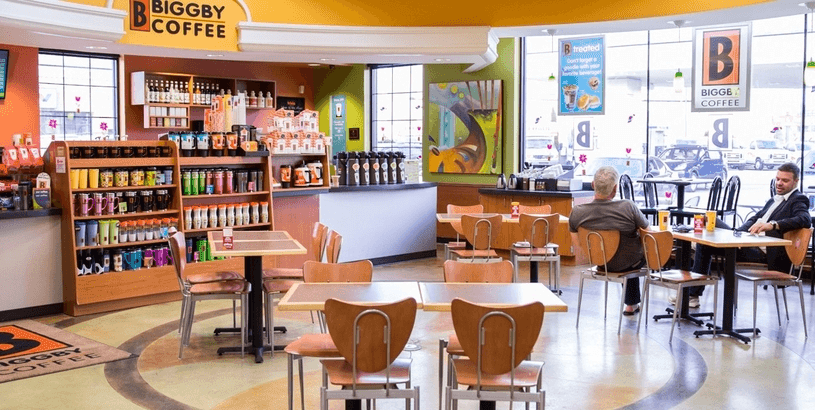 Named the fastest growing coffee chain in America by CNBC, Biggby Coffee credits their success to their founders' decades of experience in the restaurant business. In 2017, Biggby Coffee had over $89 million in sales and over 250 locations across the U.S. With a "come as you are" atmosphere, customers can expect for the baristas to learn their name and their order.
Biggby Coffee is on the lookout for prospective owners who are looking to open a coffee franchise in Alabama, Florida, Georgia, Illinois, Michigan, North Carolina, South Carolina, Ohio, Texas, and Wisconsin. Will you be the one to bring Biggby Coffee to your neighborhood?
Cash Required: $15,000
Initial Investment: $161,350 - $319,110
Ready to Brew Up Your Own Coffee Business?
Owning a coffee franchise can mean long hours and early mornings — and require a substantial financial investment. But owning your own coffee shop can also offer you the chance to serve your community and be your own boss in an exciting and in-demand industry.
Before you dive in, make sure you do your research. Every franchise has its own startup costs, company culture, levels of support, and franchisee satisfaction levels, which is why it is so important to thoroughly vet any coffee franchise you are interested in.
As you research various brands, Franchise Business Review can help you understand which brands have the best reviews and ratings from current franchisees — the people who know best! While the above mentioned coffee franchises are all great options, as they have each been rated highly by the franchisees that own them, there are many more options in the food and beverage space. You can learn more about FBRs Top-Rated Food Franchises here.