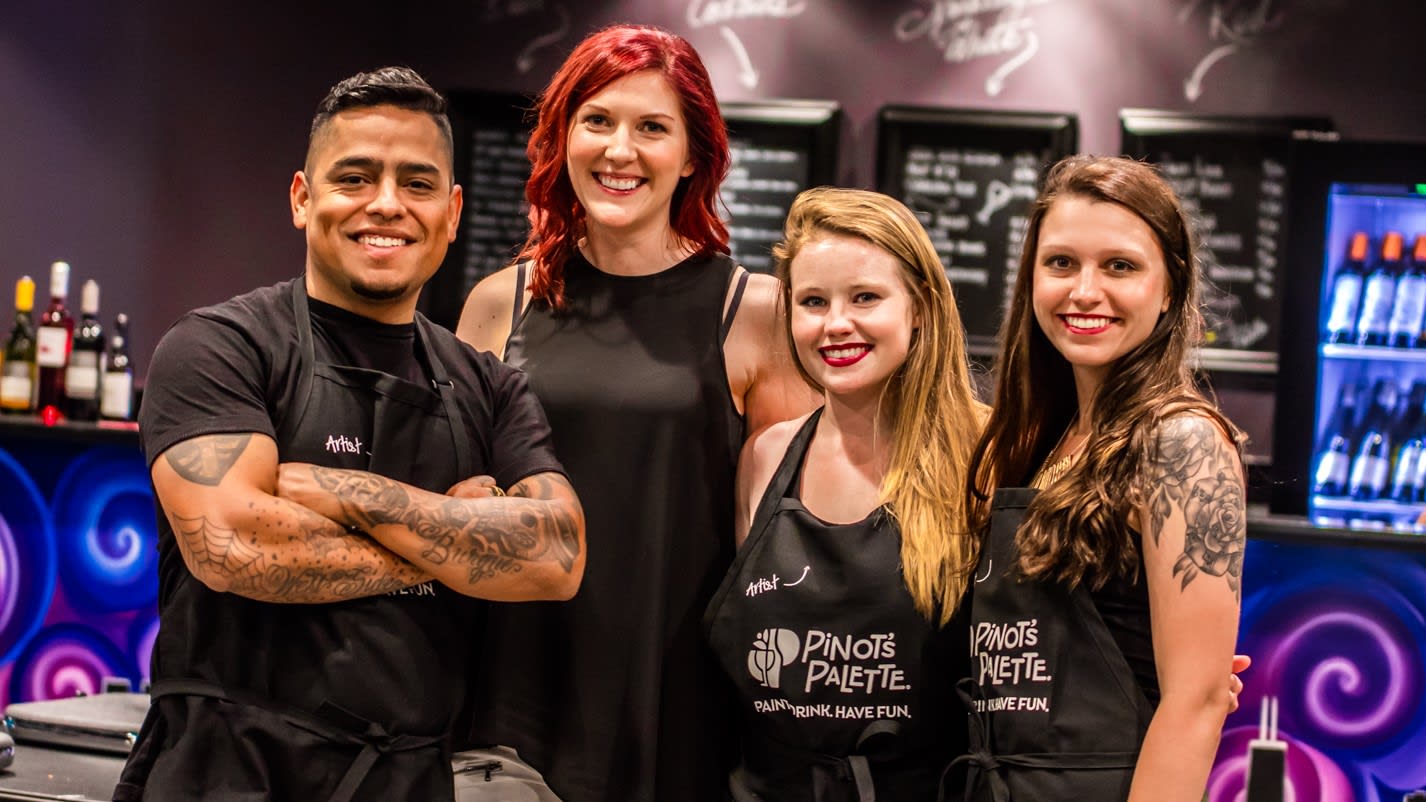 When you think of innovative companies, giants like Google, Apple, Facebook, and Amazon probably spring to mind. You might think of disrupters like Uber, Blue Apron, Tesla, and AirBNB. Or maybe even some obscure companies like TaskRabbit, Alibaba, Slack, or Riot Games. These are the innovators of our time. All of them are pushing the envelope in their respective industries.
Not many of you probably had Kona Ice on your list. This less-known, flavored ice company from Florence, Kentucky is quietly shaking up the franchise world. Led by founder, CEO, and "Chief Innovator" Tony Lamb, the Kona Ice team has built one of the fastest growing franchise companies in all of franchising. And they built it on a foundation of innovation.
"Kona Ice has always been on the forefront of innovation," said Lamb. "In fact, our very brand was born out of a need for innovation in the ice cream truck industry."
Kona's innovative roots helped land the company in the #1 spot on this year's first annual innovation ranking. Kona's huge strides in innovative products, marketing, operations, and culture have propelled the company to nearly 1,000 Kona Ice trucks on the road in under 10 years of franchising – while raising over $42 million for local charities in the process.
When you look across the franchise sector, creative innovations are happening in many different places. How do you choose 50 top franchises from the thousands of brands operating today? For us, it was simple. We went to the innovation experts – the franchisees that are on the front lines every day.
Over the last 18 months, we've surveyed over 30,000 franchise owners, representing more than 350 of today's leading franchise brands. We asked them how creative and innovative they think their corporate franchise team is, and if their leadership has a clearly defined vision for where the brand is going. From that research, we selected the franchise companies with the highest combined scores in innovation, leadership, and overall satisfaction to bring you the 2017 50 Most Innovative Franchises.
This year's top innovators include well-known franchise companies like Keller Williams, Sotheby's International Realty, FASTSIGNS, and Cruise Planners (an American Express Travel Representative), as well as lesser-known brands like APEX Fun Run, Weed Man, Sanford Rose Associates, Fazoli's, and Visiting Angels. The remaining franchise brands on our list represents just about every industry you can imagine – all of them with innovation at their core.
What Is Innovation?
Defining what qualifies as innovation can be challenging. Technology often plays a role, but certainly many innovations have nothing to do with technology. Generally speaking, innovation is something new – a breakthrough product or simply a better way of doing something.
The story of Ray Kroc and the McDonald's brothers – made famous by the recent movie The Founder – is a classic example of franchise innovation. While Kroc got most of the credit for the success of the McDonald's franchise, we now know that it was really brothers Richard and Maurice McDonald (aka "Dick" and "Mac") who were the true innovators of operational efficiency in the blossoming fast food industry. To be clear, Dick and Mac put the "fast" in fast food.
Yet many of the innovations happening in franchising today aren't quite as obvious or game changing. That's the funny thing about innovation – sometimes you don't even recognize just how big an innovation is until years later.
Take MaidPro for example. The Boston-based residential cleaning franchise created their own cloud-based management system that allows franchisees to access their businesses online from any smartphone or computer. When first launched, the full impact the system would ultimately have for MaidPro franchise owners was not totally clear.
MaidPro CEO Mark Kushinsky explains, "This rapid deployment of functionality shows our community how quickly and efficiently ideas can be brought to fruition. Our cloud-based software now gives our franchisees much more freedom."
While freedom for franchise owners was more a side effect of the management system than a primary goal, the combined impact on a franchisee's day-to-day operations was huge.
"A great example of this was on our most recent MaidPro adventure to the Amazon Rainforest," continues Kushinsky. "Our franchisees were able to answer ownership-level questions and keep an eye on their businesses as they explored and hiked around Peru! Innovation and adventure are two of the things we love the most about our franchise organization!"
High Tech and Low Tech
Technology was certainly the innovative catalyst that rocketed Orangetheory Fitness to become one of the fastest growing fitness franchises in the world. Their state-of-the-art group fitness classes are driven by heart-rate monitors, fitness apps, and giant display screens that create a uniquely motivational, and addictive atmosphere. Orangetheory exploded on the franchise scene in late 2010 (during the middle of the recession, mind you) and has grown to over 1,000 fitness studios around the globe.
Low-tech Soccer Shots on the other hand, innovated their way onto our Top 50 simply by focusing on creative ways to get kids really excited – and it's not just about soccer. Their goal is simple: to deliver an experience that is the best 30 minutes of a child's week. And deliver they do. Soccer Shots has averaged 60% year-over-year growth the last eight years, will maintaining extremely high satisfaction with their franchise partners.
Not All Innovations Are Big Innovations
Often, the smallest ideas can lead to meaningful innovations that give a company an edge over competitors. "We can't talk innovation without mentioning our patented round sign that is designed to stand out from the crowd in a sea of square signs," shares CEO Ken LeBlanc of PropertyGuys.com.
That little round sign has helped PropertyGuys.com become the largest private sale real estate network in Canada, with over 115 franchise owners. "Our signs scream something different, something that challenges the status quo, which is a sentiment felt throughout our business model," continues LeBlanc.
Shannon Wilburn, CEO and Co-founder of Just Between Friends, brought a little innovation into their franchisee recruitment process. Just Between Friends franchisees organize large consignment sale events around the country and have built a cult following with their customers. Company culture and core values are a big deal. "We read our core values to applicants who want to join our system, and ask them how they feel about them. If the core values don't resonate with them, we know it's not going to be a good fit, " said Wilburn.
Through a series of simple little innovations, Wilburn and her team have built Just Between Friends into a consignments powerhouse. Launched out of her living room in Tulsa in 1997, Just Between Friends has grown to over 150 franchisees throughout the U.S. and Canada, and now hosts hundreds of consignment sale events annually.
For Wild Birds Unlimited Chief Development Officer Paul Pickett, innovation is about creating vision. Pickett also uses a little creative innovation in their franchisee recruitment process. "Our franchisee candidates are required to submit and do a presentation to our Franchise Support Center team on their vision statement – why they will be great members of our team, and what they hope to accomplish with their new business venture," said Pickett.
The simple vision planning tool helps franchise companies like Wild Birds Unlimited not only select better franchise owners, but keep their franchisees on track long-term, and exceed their own business goals.
Innovate or Die!
For some, to innovate or not to innovate isn't really an option.
"At PropertyGuys.com, we've always been of the mentality that if you're not growing, you're dying," said LeBlanc. "That way of thinking has propelled innovation for us. As a disruptor in the real estate industry, we have to constantly innovate and be flexible to change – otherwise we wouldn't have lasted half as long against such a Goliath competitor. For us, innovation is a must have – not a nice to have."
For serial franchise entrepreneur Brian Scudamore, Founder and CEO of the franchise behemoth 1-800-GOT-JUNK, innovation is baked into his DNA. Scudamore eats, sleeps, and breathes innovation. Having grown the 1-800-GOT-JUNK brand to over $175 million in worldwide revenue, one of Scudamore's latest innovations was to simply leverage the experienced team and established systems he had built to expand into other industries.
One of those expansion brands is WOW-1-DAY PAINTING, which is one of our Most Innovative Franchises this year. If you asked the typical painting company to paint your entire house in just one day, they'd laugh. Scudamore on the other hand saw an opportunity to breathe some life into a tired, albeit lucrative industry. Now who's laughing?
Kona's Lamb couldn't agree more. "This year at Kona Ice, we've made huge strides in the innovation of our product. Our Fruit First product contains fruit as the first ingredient and allowed us to continue fundraising for schools all across the country. We're excited about where our brand is headed and the innovations that will continue to come throughout the years!"
Outside Forces at Work
Sometimes innovation is dictated by outside forces. Following favorable regulatory changes in 2010, PropertyGuys.com was the first real estate company to offer 'mere postings' on Realtor.ca through broker partners who were members of the Canadian Real Estate Association.
"When that ruling was announced, we were able to pivot quickly and figure out a way to ensure that Canadian homeowners who wanted the ability to access that site were able to do so, while still selling privately," said LeBlanc. "Recognizing and taking action on the opportunity to provide more exposure and services to people who didn't want to pay traditional commissions was monumental."
Recent changes by the National Labor Relations Board (NLRB) on employer-mandated health care requirements and minimum wage pressures in many states are just a few examples of government interventions that have many business owners examining how their businesses operate – and exploring new ways to do more with fewer staff.
"I can't think of a single industry that isn't experimenting with ways to leverage technology with the goal of reducing headcount," said Michelle Rowan, President of Franchise Business Review. "It turns out that robots and computers are pretty good at doing a lot more than people think, and they don't require coffee breaks, vacation time, or health insurance."
When you are researching different franchise opportunities, it's critical to understand how innovative a company is. Are they changing and "pivoting" frequently, or are they stuck? It's also important to research the industry, and thoroughly understand what potential government regulations, new technologies, or other outside forces might impact the business long-term.
Creative Inspiration
Some companies drive innovation from the top down (think Steve Jobs). Others let innovation percolate up from the front lines. We asked a few innovative franchise leaders the source of their best ideas.
"We have a very collaborative approach and encourage new ideas from our home office team on a daily basis," shared Leblanc. "Our franchisees and their people – our 'feet on the street' – are also an amazing source of intel because they are able to see opportunities from a different angle."
MaidPro's Kushinsky concurred, "Our best source of creativity is our franchisees. We pride ourselves on bringing in creative, forward thinking franchisees. Our job is to be active listeners who foster communication. We have idea forums that allow owners to express their ideas and vote on them accordingly."
Customers can also be a great source of inspiration. Sandler Training President and CEO David Mattson credits their coaches and customer needs for driving many innovations. Fifty year ago, founder David Sandler pioneered the concept of reinforcement training and ongoing coaching to mentor salespeople. Today, the international Sandler network of franchisees has added revolutionary online learning, virtual training, and numerous sales tools to build upon that reinforcement concept.
Innovating Your Way to the Future
Innovation isn't going away, and in one form or another, innovation is what led you to explore franchise opportunities. Now it's time to put all of Franchise Business Review's innovative tools behind you. Our Top 50 Most Innovative Franchise Companies is a great place to start. The next step is up to you.
Review our research. Explore the award-winning opportunities featured here on our website. Educate yourself about franchising. Identify the businesses that get you excited. Talk with their franchise recruitment teams, and visit with existing franchise partners to hear their experience. Ask the hard questions – of yourself and of them.
Reach out to us if you have any questions or need further advice. In the end, franchising may be a great way to innovate yourself to a new future. We wish you the best of success!