When you think about Wendy's restaurants, you might first think of a red-headed, pigtailed girl or even recall the popular commercial from the 1980s that asked customers, "Where's the beef?" The brand has come a long way since its Columbus, Ohio origins. Today, Wendy's serves its square burgers and Frostys at home and abroad, of which more than 5,810 of its locations are located in the United States, and 901 are located internationally. (Of the total in the United States, 5,457 are franchised and 353 are company-operated.) No longer family-owned, Wendy's Company is a publicly-traded company (WEN) and has been bought and sold in a number of transactions since it was originally founded in 1969.
Although it faces formidable competition in the fast food sector, the Wendy's franchise continues to be a leader in the hamburger category, second only to McDonald's in systemwide sales, according to QSR. Still, it faces tough competition from Burger King and Sonic, with others in the quick-serve industry like Chick-fil-A and Taco Bell all clamoring for diners. Here's what you need to know if you are looking to open a Wendy's franchise.
The Wendy's Franchise: How the Iconic Pigtails Came To Be
The now-deceased Dave Thomas, clad in his white shirt and bow tie, starred in countless Wendy's commercials back in the 1990's. The company's most popular pitchman was also its founder and the powerhouse behind its inception. In his autobiography, "Dave's Way," published in 1991, Thomas chronicles his hardscrabble childhood, in which he discovered he was adopted. At age 13, he began working at his first restaurant. A high school dropout, Thomas joined the Army at 17 in 1950, and after serving two years overseas, took a restaurant manager job when he returned stateside, as reported in the Columbus Monthly. His restaurant experience and dogged determination led Wendy's to what it has become today.
Thomas was first exposed to what it might be like to work in a restaurant by his adoptive grandmother, who worked in an eatery. He told People Magazine that if he owned a restaurant, he thought he could eat all he wanted for free.  After having four children while he managed his first restaurant in Indiana, including his youngest Melinda (nicknamed "Wendy"), Thomas and his wife moved to Columbus Ohio in 1962, where he followed his former boss to turn around four Kentucky Fried Chicken franchises, according to Mashed.
It was Thomas who came up with the "bucket of chicken" idea and encouraged Colonel Harland Sanders to star in his own commercials. Sanders asked Thomas to save a handful of struggling franchises, in exchange for a 45% ownership in those locations' profits. Thomas sold his shares in KFC back to Sanders for $15 million before opening his first Wendy's in 1969, the same article reports.
The restaurant's signature square hamburger patties and "The Frosty" both debuted on the five-item menu Thomas created when Wendy's first opened. Later, he was also credited with installing the first drive-through in 1970 and adding a salad bar concept in 1979. Wendy's also launched its first "Value Menu" in 1989, before other chains followed suit.
Thomas retired from the business in 1982, after celebrating the opening of the franchise's 2,000th store and its joining the New York Stock Exchange, according to Mashed. However, when sales began to slip, Thomas returned in 1989 and later starred in more than 800 TV commercials.  In 1984, its "Where's the Beef?" commercial, starring Clara Peller, ended up becoming one of the burger chain's most popular campaigns, according to the Columbus Dispatch.  After failing health, Thomas died in 2002, at the age of 69.
Over the years Wendy's changed ownership several times through sales and acquisitions, according to the timeline on its corporate website.
In 1976, Wendy's goes public on the NASDAQ exchange, issuing one million shares of common stock at $28 per share.
In 1981, Wendy's stock gets listed on the New York Stock Exchange, under the trading symbol "WEN".
In 2008, Wendy's consolidates with Arby's Restaurant Group, Inc. to form Wendy's/Arby's Group, Inc. in Atlanta, Georgia.
In 2011, Wendy's and Arby's part ways, as Arby's is sold off to a private equity group. On its own, The Wendy's Company moves back to Ohio. In December of the same year, Wendy's transfers its common stock listing from the New York Stock Exchange to NASDAQ, where it continues to trade today under the trading symbol "WEN."
Burger Wars: Franchises Compete For Market Share
America's appetite for juicy burgers continues to be ravenous. According to recent IBIS World market research, the market size of the burger restaurant industry in the United States to date increased faster than the economy overall. The $122 billion industry accounts for 30% of the fast-food and fast-casual restaurant industry.
The iconic Wendy's franchise continues to reign as one of the top three leaders in the pack, even while its revenue has experienced peaks and valleys over the past several years, according to Statista. In 2009 and 2012, the company reported highs of $2.44 billion in revenue. In 2014, revenues started a downward trend, dipping down to $2 billion, before bottoming out at $1.22 billion in 2017. In 2018, revenues slowly climbed back up, rounding up to $1.71 billion in 2019.
Wendy's has also experienced a shuffling of company-owned restaurants and a number of franchises since 2016, adding a net total of 80 locations since then, according to its 2018 Franchise Disclosure Document. In February 2015, the restaurant announced its intent to sell off the majority of its company-owned restaurants in North America, bringing the number of company-owned stores down to 5% by 2016, according to Nation's Restaurant News. This would allow Wendy's to reduce its capital expenditures, realize short-term on earnings growth, and speed up the process of remodeling its restaurant locations. According to its FDD, Wendy's shed more than 300 company-owned outlets in 2016, while it added 319 franchises that same year. (In 2017, it added 7 company outlets, and gained 23 franchises, and in 2018, it gained 16 company outlets and added 25 franchises.)
In 2020 and beyond, Wendy's has plans to take a bigger bite out of the fast-food sector by debuting new menu items, remodeling stores and investing in digital.
Morning Meals
Last year, the restaurant announced that it would launch a new breakfast menu for 2020. Items would include the Breakfast Baconator, a Frosty-ccino drink, and a honey butter chicken sandwich, according to AdAge. To support the launch, scheduled for March 2, 2020, Reuters reported that the franchise planned to spend $70 to $80 million to advertise its morning meals on top of the $17 million it has already spent to support the launch. The rationale: to pull customers away from rival McDonald's and capitalize on the fact that breakfast is the only time of day seeing increased traffic in the fast food industry.
Canada Goes Plant-Based
In February 2020, in keeping with the competition and the public's tastes, Wendy's also began adding plant-based burgers to its menu – at least in Canada, according to MarketWatch. Wendy's created its own recipe for The Plantiful patty, rather than sourcing its protein from Beyond Meat Inc. or Impossible Foods. The Plantiful patty is made with a pea-based protein and comes with lettuce, tomato, pickles, ketchup and cheese. (Burger King last year piloted meatless Whoppers in the St. Louis market, dubbed the Impossible Whopper. According to a June 2018 Nielsen report, while only 6% of Americans said they follow a strictly vegetarian lifestyle and 3% a strictly vegan lifestyle, 39% of Americans said they were trying to eat more plant-based products.)
Remodeled Stores
Wendy's plans to continue incentivizing its franchisees to remodel their stores, in the hopes of refreshing its brand. According to its Franchise Disclosure Document, franchisees are required to reimage 60% of their existing restaurants by 2020 and 100% of their restaurants by 2024, at the rate of 10% of their restaurant portfolio per year. Under the program, franchisees may elect to renew Franchise Agreements once their reimage is completed (instead of at the end of their Franchise Agreement's term) and in exchange receive a new Franchise Agreement with a term of 20 years for approved Refresh, Refresh Lite, or Remodel work.
Investing in Delivery and Digital
Investing in a digital app and partnering with delivery services also keeps Wendy's fresh in the minds of its customers. By downloading an app, hungry Wendy's patrons can customize their order and find hot food waiting for them. (By 2024, the chain hopes to make digital sales 10% of all orders, up from 2% in 2019. It planned to invest $25 million into developing "stronger platforms," according to The Spoon.) In 2017, Wendy's began partnering with DoorDash and plans to expand its delivery services with other companies in the coming year, too.
Despite the competition, Wendy's remains in the top tier of fast-food hamburger restaurants, both in the volume of systemwide sales and total number of units, according to a recent QSR Magazine ranking.
The QSR 50 Burger Segment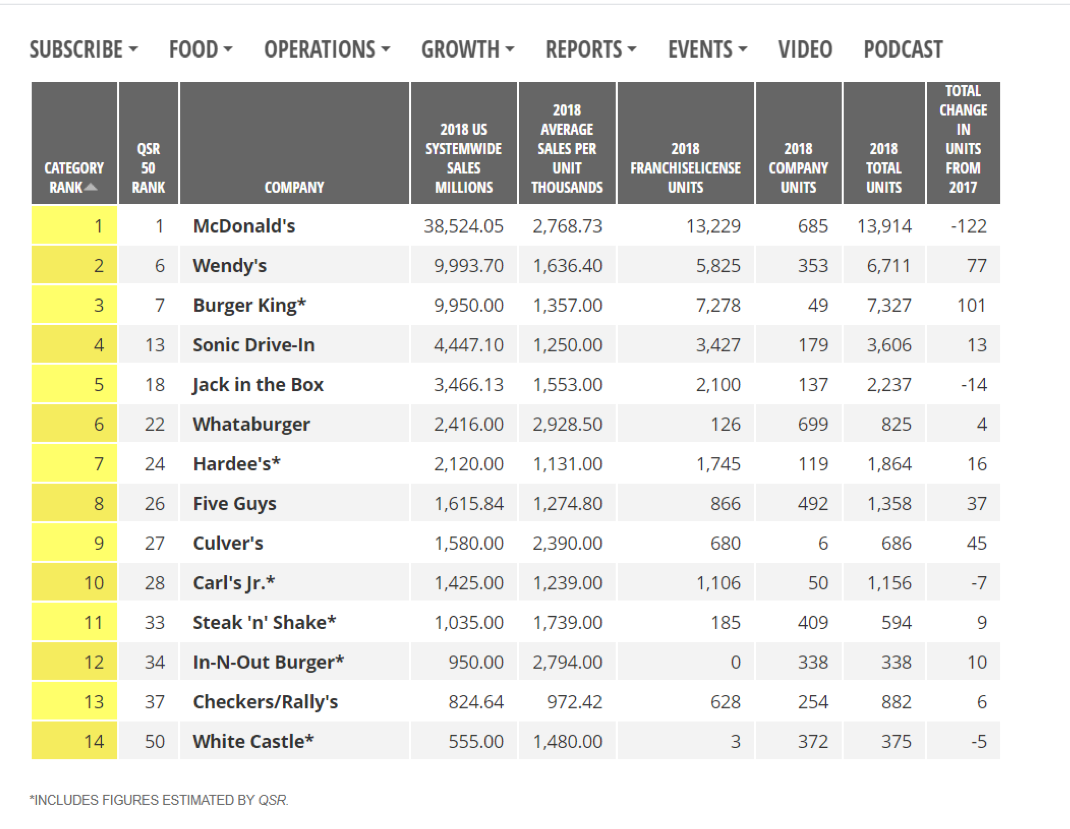 Is A Wendy's Franchise Worth The Investment?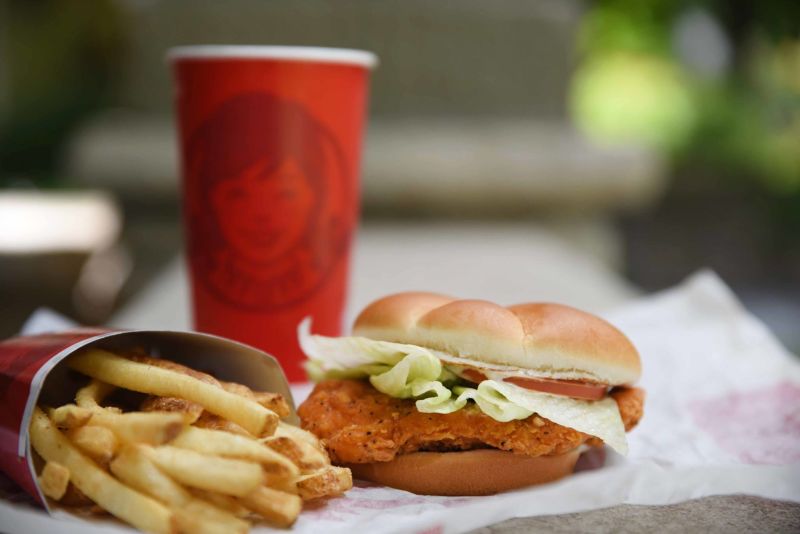 Be ready to have some serious cash on hand if you are interested in becoming a franchisee. Wendy's requires $2 million in liquid assets with $5 million net worth for new multiunit franchisees or franchise groups.
The initial investment cost of a Wendy's franchise location varies but could total well over $3 million. There are many factors that influence the development costs for a new restaurant including, but not limited to: the cost of real estate, building size and design features, local labor and building supplies, permitting, etc. The estimated total investment required to begin operation of a new restaurant normally ranges from $2,018,500 to $3,688,000 (if you pay cash for land, building, site improvements, signage, and technology.) If you finance or lease, your initial investment could range between $570,500 and $1.5 million or $323,500 and $662,500, respectively.
While this investment falls in line with major fast food eateries such as Burger King and McDonald's, other alternatives require much less up-front capital.
Wendy's franchising costs break down as follows, according to its FDD:
Total Initial Investment: $2,018,500 to $3,688,000
Application Fee – $5,000
Background Check Fee – $500 per person
Technical Assistance Fee (or franchise fee for a 20-year term) – $50,000 per restaurant
Royalties – 4% of gross sales
National advertising – 3.5% of gross sales
Local advertising – 0.5% of gross sales
You can review Item 7 in the FDD for a detailed breakdown of what you can expect to pay as part of your initial investment.
How Wendy's Compares To The Rest Of The Herd
While Wendy's is comparable to other big burger brands like McDonald's and Burger King, up-and-coming brands like Five Guys and fast-food giant Chick-fil-A require much lower investments and still rank high in brand recognition and customer popularity.
| | | | |
| --- | --- | --- | --- |
| Name | Franchise Fee | Total Initial Investment | Royalty |
| Wendy's | $50K | $2M to $3.7M | 4% of gross sales |
| Burger King | $15K-$50K | $1.9M to $3.3M   | 4.5% of gross sales |
| McDonald's | $45K | $1.26 to $2.34M | 4% of gross sales |
| Five Guys | $25K | $306k to $641k | 6% of gross sales, 8% in Alaska, Hawaii or Puerto Rico |
| Chick-fil-A | $10K | $343K – $1.98M | Up to 3.25% in advertising fees as a percentage of gross monthly sales |
 *Chick-Fil-A corporation will pay for land, construction and equipment for a restaurant, then rent it to the franchisee for 15% of sales plus 50% of pretax profit remaining.
What You Can Expect To Make As A Wendy's Franchise Owner
Being a Wendy's franchisee may prove to be lucrative. According to the FDD, in fiscal year 2018, 5,232 franchises earned a median of $1.548 million in gross sales; with 44% of them earning at or above the average. (Whereas, 332 company-owned restaurants earned a median of $1.868, of which 45% earned at or above the average.)
It's important to note that total sales revenue does not equal profit; investors must consider the considerable expenses related to owning and operating a restaurant franchise, (including leases, labor, and inventory, to name a few), as well.
Table 1:
U.S. Average Gross Sales
For the Period January 1,2018 to December 30, 2018 (Fiscal Year 2018)
Company Restaurants
Franchised Restaurants
Number of Restaurants
332
5,232
Average Annual Gross Sales 

Median

(Min – Max)

$1,920,181

$1,868,693

($976,815 to $3,650,976)

$1,613,372

$1,548,551

($432,898 to $4,714,549)

Number of Restaurants at or Above Average

(% of Restaurants)

150

(45.2%)

2,301

(44.0%)
Source: Wendy's FDD, Fiscal Year 2018
Why Investing In A Wendy's Might Be Right For You
In sum: Wendy's could be on the brink of significant growth, thanks to its breakfast menu, which it hopes will represent 10% of the restaurant's sales.  Wendy's also believes it could add another $1 billion in sales by 2024 through international expansion, both through same-store sales and new unit development, according to Restaurant Business. 
Best of all, Wendy's franchisees are happy with their investments. It's one of the top rated burger franchises on the FBR Top Food Franchises List. While its high ranking is due to several factors, a major one includes the support Wendy's provides its franchisees. For example, franchisees working with Wendy's join a supply chain co-op that helps them get lower prices on supplies and equipment.
And Why Wendy's Might Not Be For You
Even if you own a Wendy's in a hot territory, you may not only face competition from other eateries, but you could also clamor for business with another Wendy's franchise. According to the FDD, you will not receive an exclusive territory.  Even if you receive an exclusive development area, you have no guarantee that your restaurants won't face future competition from another Wendy's franchisee.
You are responsible for selecting your own site, including developing your own site plan and proving that you can either acquire or possess the location. Wendy's then must approve your site.
Especially compared to up-and-coming burger franchises, Wendy's franchises are expensive investments that require a lot of up-front capital. In comparison, Five Guys only requires a fraction of what an initial investment in a Wendy's would be, requiring as little as $306k to $641k in initial investments.
Consider Some Affordable Alternatives
Wendy's is but one of many restaurant franchising opportunities available to investors looking to enter the fast-food sector. Before making your final decision, consider looking at some of these award-winning alternatives from our Top Food and Beverage Franchises list to see which franchise would be the best fit for you.
A&W
Recently named a Top Food Franchise by Franchise Business Review, A&W is back! You might associate A&W with its root beer floats, but this franchise is also responsible for inventing the bacon cheeseburger back in 1963. According to QSR Magazine, Allen and partner Frank Wright—hence the name A&W—began opening A&Ws throughout California and started franchising roadside restaurants in 1925. The chain is credited with creating the drive-in restaurant phenomenon of the 1950s and 60s. Today, there are about 1,000 restaurants around the world, with almost 600 in the U.S.
Average net sales of its reporting freestanding restaurants with drive-throughs are more than $950,777, according to its Financial Disclosure Document. Average comp sales are up 33% since 2011 and the company is focused on growing profitable same-store sales.
The total investment necessary to begin operation of an A&W franchise restaurant, not including rent or land, is between $269,000 and $1.2 million, depending on whether you choose to operate in a new, freestanding, inline or captive location, according to the FDD. Franchise fees range between $15,000 and $30,000.
Appeals to customer nostalgia
Low saturation compared to other brands
Reduced royalty fees for new owners (2% of net sales in year 1, 3% of net sales in year 2, and 4% of net sales in year 3; then 5% net sales for the remainder of the term.)
Checkers and Rally's is as all-American as the NASCAR races its iconic checkered flag design evokes, serving up hot dogs, hamburgers, and milkshakes since 1986. Come for the food, stay for the affordability: at $96k–$1.5M, the company's initial franchise investment cost is on the lower end of the spectrum compared to competitors, yet offers a 62% return on investment, according to FDD report data.
Learn more about owning a Checkers & Rally's franchise. 
If you are looking for a casual dining restaurant that gives guests a taste of everything – including chicken wings, sandwiches, burgers, ribs, and appetizers–East Coast Wings + Grill might be a sizzling option. The North-Carolina-based franchise is small – with only 36 units—but began franchising in 2003.
You get the choice of operating three different types of restaurants— Full Service, Fast Casual (an express-type restaurant) and University—each with a different initial investment. Full-Service Restaurants range between $648,425 and $993,870; University Restaurants range between $439,943 and $921,712; and Fast Casual Restaurants range between $308,500 and $607,487. This includes franchise fee amounts between $45,000 and $59,000. Franchisees are required to have a net worth of $850,000 and $250,000 liquid cash.
Learn more about East Coast Wings + Grill
Its tagline is "Enjoy More Subs. Save More Lives." Founded in 1994 by Chris and Robin Sorenson—two brothers who come from a family of firefighters— the fast casual restaurant has doubled from 500 units to more than 1,100 in the past 8 years, according to QSR Magazine. It took years for the fire to spread, but today Firehouse Subs can be found across the country, between Maine and Alaska, with opportunities available in Canada, too.
With a total initial investment of $160,583 to $843,390, including an initial franchise fee of $20,000, the restaurant has a much lower entry fee than other sandwich giants. You do need $300,000 net worth and between $90,000 and $100,000 liquid cash on hand to invest.
Fun, firehouse theme
Incredible growth and plans for additional growth
Included in Franchise Business Review's Top Food Franchises 
Learn more about owning a Firehouse Subs franchise
Simple Simons Pizza
If you are looking for a place that serves tasty wings and good pizza, Simple Simon's Pizza might be your slice of pie. The franchising company is based in Glenpool, OK, with a concept targeted toward small-town America. Simple Simons offers buffet style, eat in, and carry out options and a menu that includes sandwiches, breadsticks and desserts—in addition to chicken wings and pizza. Now operating in 200 locations in 10 states, Simple Simons has been franchising since 1985. It boasts a low start-up investment of $142,000 – $536,000, with a $20,000 franchise fee. Owners need $150,000 net worth and $25,000 liquid cash on hand to invest.
Very low initial investment
Franchisees voted it "Very Good" in Financial Opportunity and General Satisfaction
Included in Franchise Business Review's Top 200 Franchises 
Learn more about owning a Simple Simons franchise
Ready To Man The Grill?
Owning a Wendy's franchise gives you the opportunity to be your own boss and earn a beefy profit, but with so many franchise opportunities to choose from, you should carefully do your own research: look at different franchising options, weigh costs relative to profits, ask for feedback from current franchise owners, and be honest with yourself about how much time and money you can afford to invest.