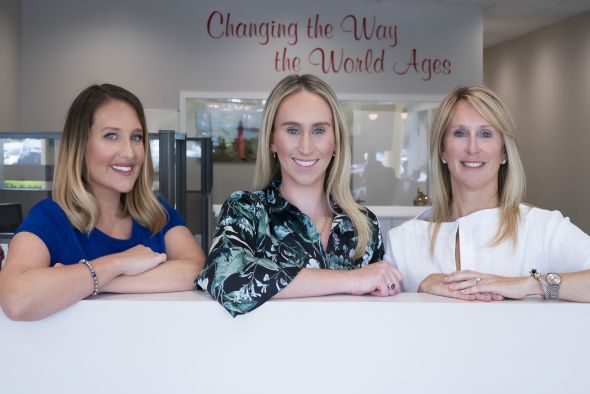 Michelle Spitzer began her career in business with a side gig and a homework assignment. As a student at Hodges University, she was fortunate to take a business class with Dr. Gene Landrum, the original founder of the Chuck E. Cheese franchise. In this class, she was instructed to create a business plan, and given the fact that she already had a side gig cleaning houses, she based her plan on her own small business. That was the birth of Michelle's Classy Cleaning business.
In 1999, after four years owning and operating Michelle's Classy Cleaning, Spitzer converted her business into a MaidPro franchise. "It was the best investment I could have ever made!" Spitzer says of the transition. Today, she owns six MaidPro franchises, employs over 130 people and currently has the highest grossing franchise in the MaidPro organization with $4 million in annual revenue.
Not all franchise careers start like Spitzer's, though. Women from all over the nation invest in franchises for varying reasons: some women have the entrepreneurial bug but don't want to start a business from scratch, others are seeking a career change or greater work life balance, while others are looking to supplement their incomes in retirement.
Women-owned businesses are growing, and they're growing fast. According to the National Association of Women Business Owners (NAWBO), more than 11.6 million businesses are owned by women, generating $1.7 trillion in sales nationwide. In fact, women are starting an average of 1,821 new U.S. businesses every day, according to a commissioned report by American Express. This growth trend is evident not only in the start-up world, but also in franchising. Over the last decade, there has been a 24% increase in women-owned franchise business. Today, 26% of all franchises are solely woman-owned, with another 9% with at least one female partner in the ownership group. Additionally, 41% of new franchisees that have launched in the last 24 months are women. (Source: Franchise Business Review).
Michelle Spitzer, MaidPro franchisee
"Franchising is a great opportunity for women entrepreneurs because they're welcomed with open arms," said Mark Kushinsky, CEO of MaidPro. Franchising eliminates the corporate ladder and many obstacles women face in business. Women are still able to run their companies the way they want while still getting the support they need."
It's no secret that starting a business can be daunting. After all, 20% of small businesses fail in their first year and about 50% fail by their fifth year, according to the Bureau of Labor Statistics. Those aren't pretty stats. But, when you buy into a franchise, rather than investing in a start-up, you "significantly increase your chances of achieving success," said Spitzer.
Best Franchises for Women 2019
Work-Life Balance Matters to Women
One of the primary appeals of franchising is flexibility and work-life balance. While not every franchise concept offers these benefits, many on this year's Top Franchises for Women do.
Schedule flexibility is especially beneficial to women, who still constitute the majority of primary caretakers for children or elderly family members. Today, an estimated 70% of mothers with children under 18 are in the labor force, and over 75% of mothers are working full time, according to the Department of Labor. For women juggling careers and caregiving responsibilities, flexible work can be a major perk.
At Cruise Planners, two-thirds of franchise owners are women and that number continues to grow year after year. "Whether they're stay-at-home moms or working full time, women are struggling to find a good work-life balance," said Michelle Fee, CEO and founder of the Cruise Planners franchise system. "Owning a Cruise Planners franchise allows women a way to earn extra income, offers flexible work hours and a way to escape the 9-to-5 grind. Many of our travel advisors get to make their own schedules and be there to support aging parents, care for family members and enjoy time with their kids while others are able to supplement a retirement income giving them the ability to travel to bucket list destinations."
Over at MaidPro, flexibility is also a key benefit of franchise ownership. Spitzer, who is a single mother of two teenagers and one college student says she is fortunate to have great staff so she can work from home when needed, travel, and have a lot of flexibility,
Another perk of franchising is the support offered from the franchise brand and from fellow franchisees. This support coupled with a proven business system and established brand gives franchisees a strong foundation to build both a business and a life.
"Wild Birds Unlimited has been a wonderful opportunity for 23 years," said Ellen Davis a Wild Birds Unlimited franchisee in Franklin, Massachusetts. "This franchise has allowed me a great lifestyle to raise two children and become a great business person. I am respected in my community, by all my customers and my fellow franchisees.  Working within the franchise gives you the extra support one needs to become a leader in your field and your community."
Thanks to the hundreds of opportunities across nearly every industry, there are franchises available at almost every price point. Salena Simpson, who owns a We Insure franchise, says the cost of entry was much less for her franchise when compared to opening a restaurant business, for example, or a non-franchised business that did not provide access to systems, sales and support."
Popular Industries for Women Franchisees
This year two fitness brands made our top franchises for women list: 30 Minute Hit and Burn Boot Camp.
Despite becoming millionaires at the age of 26, Burn Boot Camp founders, Devan and Morgan Kline, say that their business isn't about the money. "We measure our success largely on the impact we have," Devan Kline said, "People want to be a part of something bigger than themselves."
Deanna Loychuk, president and co-founder of 30 Minute Hit, a leading fitness franchise and women's only boxing gym, says that 75% of their franchise owners are women, while the remaining 25% are largely husband and wife teams.
"Women today are looking to make a difference in the world," said Loychuk. "We are hearing from our female franchisees they want to have a more rewarding career and want to impact other women's lives through a positive, supportive 'communiHITy!'"
Jodie Peck, owner of a 30 Minute Hit franchise in Halifax, Nova Scotia, decided she wanted to buy a franchise after attending the gym herself: "I fell in love with the focus on feeling good about myself, and the positive empowerment of women — I wanted to be part of that! I love seeing how happy members are when they are at the gym —this happens every single day!"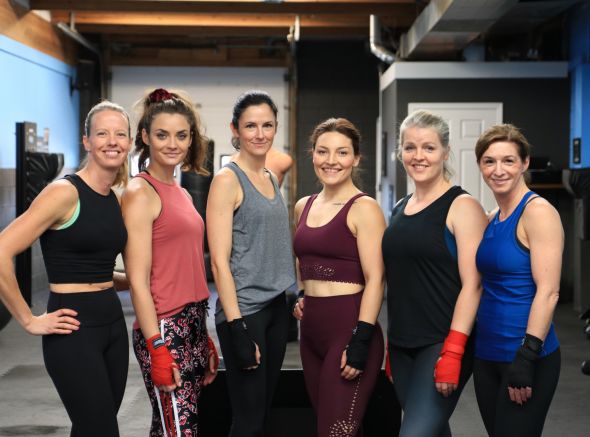 Photo from 30 Minute Hit
According to our most recent independent surveys, 91% of women franchisees in the fitness sector say they enjoy franchise ownership and 86% would recommend their franchise system to a friend.
Not only do fitness franchisees feel a sense of purpose and positivity in their work, they can also benefit from good work-life balance. While many franchisees struggle with work-life balance challenges, nearly two-thirds of franchise owners at 30 Minute Hit and Burn Boot Camp report they have a good lifestyle balance between work and home.
"I would say the best thing about owning a 30 Minute Hit franchise is the flexibility," said Stacey Firth. "I'm a mom and I get to spend lots of time with my kids; that was my whole goal when I opened. Franchising has completely changed my life."
The fitness industry has seen notable growth over the last couple of years. In a Guidant Financial and Lending Club survey, it was reported that fitness businesses are the third most popular industry for entrepreneurs. According to IBISWorld, as the health-conscious community continues to expand, so do the number of fitness franchises; as of May 2019, there were nearly 10,000 gyms with an estimated 72,000 people employed.
So, if you are a health conscious entrepreneur, who is looking to invest in the fitness industry without the extensive ramp-up time typically required with a new small business, a fitness franchise might be a great choice for you.
This year five senior services brands made our top franchises for women list. These brands include Senior Care Authority, HomeWatch CareGivers, Assisting Hands, Home Care Assistance, and Visiting Angels.
By 2050, today's senior population will nearly double, according to the U.S. Census Bureau. Most of these seniors prefer to live at home, driving the demand for home care businesses, an AARP survey reports.
"Home care provides opportunities for socialization, mental stimulation, physical wellbeing, and brings meaning and purpose in life to seniors," said Barbara Schuh, vice president of franchise operations for Home Care Assistance.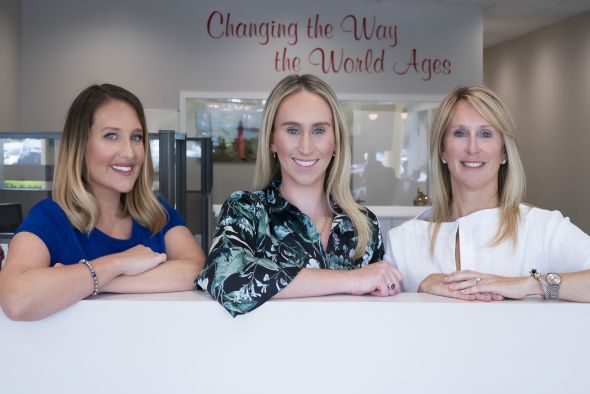 Photo from Home Care Assistance
It may come as little surprise that women are thriving in the senior home care space.
Home Care Assistance reports that 60% of their North American franchises are owned by women. "Women are initially attracted to our franchise opportunity due to our industry, financials and strong female leadership" said Schuh.
Beth Brown, a Home Care Assistance franchise owner in Palm Beach, Florida notes, "Women make great franchisees for a multitude of reasons. We possess a strong ability to communicate and collaborate, which is imperative to succeed.  A good franchisee is constantly learning and is willing to reach out and communicate with fellow franchisees, colleagues, and customers in order to grow. Women are always willing to help, as well as ask for help when they need it."
If a senior care franchise sounds appealing, now is a great time to invest. The nation's population of older adults is experiencing unprecedented growth. According to U.S. Census data, the nation's 65-and-older population is expected to nearly double over the next 30 years.
This year two travel brands made our top franchises for women list. These brands include Cruise Planners, An American Express Travel Representative and Dream Vacations.
You might think travel agents are a thing of the past, but you'd be mistaken. Consider these stats: According to Cruise Planners, the cruising industry has seen growth each year for the last 30 years, with double-digit growth during the last 10 years. Land-based vacations and all-inclusive resorts are also at an all-time high with record-breaking volume.
So, if you're looking for a smart investment in an industry that offers flexibility and remote working options, you may want to consider the travel segment. Nearly 70% of women franchisees who own a Franchise Business Review top-rated brand are happy with their work-life balance and 88% say they enjoy owning their franchise.
Founder and CEO of Cruise Planners, Michelle Fee, had three young children when she launched the Cruise Planners franchise with her business partners in 1995. Over the past 25 years, Fee has built a franchise system that offers parents the chance to run a business and be present for their families, or pursue other interests that are not always possible while maintaining a traditional 9 – 5 job. With steady growth, Cruise Planners is now the largest remote travel agency network.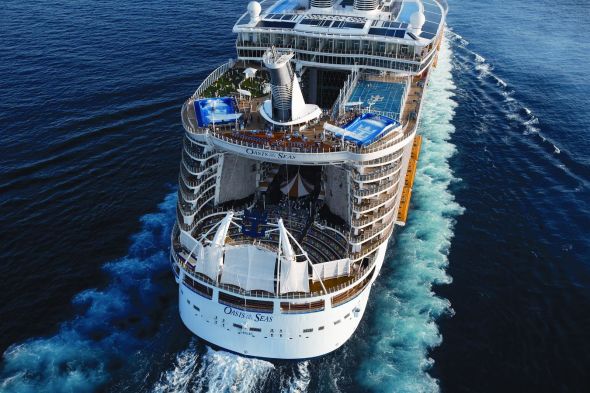 Photo from Cruise Planners
"Franchisees can take this business to whatever level they want to take it to. Some are stay-at-home moms, others are retirees, and others have turned this franchise into something way more than I ever expected, making high into the six-figures," Fee said.
Debbie Fiorino, COO of Dream Vacations says, "Women are naturally attracted to owning home-based businesses. For those who are stay-at-home moms, the Dream Vacations franchise provides flexibility for our owners to set their own hours. Many of our "mompreneurs" are not only successful business owners, but they are active in the PTA and able to actively participate in their children's after-school activities."
While many travel franchise concepts offer the potential for work-life balance, it's important to remember that any new business will require significant dedication to get up and running — and maintaining healthy work life as a business owner is not always as simple as it sounds.
"Finding a work-life balance is a daily struggle," said Jenifer Breaux, who owns a Dream Vacations franchise. "My husband has been extremely supportive of my vision. We make date-nights and time for us and, of course, regular family vacations once a quarter.  We have also created a support team to help with our two kids who have special needs. Making a plan and using a scheduler always ensures there is time for everyone including my clients, which has been instrumental for the entire family."
Finding the Best Franchise Opportunity for You
In addition to the three industries mentioned above, there are many more sectors in which women excel. On this year's Top Franchises for Women list, the award-winning brands represent several industries, including:
Food
Retail
Real Estate
Business Services
Advertising & Sales
Cleaning & Maintenance
Child Services
Health & Beauty
Women entrepreneurs from our Top Franchises for Women's list say that franchising is a great fit for them and their goals. In a recent Franchise Business Review study where over 8,000 women in franchising were surveyed, a whopping 90% said that they enjoyed owning and operating their own business. The vast majority said they would do it all over again.
When you're ready to compare your options, there are hundreds of franchise brands to choose from, which is why it is so important to do thorough research. Ultimately, you want to find a brand that will meet your expectations and help you achieve your dream of business ownership while giving you the lifestyle you desire.
Examining the reviews and feedback from other franchise owners is one way to get unbiased advice from other entrepreneurs who have already made the leap into franchise ownership and have first-hand experience with the brands you are considering.
To assist you in this process, Franchise Business Review surveyed 8,880 women franchise owners from over 250 of today's leading franchise brands. Each survey participant was asked 33 benchmark questions about their franchisor that focused on areas such as leadership, training, and core values as well 16 more personal questions concerning their business lifestyle and overall enjoyment of running their franchise. If you think franchising might be the right opportunity for you, this year's top list is a great place to start. "Take the risk. You will never know the outcome of your efforts unless you actually try it," said Jeaneen Salisbury, a Minuteman Press franchisee. "If I had never opened my business, I would have regretted not trying. The only way to be satisfied in your life is to do work you truly love and believe in."