With every new year comes the promise of new opportunities. If you've been contemplating franchise ownership, 2020 could be the year you take the leap. When 2020 comes to a close, what will you say you have accomplished? Imagine being able to say that you launched your own business!
There are few prospects as exciting as becoming your own boss, controlling your time and being 100% responsible for your own success. Franchising offers you this tremendous opportunity without the risk that comes with starting a business from scratch. Still, no business venture is guaranteed, which is why we survey thousands of franchise owners every year to bring you our annual Top 200 Franchises—so you can choose the best franchise brand with the happiest franchise community.
This year we surveyed 27,504 franchisees at over 300 brands between June 2018 and November 2019 to find out exactly how satisfied they are with their franchise business. We've researched hundreds of brands, and our Top Franchises list includes the best of the best that franchising has to offer.
TWO MEN AND A TRUCK franchisee
Two Important Factors That Lead to Franchise Success and Owner Satisfaction
The world of franchising is massive, offering thousands of different opportunities across nearly every sector. To be clear though, not every franchise is successful and there are many unhappy franchise owners in business today. During our research, we talk to franchise owners in both camps—the happy and the disgruntled. Their feedback has led us to a few conclusions about what makes a strong franchise brand and a happy franchise owner. There are two primary factors that we identified: profitability and training and support.
Profitability 
If you are interested in buying a business, the profitability potential of that business is likely one of your greatest concerns, but, estimating a business's potential can be tricky. The nice thing about buying a franchise is that there are resources to turn to for evidence of past profits that can help you forecast your profit potential: the Franchise Disclosure Document (FDD) and current franchise owners. Inspect item 19 of the FDD closely and question current franchisees.
When asked what was most important to her when selecting a franchise, Erin Gilliam, Miracle Method franchise owner in Salt Lake City, UT said, "Proven systems and profitability with reasonable start-up costs: We wanted a business that had a solid track record of having systems that were highly repeatable and profitable with reasonable start-up costs."
If you're like Erin and most other would-be franchise owners interested in profitability, here are a few questions you should ask both the franchisor and current franchisees:
1. How long does it take most owners in this system to realize a profit? The answer to this question can vary widely from brand to brand and even within brands. As Kristen Magda, franchise marketing manager at Brightway Insurance explained, "The time it can take to realize profit will depend on the business model that we build with each franchisee, specific to their market—hiring plan, compensation structure, networking plan and more. After five years, our franchise owners are making an average of $177,393 in pre-tax profit and the top 25% are making an average of $375,692 in pre-tax profit."
Philip Catron, founder and CEO of Naturalawn, an organic lawn care company, said that while profitability varies greatly and is hard to predict, they have structured their system in such a manner that the franchise owner should reach annual revenues of $500,000 by the end of their fifth year.
For more nimble concepts, like those in the cleaning sector, time to profitability is often much shorter. Madeleine Park, marketing manager at MaidPro, said that it tends to take about a year for franchisees to hit the break-even mark—and then it's profit from there, which MaidPro franchisee Marcie Sprankle confirmed, saying that she owned her MaidPro franchise for about a year when they realized a profit.
Over at Miracle Method Surface Refinishing, the profitability goals for franchisees are quite aggressive. "Our goal is to support our new owners in becoming 'profitable' within 3-4 months," said Gwyn O'Kane, VP of franchise development at Miracle Method Surface Refinishing. "No more working capital burn, which means new owners can now focus on their four-year business plan and achieving their goals for their business. All the other great benefits of owning a business, like supporting your community and providing great jobs for your employees, can only be achieved by a profitable business and successful owner!"
Dogtopia, a dog daycare provider, also pushes for profitability within the first few months to a year, which is encouraging as a prospective franchisee.
2. How are profits shared between the franchisor and the franchisee? Christian Brothers Automotive has a unique profit structure in which the franchisor and franchisee split bottom line profits. "From day one, our franchisees are guaranteed a salary of $60,000 per year. Beyond their salary, we split bottom-line profits with them 50-50, but first they pay themselves, their team, and their expenses," said Emily Kaniss, marketing coach at Christian Brothers Automotive. "Turning an additional profit typically takes six months in our average performing stores, though it can vary."
Christian Brothers Automotive "shared profits" approach is very unique in the franchise world. Most franchise companies start earning a percentage of gross sales (i.e. royalty fees) as soon as the business opens.
3. How much will fees and costs eat into your profits? It's also important to be clear about the difference between profitability and revenue. Revenue does not take fees and costs into account and can be misleading when you are trying to determine your actual profitability. The FDD is an important resource to reference as you learn more about a franchise's financials and potential profitability. All franchises are required to file an FDD and many include an Item 19, which typically covers financial performance for average franchise locations. The FDD will also provide a detailed breakdown of required initial investment and any ongoing fees and royalties.
According to our research, the median annual income for franchise owners is $95,664. Income figures vary wildly from industry to industry and brand to brand. This is why it's so important to talk to both the franchise company and a number of franchisees about their experience with startup expenses, time to break-even, and the long-term profit potential of the business.
Training and Support 
The second common factor in franchisee satisfaction is training and support; franchise owners rate their brand higher when they feel they are given thorough and comprehensive training and support. This isn't surprising when you consider that many people choose franchising for this exact reason: the backing and support of the franchisor. What do the best brands offer that the others don't? For one, the best franchise brands go beyond initial training, offering continued support and continuing education for franchisees throughout the life of their relationship.
"We have been continually impressed by the training and support provided by the MaidPro home office, from our earliest days getting up and running, to two-and-a-half years later as we deal with the growing pains of a rapidly expanding business," said Sprankle. "MaidPro franchise staff have been available to us at every turn, ready to assist with all aspects of the business. We have turned to our coaches for help with everything from increasing profitability to finding local marketing events to exploring new avenues for employee recruitment, and we received training and resources in every case that have made a huge difference in the success of our business."
Committing to ongoing, regular training is important at most top brands because they understand how critical education is for owners. "Our training programs are scheduled events, not 'rainy day only' occurrences," said Catron of Naturalawn. "We not only travel to the actual franchise location for training purposes, but we also set up and travel to central locations, which enables multiple owners and their staff to more easily attend group trainings. This helps employees of the franchise owner realize they are part of a larger and more inclusive organization that can offer them career advancements."
When looking at the data for the top franchises versus all others, there was a wide gap in training and support scores, meaning that franchisees at top brands reported much better training and support.
Franchisees from our Top 200 Franchises rated the training and support that they receive as much as 40% better compared to franchise companies not on our 2020 awards list.
Finally, award-winning brands also take the time to regularly survey their existing franchise owners and make changes based on their feedback. "In addition to satisfaction surveys conducted of our franchisees by outside parties throughout the year, we conduct our own franchisee satisfaction survey, measuring their satisfaction over several attributes, including training and support," said Magna. Similarly, Catron explained how at Naturalawn, they survey franchisees prior to training meetings to ask for their input on topics they would like to see covered during the training.
Recession Resistant Concepts
Nathan Glenz, A&W Restaurant franchisee in Richmond, MN 
Despite current economic trends of growth and stability, the economy—as we have witnessed—is notoriously unpredictable. For prospective franchisees on the more cautious end of the investor spectrum, who are looking for a business that can survive unpredictable market volatility (and a potential recession or depression), there are many recession resistant franchise opportunities to consider.
In fact, people tend to turn to franchising in times of a strained economy (as well as in times of prosperity)."Franchising has historically done well under most economic conditions," said Franchise Business Review CEO Eric Stites. "During boom periods, the fear of missing out on a great business opportunity fuels strong franchise growth. During a downturn, on the other hand, the fear of job loss and financial security drives many people to take control of their own futures by investing in a franchise business."
On this year's Top 200 Franchises list, there are many recession-resistant businesses in a few specific industries known to fare well during economic slumps and in prosperous times. Cleaning and maintenance, health and senior services, information technology, and automotive repair are all traditionally recession-resistant sectors.
Of course, just because a franchise business is in a recession-resistant industry does not mean it's a sure bet. You still need to do thorough due diligence on the brand before you invest to ensure they have a track record of success and a solid growth plan.
"The best thing about home cleaning is that it's NOT trendy. Cleaning will never go out of style," said Park. "We plan to stay relevant by always having a top-notch marketing plan, state-of-the-art technology, and most importantly, hiring people who are passionate about MaidPro and helping others."
Challenges in Franchise Ownership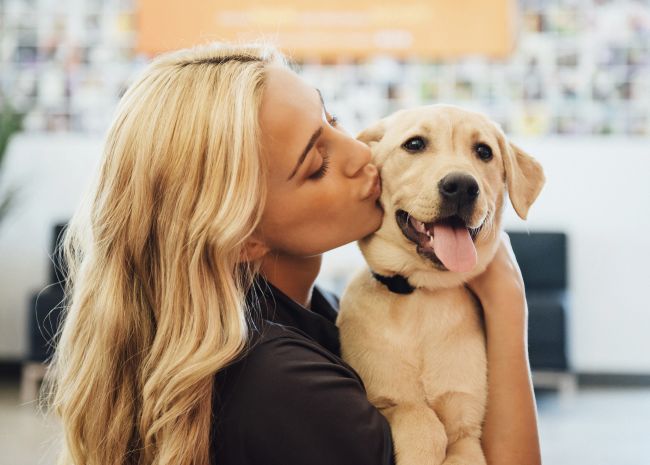 Dogtopia franchisee
Franchising offers many benefits for many people, but even the most satisfied business owners will face challenges. One common challenge we heard about from franchise owners this year was recruitment and staffing.
"The biggest challenge for us has simply been the really tight employment market," said Erin Gilliam from Miracle Method. "Unemployment is at a record low and hiring good employees can be a challenge." Sprankle, who owns a MaidPro, echoed Gilliam saying, "The biggest challenge in our line of business is recruiting and retaining quality employees."
For both Gilliam and Sprankle, the support from their franchisor has been invaluable in addressing this challenge. "MaidPro as a franchise is aware of this as an industry-wide issue, and provides focused resources toward helping owners overcome these challenges," explained Sprankle. "MaidPro provides regular best practice tips and outside-the-box ideas on all aspects of the recruitment process. They have also implemented various employee programs and benefits offered through the franchise to assist with employee retention." Gilliam said that at Miracle Method, the corporate office focuses on positive team culture and morale building to attract and maintain good team members. They also provide resources and training on how to hire.
Holly Stewart, who owns a Two Men And A Truck franchise in South Cobb County, Georgia says that they face many challenges including staffing, which is to be expected as a small business. Not only do they rely on the Two Men And A Truck corporate office to always be there when they need them, but also their larger franchise community. "One of the best assets of being part of this franchise system is the access to an entire network of business owners in the same industry," she said. "We rarely face a challenge that's unique, so being able to see how others have navigated the same challenges and learn from their successes and failures has been huge."
At Brightway, the corporate team recognizes that recruitment is a real challenge, which is why they recently invested in a new tool that helps franchisees assess talent from outside the industry by measuring sales and cognitive ability. The have also benchmarked the tool using their most successful agents. "We believe this tool, which we make available to franchisees at no cost, will revolutionize both how we recruit and the level of talent we hire," said Magda.
Even at the franchisor level, recruitment is a challenge. At Naturalawn, they are looking to solve the talent challenge by focusing internally. "We've worked to overcome this [recruitment] by adding management training programs to tenured employees and offering incentives to employees who may one day want to own their own franchise. Promoting from within has helped make new people available to manage or own operations while also elevating their careers."
Despite challenges, franchisees at these top brands report high levels of satisfaction.
Are You An Ideal Franchise Owner?
NaturaLawn of America franchisee in Lousiville, KY
According to several franchisors we interviewed for this article, the best franchisees are those who are motivated, passionate and true achievers. In addition, they have strong leadership skills, business acumen and are looking to make a difference in their communities.
You may think you will be a fantastic franchisee, but will the franchise system you wish to join agree? Most franchisors agreed that the best franchisees are not just looking for a job, they are looking for a career, and they are highly motivated to make their next venture a successful one.
"Our ideal franchisee is an individual who is motivated, kind, and passionate," said Park. "Education about the business can be taught, but their drive to make the business successful is what makes a great franchisee."
Just as important as passion is business savvy.
Our franchisees are looking to build an economic engine and scale their business, leveraging the support Brightway provides," said Magda. "We want go-getters who want to make a difference in their local communities by helping friends and family protect their financial futures." O'Kane agreed, saying, "I think it is fair to say we definitely look for competitive franchise entrepreneurs who want to win in business and in life!"
Beyond smart business men and women, franchisors are looking for people who are quite simply, kind people and who are lifelong learners. "The best franchisees excel at developing and leading a team," said Kaniss. They have grit and tenacity, a passion for being servant leaders with their team and community, and they know how to positively influence other people. A great franchisee is coachable and willing to learn, and cultivates an exciting, positive, and uplifting culture."
Ready to Ring in 2020 as a New Business Owner?
Starting any new job or business involves risk, and franchising is no different. There is certainly risk that comes with buying a franchise, despite the fact that many opportunities are proven and time tested. But, with the right guidance and thorough research, you'll be able to drastically reduce your risk and position yourself for success.
As a prospective franchisee, our annual Franchise Business Review Top Franchises guide is a great place to start your research. Over the past 18 months, we have surveyed nearly 28,000 franchisees to find out exactly how satisfied they are with their franchise business. We've researched hundreds of different brands and our Top Franchises list this year includes the best of the best that franchising has to offer. You can use this list to narrow down your options.
We wish you the best of success in your franchise journey!
You can learn more about top brands on this year's list and access additional information here.