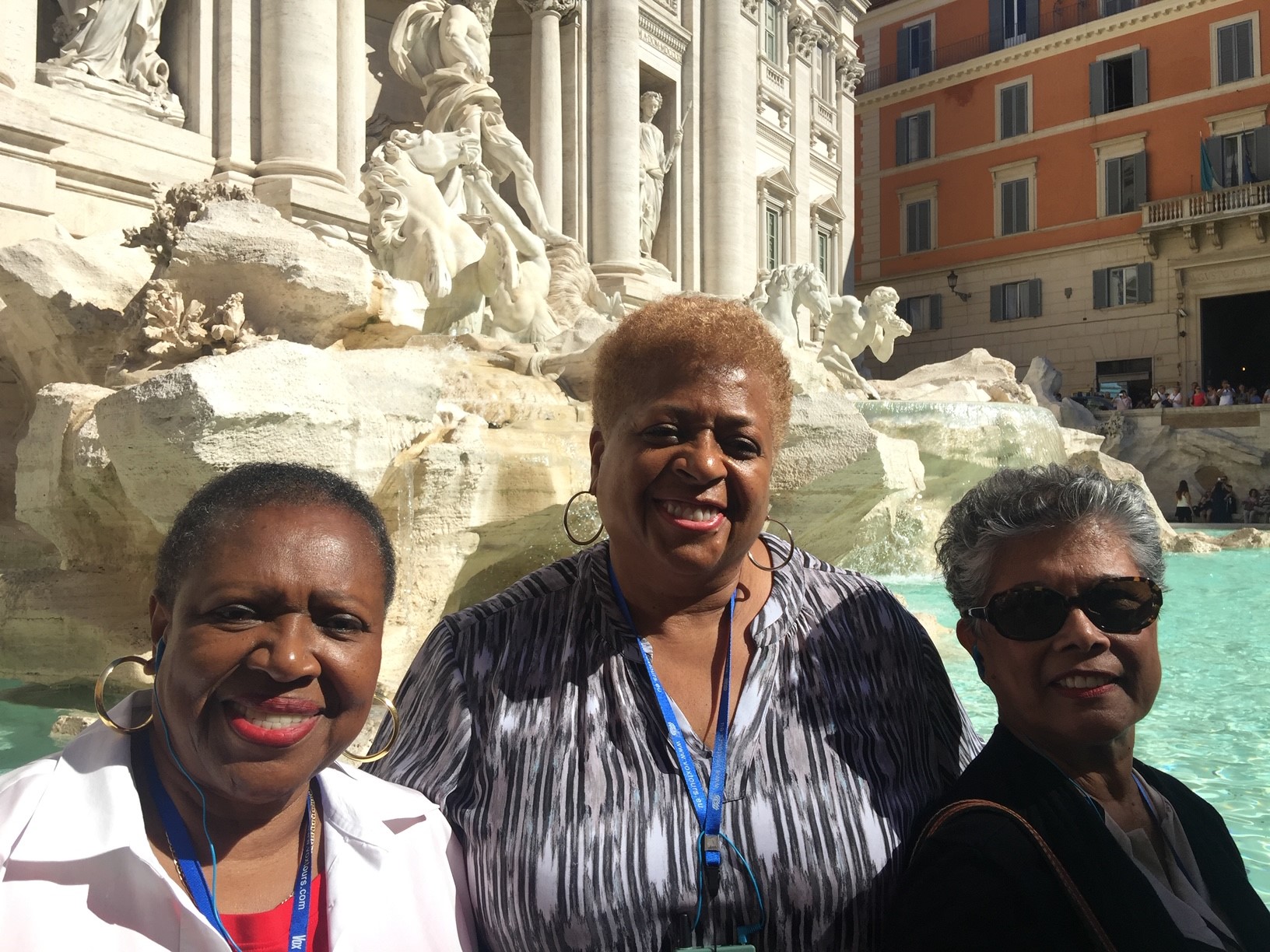 Pictured above: Val Dorsey (center), a Cruise Planners representative out of Royal Palm Beach, Florida.
Sponsored Content Provided by Cruise Planners
Popular franchise brands such as McDonalds, Wendy's and Chick-fil-A have helped make the food and beverage industry the most popular franchise segment on the market today, representing 37% of all franchise establishments. But, with franchise fees ranging from between $25,000 and $50,000, and initial investment costs totaling anywhere from $1 million to $3 million, the costs associated with opening up a restaurant franchise can be out of reach for many entrepreneurs.
The good news is that you don't have to invest in a franchise sector that requires you to sink hundreds of thousands of dollars into upfront fees, inventory, or real estate to get a good return on your investment. Many other franchise sectors –such as fitness, education and travel –require much lower investments. However, just because a franchise comes with a smaller price tag, it does not mean that it's a sure bet, or that there aren't other costs associated with joining that franchise. Just as you would for any business, you must consider several factors before you decide to invest in a low-cost franchise.
Decide How Much You Can Afford To Invest
While low-cost franchises might seem especially appealing if you are bound by a tight budget, you should be careful to invest in a business that appeals to your interests and skills. It's also important to remember that just because a franchise charges a low franchise fee, it does not necessarily mean you won't be responsible for royalties or other payments. As you would for any business, you will need to access cash and may need to rely on other sources of income during your first few months of operation. Some options for financing include: Rollover for Business Startups (ROBS), Small Business Administration (SBA) loans, home equity loans, a second mortgage, financing through the franchisor, or just using money from savings.
There's a simple way to understand what costs may exist before you invest. In order to get the best sense of what your initial startup and ongoing costs will be, you could start by looking at the Franchise Disclosure Documents associated with the brands you are most interested in pursuing. These documents can provide insights on costs such as:
Initial fees (franchise fees and any special programs for veterans or other groups.)
Other fees, which could include:

Royalties
Marketing and advertising fees
Renewal fees
Late fees
Training fees
Consultation fees
Franchise Disclosure Documents can also give you some insight into a franchise's ROI. In Item 19 of the FDD, you might receive an expectation of how much money you could expect to make, based on the performance of other franchisees. On the other hand, if an FDD's Item 19 contains no such information, you must seek it out through interviewing existing franchisees. Today, only about 25% of franchisors provide some type of limited performance representation, according to the FDD Exchange. 
Research Franchise Opportunities That Fit Your Budget
With so many brands to choose from, beginning to research all of the low-cost franchises available can be overwhelming. Each year, Franchise Business Review publishes a list of Top Low-Cost Franchises to help would-be investors narrow down their options. This list is compiled based on unbiased feedback from actual franchise owners, which means that investors hear directly from other franchisees about the pros and cons of owning a particular franchise. This year, FBR surveyed more than 15,000 franchisees from 153 of today's leading franchise brands to determine the best low-cost franchises.
One of the franchises that made this year's list, Cruise Planners, an American Express Travel Representative, requires an initial investment as low as $2,295 (going up to $23,995) and a franchise fee that ranges between $695 and $10,995, depending on your level of travel experience.  The company, which has been franchising since 1999, operates more than 2,800 franchises across the United States.
Related Reading: How You Can See the World, Make a Difference and Start a Career in Travel
Michelle Fee, founder of Cruise Planners, said her company built its business model to be accessible to anyone with a passion for travel and a desire to be their own boss.
"Typically, starting a business can be very cost-prohibitive—you have to pay for an office, a website, technology, marketing….the list goes on," she said. "That's why we keep our franchise fee so low. But don't mistake low cost for low value—with Cruise Planners, it's the complete opposite. We are 100% committed to helping our franchise owners succeed and re-invest back into the business to provide industry-leading training, business development coaching, and an award-winning marketing program."
Cruise Planners' agents last year gave their franchise high marks across the board, including in categories such as financial opportunity and general satisfaction. Franchisee feedback is an essential piece of the puzzle; in addition to conducting secondary research from trusted sources, you should reach out to franchise owners directly and get their perspectives on what it's like to operate the business on a day-to-day basis.  There are several questions you should ask franchisees before you buy. Some of them include the following:
Perform Your Own Due Diligence
Val Dorsey, a Cruise Planners representative out of Royal Palm Beach, Florida, joined the company in 2011 after a 24-year sales and customer service career with GlaxoSmithKline. About a year out from taking a voluntary retirement from her corporate career, Dorsey found herself looking for new opportunities. She decided to consider franchising after learning more about it in one of her outplacement classes, where she was introduced to a Cruise Planners representative. A positive recommendation from a colleague at Club Med sealed the deal for Dorsey, who later met Dan Hicks, vice president of franchise development for Cruise Planners.
"I really enjoyed talking to him (Hicks) and appreciated him being honest with me about what it (being a Cruise Planners franchisee) entailed. When I was doing my own due diligence, I found that Cruise Planners was highly rated, positively spoken about, and that they would give me a military discount," Dorsey said.
Prior to starting a travel agency, Dorsey had traveled to Hong Kong seven times, as well as to China, Italy, and Spain. She had also studied languages and traveled with the Air Force Reserve when she worked as a nurse earlier in her career. By joining Cruise Planners, Dorsey was able to marry her passion and knowledge of travel with years of professional customer service experience.
"My friends ask me why I am working so hard in my retirement and I tell them that I like to be successful. I enjoy talking about travel. Enjoying what you do after you leave a career is important," she said.
Related Reading: Looking for the Perfect Encore Career? Get Onboard with Cruise Planners
Because Cruise Planners required a low initial investment, Dorsey said that she was not worried that she'd lose a significant amount of money if she ended up not enjoying the business. During her first year, she spent more time learning the ropes and even invested in her own business coach to help her scale up more quickly. Now she's spending most of her time selling luxury travel, helping her clients design customized vacations that for one client included a week in Morea, a week in Dubai, and a week in Paris.
"Low-cost is always relative to how much money you have. My advice: when you are looking around at different companies, decide which one is the best long-term investment," Dorsey said.
Cruise Planners helps agents hit the ground running, by supplying the back-end systems, training, marketing support, vendor relationships, and years of expertise you wouldn't get working on your own, Dorsey said.
"If you amortize what joining Cruise Planners costs you, it's very, very inexpensive," she said.
Cruise Planners attracts professionals from a variety of backgrounds, Fee said, from stay-at-home parents looking for flexibility to corporate employees looking to get out of the rat race to pursue their passion, to active retirees like Dorsey.
Nearly 20% of all Cruise Planners franchisees are owned by veterans, who are well suited to the job, thanks to the travel experiences many gained in the military, their dedication, and proven ability to follow a process. Fee said Cruise Planners is "forever grateful for the sacrifices veterans and their families have made to protect our freedoms," and even offers a discount off of the franchise for qualified veterans.
"Our franchise owners come from all different backgrounds and are motivated for different reasons. Being a low-cost franchise, we are an accessible option to almost anyone. This allows us to have a very diverse group of franchisees who come with all variations of life experiences. But what they all have in common is a tremendous passion and knowledge for travel," she said.
Zero In On Your Business Goals
Are you willing to dedicate more than 60 hours a week to meet your goals? Do you want to operate a franchise that offers flexible hours, or even gives you the option of working part time? Do you need to invest in office space, or would you rather work from home? Being honest with yourself and about the amount of time it will require you to make a return on your low-cost franchise is critical.
Cruise Planners allows its franchisees to work from home full-or-part time – or anywhere else in the world they are able to serve their clients. Because Cruise Planners is a low-overhead business, franchisees are able to ramp up quickly. They also have the freedom to scale their business as it fits their lifestyle.
"This greatly helps reduce the initial franchise investment as well as the ongoing operating expenses," Fee said. "You don't have to rely on loans to get your Cruise Planners business up and running, and when you're not saddled with debt, you have a much greater chance to reach profitability faster."
Dorsey, who already had a sales background, said she spent her first year immersing herself in the travel business. She also joined several organizations and put a lot of effort into networking. She credits Fee and the corporate team for making themselves available to franchisees and sharing best practices. For example, each franchisee receives his or her own dedicated coach, who helps navigate them through all aspects of the business.
"I have a coach I can call and can say, 'I really want to up my business this year,' and they can tell me, 'Here are some things that you can do," Dorsey said. "But they are your own goals and you are the master of your own fate."
This year, Dorsey has set new, ambitious goals. After traveling last year to both South Africa and Japan, she's excited to share her experiences there with her clients. She's still very happy to be a part of the Cruise Planners family and is excited to keep learning more.
"Everything about it fascinates me," she said.
Interested In Navigating A Career With Cruise Planners?
The travel industry grew by 4.5% between 2014 and 2019. Travel has become more accessible to the average American, who use travel agents to book hotels, air, cruises, all-inclusive vacations, and escorted land vacations. While internet research can aid in travel planning, it can also prove to be overwhelming for many. That's why more travelers are turning to experts who can provide them with vacation options, unadvertised discounts, and trusted advice.
"As the desire for amazing vacation experiences continues to grow, the need for travel professionals to help cut through the clutter and complexity and plan truly personalized trips also grows," Fee said.
Furthermore, unexpected illnesses, travel delays, or other crises can arise during travel. If something unforeseen should interrupt your trip, a dedicated travel agent can provide you with invaluable services and act as an advocate, should you need to change or cancel plans.
"Because of our volume and great reputation in the industry, the Cruise Planners name helps the 'little guy' have a much bigger voice with supplier partners should they need to get involved."
Related Reading: The Heart of a Travel Agent, the Drive of a CEO: How Michelle Fee Built the Cruise Planners Franchise
Cruise Planners® was founded in 1994 by Fee, along with two travel industry veterans in Coral Springs, Florida. Its executive team has more than 150 years of combined experience in the travel industry. Named one of the top 200 franchise opportunities for 2019 by Franchise Business Review and the No. 1 travel franchise to own by Entrepreneur magazine, Cruise Planners is a home-based travel business offering cruises, guided land tours and all-inclusive resort vacations to customers throughout the United States. Its nationwide network of more than 2,800 home-based travel agents, who enjoy open territories, can sell travel to anyone in the United States.
Becoming a Cruise Planners business owner is attainable for most people since it is one of the lowest-cost franchises you can own.
Your Investment:
Franchise fee: Ranges from $695 to $10,995, depending on years of previous travel agent experience. Seasoned agents pay as little as $695; intermediate agents pay $3,900, and new agents pay the full $10,995.

Special programs for veterans: 28% off franchise fee, free training for you and your co-associate, including airfare up to $500, one-year of errors & omissions insurance for you and a co-owner or associate, and some additional marketing perks

Total initial investment: $2,295 to $23,617, which includes an annual access fee, errors and omissions insurance, start-up marketing costs, and administrative and professional fees.
Royalties and other fees:  Franchise owners pay a monthly administrative fee of $59 and a royalty ranging from 1%-3% of gross commissionable sales.
What You Receive:
STAR University, a 6-day in-person training in Ft. Lauderdale, Florida.
A personal business development coach who provides ongoing one-on-one coaching to help you establish the business.
Access to Cruisitude Academy, an online learning platform that houses hundreds of training videos and learning experiences.
Proprietary online booking services through CP Maxx, the best CRM in the industry.
What You Can Expect to Make:
While the amount you make will vary according to how many hours you work and how much effort you put into selling your services, Item 19 of the Cruise Planners Franchise Disclosure Document reports that in 2018, 1,787 active outlets sold an average of $237,978. (Of those, 557 achieved or surpassed that amount in sales.) The median sales total of that same group was $137,171.
You don't need to be a world traveler to successfully steer your way to success; you just need to share a passion for travel and a desire to bring excellent customer service to clients planning land and sea vacations. If you have an entrepreneurial spirit and are ready looking to launch a career that will let you see the world, Cruise Planners could be right for you.
For more information about franchising with Cruise Planners, you may call (844) 914-0787 or visit www.CruisePlannersFranchise.com.