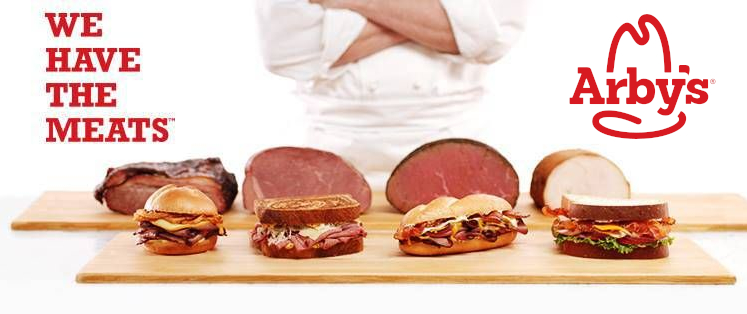 "We have the meats!" You can almost hear the booming voice coming through your television as a meat mountain sandwich or one of their famous roast beef sandwiches takes over the screen. The humorous tagline feels synonymous with the Arby's franchise, but the multi-meat mantra wasn't dreamt up until 2014 after Paul Brown took over the struggling sandwich chain. After more than six decades in business, the chain found itself in need of diversity. This new tagline was meant to remind customers that Arby's offered more than roast beef. In fact, they now offered 8 different kinds of meat.
But Arby's initial success was thanks to one meat and one meat alone. Back in 1964, the fast-food burger business was booming. So, in an effort to offer a tasty and quick-serve alternative, Leroy and Forrest Raffel, decided to focus their endeavors on a different kind of beef: roast beef. Their bet on the other beef was a success.
Today, there are more than 3,400 Arby's restaurants in 48 states and 8 countries outside the U.S. Its parent company, Inspire Brands (owned by Roark Capital Group) is the fourth largest restaurant chain in the United States with $14.6 billion in systemwide sales. In addition to Arby's, Inspire Brands owns other well-known franchises such as Buffalo Wild Wings, Jimmy Johns, Sonic, and the Rusty Taco. Most recently, they announced their plans to purchase Dunkin Brands Group Inc, (which includes Dunkin Donuts and Baskin Robins) in a deal estimated at $11.3 billion, making it the second-largest acquisition of a North American restaurant chain in the last decade, according to the Wall Street Journal.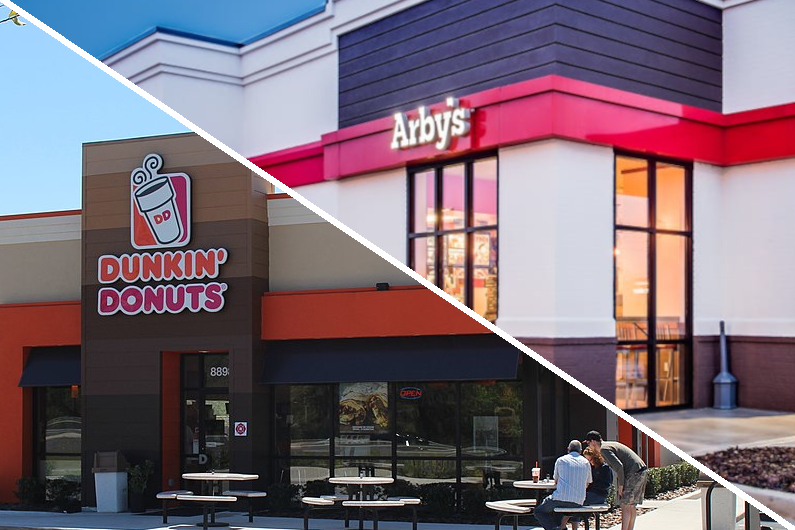 Besides the size of the deal, the timing is especially attention-worthy, as the restaurant industry struggles with the ongoing effects of COVID-19. The pandemic has hit the restaurant industry hard, causing 1 in 6 restaurants to close since April, which may have you second-guessing an investment in one. But, if becoming a restauranteur is your dream and you're willing to take a long view, similar to the owners of Inspire Brands, a quick-service franchise could be a good option. Franchising can offer greater support than independent businesses and a quick-service food franchise could be a more viable opportunity than starting something from scratch, especially in today's volatile climate. During economic downturns, as unemployment rises, more people turn to franchising, seeking a quicker ramp-up period and the support of the franchisor.
Nevertheless, if you're considering a food franchise, there has never been a more important time to do your research and seriously consider the risks and opportunities associated with such an investment.
Is an Arby's Franchise Profitable?
Pre-COVID, the story of the Arby's franchise was a positive one. But, a decade ago, sales and margins were not looking so hot for the roast beef business. "When the financial crisis hit, Arby's suffered badly," reported Forbes. "Sales and margins shrank for three straight years, from 2008 through 2010."
The turnaround came in 2013, when Paul Brown, who was the former president of Hilton Worldwide, was hired as the CEO. Brown instituted a brand refresh and introduced the innovation that was desperately needed; innovation like the brisket sandwich and the meat mountain, just two of the thousands of new menu items Brown debuted. "He moved preparation of the 13-hour smoked brisket sandwich to the front of the kitchen so the customer could see it being sliced. He began testing a dozen new items a year, up from two and launched each new sandwich at a discount. Only those that secured a minimum of 3% of gross sales were moved to full price," according to Forbes. Four made it, including the Smokehouse Brisket, which lifted sales 12% when it launched in 2013."
By 2016, "Arby's returned to net restaurant growth for the first time since 2008, opening 60 new restaurants nationwide and remodeling 229 of its existing locations," as reported by CNBC.
Today, Arby's reports EBITDAR (earnings before interest, taxes, depreciation, amortization, and rent/real property costs) of $246,192 per restaurant, according to Arby's Franchise Disclosure Document for 2020. This data is based on 1,111 units. In 2019, the company had $4 billion in sales across 3,500 locations.
How Much Does It Cost to Open an Arby's Franchise?
If you're looking to lean into a struggling industry, an Arby's franchise could be a good option, especially considering the successful track record of the two men at the helm, Brown and Aronson. Not only that, but you could save some money right now, with a waived franchise fee ($37,500) and a discounted royalty charge of 1% down from 3%.
Here's what it will cost to purchase an Arby's franchise including fees: 
Estimated Initial Investment ranges from $628,950 – $2,205,600
Liquid Capital Minimum: You'll need a minimum of $500,000 in liquid capital and a net worth of at least $1,000,000.
Development Fee: $12,500 per traditional restaurant ($6,250 for vets)
Royalty: 1% of gross sales for the first 12 months (normally 4%) for traditional restaurants
Franchise Fee: Waived franchise fee (normally $37,500)
Advertising, Marketing, and Service Fee: 4.2% of gross sales
Renewal Fees: 10% of the applicable standard license fee
MTP Training Program Fee: $1,700 per attendee (no fee for 3 managers in your first restaurant and 1 in your second)
Learning Management System Fee: $59.22 plus tax per year for each Arby's restaurant in your portfolio
ESTIMATED INITIAL INVESTMENT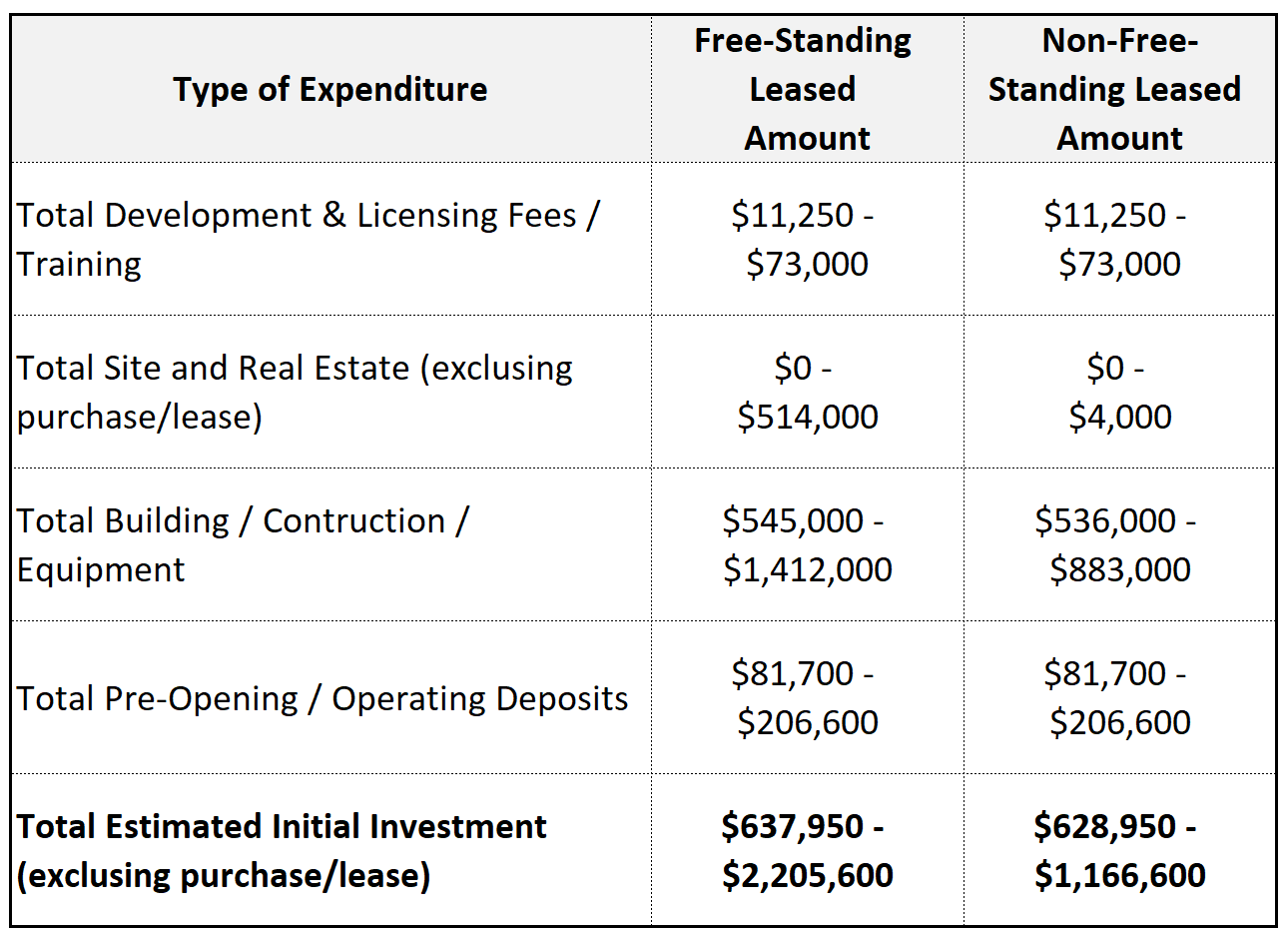 DEVELOPMENT AND LICENSE FEES

SPECIAL INCENTIVES FOR VETS
Arby's is a member of VetFran, a program designed to provide career opportunities for honorably discharged military veterans or wounded warriors. As a member, Arby's offers vets 50 percent off the standard development fee (normally $12,500, but only $6,250 for vets) for each restaurant you agree to develop, a waived initial license fee, and a reduced royalty fee of 1 percent of gross sales for the restaurants first 12 months in business.
INCENTIVES FOR MULTI-UNIT DEVELOPMENT
If you're an experienced restauranteur and are looking to open multiple Arby's, you're an ideal candidate. The ideal Arby's franchisee has "extensive experience as a multi-unit restaurant operator and a desire to open multiple Arby's restaurants." In fact, to encourage multi-unit development, Arby's offers the Development Incentive Program (DIP) for franchisees who agree to develop one or more traditional units. Through this program, you'll receive discounted royalty fees and waived license fees depending on the number of units you open. The Select Market Development Incentive Program (SMDIP) is another option to receive discounted fees when you open multiple units within a select market as defined by Arby's. Finally, there is the Proximity Incentive Program for current Arby's franchisees, who are interested in opening additional restaurants within a 2.5-mile radius of an existing Arby's.
Training for New Arby's Franchise Owners
One of the benefits of purchasing a franchise is the system you are buying into. As a new franchisee, most systems offer training so you can get up to speed quickly on the ins and outs of the business. At Arby's, new franchisees are required to attend a "New Franchisee Orientation (NFO)," which is a one- or two-day orientation program in a classroom setting. There is no cost for this program aside from travel, meals, and lodging expenses.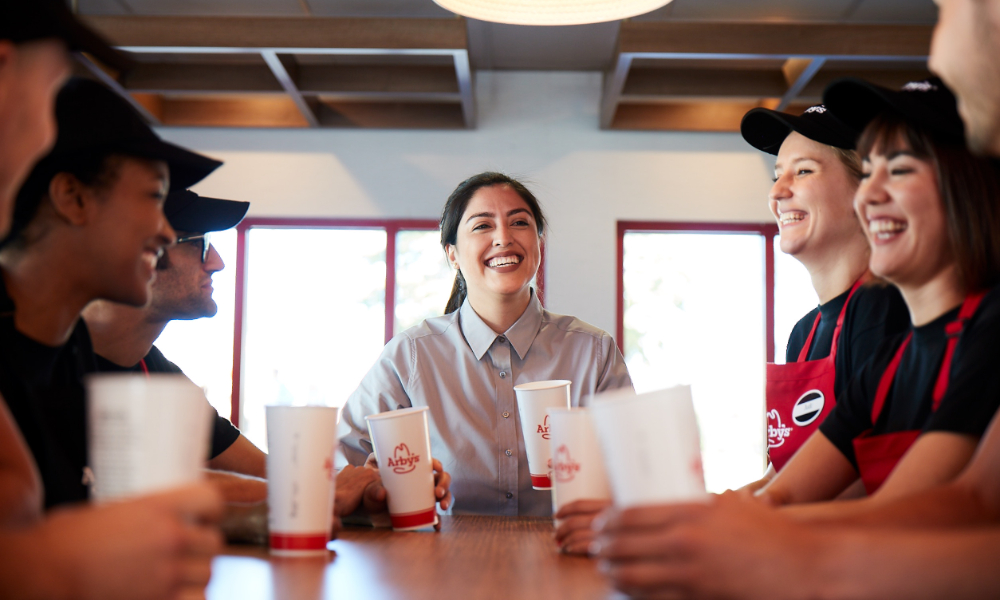 For each of your first and second restaurants, you must employ at least 3 managers who have completed the "Manager Training Program (MTP)" at an NCTR. The MTP is 6 weeks long. For more details on the subject matter covered during the training, you can review the training schedule in Arby's FDD. There is no training fee for the first 3 managers from your first restaurant and 1 manager from your second, aside from travel, meals, and lodging expenses.
Arby's Franchise Unit Growth
In addition to researching the brand's history, costs & fees, satisfaction ratings, and past profit & loss statements, you should also consider the mix of franchisee-owned locations versus company-owned locations, which can be revealing. Arby's for instance has been growing its share of company-owned stores as it shrinks its share of franchised stores, albeit very slightly and with franchised units still far outweighing company-owned, according to their 2020 FDD. While this may at first raise a red flag, the numbers may actually tell a story of strength.
"By holding onto its units, and even acquiring locations in company-operated markets, Arby's is benefiting from the sales growth. But it's also demonstrating confidence to the chain's operators," wrote Nation's Restaurant News. According to their 2016 article, "when franchisees decide to move on from a business, there is a good chance Arby's may swoop in to purchase the restaurant rather than refranchising it. 'It sends a very strong message,'" John Bowie, then chief operating officer of Arby's told Nation's Restaurant News. "'Every one of them knows we're not in the business to drive top-line sales and generate royalty. They know we generate a substantial amount of income from the 1,000 restaurants we operate.'"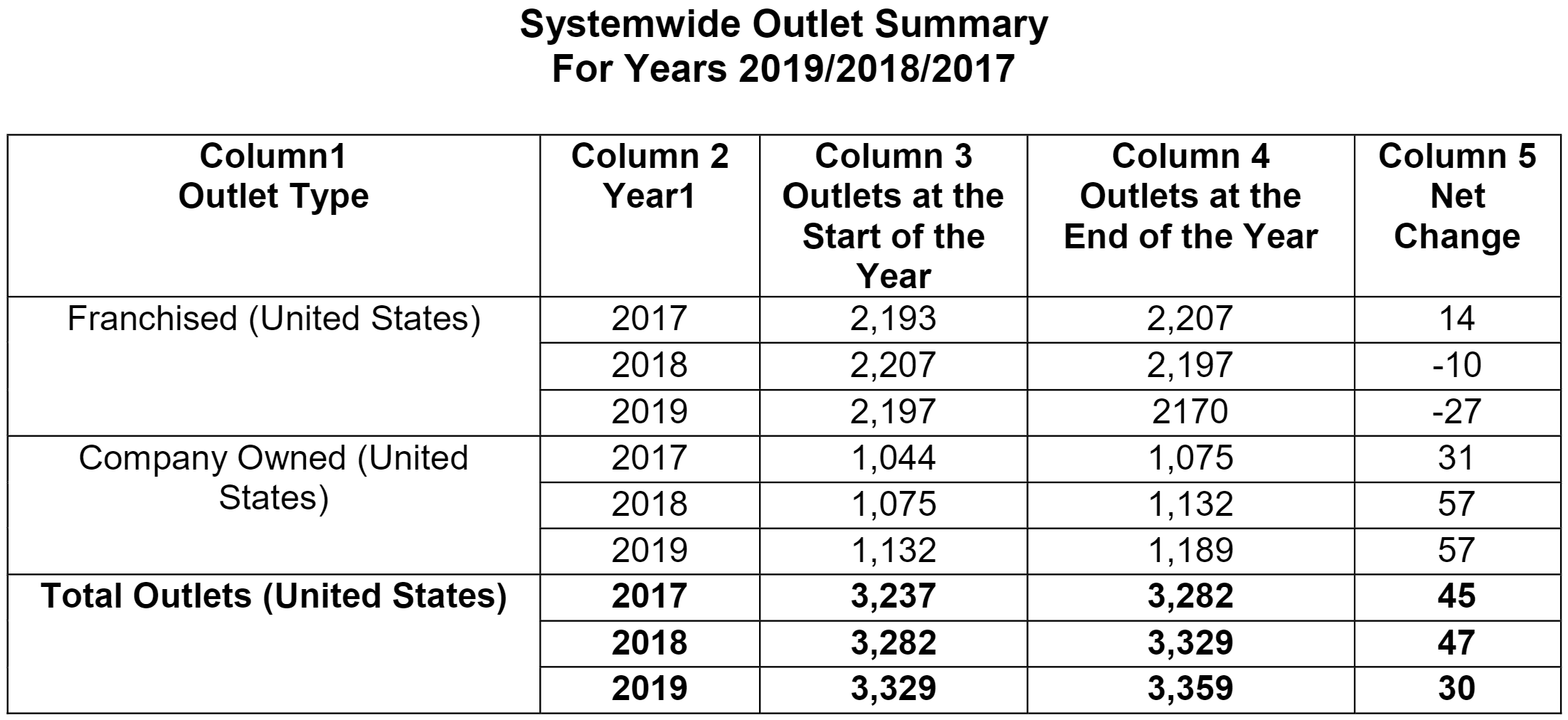 Looking forward, projections from Arby's 2020 FDD signal a shift as the brand looks to grow its franchise units, with 70 new franchised U.S. outlets and 20 new company-owned outlets forecasted for 2020. How this has actually played out due to the pandemic hitting in March, has yet to be seen.
Arby's Franchise Alternatives
If you're still weighing your options and would like to consider other franchise opportunities in addition to Arby's, there are several top-rated brands in the food and beverage category. There are also many top-rated franchise opportunities with lower initial investments, that may prove appealing to more cautious investors.
Here are a few of the top-rated franchise brands on Franchise Business Reviews Top 200:
FOOD FRANCHISES
Checkers and Rally's is as all-American as the NASCAR races its iconic checkered flag design evokes, serving up hot dogs, hamburgers, and milkshakes since 1986. They offer financial incentives for military veterans and were included on this year's Top 200 Franchises to Own.
Recently named a Top Food Franchise by Franchise Business Review, A&W is back! You might associate A&W with its root beer floats, but this franchise is also responsible for inventing the bacon cheeseburger back in 1963. The chain is credited with creating the drive-in restaurant phenomenon of the 1950s and 60s. Today, there are about 1,000 restaurants around the world, with almost 600 in the U.S. A&W offers reduced royalty fees for new owners and was on this year Top 200 Franchises to Own.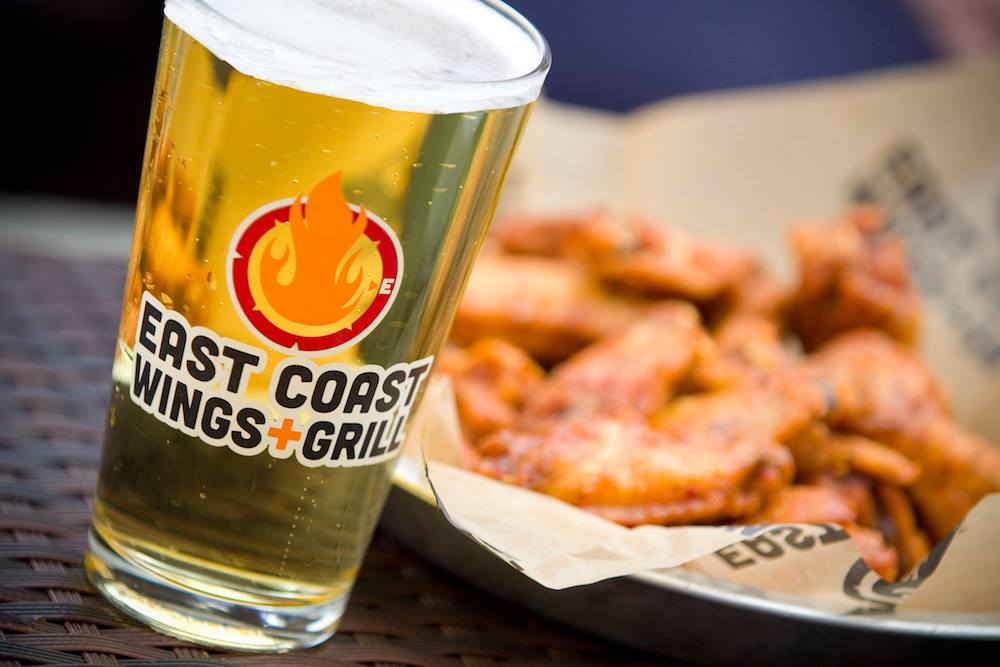 If you are looking for a casual dining restaurant that gives guests a taste of everything – including chicken wings, sandwiches, burgers, ribs, and appetizers – East Coast Wings + Grill might be a sizzling option. The North-Carolina-based franchise is small – with only 36 units – but began franchising in 2003. East Coast Wings & Grill is an emerging brand that was on this year's Top 200 Franchises to Own and Top Innovative Franchises.
Its tagline is "Enjoy More Subs. Save More Lives." Founded in 1994 by Chris and Robin Sorenson – two brothers who come from a family of firefighters – the fast-casual restaurant has doubled from 500 units to more than 1,100 in the past 8 years, according to QSR Magazine. It took years for the fire to spread, but today Firehouse Subs can be found across the country, between Maine and Alaska, with opportunities available in Canada, too. Firehouse Subs has seen incredible growth and hopes to keep the momentum going. They were named to this year's Top 200 Franchises to Own.
View the full list of Top-Rated Food and Beverage Franchises
SENIOR CARE FRANCHISES
Visiting Angels is a non-medical, private duty home care agency that prioritizes enriching the quality of life for millions of seniors across the country. There are more than 600 Visiting Angels agencies across the country. Today, their services are in high demand as seniors prefer to age at home and avoid crowded nursing facilities. Visiting Angels has strong brand recognition and was named to this year's Top 200 Franchises to Own.
Right at Home currently serves clients in 8 countries, with over 600 locations in operation and is one of the largest home care franchises in the world. They serve seniors and the disabled, providing in home-care so they can retain their independence. Right at Home can also boast strong company culture and was named to our Franchise Culture100 Awards list and named a Top Franchise for Veterans.
FirstLight Home Care is an in-home, non-medical, personal care service offered to seniors, new mothers, disabled adults, and others. Since its inception in 2010, they've awarded more than 230 territories in the United States and have no intention of slowing down. They've also received numerous awards, including ranking among Entrepreneur Magazine's Top 500 Franchises, Forbes' Best Franchises to Buy Lists, and Franchise Business Review's Top 200 Franchises based on franchisee satisfaction.
Qualicare specializes in caring for people with complex health issues, from Alzheimer's to progressive neurological challenges. They offer family homecare plans and nurse-managed care. Qualicare was named to this year's Top 200 Franchises to Own.
View the full list of Top-Rated Senior Care Franchises
CLEANING FRANCHISES
Office Pride is a faith-based franchise and an industry leader in commercial cleaning and janitorial services. As the country looks to return to the office, Office Pride's services are in high demand. They received high satisfaction scores in the most recent Franchise Business Review survey and they were named to this year's Top 200 Franchises to Own.
Fish Window Cleaning Services Franchise
Fish Window is the leading window cleaning franchise in North America, with more than 275 locations nationwide. They consider themselves to be a recession-resistant business and were named to this year's Top 200 Franchises to Own.
Oxi Fresh Carpet Cleaning Franchise
Oxi Fresh Carpet Cleaning offers non-toxic, powerful carpet cleaning solutions for both residential and commercial clients. They have 385 locations across the country and they invest heavily in technology with a focus on operational automation. This year, they were included on the Top Franchises to Own list.
Image One is a commercial cleaning franchise that uses its Intelliclean™ system to communicate seamlessly with clients. They have low initial investment requirements and are in high demand today as businesses grapple with the pandemic's effect on workplace operations and employee safety. They were named to this year's Top 200 Franchises to Own.
View the full list of Top-Rated Cleaning Franchises.
Franchise ownership is an incredible opportunity for many entrepreneurs, but it also comes with risk. Today, employment prospects are tough. If you find yourself unemployed or worried about job stability down the road, a foray into franchise ownership may make sense. As the food and beverage industry contends with the challenges that COVID-19 has brought, you may find discounted opportunities and long-term potential in the industry.
There are also several industries that are booming in the wake of COVID-19, such as the cleaning and the senior care industries, which may be appealing if you are looking for a "safer" short-term bet. No matter which route you choose, be sure to do thorough research by considering reviews, talking to current and former franchisees, thoroughly reviewing FDDs, and asking the hard questions of the franchisors.
Recommended Further Reading
| | | |
| --- | --- | --- |
| There are several options to finance your franchise; it can be a daunting task to sort it all out. We sort it out for you. | Franchising allows veterans to put their discipline and training expertise to work, but not all franchise opportunities are a good fit for veterans. | Will you excel in a food and beverage franchise? We take a look at the variables you should consider before buying a food franchise. |