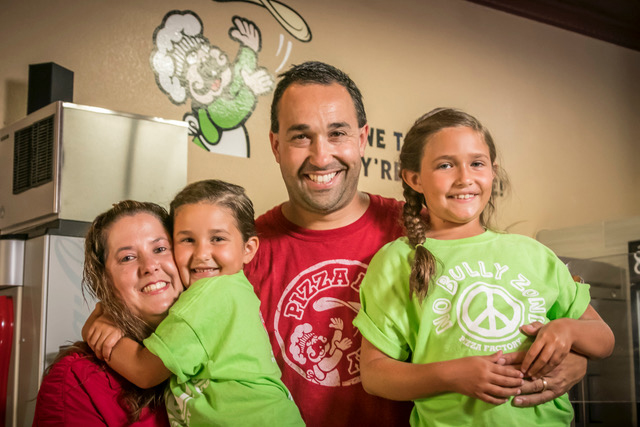 Making the leap into business ownership is a risk, which is why so many people simply dream about it rather than making it a reality. Perhaps an even greater risk is going into business with your spouse or partner. The idea may sound like a good one until you consider the risks. As U.S. News wrote, "To start a business with your husband or wife, you'll attach your family's financial future to a single business entity, which is a risky maneuver. You'll bid adieu to a predictable salary or work schedule. Plus, you could lose out on health insurance, 401(k) matches, and other benefits that a full-time job provides." This article will review the best franchises for couples, based on actual franchise owner feedback and high franchisee satisfaction ratings.
Yet, many have discovered that the reward of going into business with their partner has far outweighed any risks that may have originally deterred them. This may be especially true for those who choose franchising, which can offer a safer avenue into business ownership compared to starting a business from scratch.
Monica Lannacone and Michael McFerron, chose to invest in a Dream Vacations franchise together, which has allowed them to travel the world and pursue a second career while maintaining their jobs in the U.S. military.  "What makes Dream Vacations – Weekend Navigators stand out from other travel agencies is that we really do travel; together we have visited 24 countries in the last year," said Lannacone.
Gary Fotcher and Kathleen Mulligan found great success with their Wild Birds Unlimited franchise and feel grateful to be able to make their business a family one. "We've been fortunate to be able to provide employment to family and friends, who have helped us to grow our business," they said.
Stephanie and Justin Clarey invested in a Two Men And A Truck franchise because they felt the company shared their core values and had a strong brand known for service and care. According to the Clarey's, the decision to go into business was a good one "We love being able to work together! We both bring our perspectives or ideas to the business which makes us better leaders. Having our goals in life and goals in our career align as well as having the same passions, makes our relationship that much stronger," they said.
If you're ready to start investigating franchise ownership with your partner, there are several franchise brands to consider. This year, we compiled the best franchises for couples, based on feedback from current franchise owners.
Top-Rated Franchises for Couples Based on Franchisee Satisfaction Data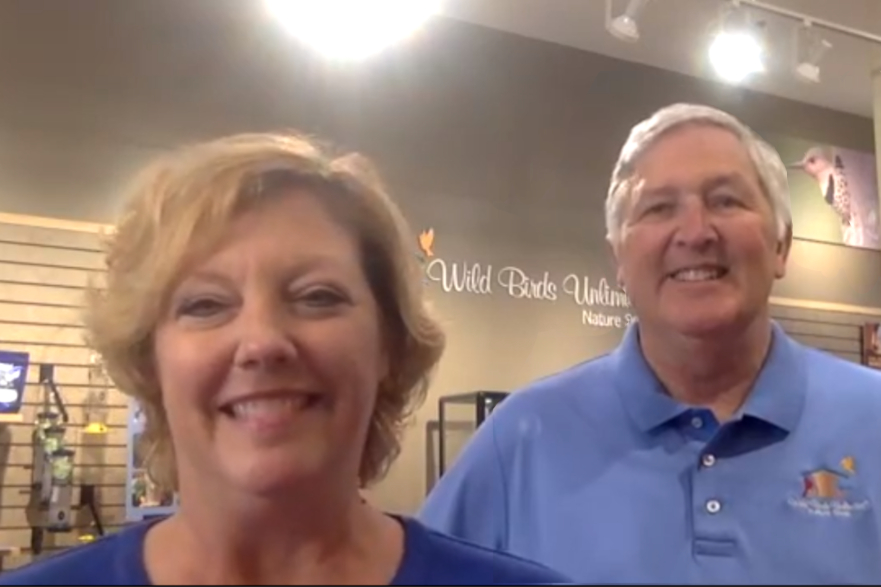 Vikki and Mike Bartholomae decided to purchase a Wild Birds Unlimited franchise after successful corporate careers. "We had met working together and we were looking for an opportunity to work together again," said Vikki. As it turns out, their decision to go into business together by purchasing a Wild Birds Unlimited franchise was a good one. "I am a raving fan of Wild Birds Unlimited. I am thrilled every day that we chose this franchise. It's a well-oiled machine; a class act. They are straightforward and the support is incredible," remarked Vikki. Read their story →
About the brand
With a proven business model of over 35 years and over 340 locations, Wild Birds Unlimited is the #1, largest, and most recognized source for backyard bird feeding and nature-related products in North America. They offer large, protective territories, in-store and on-line sales, and comprehensive training and support.
Learn more about owning a Wild Birds Unlimited franchise.
Arlene and Bill Petersen always knew they wanted to be in business together. In 2003, they opened the doors to their Visiting Angels franchise in South Elgin, IL, drawn by the opportunity to care for people. "We came together and thought we were meant to do this all along," says Arlene: Bill had franchise experience – he had previously managed an automotive franchise – and caretaking is, as Arlene says it, in her DNA after a long period of providing care for her grandmother. "This started with a love story – not wanting to be separated – and, now, we're older and still in love," explains Arlene. "It's personal – it's more than words on a paper."
About the brand
Visiting Angles offers non-medical services to seniors and has blazed the trail for more than 600 non-medical, private-duty home care agencies throughout the United States. At Visiting Angels, they measure success through their "Caring Quotient." Profits are always important but enhancing the quality of life for millions of seniors is their true measure of success.
Learn more about owning a Visiting Angels franchise.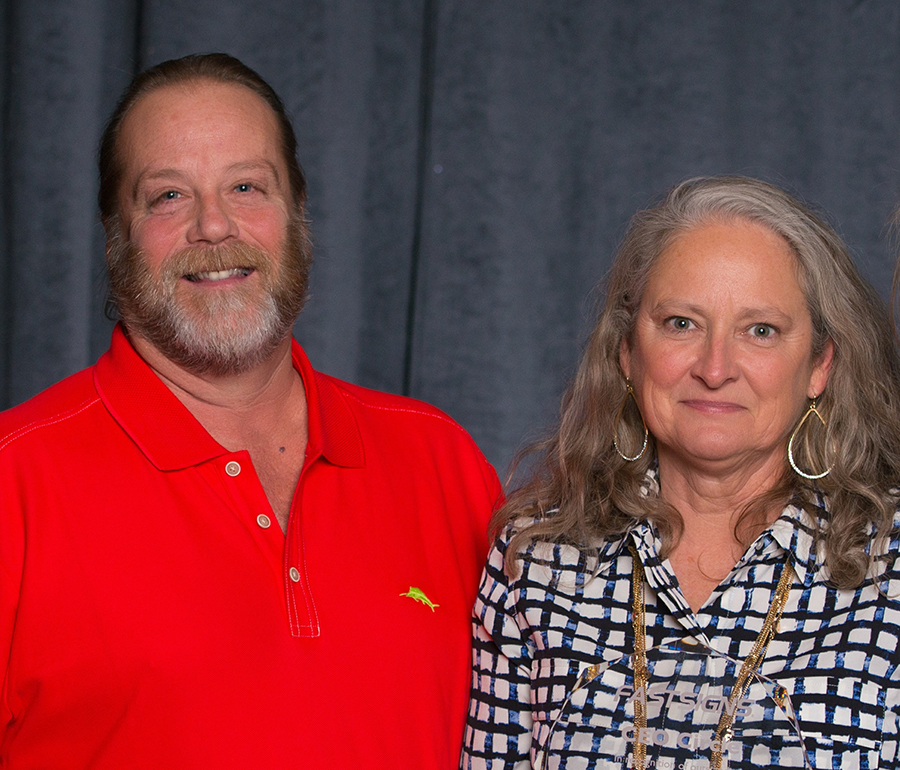 Cindy and Phil Bacon own a FASTSIGNS franchise in Chattanooga, Tennessee who say they settled on the concept because they loved the idea of manufacturing their own product. "To think about where we were when we started, and to look at our center now, is pretty amazing," remarked Phil. "But we are more proud that we have taken our employees with us. They have started families, bought houses, and have been able to purchase medical insurance. We like that we not only grew the business but also a bunch of families."
Read their story →
About the brand
FASTSIGNS International, Inc. is the leading sign and visual communications franchisor in North America, and is the worldwide franchisor of more than 700 independently owned and operated FASTSIGNS® centers in nine countries including the United States, Canada, Chile, England, Grand Cayman, Mexico, Saudi Arabia, the United Arab Emirates and Australia (where centers operate as SIGNWAVE®). FASTSIGNS locations provide comprehensive signage and visual graphic solutions.
Learn more about owning a FASTSIGNS franchise.
Mr. Electric
Tammy and Garret Weeks opened their Savannah, Georgia, Mr. Electric franchise in 2008. Garret had worked as an independent electrical contractor for a decade prior, a private company that Tammy managed. But the couple found themselves drawn to the opportunities franchising offered: "At the time, we wanted a business that we could one day sell," recalls Tammy. "We wanted a business to continue even after we weren't a part of it anymore." Their timing was perfect: Soon after signing their franchising contract, the 2008 economic collapse shuttered countless independent, small companies; Tammy and Garret found themselves supported by their new franchise network. "We know exactly what's going on in our business," Tammy notes. "I like that we're on the same team. It connects us in a way."
About the brand
Since 1994, Mr. Electric® has specialized in electrical installation and repair for both residential and business customers. Mr. Electric's® independently owned and operated franchises now serve customers from nearly 200 locations across the globe. As part of Neighborly® Mr. Electric® is backed by one of the most successful organizations in franchising. Franchisees may choose to open a new business or convert an existing electrical business.
Learn more about owning a Mr. Electric franchise.
A&W Restaurants
About the brand
A&W Restaurants is America's first and oldest restaurant chain. Founded in 1919, A&W still makes root beer fresh in each restaurant and served in a frosty mug alongside 100% U.S. beef burgers, hand-breaded chicken tenders, Wisconsin white cheddar cheese curds and other all American food® favorites. A&W is a wholly owned subsidiary of A Great American Brand, LLC. They are franchisee owned, meaning that the stakeholders are the franchisees.
Learn more about owning an A&W Restaurants franchise.
Pinch A Penny
Andy and Kristie Martin bought their Deltona, Florida, Pinch A Penny franchise in 2008. The pair met during their two-decade careers at a nearby Winn-Dixie grocery store. "We had to decide: Were we going to stay at Winn-Dixie forever, or were we going to try to make something of our own," says Andy. Their thriving business has always been a family affair: "Our two baby girls were running around the store when we first started out!" says Kristie. The now high school-aged daughters help their parents out at work. "Pinch A Penny is right for us," says Kristie. "And right for our lives."
Learn more about owning a Pinch A Penny franchise.
About the brand
Founded in 1975, Pinch A Penny Pool Patio Spa has grown from one store to more than 250 locations across the Southeastern U.S. and Texas. Taking a family approach to business, Pinch A Penny provides its customers, franchisees and employees with all the necessary resources to carry on its tradition of quality, reliability and expertise in a fun, family-oriented atmosphere.
Learn more about owning a Pinch A Penny franchise.
Kelli and Taisa Smith wanted to spend more time with their young daughter, and they sought the freedom that comes with owning their own business. So, after working with a franchise consultant to help them find the right fit, they decided Fibrenew was the perfect opportunity for them. "When we get a new job scheduled, we'll go out and do the job together. We've been together since '94 like I said earlier, so we just kind of have this flow and we work real well together," said Taisa. "We switch out, like one day one of us will color match while the other one does the repair, and then we'll switch it out so we're both still up to date on everything and know how to do everything." Listen to their full conversation with FBR's Eric Stites on the FBR Podcast →
About the brand
Since 1987, Fibrenew has built and refined a robust franchise business system. This includes the research and development of their proprietary product line, highly specialized techniques, exceptional training as well as rock-solid support, operations, and marketing systems.The strength of their business model, the quality of their products and services, and their enthusiasm for what they do all contribute to the success of more than 250 Fibrenew franchisees around the world.
Learn more about owning a Fibrenew franchise.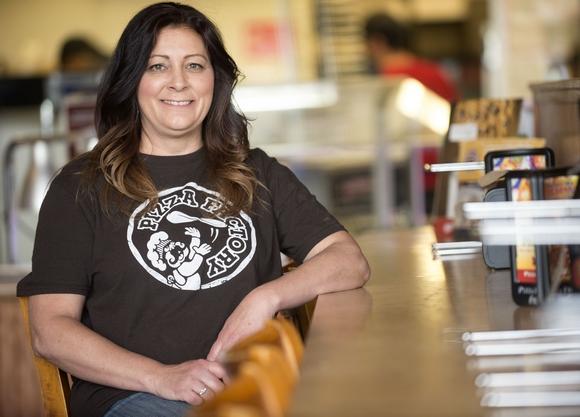 Kimberly Lombardi was working part-time at a Pizza Factory location in Phelan, California when the owner Brian decided he could use her help with accounting and marketing. "We worked well together as a team and were able to support each other in what we were both good at. Soon after, we were married and it has been 32 years of love, family and of course, lots of pizza," said Lombardi.
Read their story →
About the brand
Founded more than 35 years ago, Pizza Factory has stayed true to its roots with hardworking owners, family-friendly dining and high-quality products (pizza, pasta, wings, sandwiches, salads, beer, wine and more). With multiple restaurant designs, including a Pizza Factory Express model, and robust off-premise dining options including delivery and mobile ordering through their app, Pizza Factory is built for the future of the restaurant industry. Currently, there are more than 100 locations based in six states throughout the West Coast. Pizza Factory is looking to add additional franchise locations in key markets throughout the country, with a special focus on the West Coast.
Learn more about owning a Pizza Factory franchise.
About the brand
Aire Serv® has been operating as a franchise system specializing in the installation, maintenance, and repair of residential and commercial heating, ventilating, air conditioning, and indoor air quality equipment and systems for over 25 years. Aire Serv® is a need-based business and is backed by Neighborly®, the world's largest home-services franchise. As a Neighborly® company, Aire Serv franchisees benefit from a network of over 2.5M+ customers and 3,500 franchises worldwide, with 14 U.S. home service brands, allowing for referral and multi-brand marketing expertise.
Learn more about owning an Aire Serve franchise.
Dog-lovers Mike and Diane Foos had a running joke: After a particularly grueling work week, Mike would ask his wife, "You ready to start that dog daycare yet?" One week, Diane realized – jokes aside – that it was time for the career change. In 2019, she left her job as a special-education attorney and opened their Dogtopia business in Rocklin, CA. "We asked: What's the most stress relieving thing we can think of: Hanging with dogs! So, we were like, 'Let's do that'" says Diane. Mike brought his financial expertise and, Diane, her passion for supporting people with disabilities. She's helped Dogtopia to build their pilot program for adults with autism and, in her own business, prioritizes providing employment initiatives for adults with disabilities. "My passion really is for supporting people with disabilities. For now in my life –having my kids still at home and all that good stuff – it's nice to be able to serve that same population and watch them flourish in the company while spending time with my family doing something we love."
About the brand
Dogtopia is a unique dog daycare business that opened its first location in Virginia in 2002. At that time, dog daycare was very much a new concept, and the Dogtopia approach – to create "indoor dog parks" and provide a daycare services for dog care along the lines of a children's daycare – was extremely innovative. Since then, the idea of doggie daycare has gained widespread popularity and Dogtopia is now the fastest-growing pet franchise and the leading dog daycare provider in North America.
Learn more about owning a Dogtopia franchise.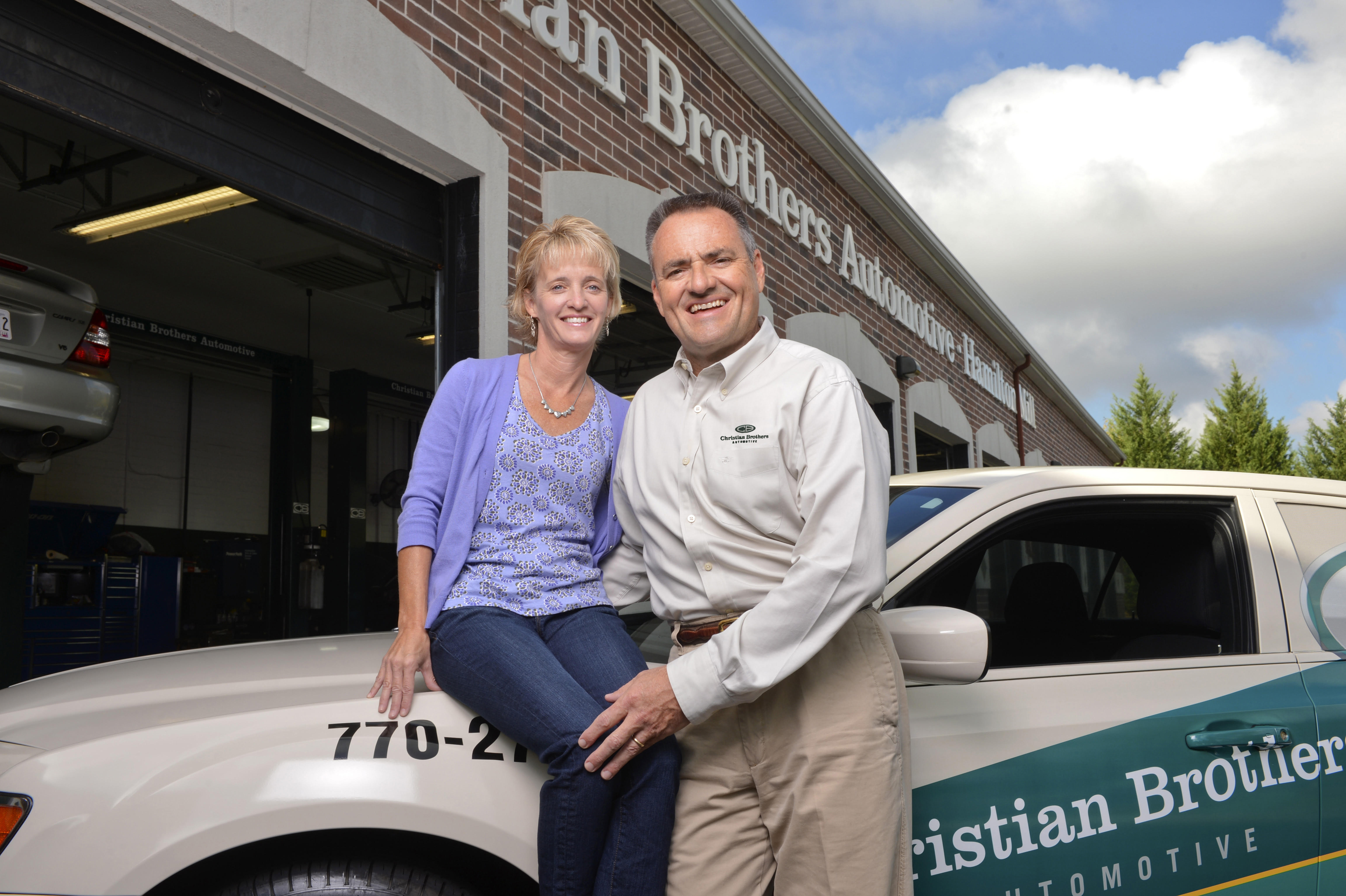 "Having been a franchisee for 16 years, and having watched many other franchisees in our own franchise system throughout that time, I have to remark on the huge difference in stress levels, success and growth, and enjoyment of life between franchisees who work with their spouse versus those who go it alone," said Brian Klaubert who owns multiple Christian Brothers Automotive franchises in Georgia with his wife Nole. "Spouses are frequently a mirror image of one another – weak where the other is strong and vice versa. My wife and I have been partners in our franchise since day one. In different seasons we each support the other. You both don't need subject matter expertise in the franchise field. Running your own small business requires experience in all aspects of life and business, and a married couple has that covered." Read their story →
About the brand
Christian Brothers Automotive is more than just vehicle repair. Since its founding in 1982, their goal has been to change the way guests view automotive service. Now more than ever, consumers across the country are relying on their mechanics to help them preserve the life of their vehicle. Rooted in a mission to "love your neighbor as yourself," Christian Brothers Automotive coined the Nice Difference, striving to improve the consumer experience, including a 3 Year / 36,000 Mile Warranty, complimentary guest pick-up and drop-off, and a free courtesy check with every repair, including oil changes.
Learn more about owning a Christian Brothers Automotive franchise.
Long before dreams of owning a franchise first struck, Kristy and Stephen Hughes worked together in high school at their local Sears – their first jobs. After many years (and many jobs!), the high school sweethearts opened their Lexington, Kentucky, Mr. Appliance in 2012. "We knew we could complement each other with our skill sets; that our company would have a better chance of success with our combined knowledge," says Stephen. Kristy brought her bookkeeping expertise, and Stephen his technical experience. "In the business world of the past, it's always been perceived that men are the power players and wives the supporting cast," he notes. "That's so far from the truth: In our business, we receive accolades that, without Kristy, would never have occurred. She makes us look good!"
About the brand
Mr. Appliance®, in operation since 1996, is North America's largest appliance repair franchise. With longevity comes trust, a recognizable brand, and a loyal customer base. Whether you are converting an existing business or starting a new journey as a business owner, the Mr. Appliance team can help you meet your goals.
Learn more about owning a Mr. Appliance franchise.
Minuteman Press
Seeking a career change that would give them the flexibility to spend more time with their family, Julie and Mike Arndt opened their first Minuteman Press in Plant City, FL, in 2004. At first, Mike ran the store while Julie continued to work as a middle school teacher, but it wasn't long before she left her job and took on a more active role within the business. "We knew that this kind of business, owning a franchise, was a family commitment," says Julie. "We wanted to create a lifestyle that worked for our family." In 2009, the couple opened their second store in Brandon, FL; these days, Julie runs daily operations at one location and Mike the other. "What really makes our partnership work well is that we respect each others' talents, gifts, and abilities," Julie notes. "We play off of that as we manage our responsibilities; we let each other run with what we're good at."
About the brand
Minuteman Press is the modern printing industry, providing high-quality products and services for businesses that go way beyond just ink on paper. Their design, print, and marketing centers offer custom marketing and branding solutions that are tailored to meet the needs of today's business professionals. Anything you can put a name, image, or logo on, they can produce.
Within a year of meeting, Becky and John Carswell married and went into business together. Since 2002, John had owned a Fish Window Cleaning franchise is Dallas, TX, and — when he abruptly found himself in need of administrative support in 2013 – Becky came on board. ("It was trial by fire!" she jokes.) Though not planned, their business partnership has helped the company to thrive. "I appreciate having a business partner I really trust and whose opinion I value," John says. "It makes me feel like not all the pressure is on my shoulders." While John focuses on operational duties, Becky manages the administrative and technology side of the company. "We've learned to trust each other and realize what each others' gifts are," says Becky. She adds: "We have the freedom and flexibility to live the life we want to live."
About the brand
In 1998, the first FISH franchise opened in Tampa, FL, and from there, FISH became the world's largest window cleaning company with over 275 franchise locations coast-to-coast. FISH franchise owners experience a business that gives them a great lifestyle immediately (no nights, weekends, or holidays) and the ability to go out every day and grow their business in a market with fragmented competition. Most importantly, the owner is not the window cleaner, but the business professional who is dedicated to following the complete franchise system.
Learn more about owning a Fish Window Cleaning franchise.
Karen and Alan Flyer opened their first Mathnasium center in 2011 in Roslyn, NY. The business quickly became a family affair: The couple's two children started as test students and, as they grew up, began teaching during their school breaks; Karen provided marketing advice while simultaneously pursuing a separate career; and Alan ran day-to-day operations. In September 2020, the couple – soon-to-be empty nesters, their youngest child headed to college – decided to purchase an additional center in Great Neck, NY. Karen leaped at the opportunity to take a more active role in the business. "I've always been impressed by her," Alan says. "We got our MBAs together and I've always been moved by how smart she is." After 25 years of marriage, business ownership is the couple's next chapter. "Now, we have this third child called Mathnasium," jokes Karen. "We're putting our parenting skills into that."
About the brand
The mission at Mathnasium is to help every child understand and master math because it will change their world. Starting in 2002 with one Mathnasium Learning Center in Los Angeles, they've grown to over 1,000 locations in communities around the world. Every day, they work to transform the lives of students.
Learn more about owning a Mathnasium Leaning Center franchise. 
More top-rated franchises that come out on top for couples looking to get into business together:
Fastest Labs
Fyzical Therapy and Balance Centers
Home Instead
Kampgrounds of America
My Salon Suite
NextHome
Nothing Bundt Cakes
United Country Real Estate
Weichert Real Estate
Wingstop
If you're ready to start considering your options for franchise ownership with your spouse, this list is a great place to start. As you learn more about the different franchise concepts available, be sure to do thorough research by examining third-party data and reviews (like those provided by FBR), talking with current franchisees, and by looking closely at the franchise disclosure agreement. Thanks to the array of concepts available, with a little patience and due diligence, you're bound to find the perfect match.